Happy Thursday, babes!
If you follow me on Snapchat, then you've probably caught on that I am in Las Vegas right now for a trade show! (Or…you're thinking that all I'm doing is going out to restaurants and that's it…because that's all I'm snapchatting lololol). If you follow me on any other social media channels, I'M SO SORRY for the HUGE LACK in posts (including this blog!) Some of you have been emailing me and I promise I'm not going anywhere, just undergoing some major changes in life (ALL positive), so my social channels have been taking the hit!
But…I'm so excited to say that today is kind of a 'soft launch' if you will of part 1 of what I've been up to these last few weeks. It's been on my heart for so long to change the name of my blog. (I KNOW, so random) but I really haven't felt a connection to Polka Dots & Sailor Stripes since I moved to LA and drastically changed my style. It just didn't fit anymore!
After months of brainstorming and really just taking the time to think about what I want this blog to be, I came up with the name Blonde Collective yesterday, and boom. Changed it. I'm dramatic like that sometimes.
I plan to do a complete relaunch/rebranding type thing in the coming weeks, but trade show life isn't for the welk you guys. This ish is brutal. So…when I'm back in LA at the end of February, get excited for LOTS of new content, very new style inspiration, and lots of other fun things in between.
In the mean time, what better way to kick off my new blog name than with a fun new series?!
Today I am so excited to be launching something that's been in the works for a few months now…a monthly collaborative series called
Styled Coast to Coast
.  Alongside two of my blog friends,
Mary-Katherine
 of
Gold-Hatted Lover
and
Lauren
of
The Fashionista's Diary
, each month we will be partnering with a new brand that we love to style their pieces three different ways.  What's fun is that we are located all across the US (LA, Chicago, and Miami) so you're going to get 3 completely different style inspirations!  The best part about this series?  Each month, we will be teaming up with our partner brand to
give away a prize
to one lucky winner so that you can experience some of our favorite brands, too! SO yeah, how's that for some exciting Thursday news?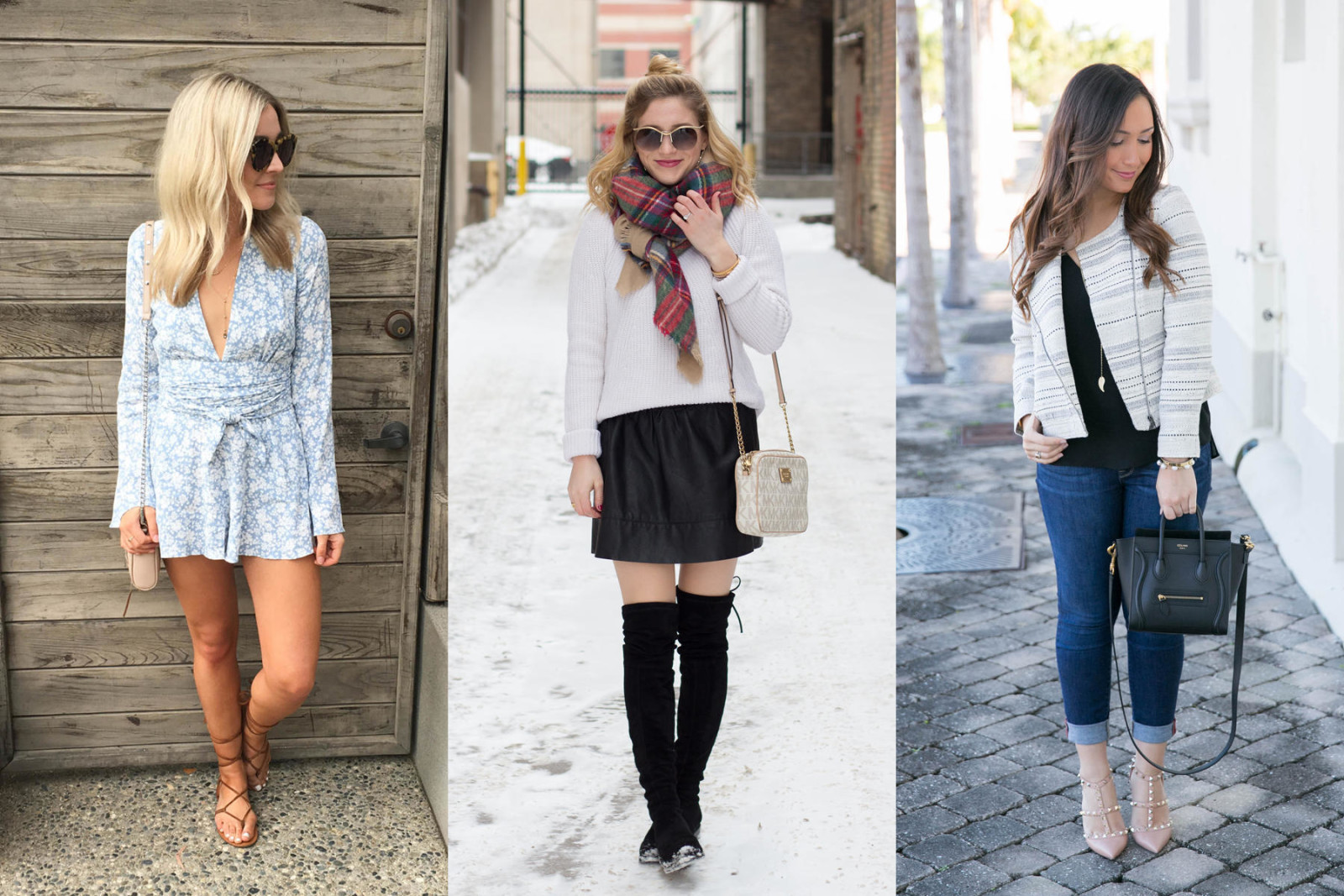 We teamed up with
Taudrey
to show you our favorite jewelry pieces; mine is this
dainty layered necklace
. The layering trend is everywhere right now, but it is pretty hard to find the right pieces to put together sometimes. Taudrey stepped in and took care of that for you! My favorite detail is the little 'A' that is stamped onto the smallest necklace. The personalization of
Taudrey
makes it so special!
If you're interested in winning $150 to Taudrey for your own shopping spree, head to my Instagram later tonight for the rules! 🙂
Necklace, c/o Taudrey | Romper, Sogno (boutique in Santa Monica, call to order!) | Sandals, Steve Madden | Sunglasses, Ditto (use code polkadots for 1st month free!)