With Christmas literally DAYS away, I thought it would be fun to invite you guys into a fun holiday party set up I created on my back patio a few days ago! The best part is that it's a holiday party on a budget type of party, which you already know I'm all about if you saw Brennan's birthday party post. So, no breaking the bank to recreate it!
If you live in LA, or any metropolitan city for that matter…chances are you might be living in an apartment. And if that IS the case, it's pretty safe to say that you aren't working with a ton of space.
Our apartment is a 2 bedroom, 2 bath spot that feels massive at times…but we unfortunately don't have a space made for a kitchen table! This was fine, at first…nothing a few urban barstools from Home Goods couldn't fix. And sure, they're great! I work at the bar top everyday, and we love setting it up as our "buffet" for parties. BUT, when it came to creating a holiday tables-cape…I was at a complete loss!
Now, you all know by now that I live in LA – it's perpetually sunny year around…and even if it isn't hot, it's generally nice enough to be outside. This comes in handy for two reasons. 1) Our patio space is HUGE (for an apartment), and 2) we now have a table outside! I was so excited to transform our outdoor space into a party-ready spot.
I picked up a few items from Target, Anthropologie, and Ikea to create this dreamy winter wonderland, and it would be perfect for any event. Whether you're hosting Christmas breakfast, lunch, dinner…or just don't have a spot for a kitchen table like us and want to have some friends over for a wine night. I hope this brings some inspiration on how you can transform your own cozy space into a party-friendly atmosphere, regardless of its size!
BRING YOUR HOLIDAY DECORATIONS OUTSIDE: I have a ton of Christmas décor inside that I LOVE, but obviously did not decorate outside. To transform this cozy patio into a holiday-vibe space, I simply brought out my favorite décor.
GET COZY: We always have outdoor pillows on our couch, but they aren't necessarily "cozy." I decided to bring out my fur pillows, new shearling blanket, and "Tis the Season" pillow to make the couch feel more curated, cozy, and Christma-ready!
SPRUCE UP YOUR SEATING AREA: First of all, this table is from Ikea. Can you believe that?! We have been on the hunt for patio furniture since we moved in, but it is expensive you guys. Who knew? After months of casual browsing, we finally found this table at Ikea! It was way sturdier than other sets we found here, and we loved the color. It's also collapsible, so we can put it against the wall in a 'table-for-two' kind of way if we decide to create more space…which was a nice option! To make the table look more festive and cozy, I added these rugs and pillow cases (which are from Ikea as well)!
SUBTLE, YET FESTIVE, CENTERPIECES: This greenery is from a bouquet at Trader Joe's that I picked apart, and these candles are from Wax Buffalo! Combining the greens, red berries, and candles created a cozy center piece that everyone could still see over (don't you hate when the center pieces block you from other people at the table?!), and they smelled AMAZING!
SAVE, DON'T SPLURGE: I tried to create a beautiful tables-cape with a strict budget in mind. These plaid placemats are from the DOLLAR section at Target (SUCH a good find). This macramé table runner is the infamous Anthropologie one that so many people have – and I got it on MAJOR sale (I'm talking from $80 to $30 – the benefit of stalking it and waiting for a great sale).The (plastic) plates, gold utensils, red napkins, gold "ice bucket," glass pitcher, and marble drink tray are also great Target finds. I love to peruse the aisles every time I stop in just in case I find something that looks a little more lux than your average Target piece.
THRIFT, THRIFT, THRIFT! A few weeks before your event, hit your local thrift stores to see what you can find before you hit Target. I found this outdoor rug at a thrift store and it was $25, and STILL wrapped in the Target packaging! Originally $99…I found this gem in perfect condition for a fraction of the price. It's also a great idea to hit the fine china aisle and see what beautiful serving pieces and glassware you can find! One person's old dining set is your holiday party treasure. My nana got rid of these glass cups, which were perfect for this holiday beverage! You could probably find some amazing pieces just like them at the Goodwill.
LIGHT IT UP!: Brennan recently surprised me with these amazing market lights that we hung above our patio. It completely transforms a space at night, and adds an ambiance that changes the mood no matter what décor you do or don't have!
CHEERS TO THAT!: Check Pinterest for a holiday inspired cocktail! This tequila based drink was SOOOO good and SO easy to make. All you needed was your favorite tequila (I, of course, used my fav Codigo 1530 Rosa bottle), Pomegranate juice, grapefruit juice, some fruit and mint for garnish, and a little dash of ginger beer and voila. The perfect Christmas party drink, that made for some great photos 😉 Check out the Pomegranate Ginger Paloma recipe here! Half Baked Harvest has a ton of amazing recipes / drinks to try out, so be sure to explore!
SUGAR RUSH: Last but not least, adorn your guest's place settings with a little something sweet! Name cards are protocol, but think of how delighted your party-goers would be with a sweet treat instead! These cookies from The Cravory were SO good, and their December flavors were the perfect addition to the holiday tables-cape. Each plate got a different flavor, which also added a little variety to the table.
HAVE FUN!: The holidays go by with a blink of an eye, but if we take a second and look around…we'd see how truly blessed we are. Despite any hardships that 2017 may have brought, just rest assured knowing that 2018 is a new year for fresh beginnings. Embrace the ones around you that continue to support and encourage you, and reach out to those who you may feel need some extra love and affirmation.
FUN PARTY ACTIVITY: leave out a polaroid camera on the table with some sharpies laying around – for each picture taken, have someone write what they're thankful for from the past year, or an intention for the coming year! Hang them up on a string along the wall to create a fun backdrop to your evening.
---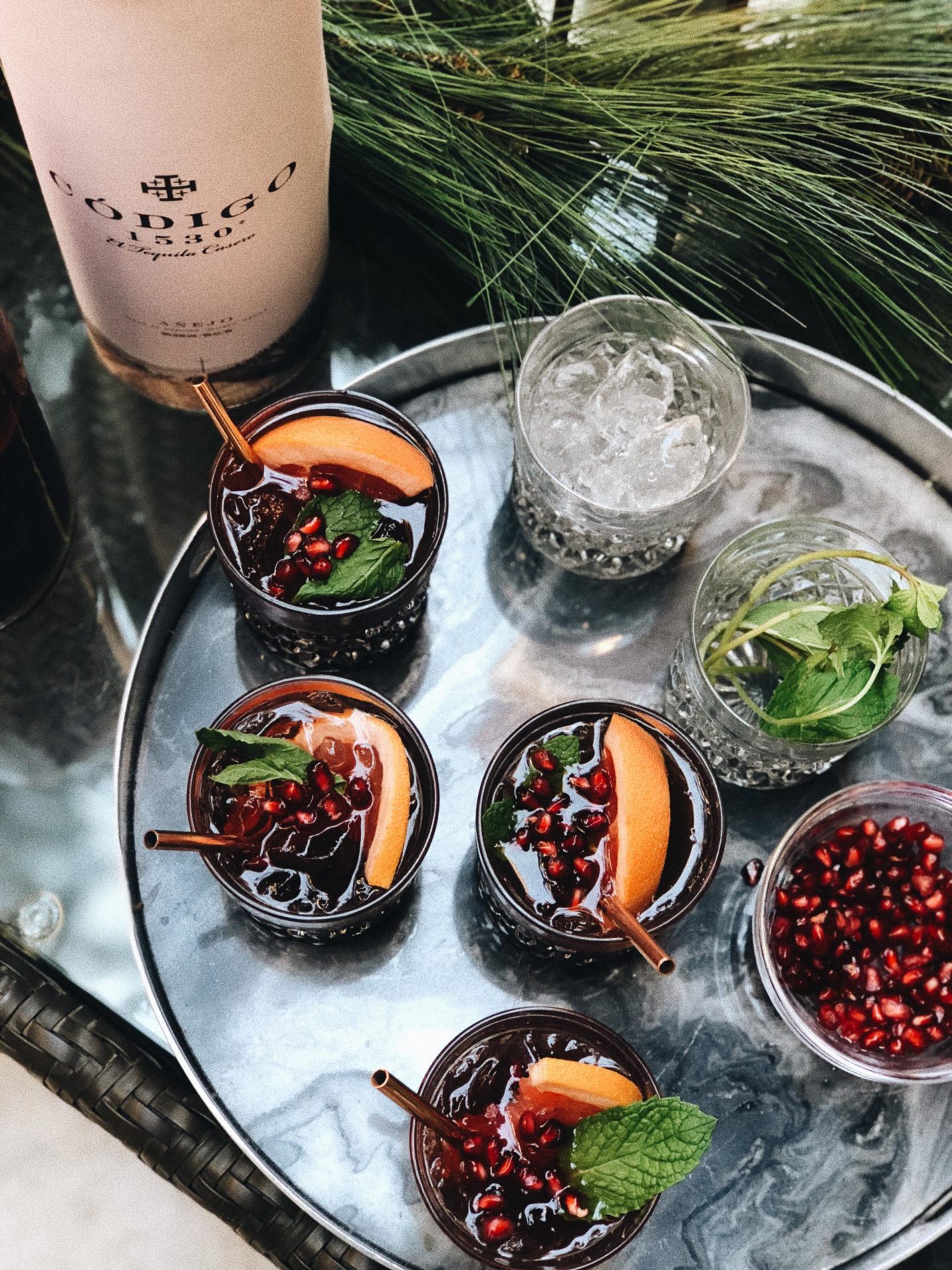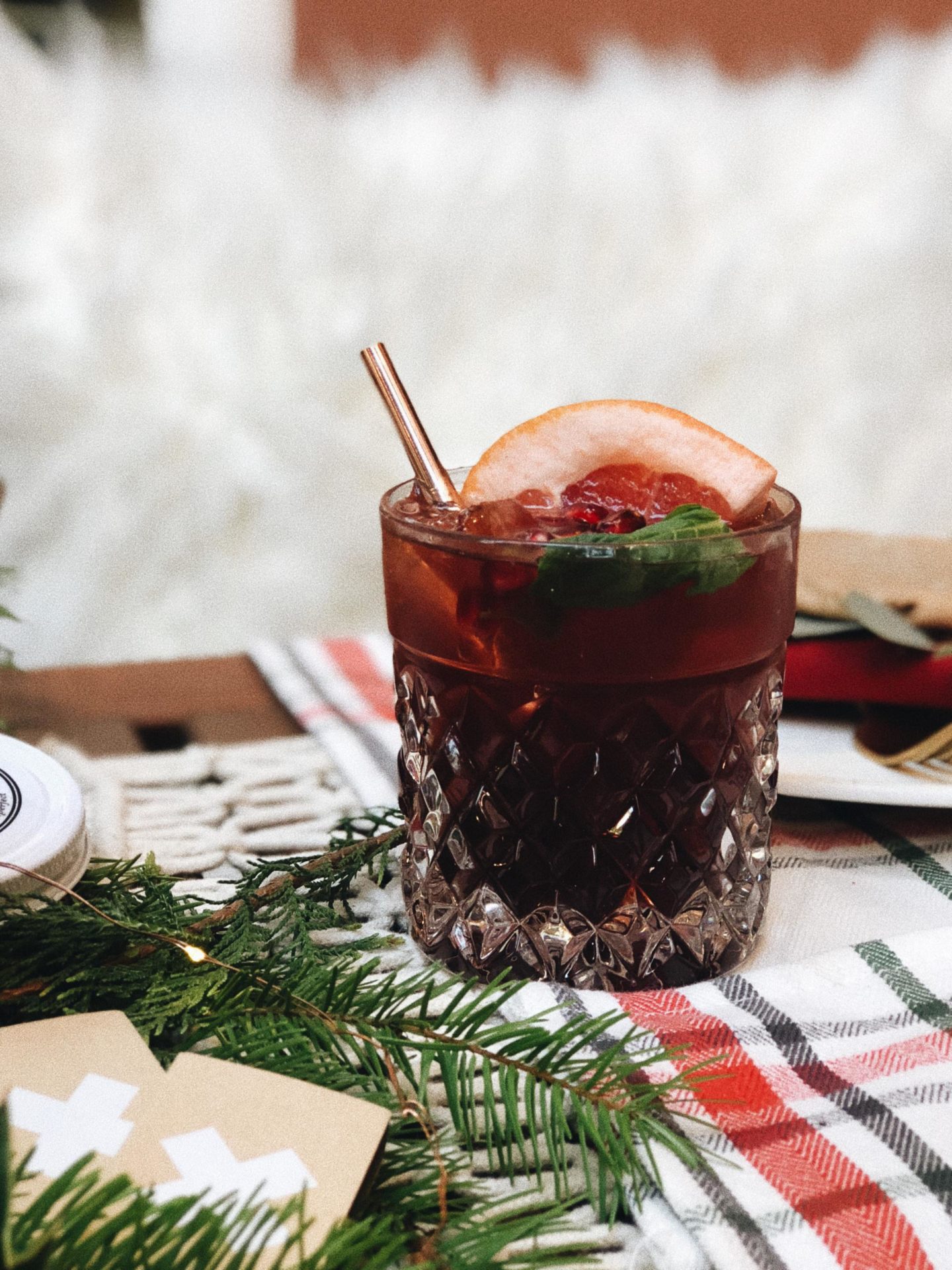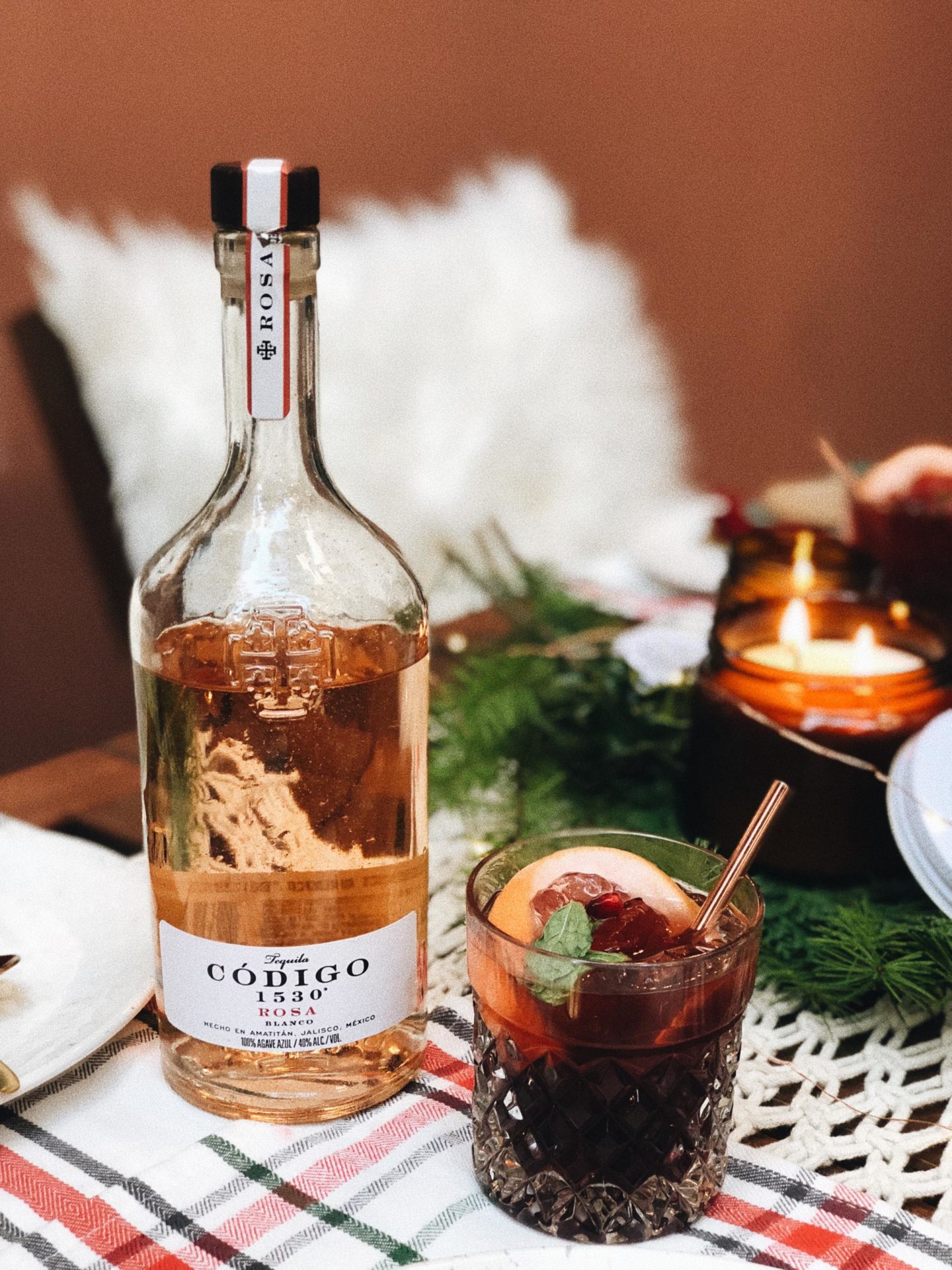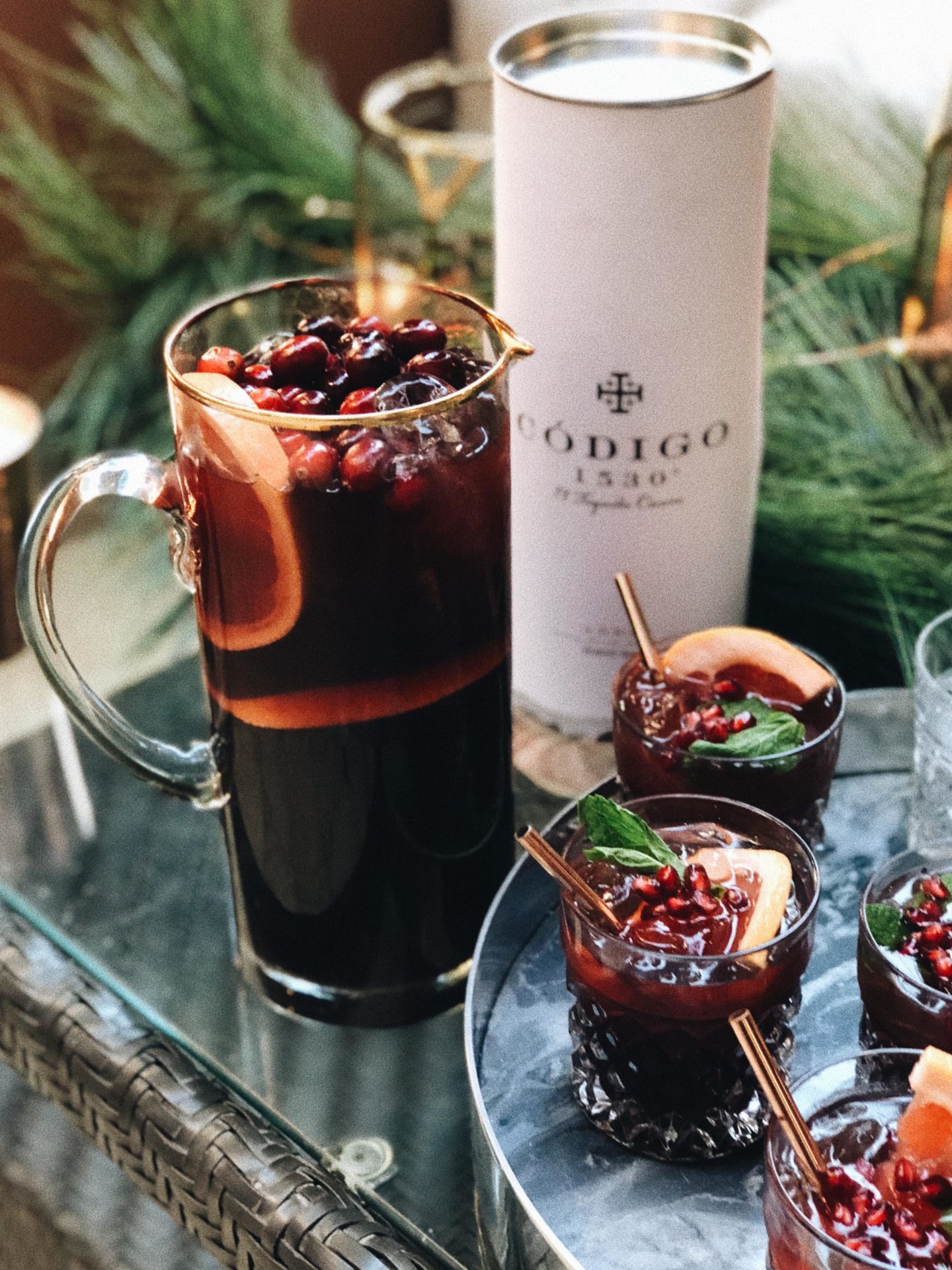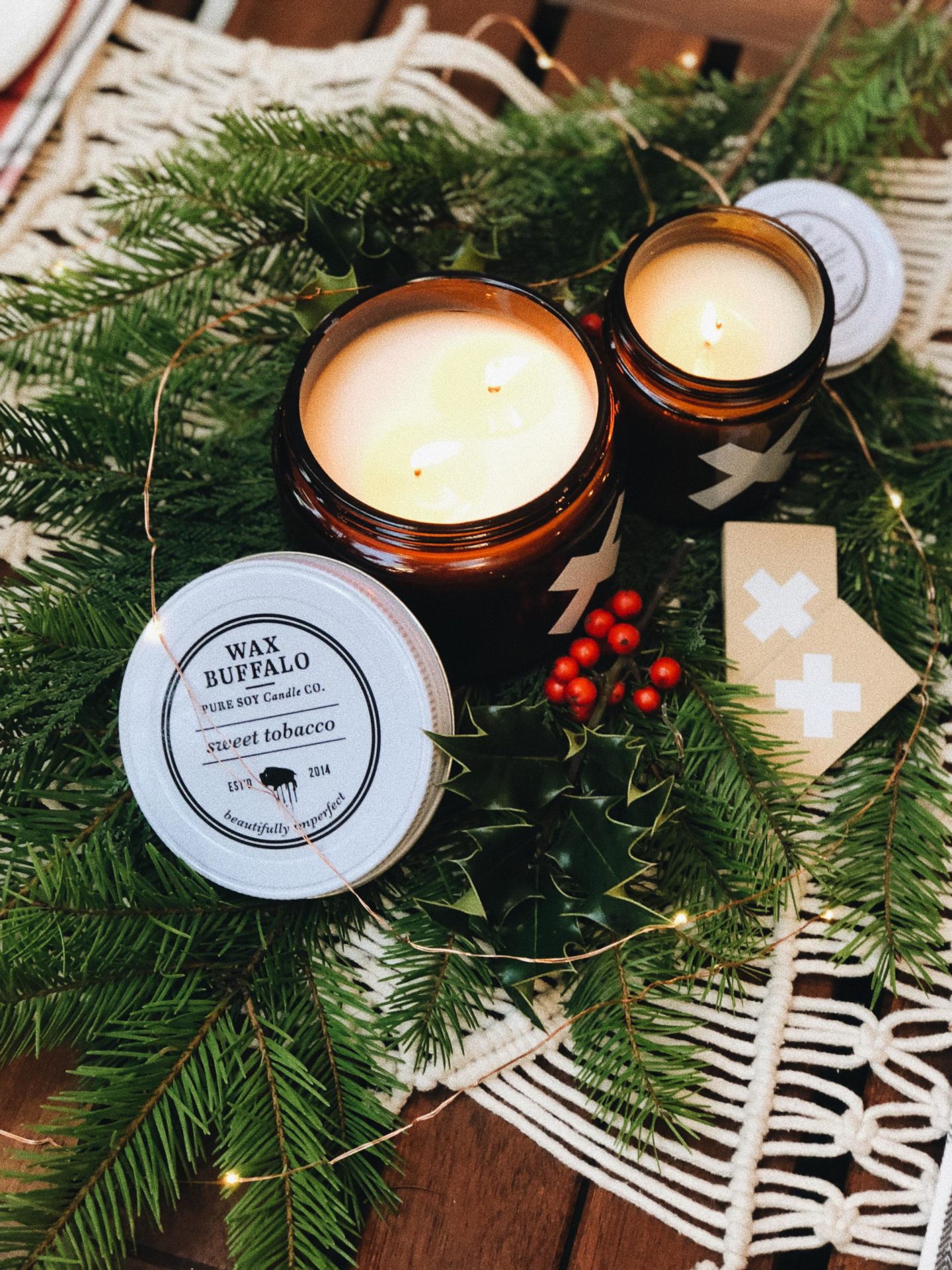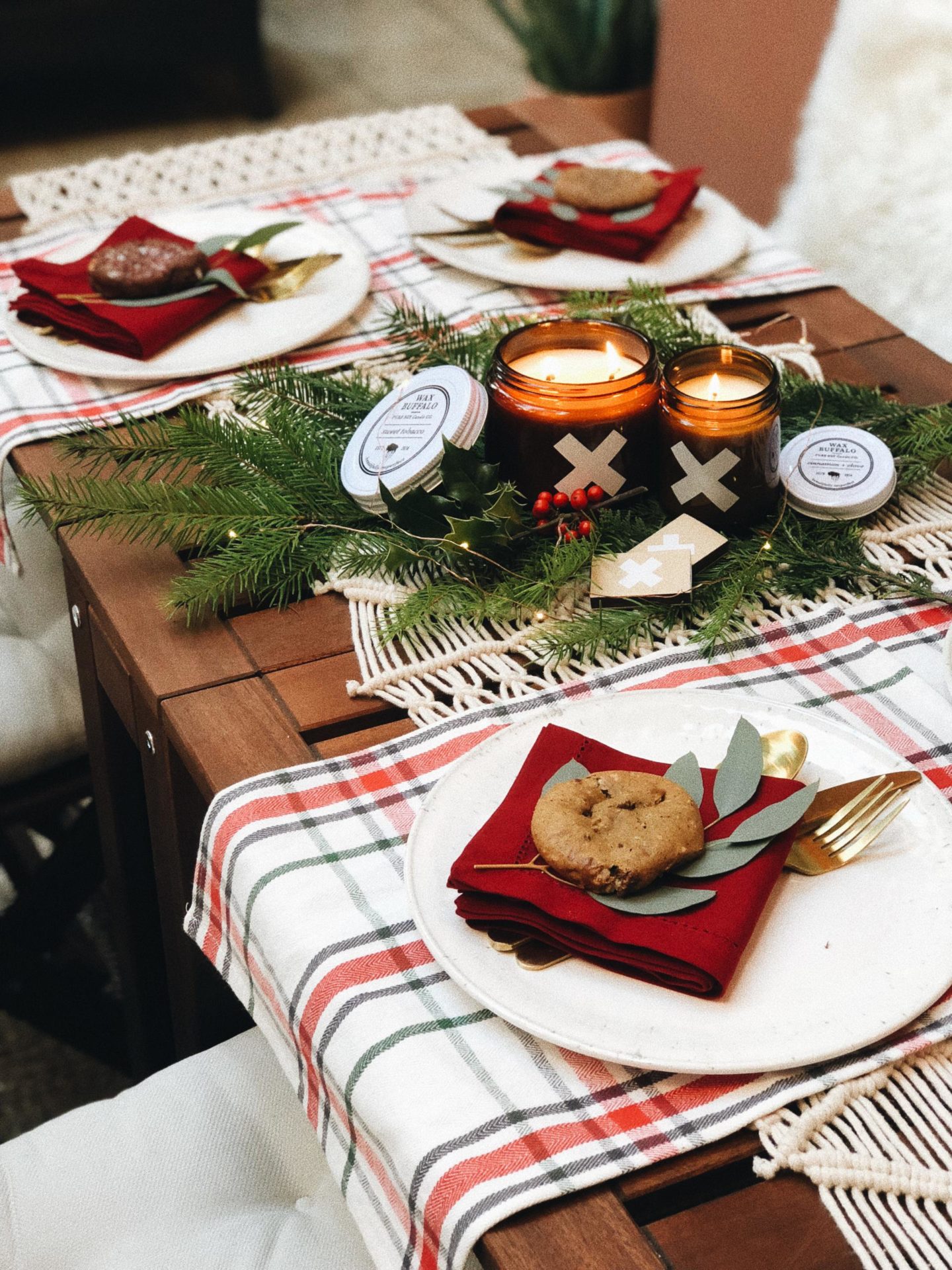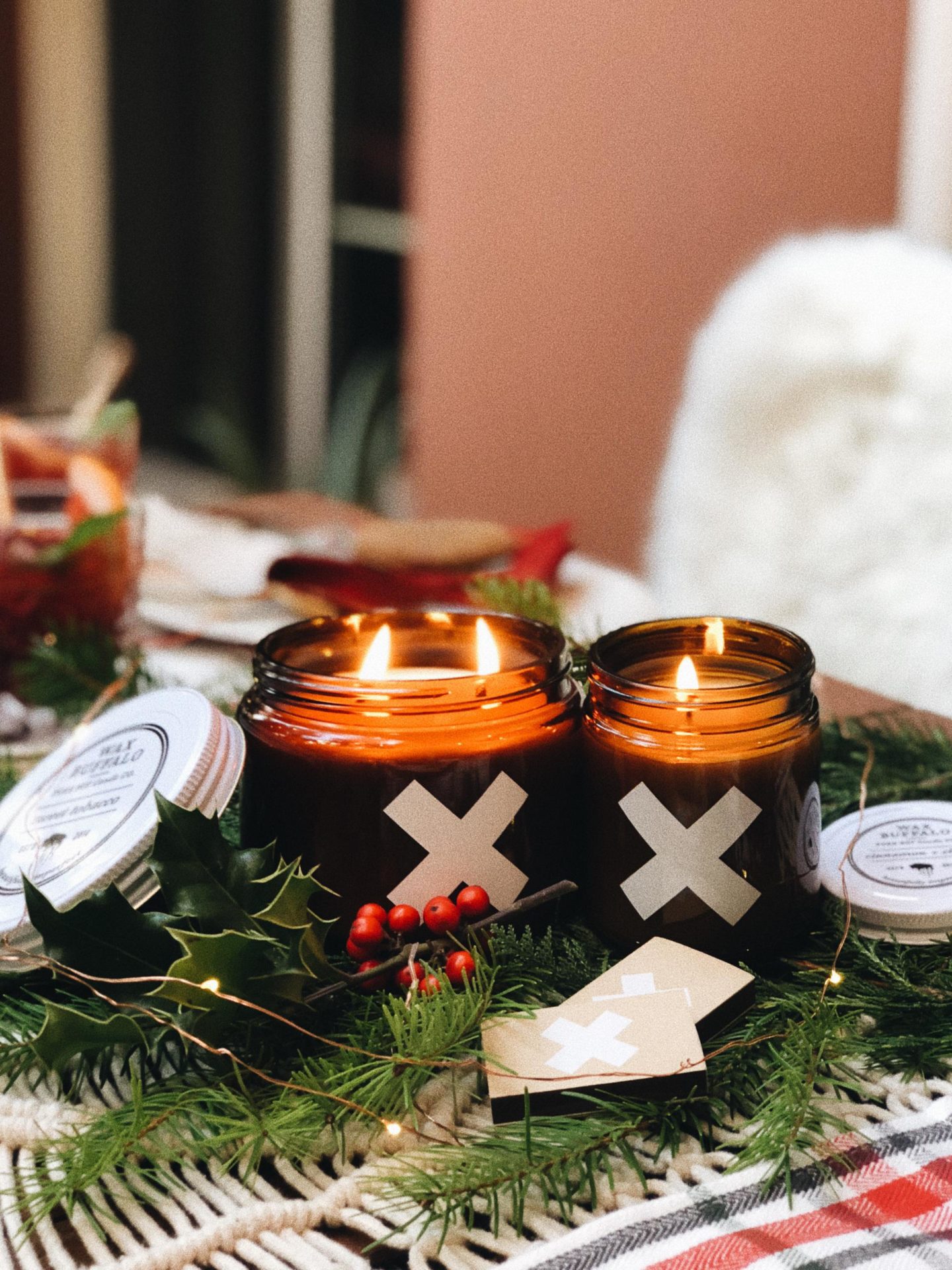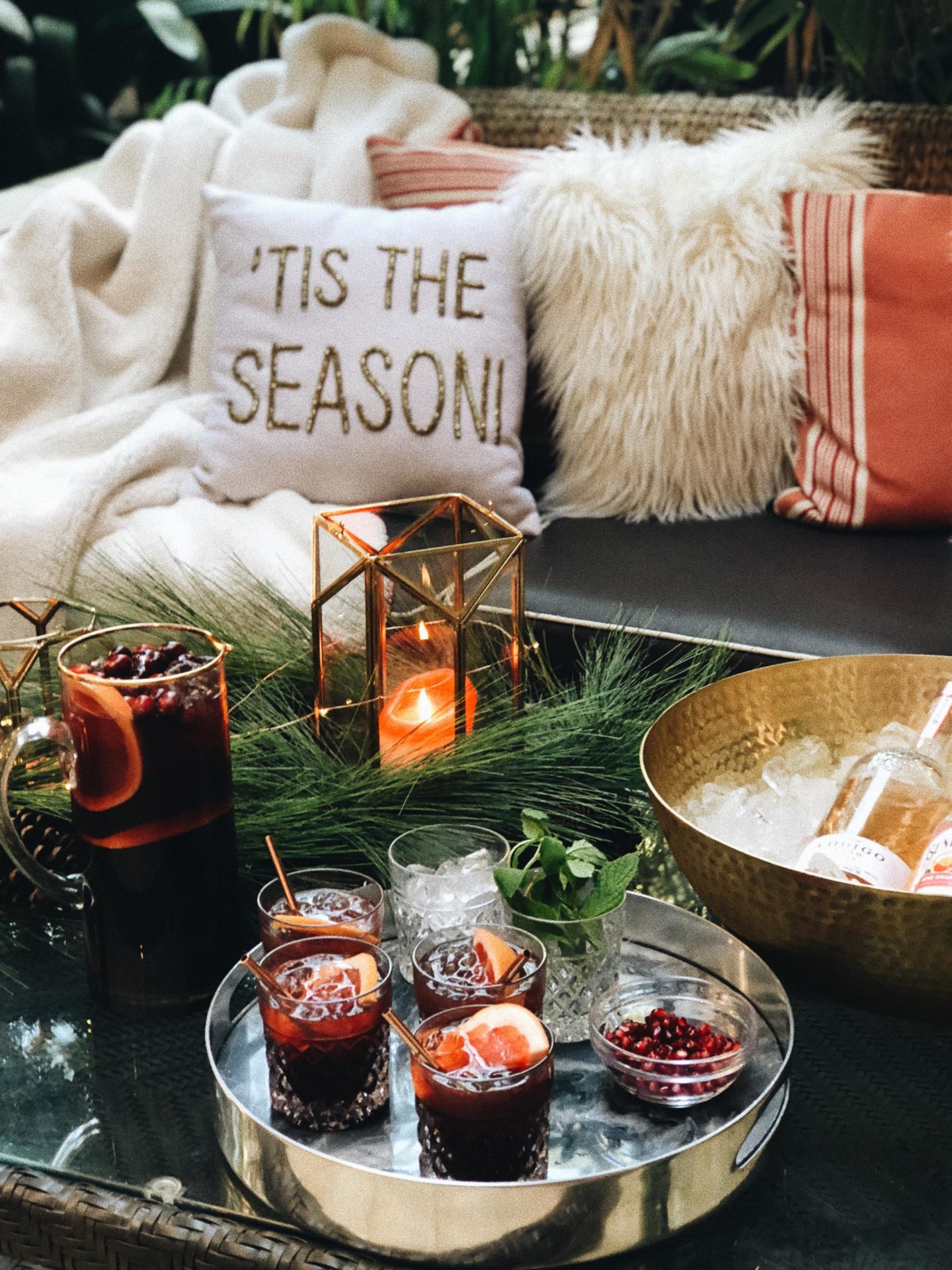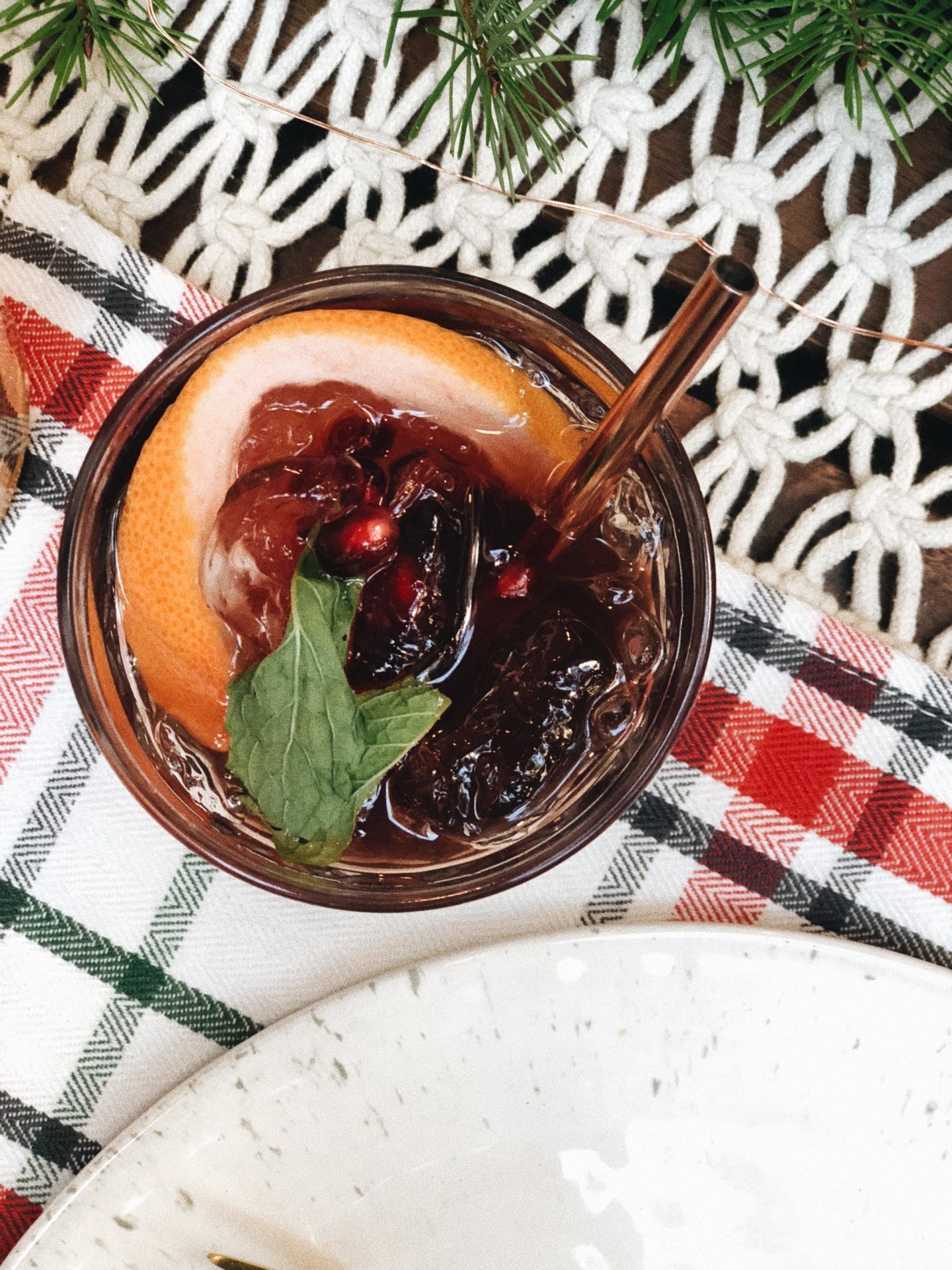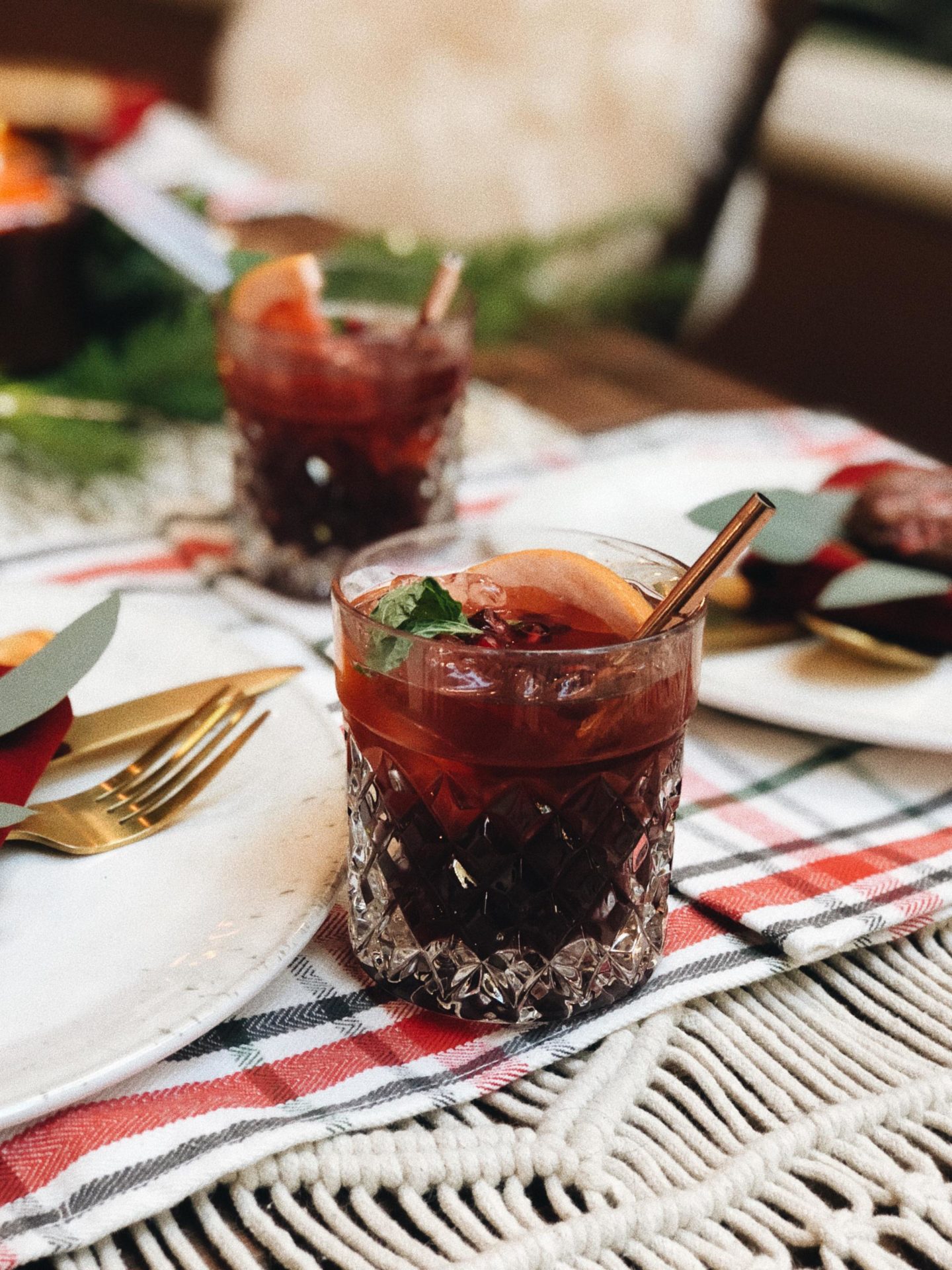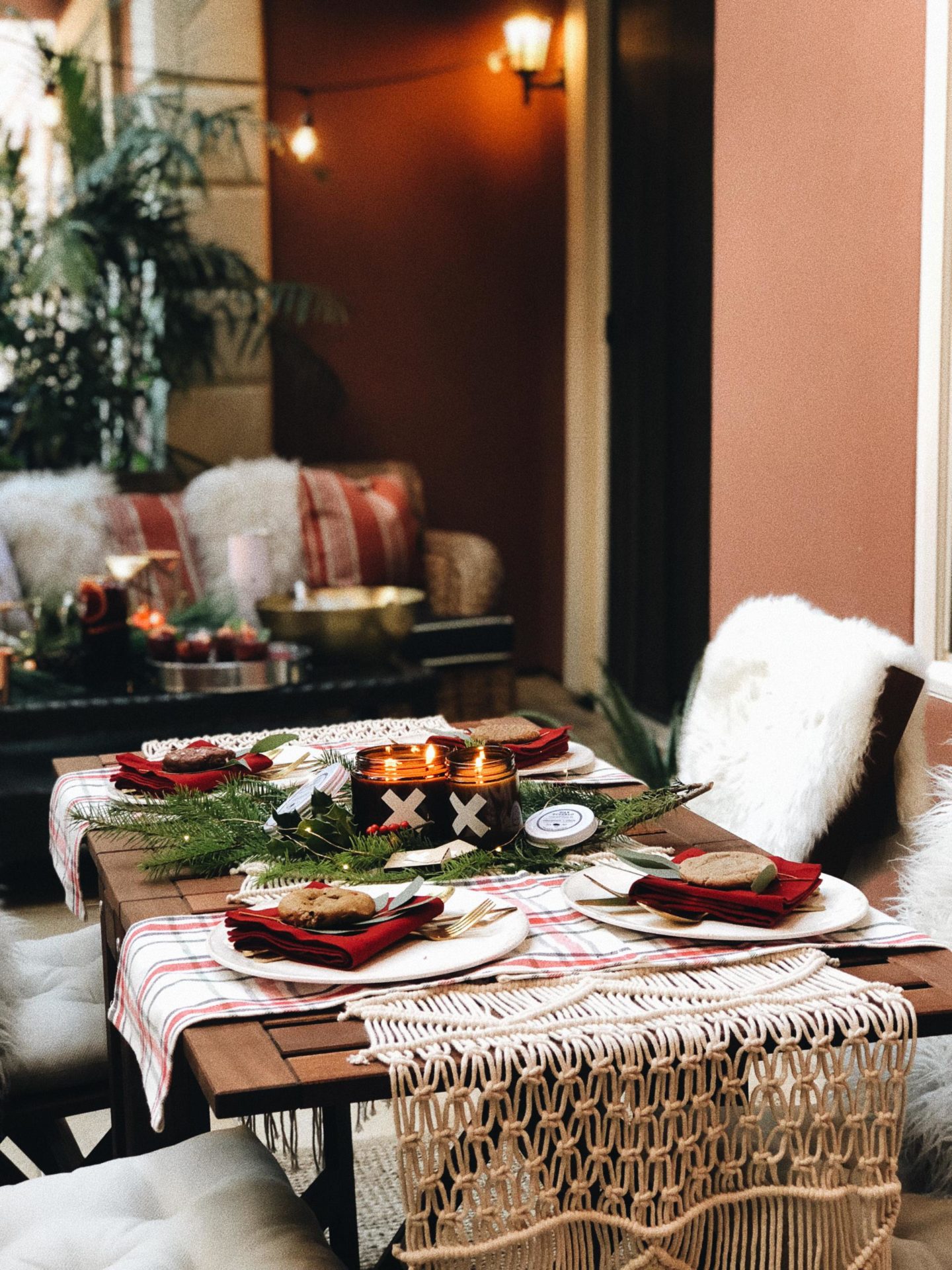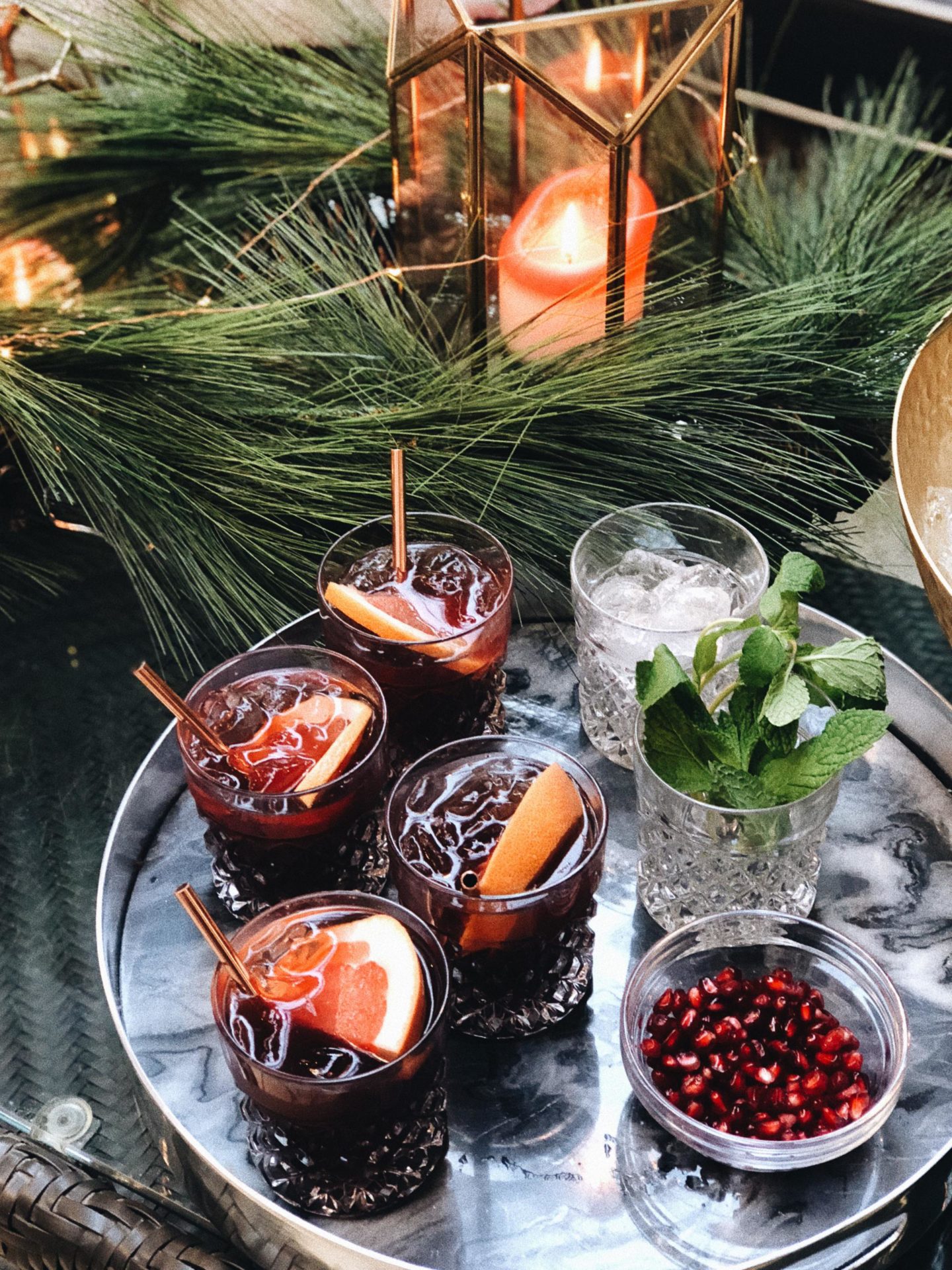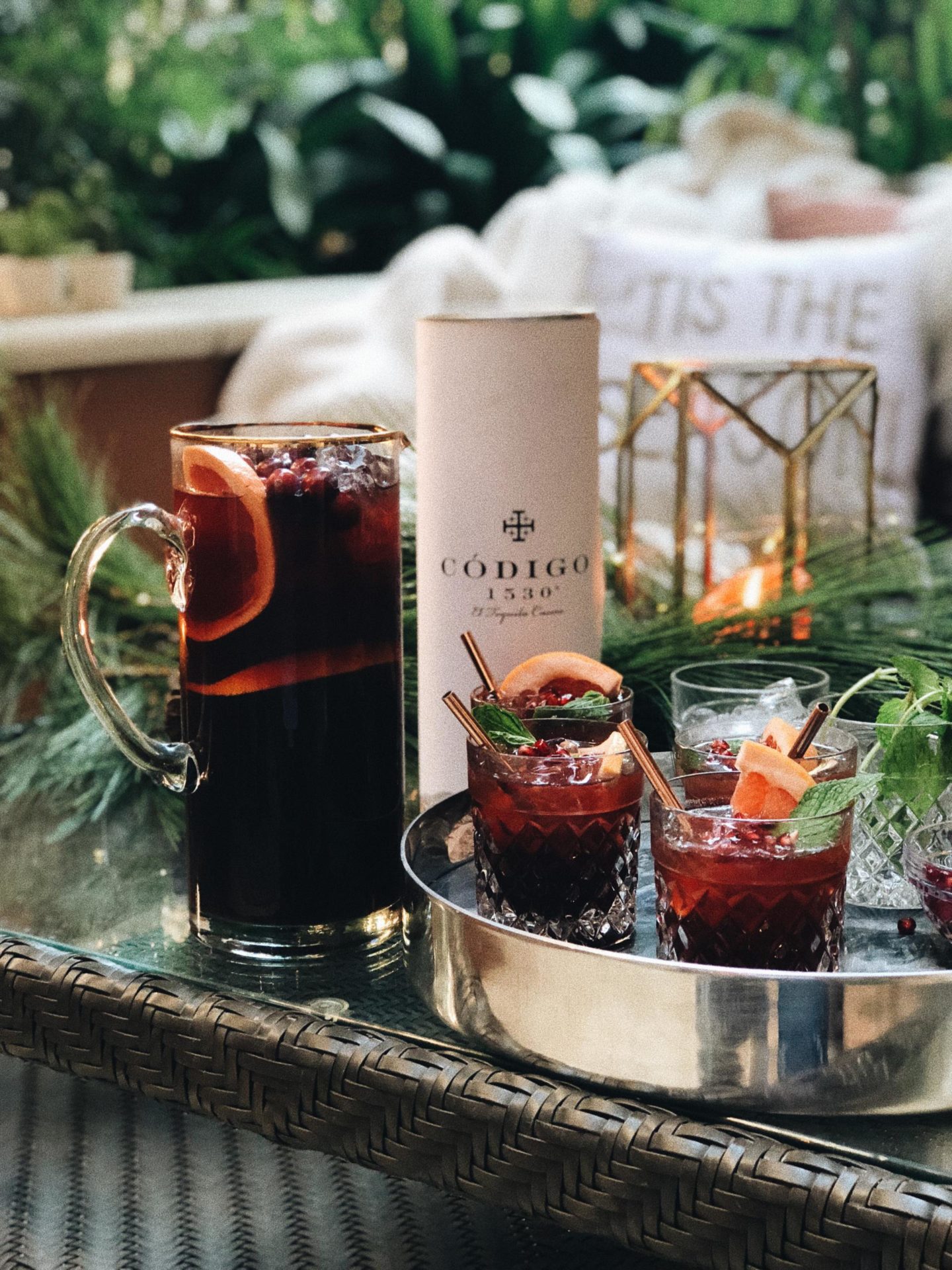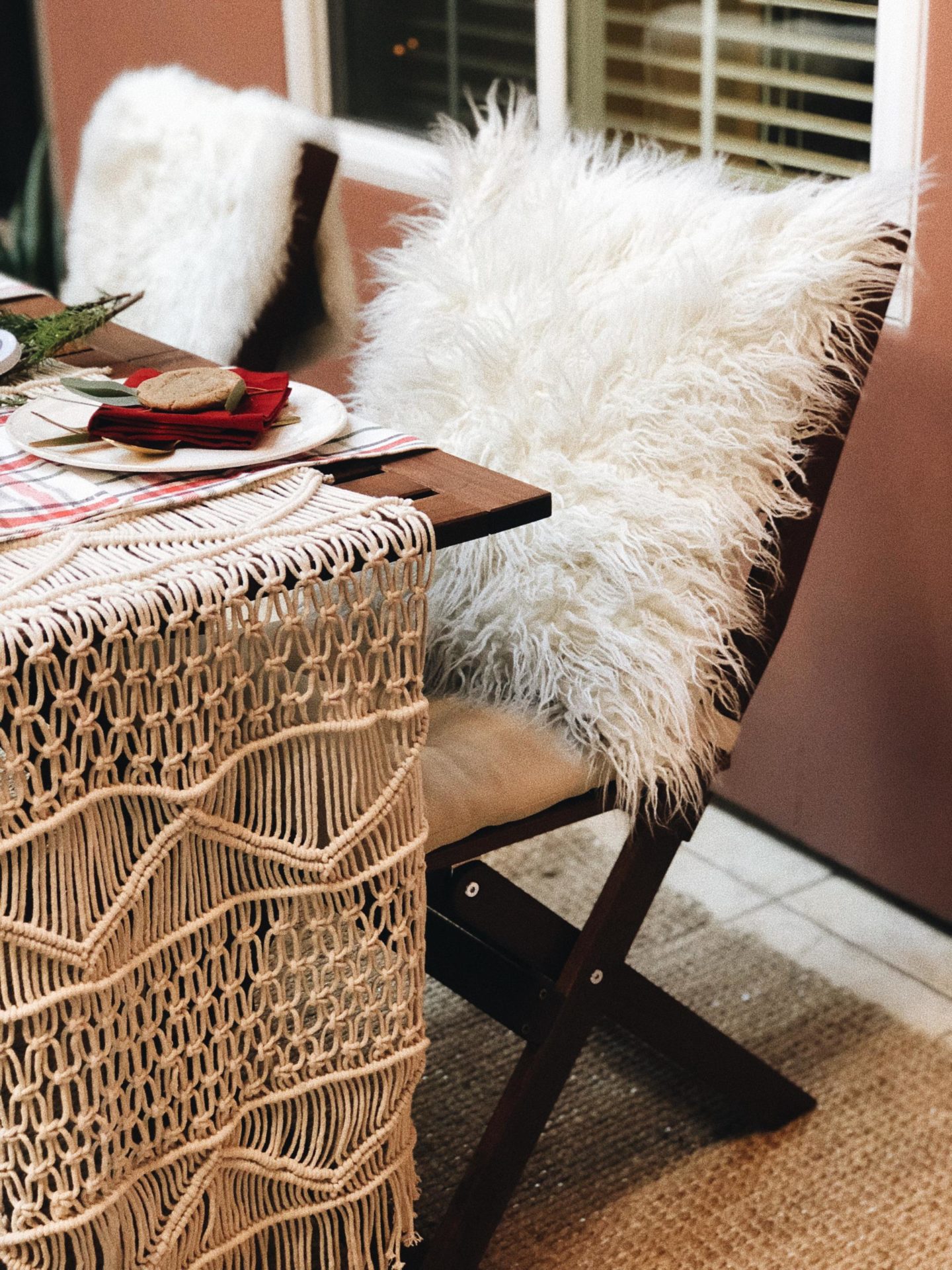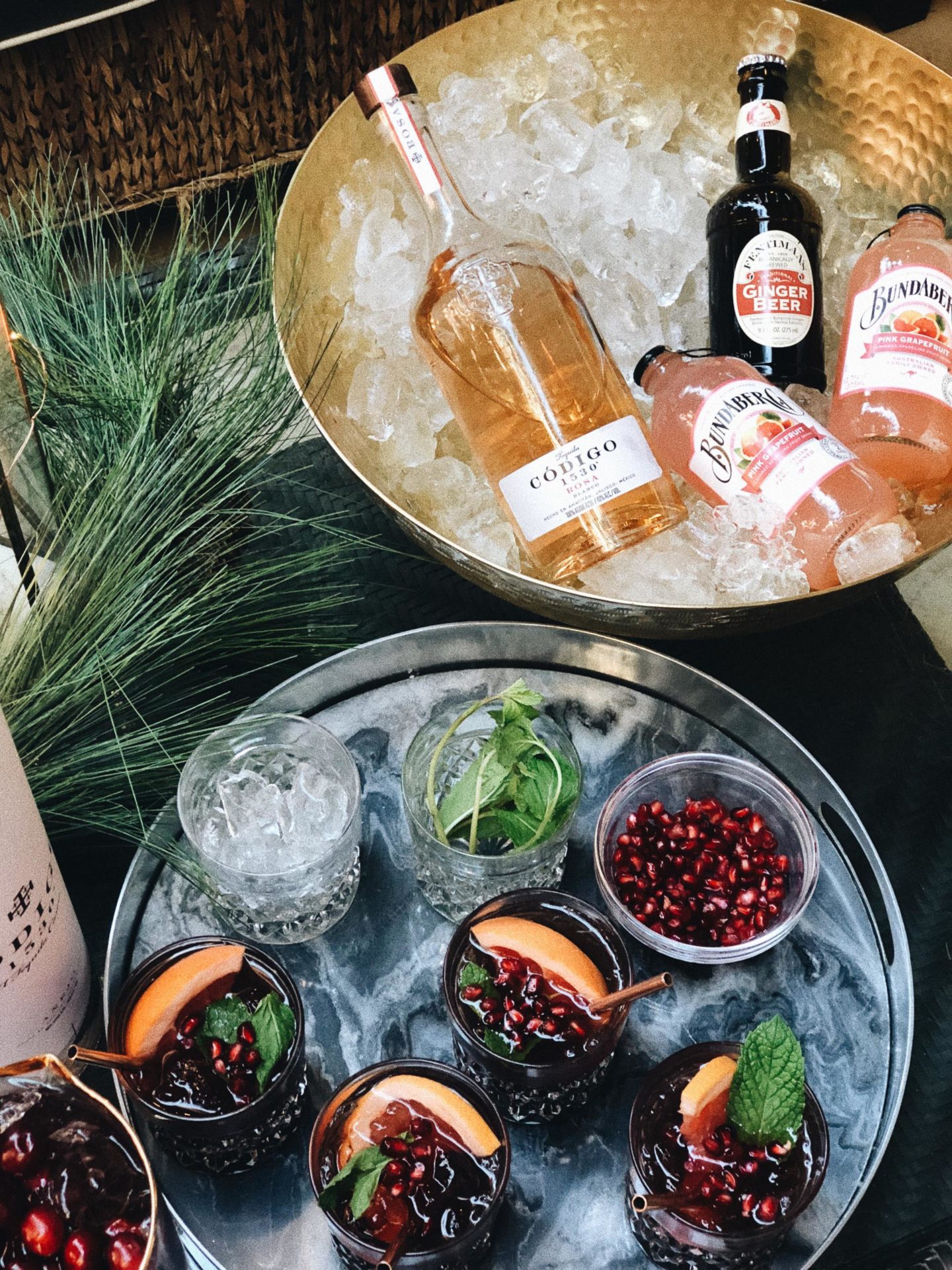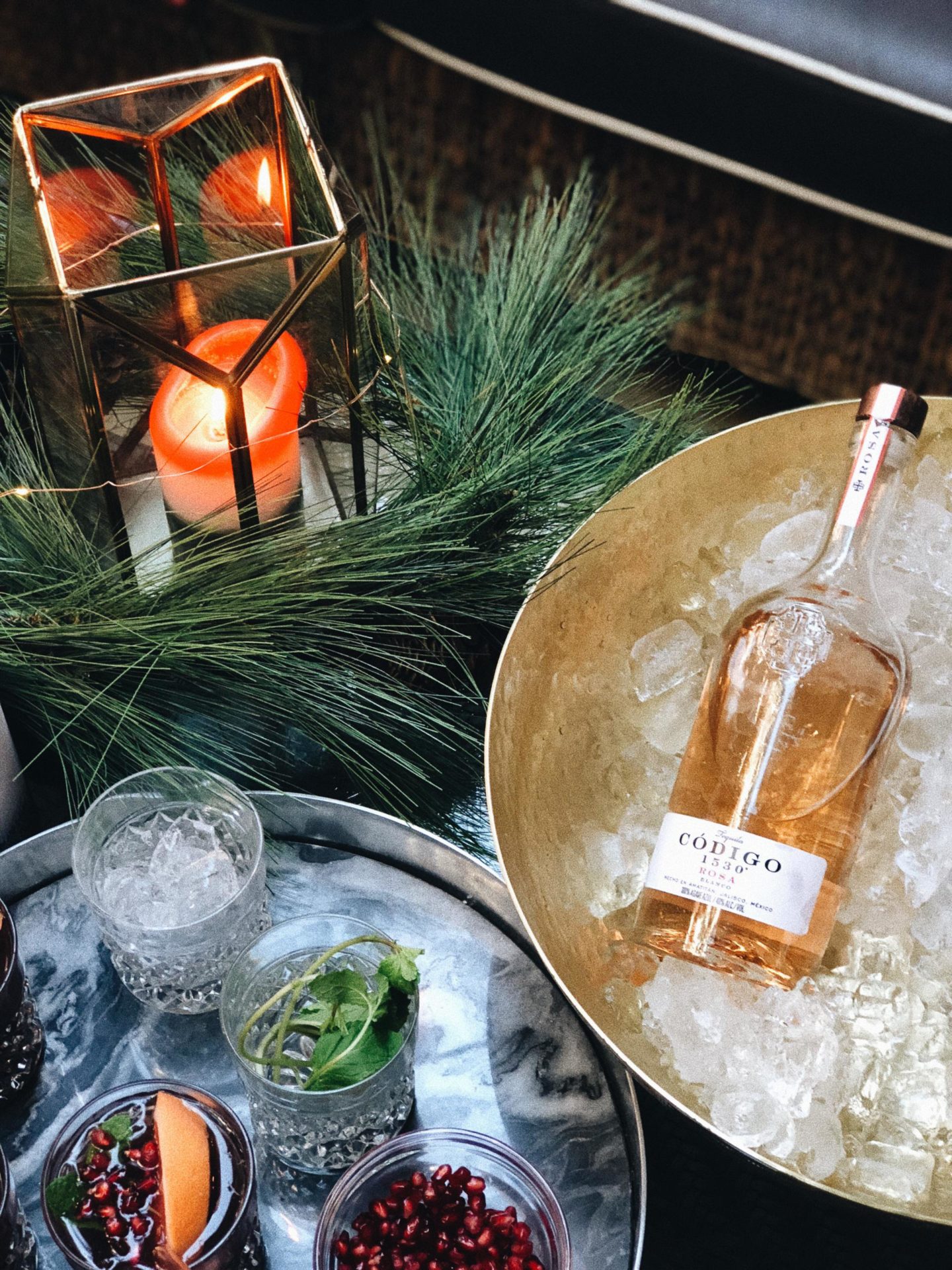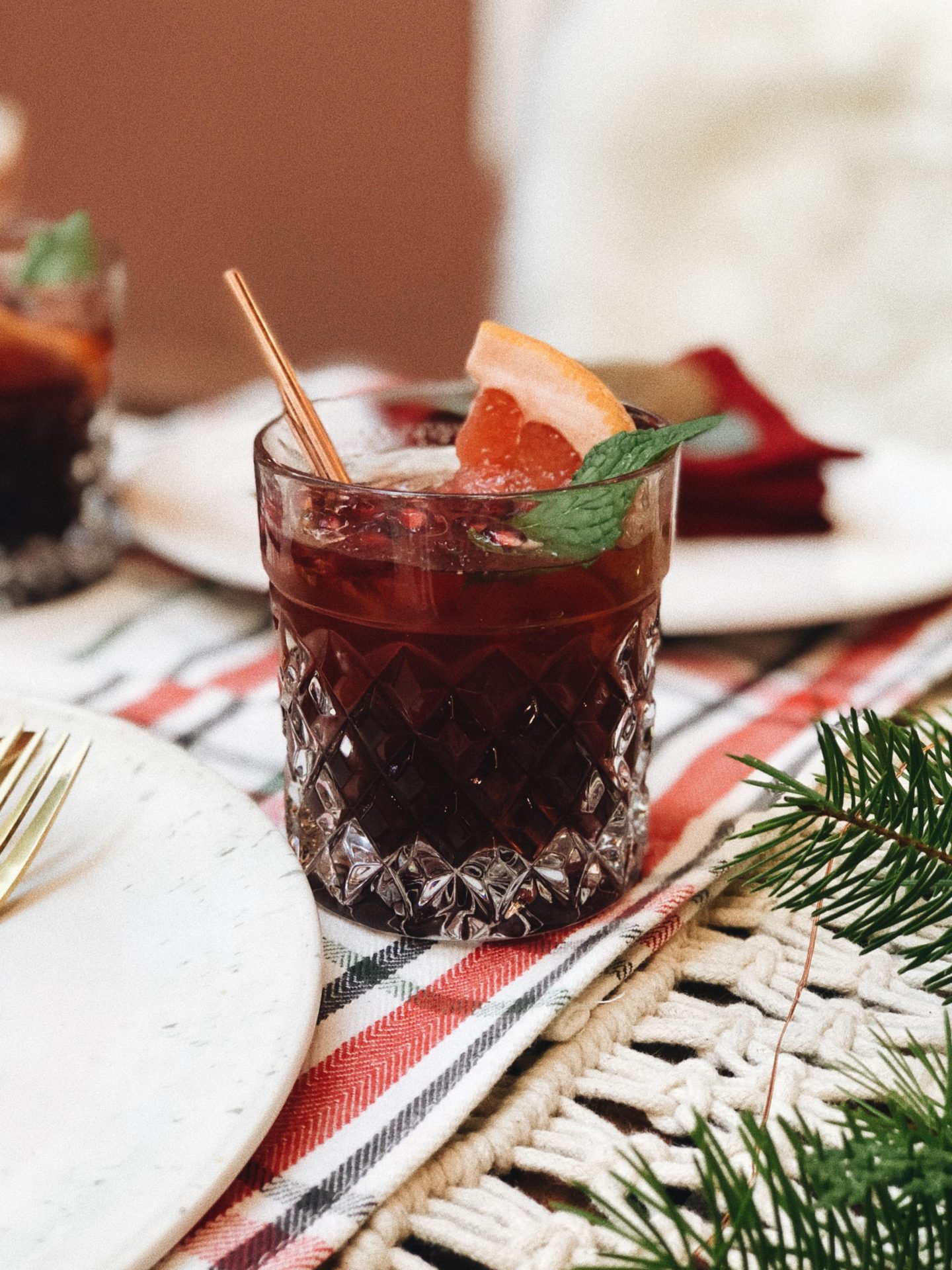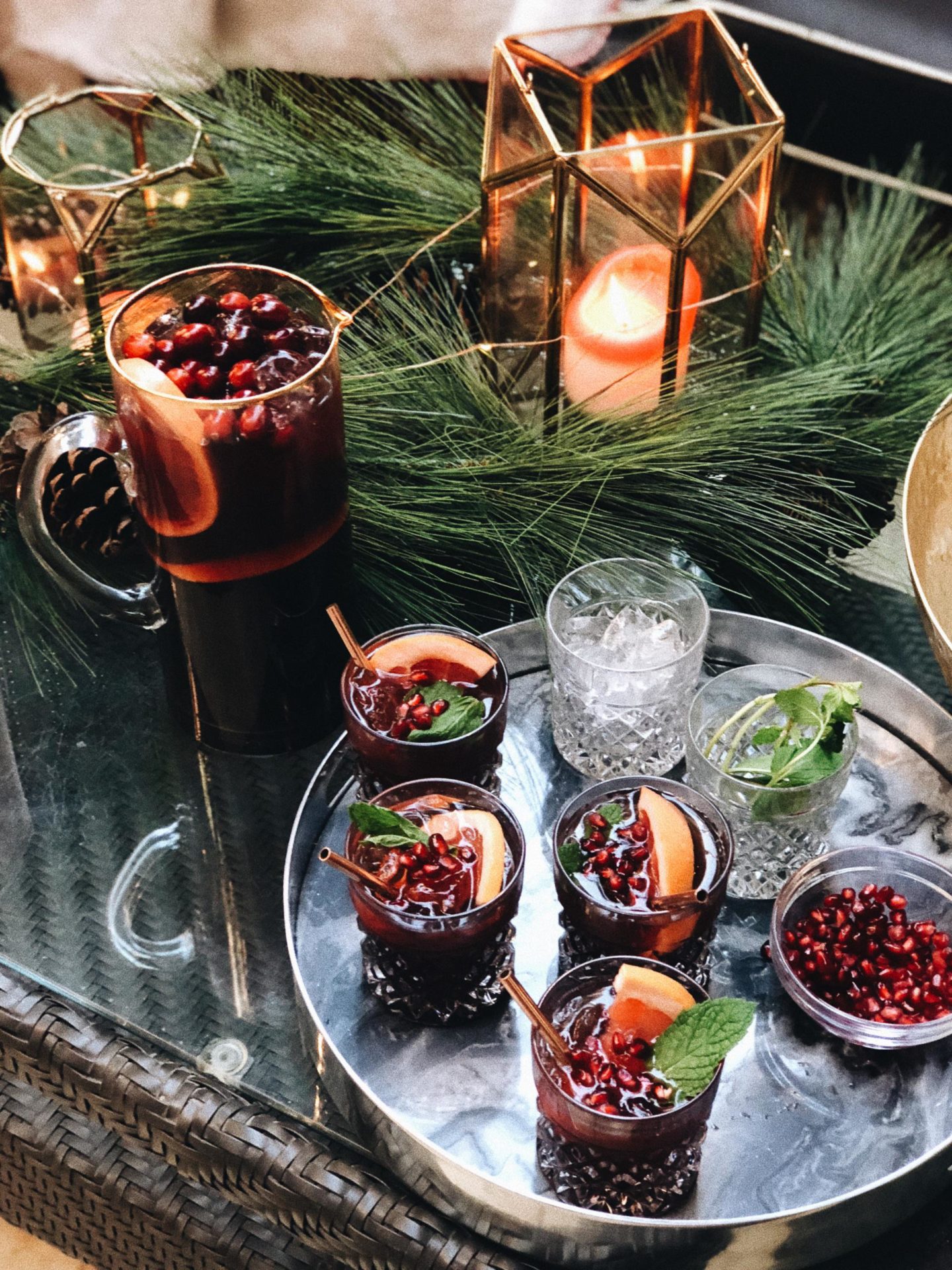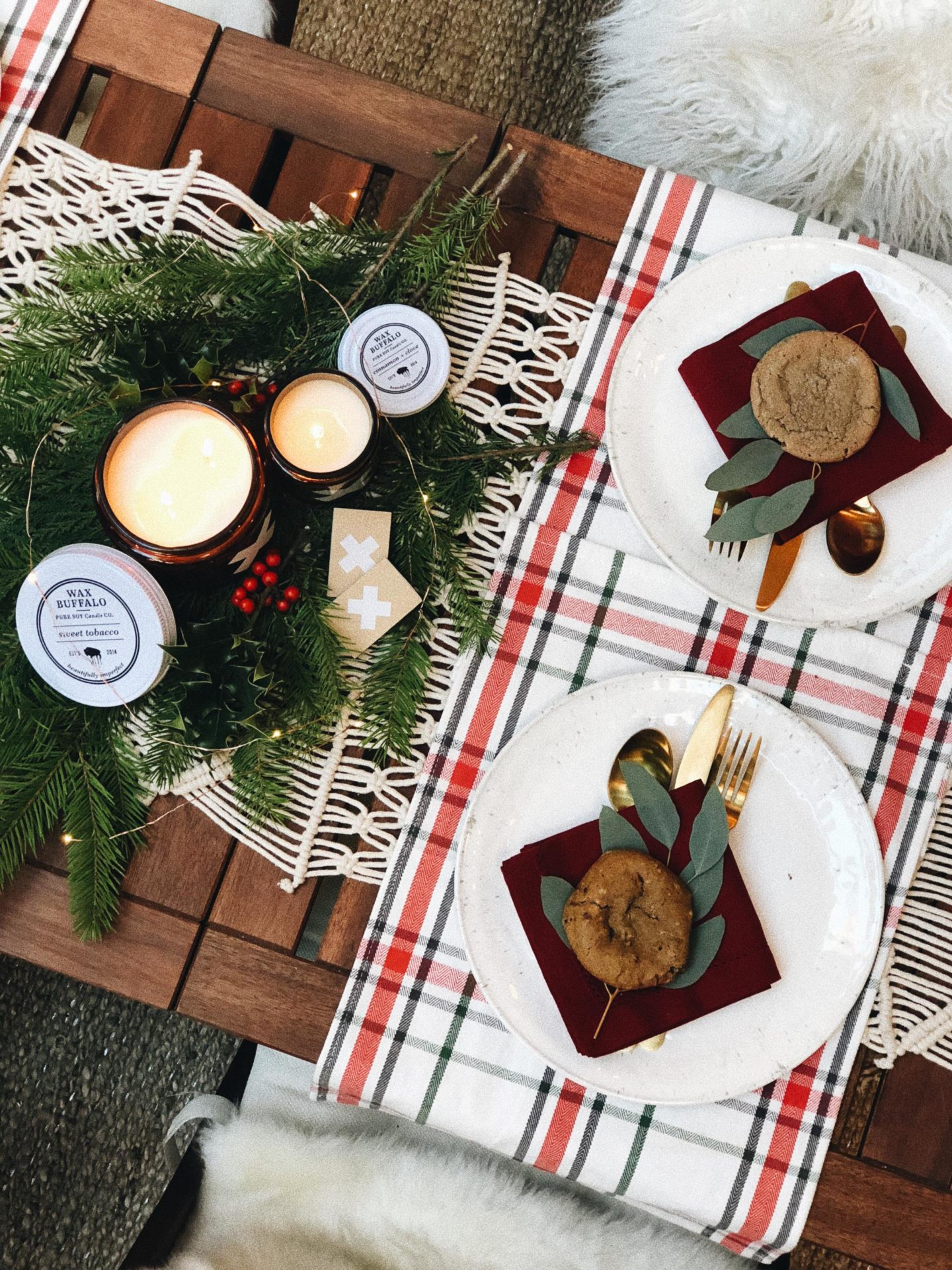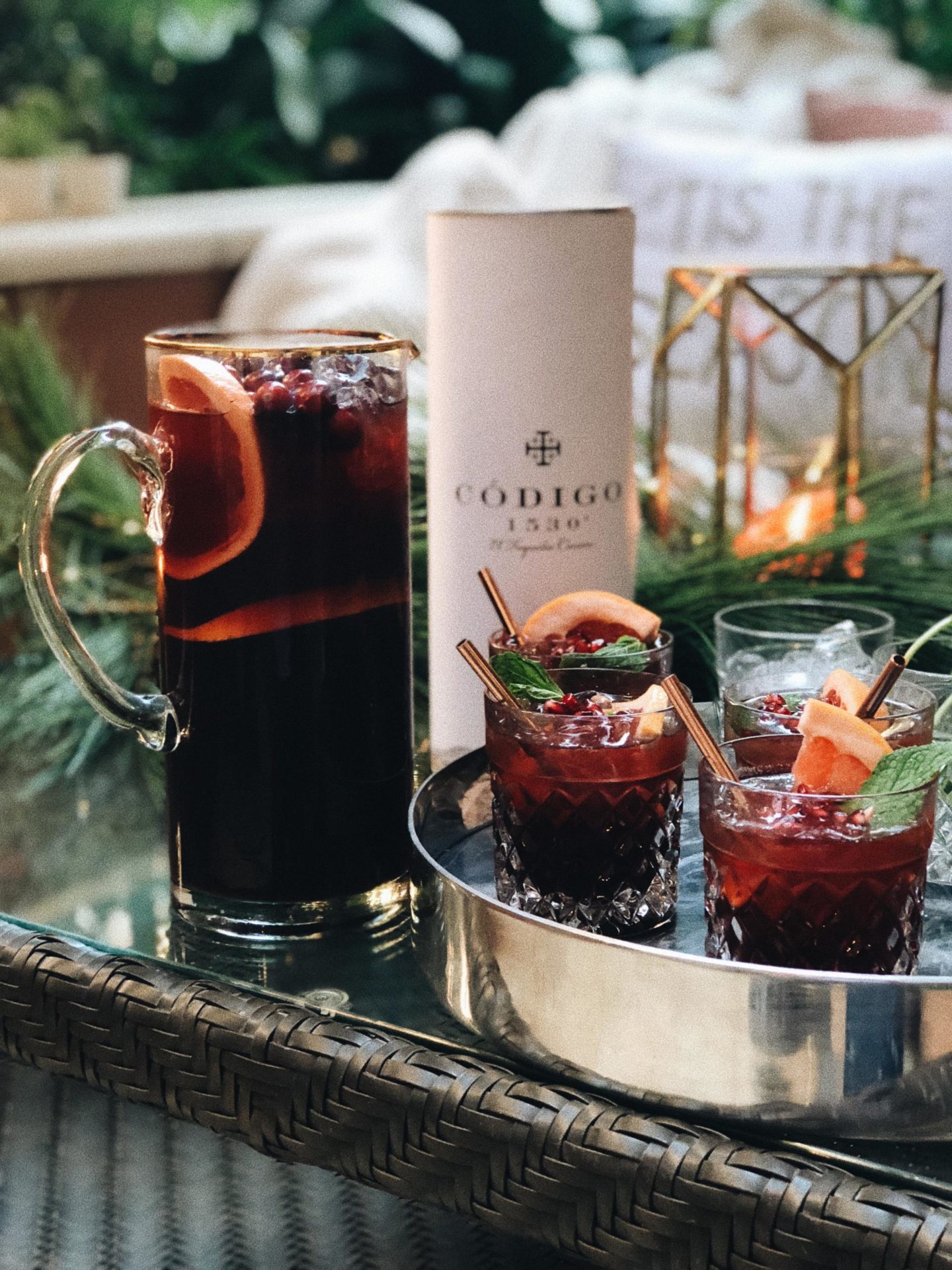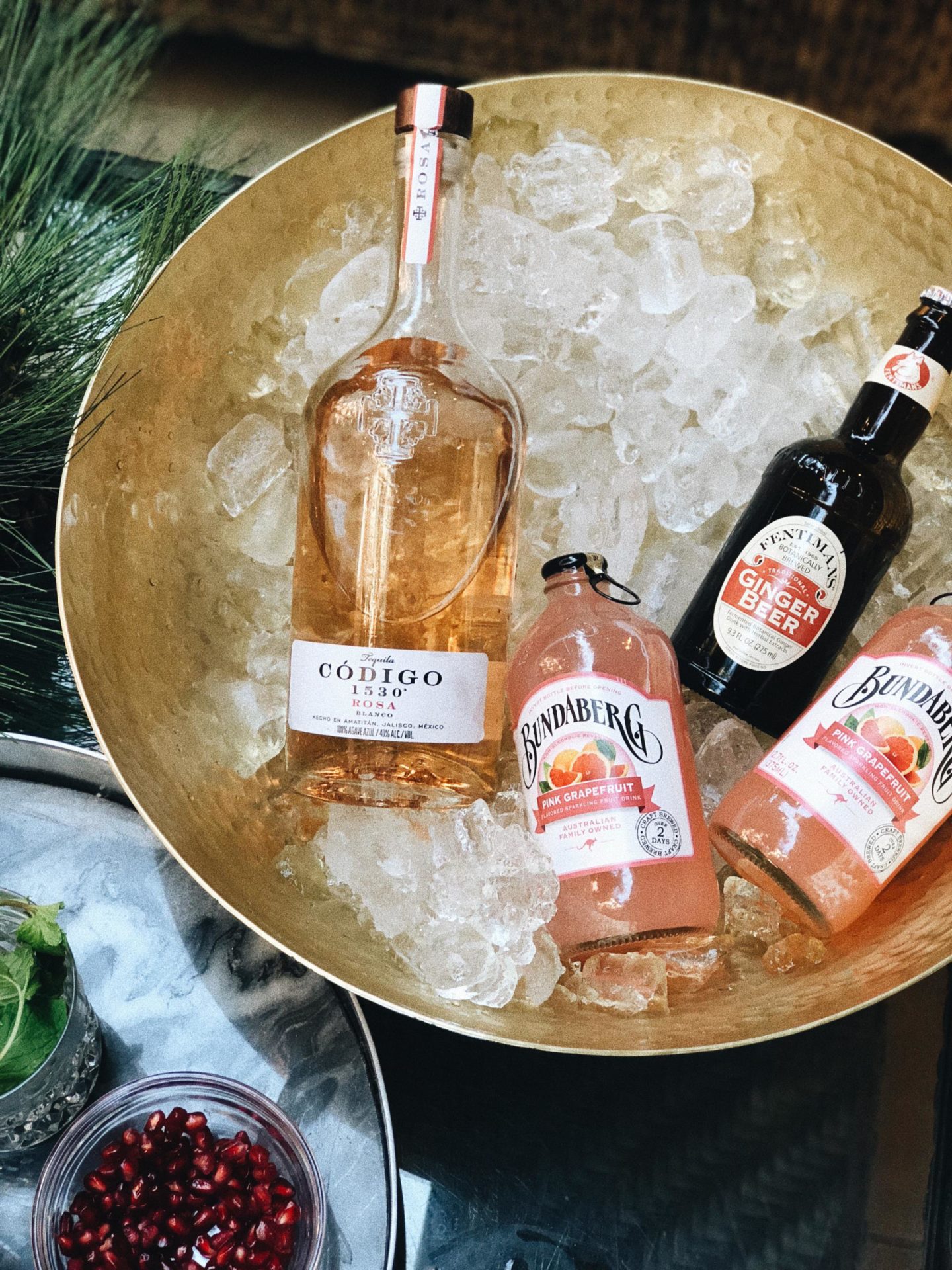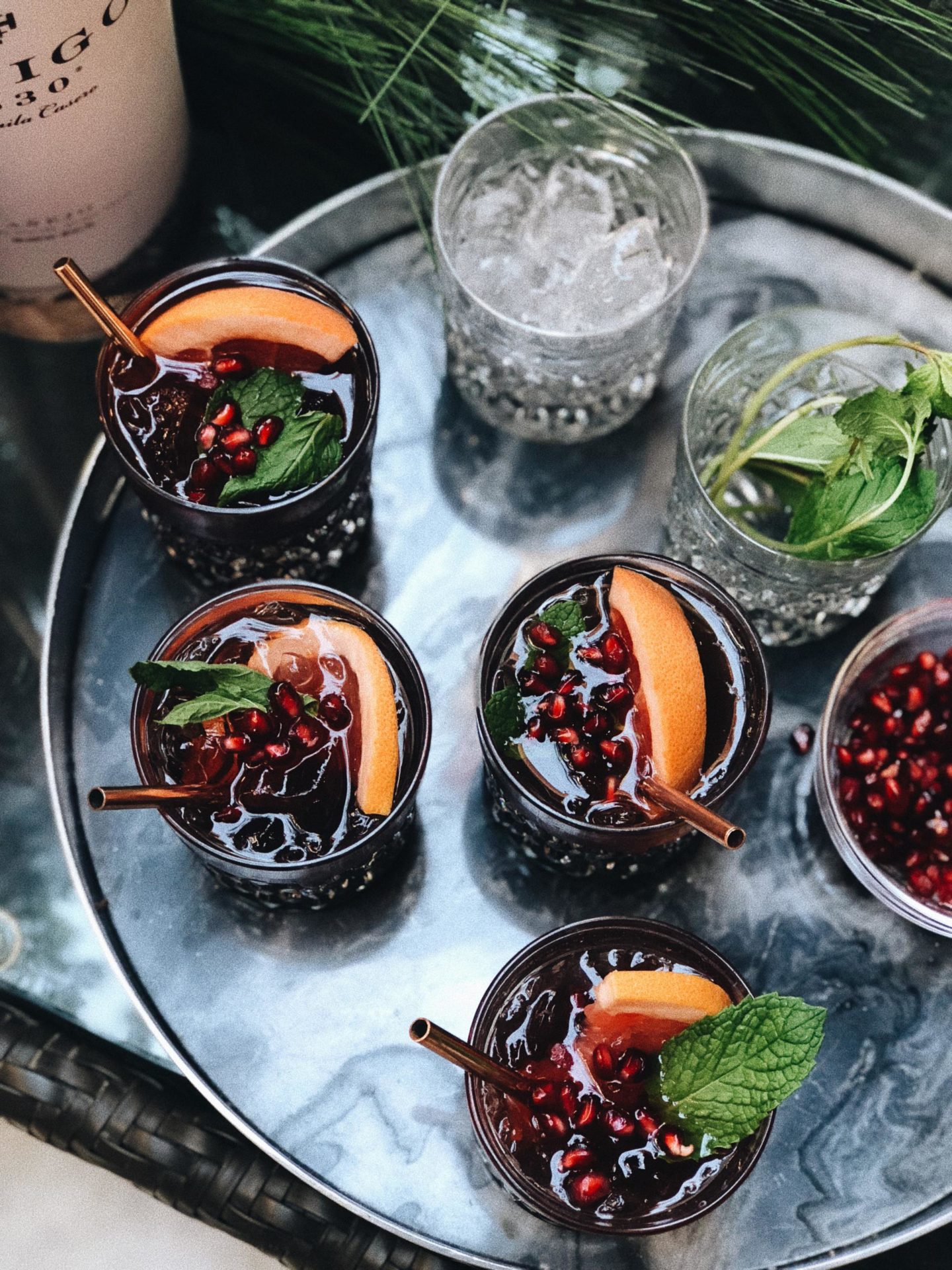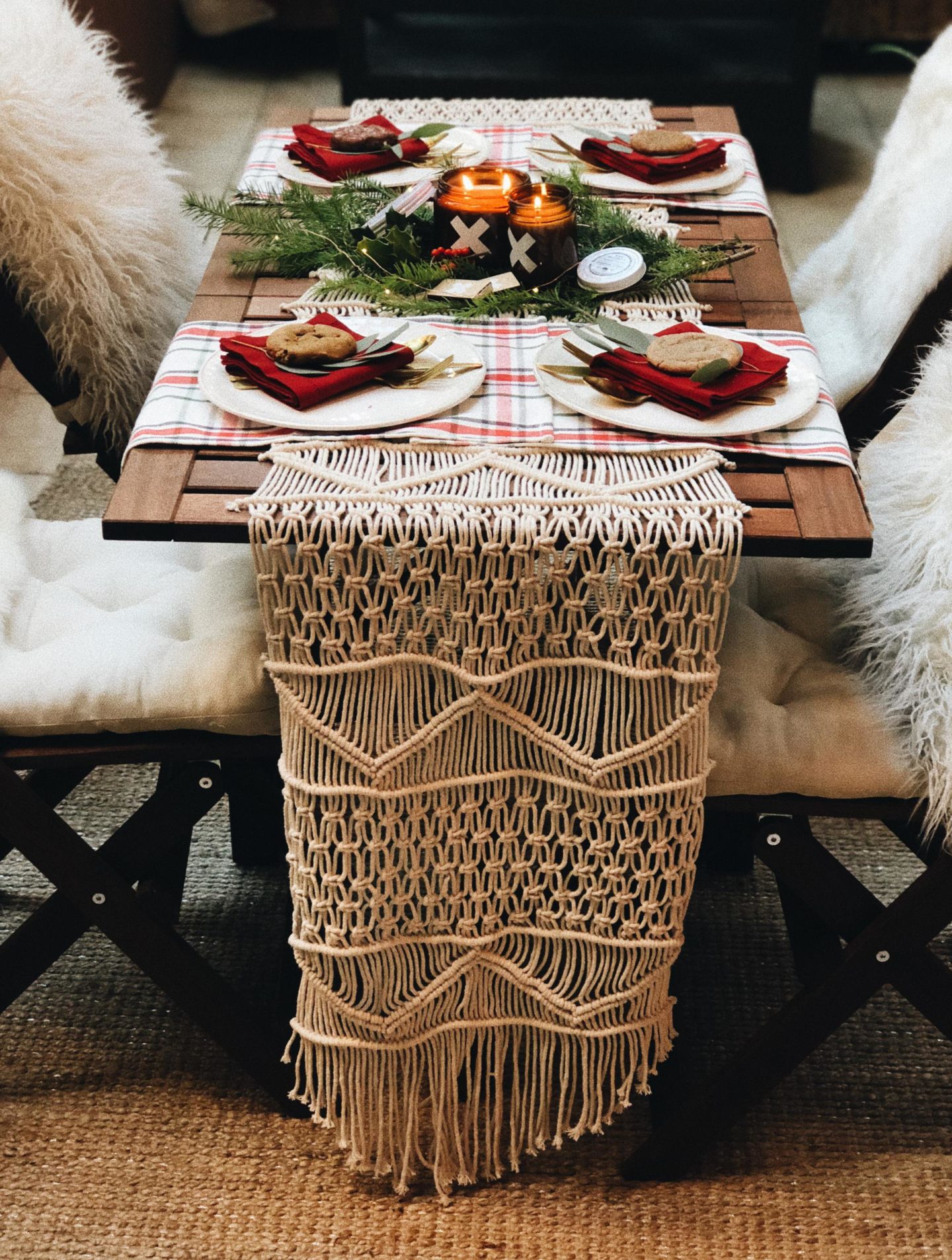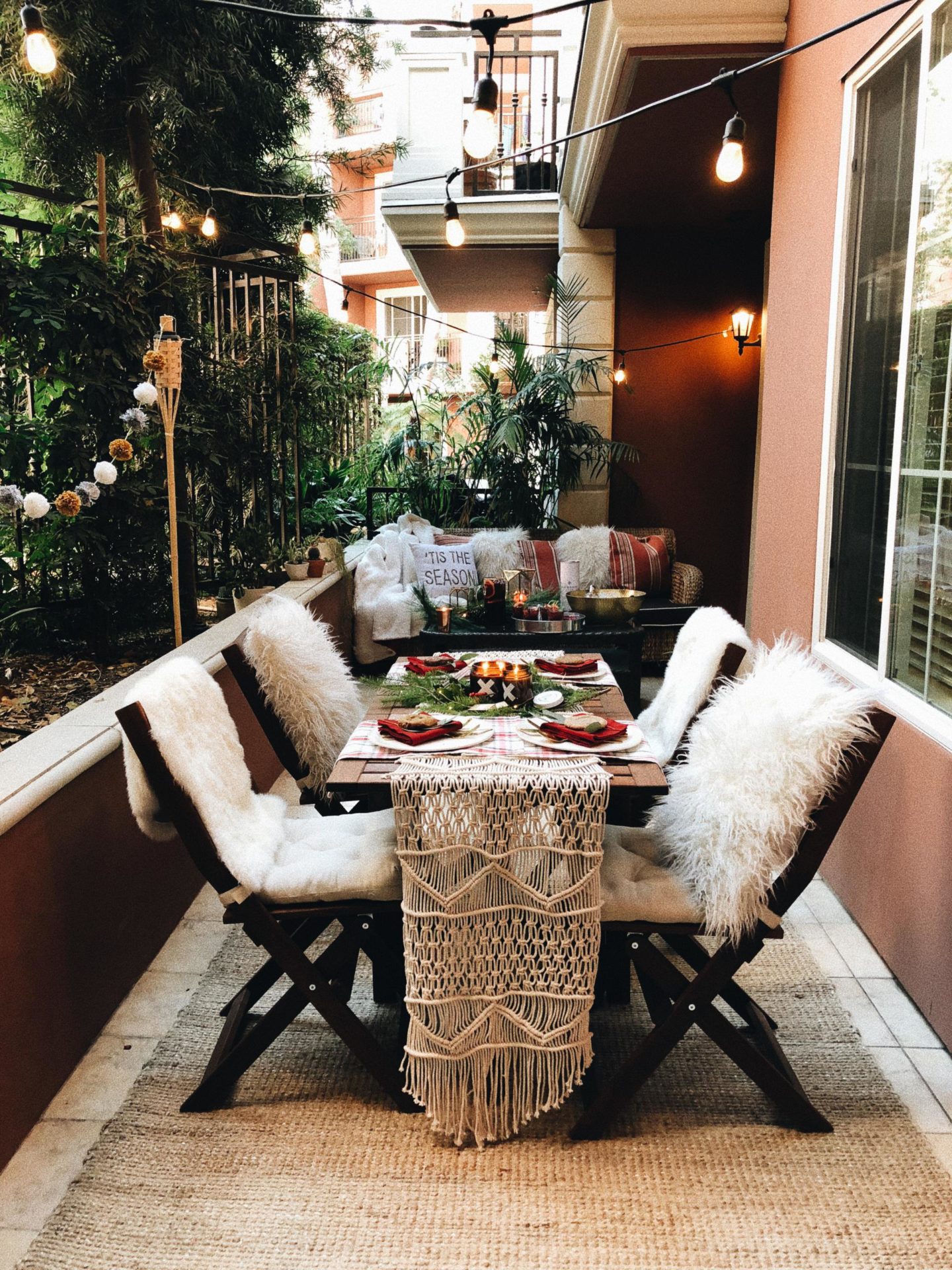 ---
POMEGRANATE GINGER PALOMA
from, Half Baked Harvest
---
INGREDIENTS
GINGER SYRUP
1/2

 

cup

 honey

1

 

inch

 

fresh ginger

 

chopped

8

 

leaves

 

mint
PALOMA
crushed ice

1/2

 

cup

 

pomegranate juice

1/3

 

cup

 

grapefruit juice

juice of 1/2 a lime

2-4

 

tablespoons

 

ginger syrup

2-3

 

ounces

 

tequila

ginger beer or sparkling water

 

for topping
INSTRUCTIONS
GINGER SYRUP
Bring 1/2 cup water, the honey and ginger to a boil over high heat. Once boiling simmer, 1-2 minutes and then remove from the heat. Add the mint, cover and steep 10-15 minutes. Strain out the ginger and mint. Store in a glass jar in the fridge for up to 2 weeks.
PALOMA
Fill your glass halfway with ice. Add the pomegranate juice, grapefruit juice, lime juice, syrup, and tequila. Stir to combine and then top with ginger beer. Garnish with mint. enjoy!
---
This post was created in partnership with Codigo 1530 Rosa Tequila. 
Additional sponsors include: The Cravory, & Wax Buffalo