So the title basically gives it away, but I'm writing this post to update you on what I teased you about in this post. It's finally August (woah…where did the time go?) and this month I'm challenging YOU, to challenge yourself every single day in some small (or large) way, by trying something new every day that you've never done before. It's that simple. Not only will you get the gratification of completing a month of new things, but you will also have a chance at winning THREE, yes 3…MONTHS of a ClassPass Core Membership. Say whaaaat?! For ClassPass Challenge RULES, read this blog post from ClassPass!
This challenge is important to me for a number of reasons…but it will probably make the most sense if you continue reading:
It's so easy to start feeling like the days are speeding by, and that you're not getting everything you want to be getting out of life, and the months just pass and your mindset stays the same. I may be speaking only for myself right now, and that's fine. But bear with me.
You may have picked up on some things I've blogged about in the past few months where I drop lines like "what are your tips for staying motivated?" "What do you guys do to stay inspired?" Or just flat out "sorry I've been so MIA from the blog lately…a lot has been going on/changing!" AKA: I have been going in an out of feeling complacent, not good enough at this blogging thing, not different enough from the thousands of people trying to make it big in this industry, not fulfilled in my 9-5 work life, confused on what my future holds, and just downright not motivated enough to stay up late to get a blog post done. To admit that is REALLY difficult, because I LOVE blogging…it's my heart and soul and seriously my passion. I think about it every single day, constantly. So why was I letting myself feel like this?
Well…I've been listening to podcasts a lot lately…and even though some of the speakers say some things that I myself have already thought, it means something deeper, and resonates more (with me at least) coming from someone else who has been through a lot already and has a platform to motivate and inspire a lot of other people to keep going on their own journey.
Why am I telling you all of this random information? Well, I realized that the reason I had all of these negative feelings basically inhibiting my ability to do what I love most was because I was letting myself get stagnant. I was uninspired, unmotivated, and un-energetic about things that used to get me through my day…and I wasn't doing anything about it.
This challenge is with ClassPass and promotes healthy lifestyle choices throughout the next month, but it goes so much deeper than taking a new fitness class. I have fitness goals and classes I want to reach throughout this challenge, of course. But what I really want to achieve is getting deeper into myself, and really shaking things up a bit. Emotionally, spiritually, physically, and on a career-path type of way (anyone got a word for that that ends with "lly"?)
Here is a list of things that I really think will put me back on track to feeling motivated, energetic about life, and inspired to continue on the path I'm meant to be on:
Goal: Try meditating every morning for 5-10 minutes.

Plan of action: Download the free app "OMG Meditate"; it's limited unless you pay for the upgrade, but it's a good start if you just want to see if you like guided meditation and want to invest more. If I find a better free app I'll update this with the name, or if you know of one, comment below!

Goal: Get educated and start using Essential Oils

Plan of action: Contact Karly Kent to get started (www.hello-essentials.com/kkent/)

Goal: Replace music in the car to & from work with an educational Podcast channel

Plan of action: Subscribed to: ~ The Skinny Confidential Him & Her Podcast (favorite!); ~ Spirit of 608: Fashion, Entrepreneurship, Sustainability, + Tech; Social Media Zoom Factor with Pam Moore | Social Media Marketing | Branding | Business | Entrepreneur | Business | Digital Marketing | Modern Marketing | Startup | Internet | Social Selling (aka everything you need to know about everything); ~ Mike Cernovich Podcast; ~ Myleik Teele's Podcast; ~ Back to Work; ~ Founders Talk; ~ Social Triggers Insider with Derek Halpern; ~ Build Your Tripe | Creating Community | Email List Building | Internet Marketing Social Media (she's religious and references her faith all the time, I love it!!); and finally ~ The #AskGaryVee Show – WOO that's a lot…but I'm dedicated to this goal!

Goal: Make time to read the books I binge bought on Amazon two months ago

Plan of action: Read one chapter a night instead of watching all of my unwatched snapchat stories (the blackhole)

Goal: Try the ClassPass classes that make me nervous to do alone/that sound fun but I don't make time for

Plan of action: Classes involve: Indo-Row, Beach Yoga with Brad, TRX, Booty Camp, XY – if you're in Santa Monica/LA, let's do a class together!! If you're looking to try out ClassPass so you can do ALL of these classes with me instead of paying a fee at each studio for one class, sign up here! You'll get a $20 credit for your first month 🙂

Goal: Spend time on the beach to relax and unwind

Plan of action: My new place is just a couple blocks up from the beach – I move officially next Saturday, so there will be no excuses! I plan to drink coffee in the mornings, and go on runs on the beach.

Goal: Write down what I'm thankful for weekly.

Plan of action: Carry around a pen and a pocket notebook in my purse so I can do this at any time throughout the day.

Goal: Try one new recipe each week

Plan of action: When I move, I'll be blocks away from my best friend; we plan to try a new recipe out weekly!
These are just the first few things that have really been buzzing around in my brain as I start this challenge. When I think of more, I'll add them to this list so you have a place to get inspired if you decide to do this challenge with me (which I hope you do!).
Participating in something this big is so much easier when you're doing it with someone! If you need someone to hold you accountable, tweet me at @ashley_guyatt, or email me and we can do this together!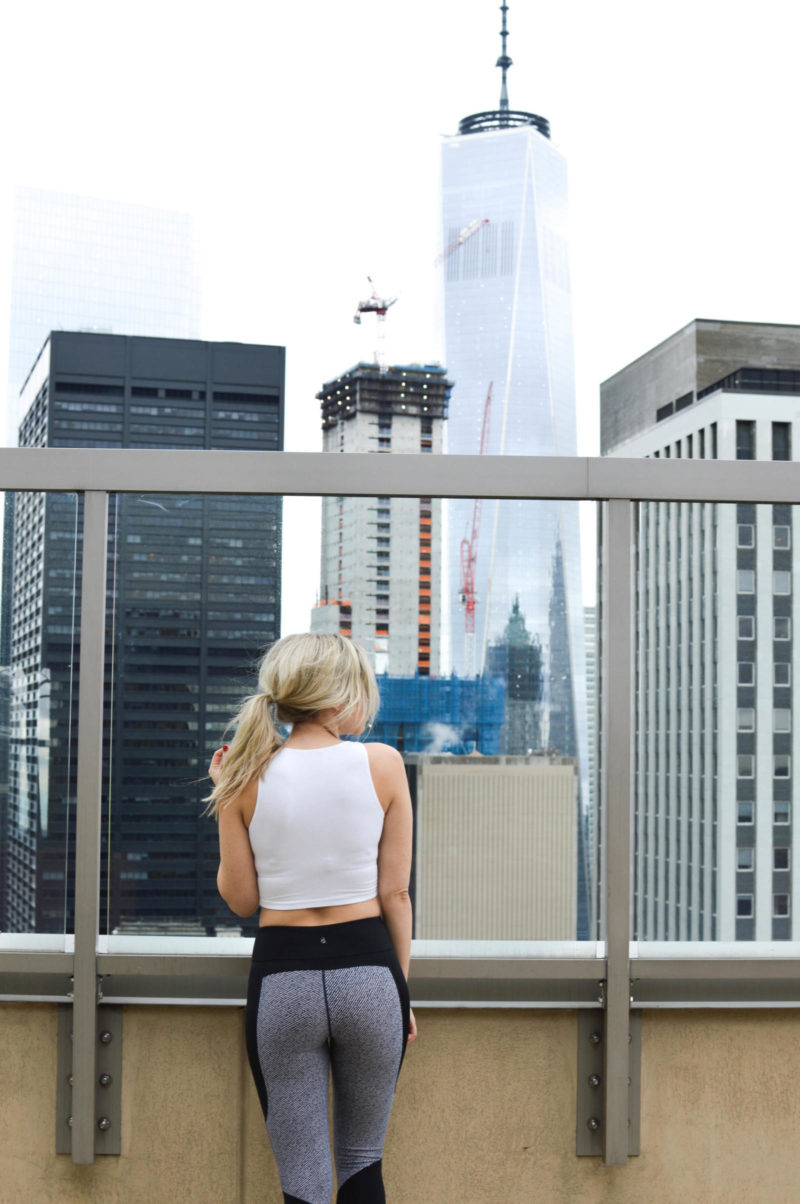 #ClassPassChallenge