Last night Brennan and I decided to get dressed up and go on an impromptu fancy date night. It was SO much fun, and I value so much the fact that he likes to get dressed up and go out on a Sunday night! The only problem is that sometimes getting "dressed up" is a struggle for me – not because I don't enjoy it…but because I literally have nothing to wear (or that's how I always feel when it comes time to dress up at least!).
I have always had to run to my friends' closets when it came time to get fancy for something (ask my college roommate, she had what seemed like 100's of dresses to borrow, so it worked out for me!), but now that I'm living alone, I need to work with what I can find!
Shopping for "fancy" or "dressy" items is ALWAYS at the bottom of my list. Like, why would I pass up this comfy v-neck or cute romper just so I can get a fancy dress I'll maybe wear in 2 months if I actually have somewhere to go? WELL, that's not the best mindset to have. Because 1) you don't need a reason to dress up…if you want to get fancy, then do it! 2) It's SO IMPORTANT to have at least 3-5 options on reserve.
Luckily I had a cute new black satin dress that I got to wear last night, and I must say, I felt pretty good in it. (That dress is coming to the blog soon – I just shot it yesterday!) But then I got to thinking, what else could I wear on a fancy date night?
Answer: THIS JUMPSUIT, CLEARLY. It's SO classy, and makes such a statement! There are so many great features about this jumpsuit (it's comfortable, it is lined, and it hits in all the right, flattering places!) but my favorite is definitely the fact that the top part is basically a bra! It's padded, so you don't have to worry about wearing a sticky bra or pasties, and the back is literally bra clasps, allowing you to tighten or loosen it to your desired size! It's probably the first jumpsuit that's fit me correctly up top, because it seems like everything is made to fit girls with a size C cup and up! Thankfully, Necessary Clothing just gets it.
My advice to shopping for future, unplanned date nights is to stick with classics. Things you can grab that will be relevant for months, or even years to come. This jumpsuit makes a statement, yes, BUT it is SO basic that I can wear it with so many different shoes and handbags to mix it up each time I wear it to an event. Last night's LBD is sexy, satin, and has a low back…so it's always going to be my go-to when I want to feel great without stressing about the complexities of dressing up.  And if you are worried about buying things for future events, then stick to F21 for all those hidden gems. You won't break the bank, but you'll have options on reserve for those impromptu occasions that require something sassy.
Sadly…this gem of a jumpsuit is now sold out. BUT, Necessary Clothing is like 80% things you can wear out, so I rounded up my favorite rompers & jumpsuits below, and even matched them with my favorite heels…also from Necessary Clothing. NOTHING exceeds $50 (and if it does….I'd be shocked) so don't worry…your bank (and your date) will thank me later.
(PS I linked these sandals…which are the perfect Stuart Weitzman Nudist Sandal DUPES…in black below. YOU NEED THEM THEY'RE ACTUALLY SO COMFORTABLE).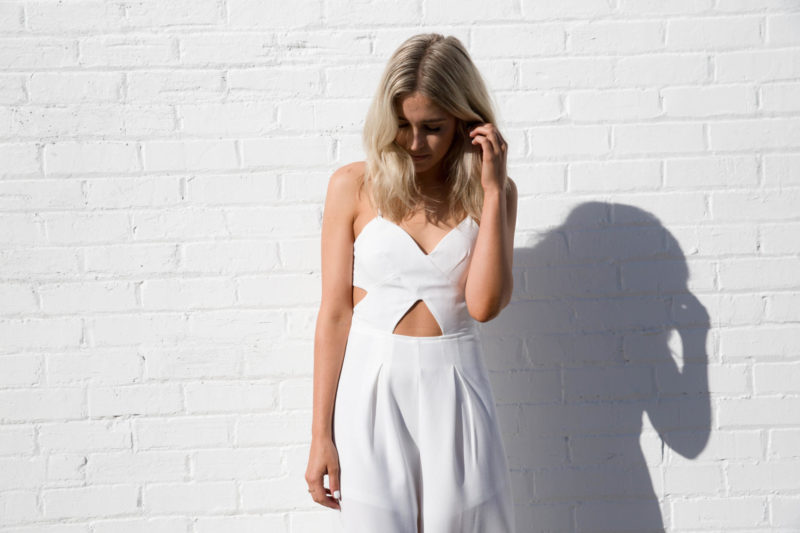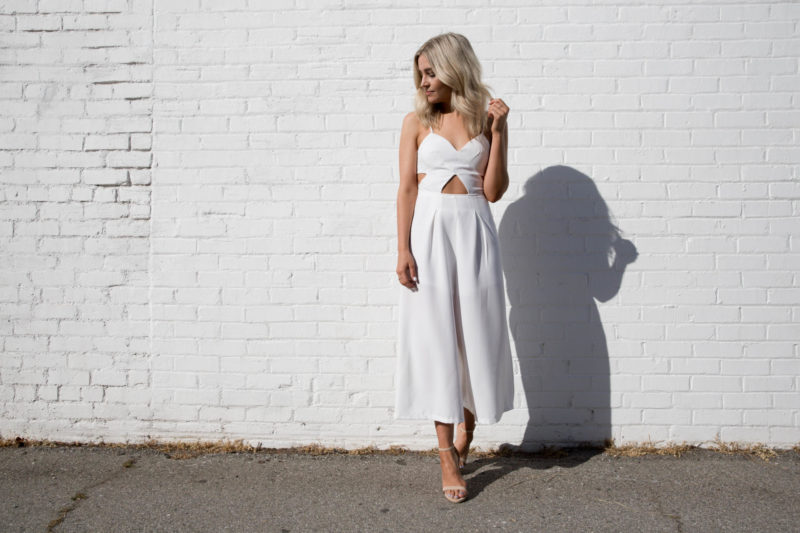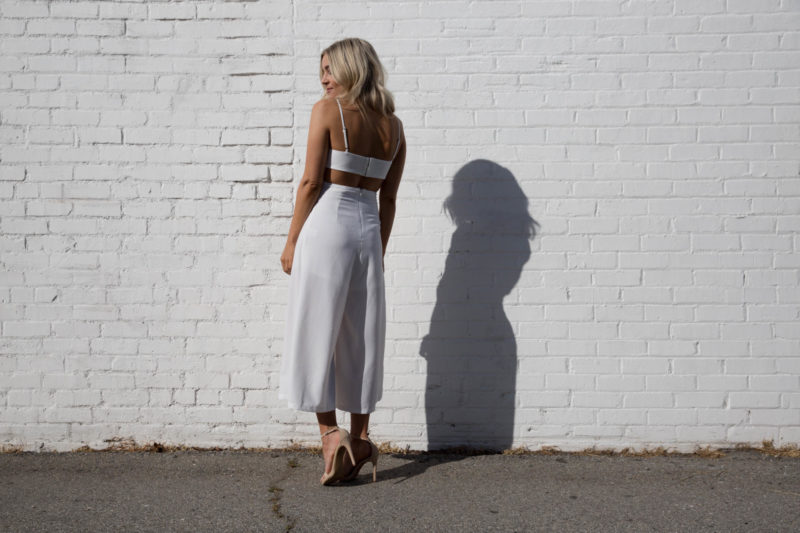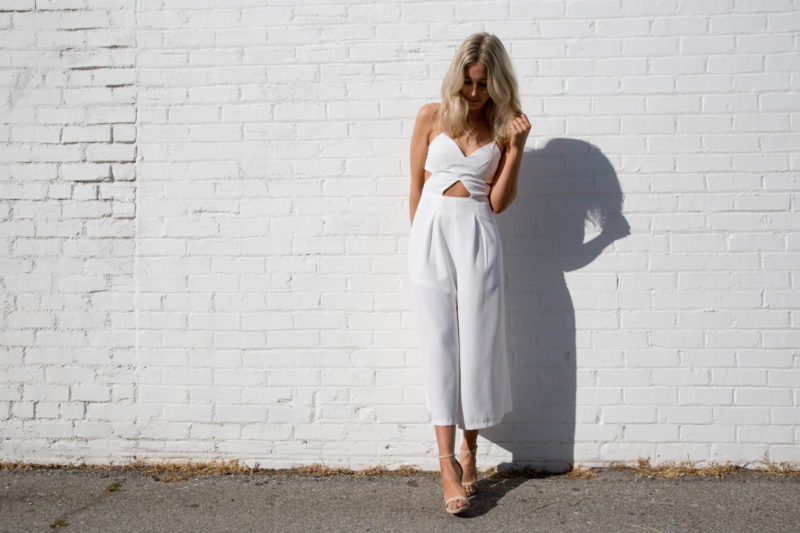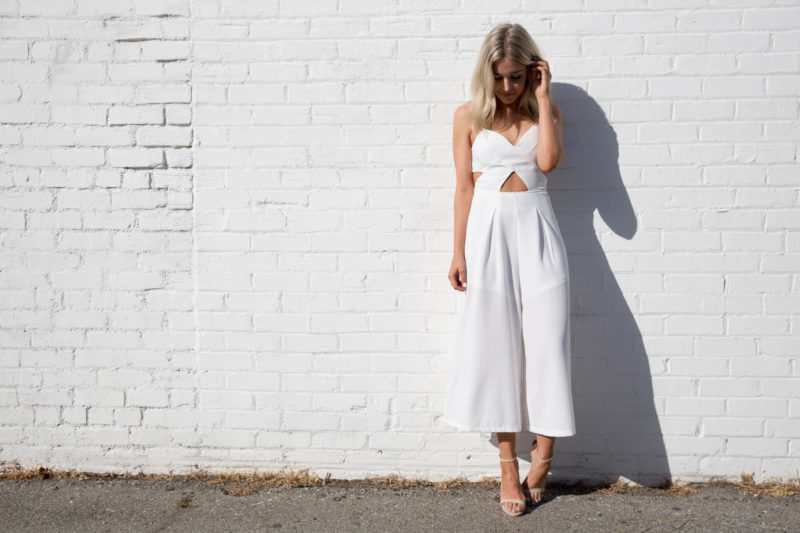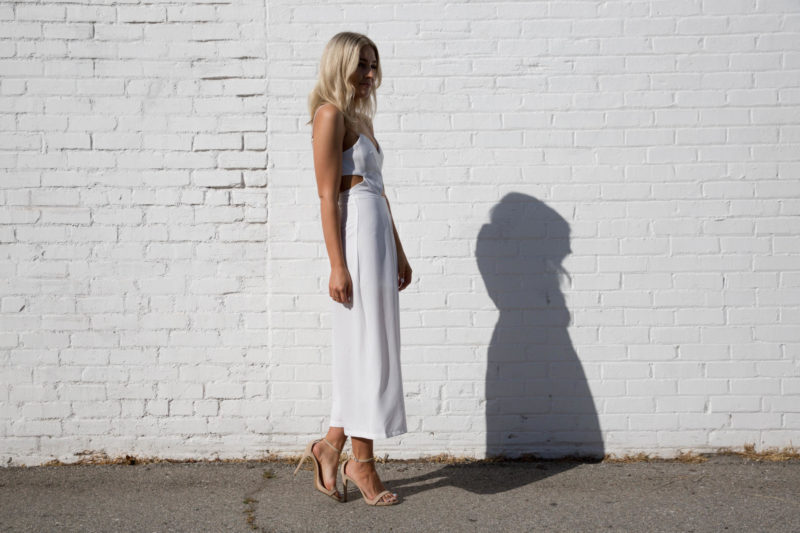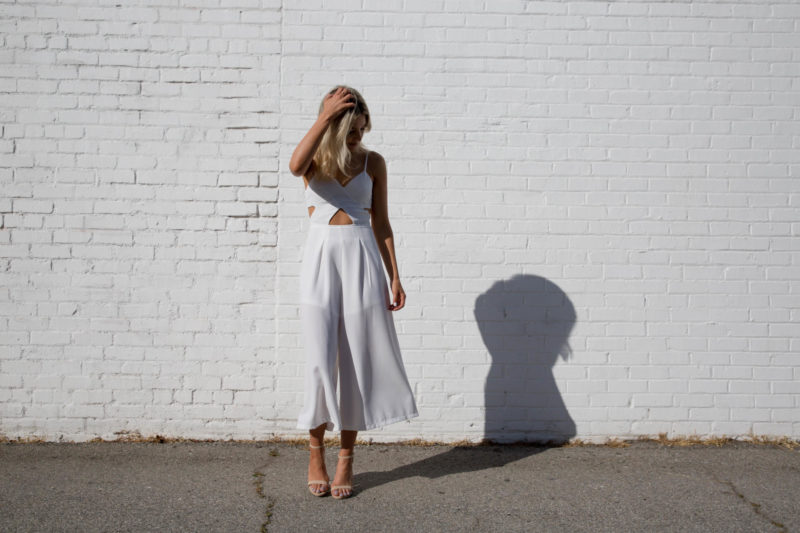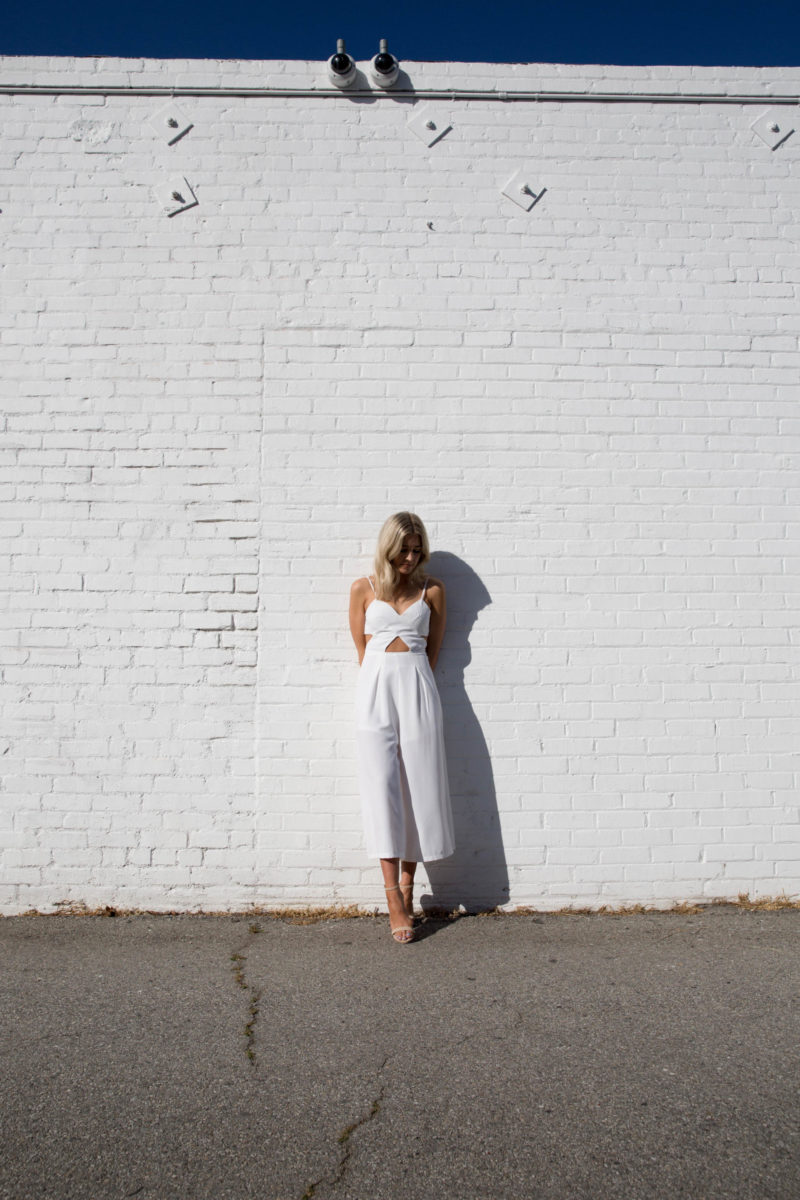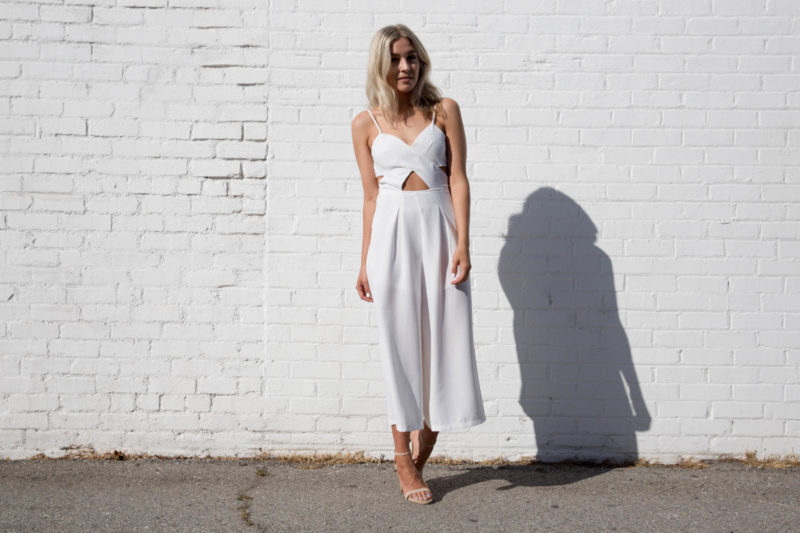 Jumpsuit, c/o Necessary Clothing | Shoes, c/o Necessary Clothing