I'm a sucker for a gorgeous head of hair. Sounds silly to say, but after I started coloring my hair my senior year of college, I just feel like my hair has slowly but surely started to get more and more unhealthy. With naturally wavy hair, I am CONSTANTLY putting heat on it to try to maintain that "perfect beach wave minus the frizz" look, and always going blonder and blonder every time I get into the salon. But it's time to stop pretending like I know what I'm doing. It's time to talk about tips for healthy hair, and how I plan to get my own BACK to healthy. The right way.
If I showed you what my hair looked like in high school (pre-hair color, pre-sun-in exposure (OYY), and pre-early-20s-crisis-lob-chop) you'd be like okay, so wtf happened?
Well – thanks to my hair angel Liana from Salty Mane Studio in Santa Monica (which, side-note, is an interior DREAM…her decorating skills are my goal aesthetic) I am on my way BACK to what I used to define as my strong, healthy, THICK locks.
When I first visited Liana for a blow out a few weeks back, she was straight up with me.
She said that my roots are thick and my hair has potential, but it would take a lot of work to get me back to where I need to be. Bottom line? My hair is v damaged.
Throughout my blowout, she schooled me on proper products to be using, how to wash my hair correctly, and all other in's and out's that no other hair insider has ever shared with me.
She then told me that if I was game, she would personally do what she could to get me back on track. (ANGEL)
Fast forward a week, and I'm back in the salon for a hair cut (I walked you guys through the whole process on InstaStories, so you got the BTS look of it all).
At first I thought we were going to go with what Liana calls a "dusting" where she essentially cuts THE TINIEST amount of hair POSSIBLE – it's basically a split ends clean up. You get to keep your length, but freshen up your locks. (WIN-WIN; especially for those of us that live and die for the "just going for a trim today" instructions bc we're desperate to keep our hard earned length we gained in between cuts).
After I sat down, she told me that we needed to really get down to business and cut off what looked like a "tail" of hair (evidence below). She said after looking through my pics before my appointment (thank God for IG), she said in some shots it looks like I have a cute lob, but in others you can see there's clearly some length there, just not evenly dispersed. Despite me being desperate for my long hair to be back (RIP high school + college hair), I knew I had to even the length out because I am doing my best to get rid of my short choppy layers. She also told me that this would be the quickest way to get back my thickness hidden in my roots.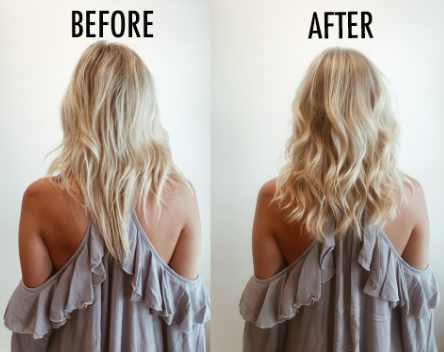 Throughout the cut and dusting appointment, I picked Liana's brain in attempt to help you guys at home with as much as I possibly can via internet.
Below are Liana's responses to my questions (she is literally a hair GENIUS and has so much insight to share) so read, take notes, and send to all of your fellow mermaids!
---
A: WHAT ARE YOUR TOP 5 TIPS FOR MAINTAINING HEALTHY HAIR AT HOME?
L: + Using a heat protector of leave in conditioner before blow drying. It's important to protect your color before you put heat to it or even go out in the sun.
+ Don't wait more than 8 weeks to get a hair cut, or at the minimum maintaining a trim of at least 1/2 an inch every 8 weeks. It's important to keep the ends healthy, and cuts promote faster growth.
+ Conditioning mask or treatment every other week! Olaplex is best – it makes your hair stronger. Don't listen to myths saying the longer you keep it in your hair the better – maximum time in your hair should only range from 45min – 1 hour – every product, no matter what it is, only works up to a certain amount of time. It's false that sleeping in Olaplex will make it work better!
+ Keep a healthy scalp: wash two times a week – if you let oil sit on your scalp for too long it clogs your pores. Your scalp needs stimulation, so massaging your scalp daily will help with hair growth.
+ Shampoo ONLY ROOTS, not ends…and condition ONLY MIDLENGTH TO ENDS, no roots. Instead of dramatically trying to lather up your entire head of hair, keep your hair straight down and massage shampoo into your roots, no need to swirl it around as this can be damaging to your hair. Do the same for conditioning – simply run conditioner through the ends with your fingers. This will also help prevent tangling and breaking of the hair.
A: WHAT TYPE OF HOT TOOLS DO YOU RECOMMEND?
L: Ceramic / Ionic hair tools are the safest for your hair. Use MEDIUM heat; if you're slow at doing your hair, turn it to the LOWEST heat setting possible (unless you want to be like that girl on YouTube).
---
Notable product mentions from my appointment that day:
Davines Oi Oil: To put on the ends for shine + frizz control, moisture, & heat protection
Davines Oi All In One Milk: Leave in conditioner for detangling, hydration, and heat protection

My hair has NEVER been as soft as it was after Liana dried it with these products applied. It was heavenly. I even stopped her to make her bring the items over so I could get as much info as possible. These products are no.joke.
Bonus points for the fact that the mermaid blowout lasted for 3 full days after I got it done – I didn't even have to touch it up! It was amazing.
If you're in the Santa Monica (or even just LA in general, she's worth the drive!) I HIGHLY recommend going to Liana. Even if it's just for a cut! ($80 for a cut/dusting, $95 for washing/hair cut/blow drying). She will be super up front with everything you need to do for your hair, and more.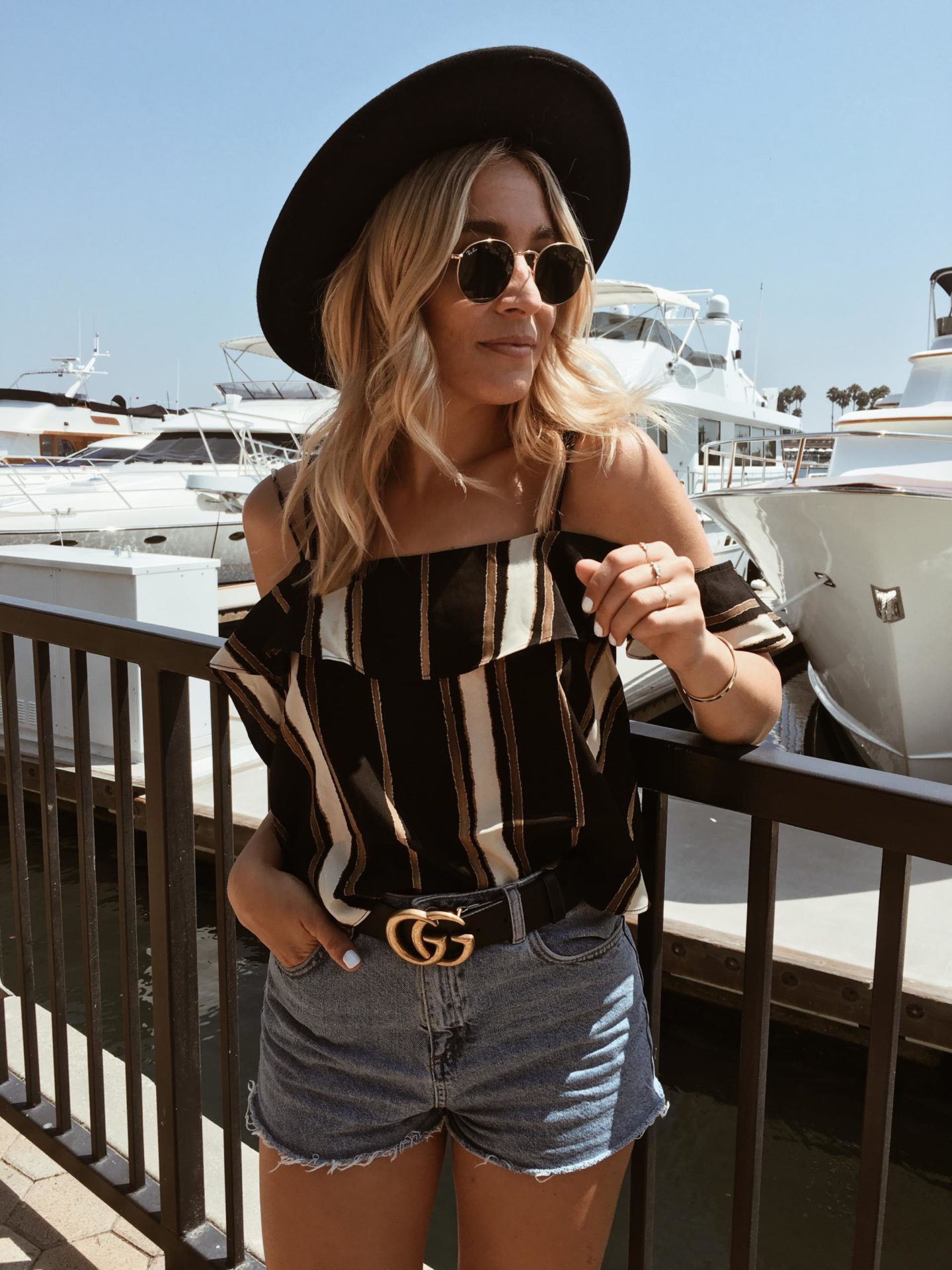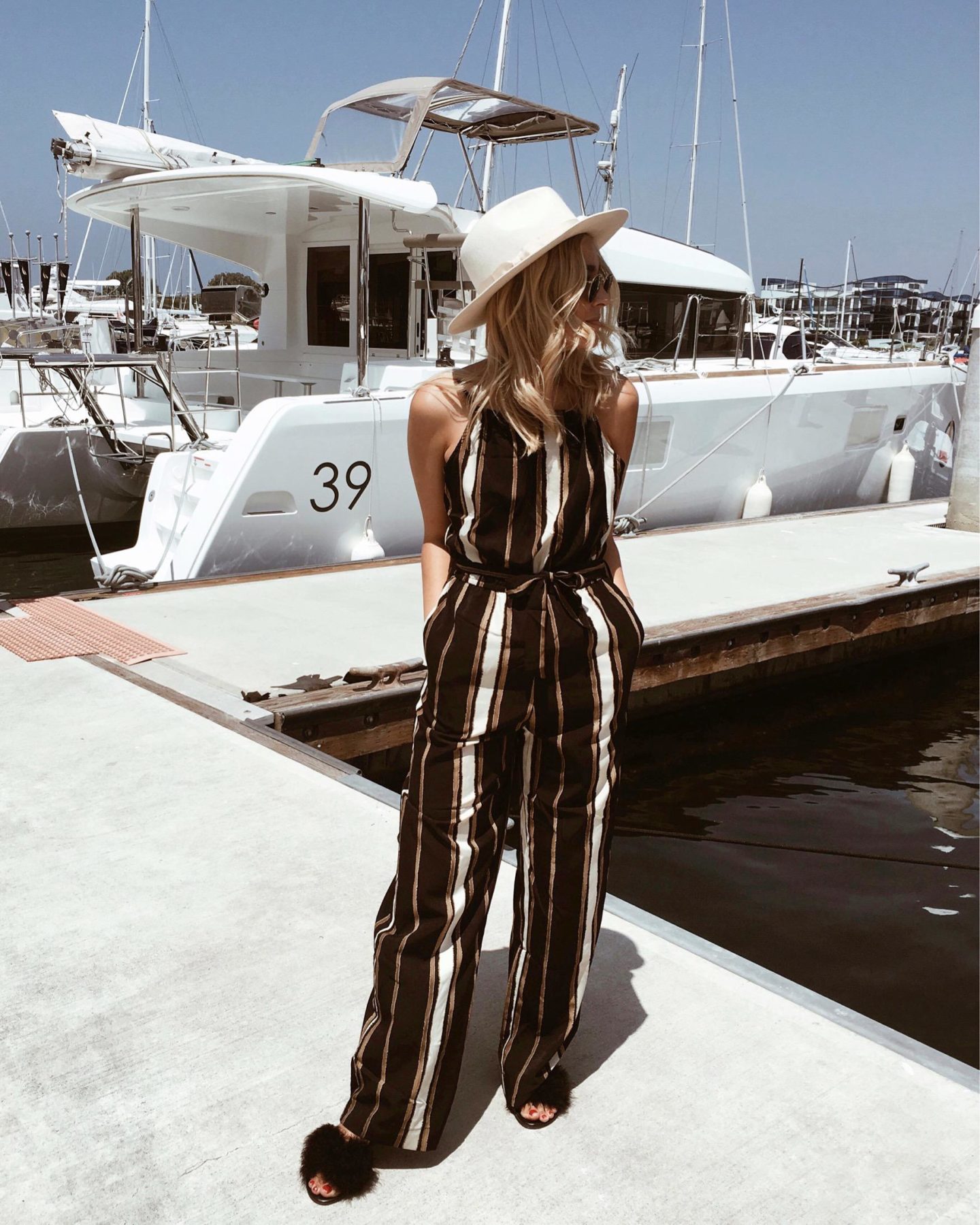 Striped Top & Jumpsuit, c/o Bishop + Young