Hi everyone!
Happy MONDAY! I'm feeling so excited for the week ahead, and want to share with you how I stay motivated while working from home!
It's so easy to find yourself doing other miscellaneous things throughout the day while working at home, but I have found that there a few KEY things that really help me stay on track – which is saying a lot because I am easily distracted.
Let's jump into it!
---
Start your day just as early as you would if you had an office job.
If I let myself sleep in til 9, then that's exactly how my day is going to go – a little sluggish, lazy, and unmotivated. There's such a noticeable difference when I set an early alarm, get up and out of bed and on with my day. It gives me a sense of urgency for every task that I know I need to get done during the day – all because I got myself up and moving. Often times the hardest part about anything ahead of us is simply getting started, so if you get yourself up and ready to face the day with confidence and drive, then chances are the rest will come easy!
Try to workout early-on in the day.
When I leave my workouts for mid-to-late day, I find that I'm putting off other things that help me stay productive. Showering, getting dressed and ready for the day, my eating schedule…you get the picture. It's so much easier to get through my day if I get my workout in before I start everything else. It also gives you a boost of natural energy and the endorphins you need to get through your work day! Trouble getting to the gym? Give yourself some motivation by way of cute workout clothes – I just got THESE and I am obsessed.
Have a strict morning routine, and don't let yourself slack on it!
I've come to realize I'm a creature of habit in the morning. I like to have my quiet time, my balanced breakfast, my coffee, and my "calm before the storm" you could say. I don't like the TV to be on, I don't really want to talk to anyone, and I don't want any negative vibes throwing anything off. This is why steps 1 and 2 are so important to me! Getting up early, working out, and proceeding with the rest of my routine is what keeps me on track for a more productive morning. Find out what YOUR routine is, and go about it intentionally each morning. This will also create a sense of checking things off your to-do list as you go through each step.
Write down EVERYTHING you need to-do that day, and make checking items off FUN.
When you see what you ACTUALLY have to get done that day, it motivates you to actually get started. I also find that when I write things down (in a cute planner), more ideas come to mind that I may have forgotten about at the start of my day. It's also extremely gratifying to color code everything on my list – if I get it done, I highlight it in pink. If the task is left undone, I highlight it orange so that I know the next day it needs to be a top priority. It's kind of a mind game with yourself – you end up wanting to make sure the whole page is pink instead of orange here and there! Or, ya know, whatever highlighters suit you best 😉
Time-block.
This is a new practice for me, but it's crazy how much it works! Especially if you are competitive with yourself. After I write down my to-do list, I like to assign a time slot for each item, in order of importance & difficulty. I typically like to get the small items out of the way quickly, and devote my most productive times of the day for the biggest / hardest tasks. When you give yourself a time limit, you find that you're basically competing against yourself to get it done before you need to move onto the next task. It also helps the day go by WAY quicker. This is a really great tool to use if you're just starting out with time-blocking!
Use things that trick your mind into being more focussed.
For me this has become my essential oils diffuser. I'm finding that my mind is much more focussed when I'm diffusing my rosemary oil, which is known to help your brain focus better. Sure, it may be slightly placebo-effect, but whatever works, right?! This can also be a full cup of coffee on your desk, calm music in the background, a podcast, or even chewing gum. Find out what keeps you in your lane with intense tunnel vision, and go with it!
Listen to something that keeps your mind on-track.
This is similar to the tip above, but just to expand on the idea I have to mention that music is a huge contender when it comes to "things that help you stay focussed." Whether it's classical music, loud top 40 hits, or your favorite throwbacks, test out a few channels that help you stay zeroed in on your work. Sometimes I find that listening to new music helps me stay focussed because I don't know the words, so my mind works to tune it out and focus on the task at hand. But it also helps me stay entertained when my brain does drift off. Since I correlate it to "work time music" I'm quickly reminded that I need to re-focus, and keep moving forward when my mind does trail off.
Set up a dedicated work station.
In my new apartment, we have a big bar around our kitchen that we use as our eating space. It's super convenient to set my computer up there and wander around it all day while I multi-task around the house, but it doesn't keep me in my spot, motivated to work. I find myself wandering around, picking up the kitchen or living room, doing everything other than my work. I recently cleaned off Brennan's desk in our room, made sure there were 0 distractions around me, equipped it with a few items needed to get my work done, and voila! It now feels like my dedicated work space where I can sit and bust out hours of work. The chair is more comfortable, I have more desk space, and my diffuser is perched perfectly next to my computer. AKA my mind is centered and focussed right where it needs to be.
Make sure the house is brightly lit.
One of my biggest pet-peeves in life is a dark room. I HATE sitting in the dark (unless it's for movie night), especially during the day. It makes me physically agitated, and I know that about myself. To avoid any negative vibes, I like to open all the blinds, keep the lights on in the room I'm working in, and make sure I'm getting as much light as possible. This is technically another mind trick, and it is 100% effective. The brighter the room is, the brighter my mind feels.
Give yourself a lunch break.
Just like it's easy to get distracted while working at home, it's also easy to OVER work yourself because you have a skewed perception of time. Give your brain a break and make yourself a healthy lunch. Make sure you set aside time on your to-do list, and try to stick to that time as closely as possible…but in that 30 min to an hour that you've allotted for some down-time, take advantage of it! Watch a few min of your fav Netflix show, call your mom, sit on IG…just veg for a second to give your brain a breather. It'll not only give you a great refresher halfway through your day, but it'll also give you something to work towards as you start your to-do list!
---
What are YOUR tips for staying motivated while working at home? Or even at your office?
Share the love! I need all the tips I can get for this easily-distracted, procrastination prone self of mine!
Here's a new black-on-black look for ya – I've linked a few black denim skirts and really cute tied-bell-sleeve tops below, so keep on a scrollin'!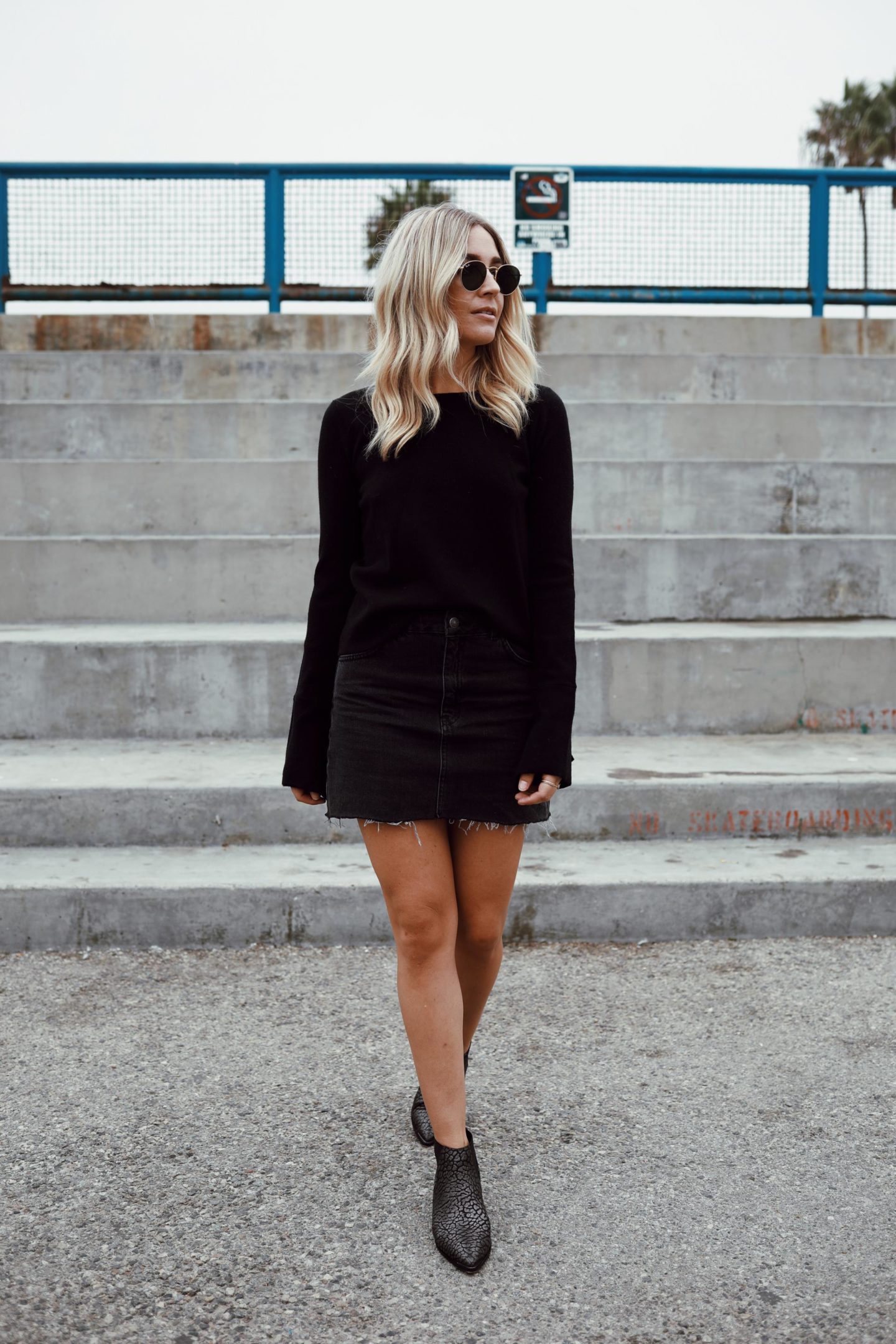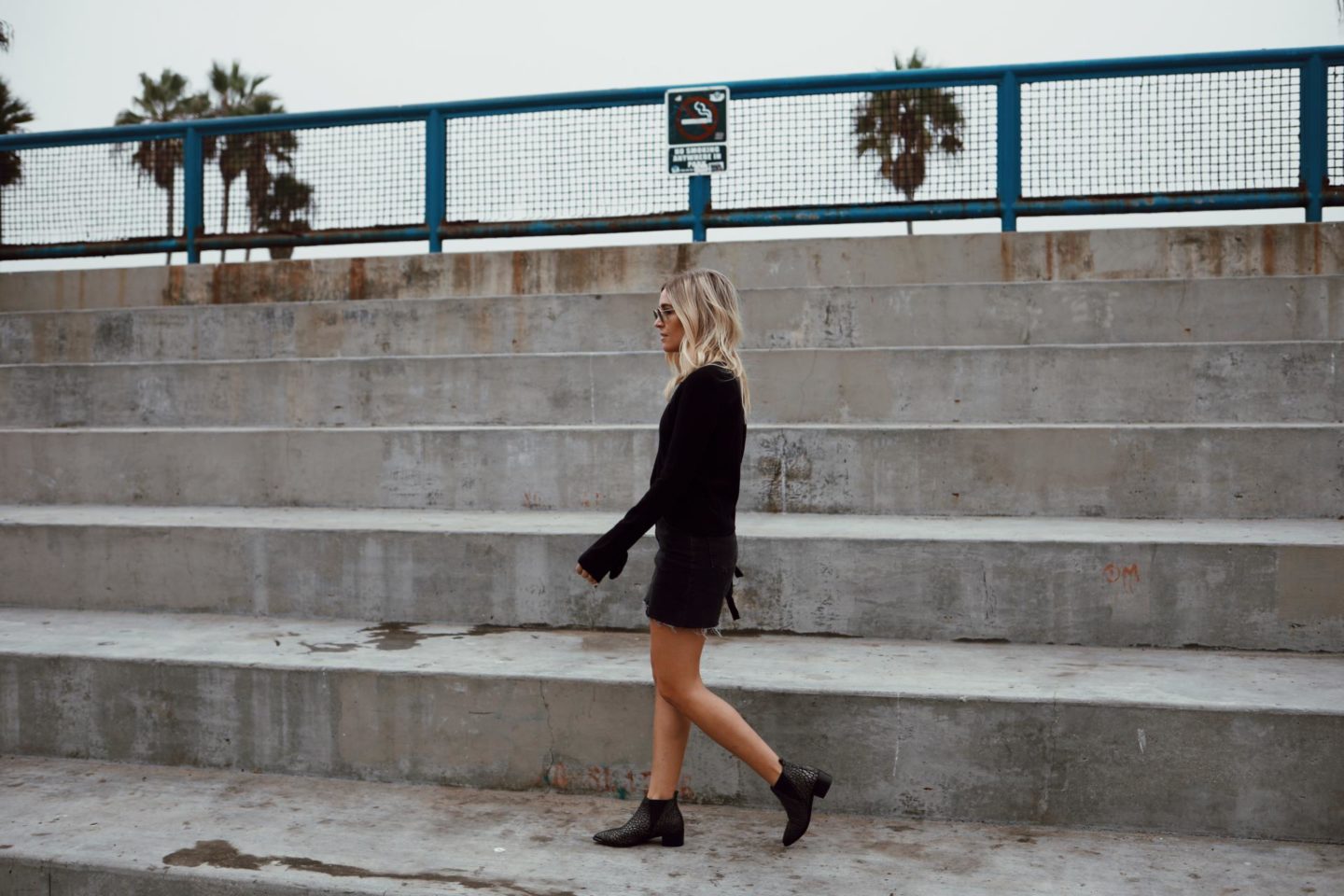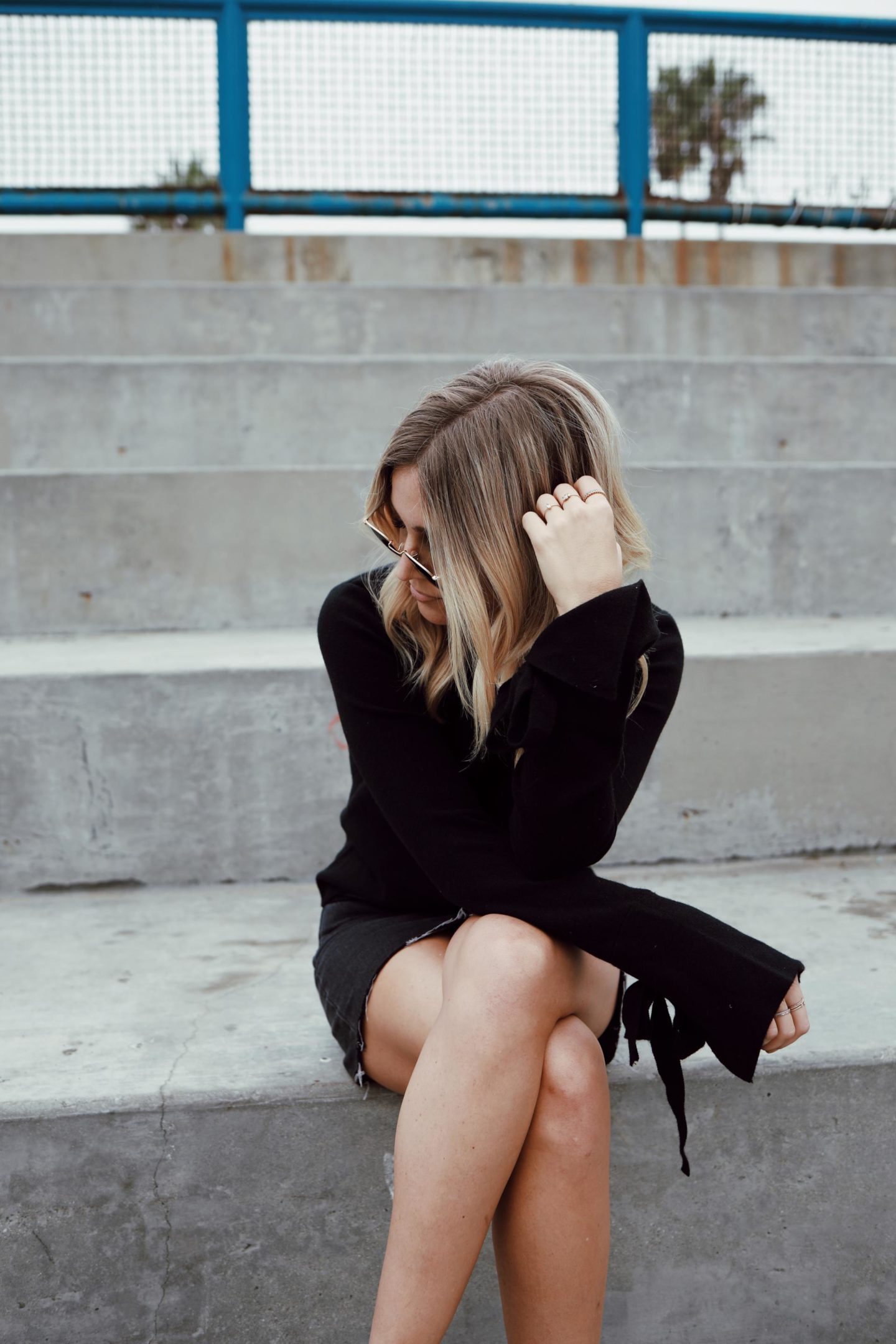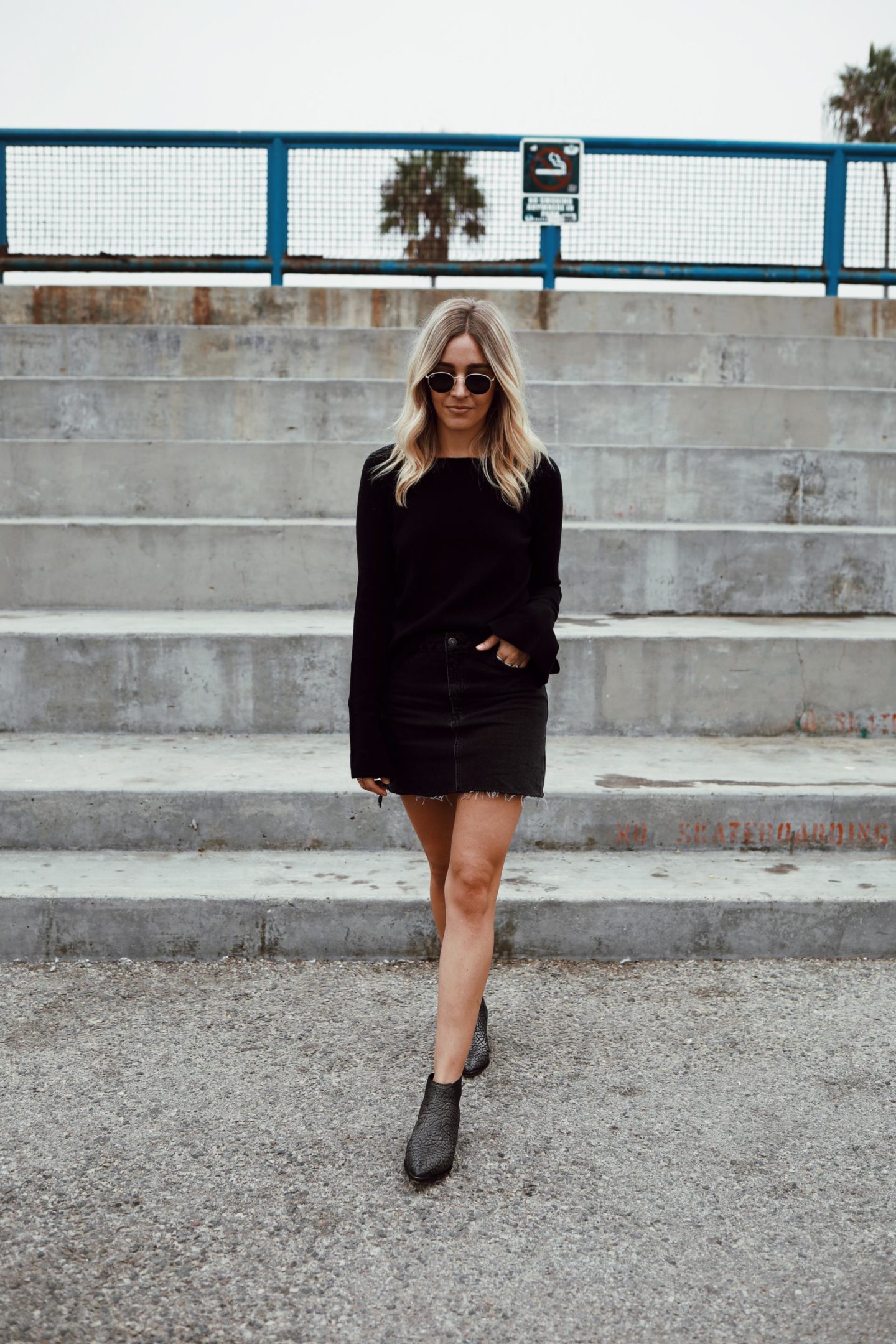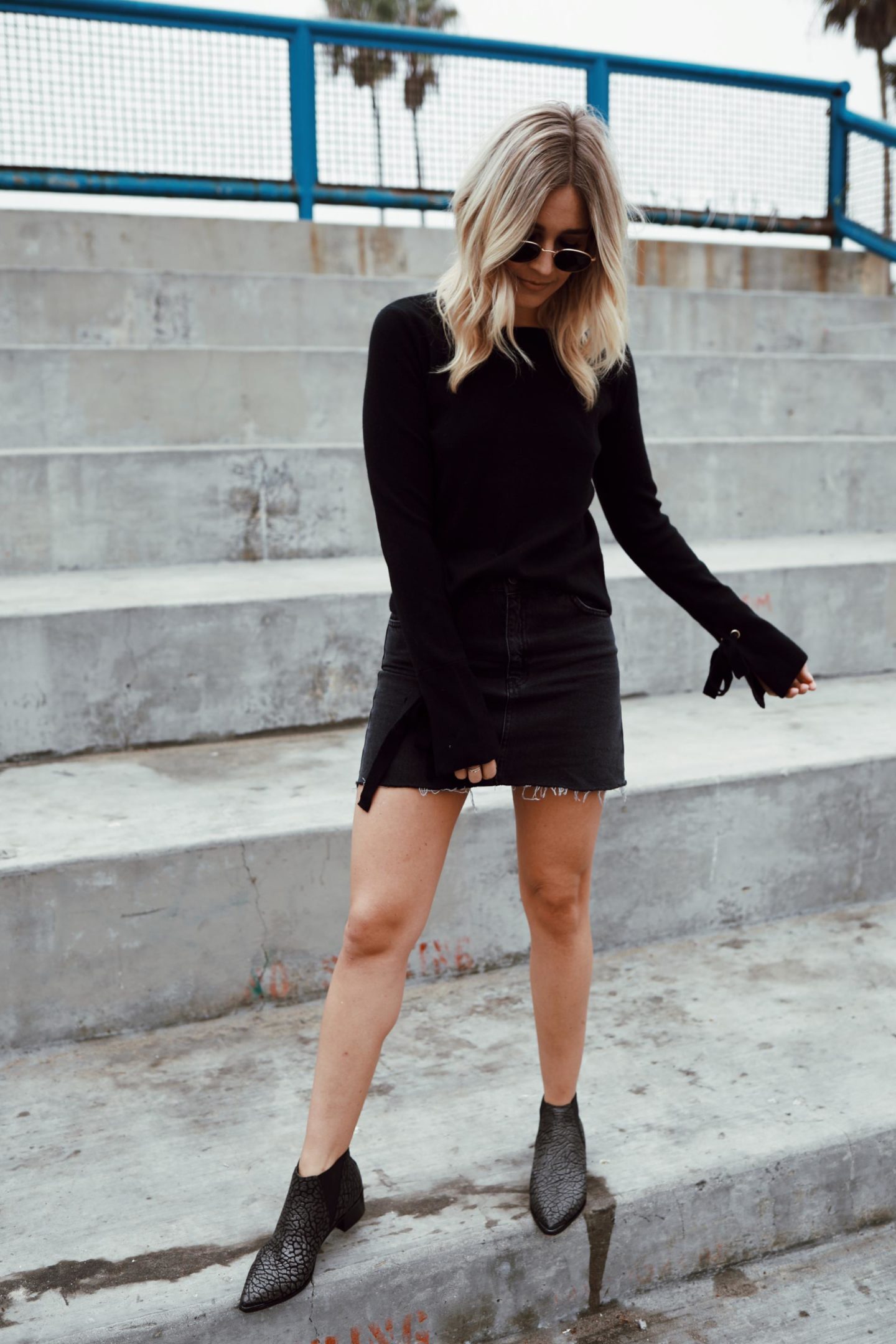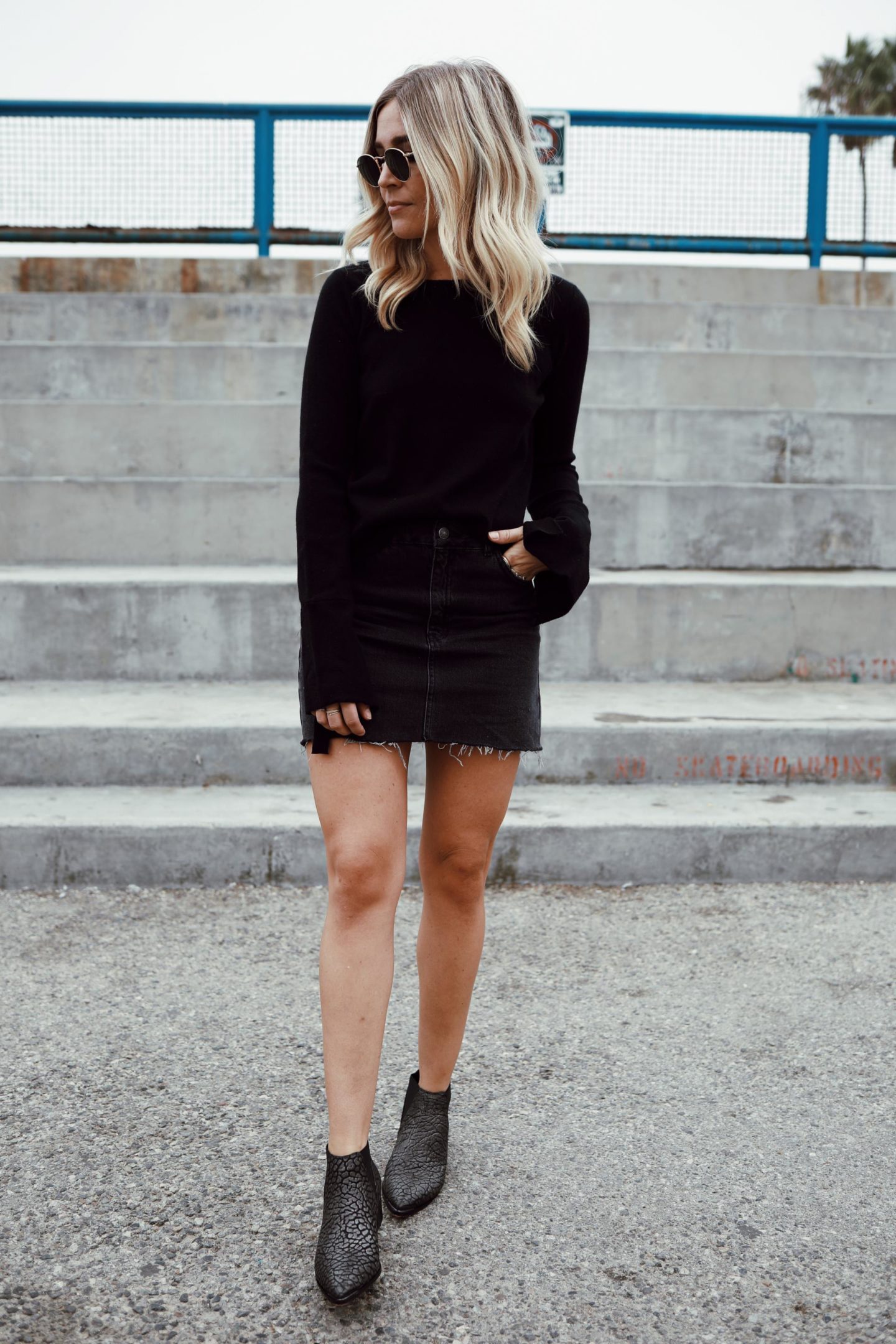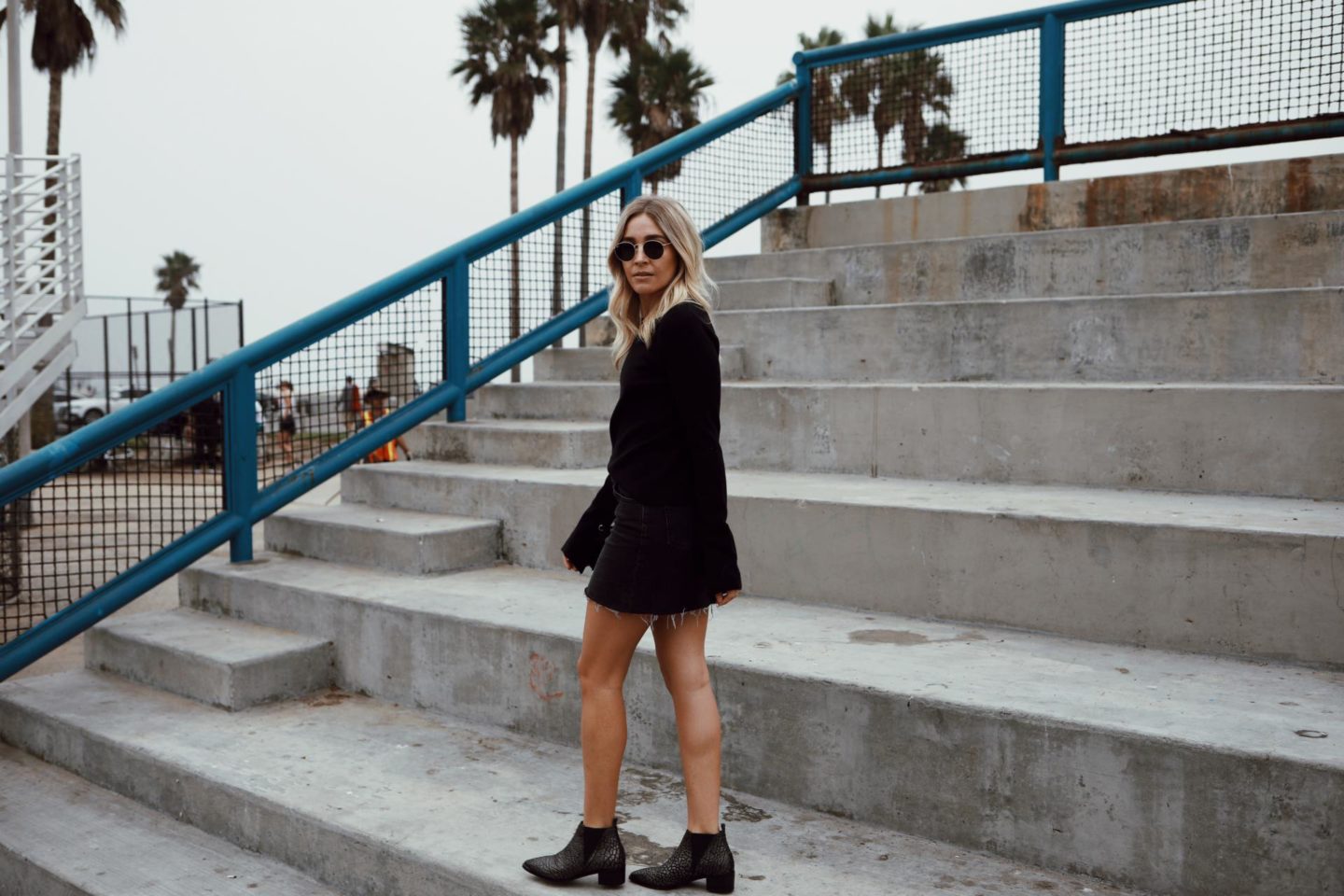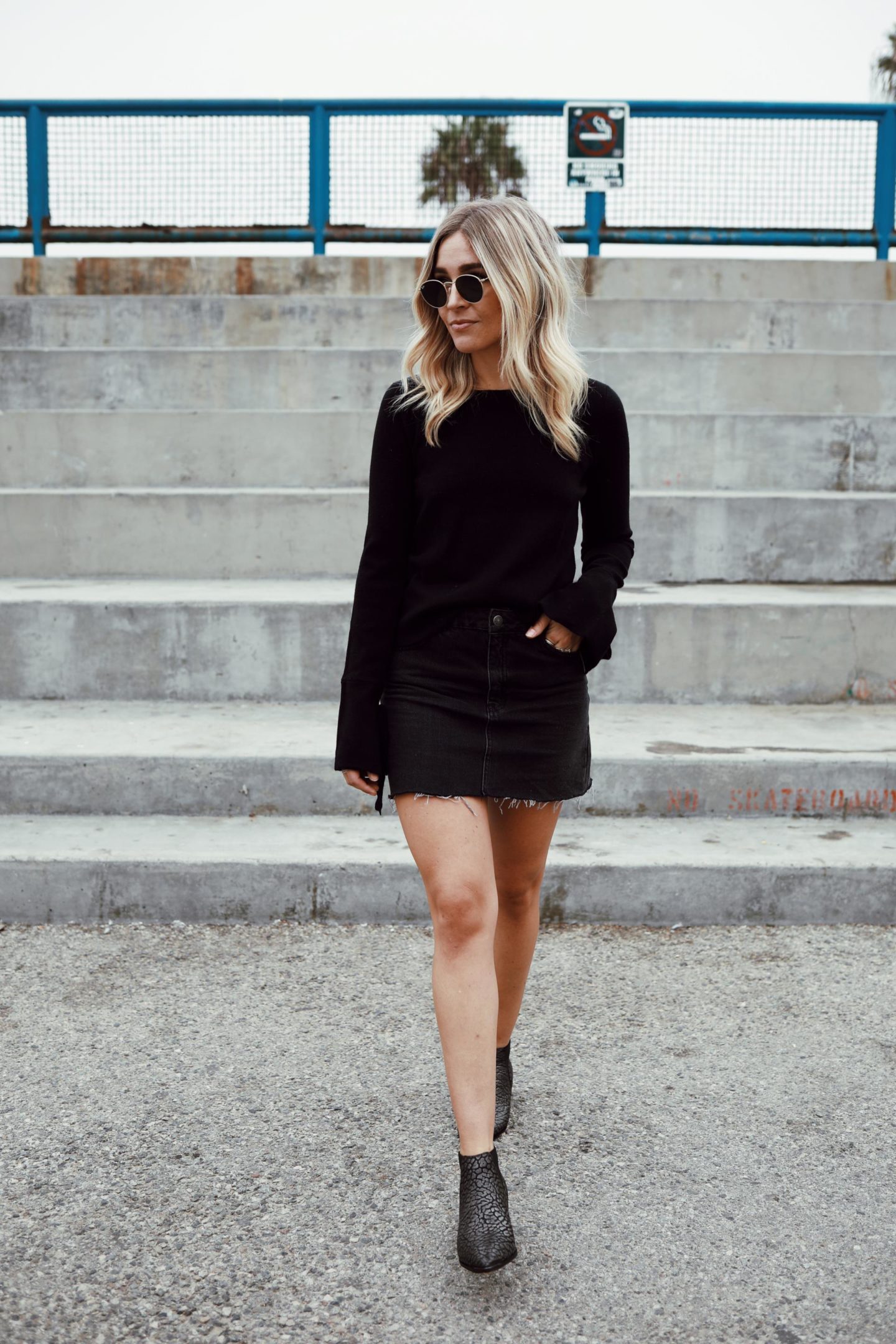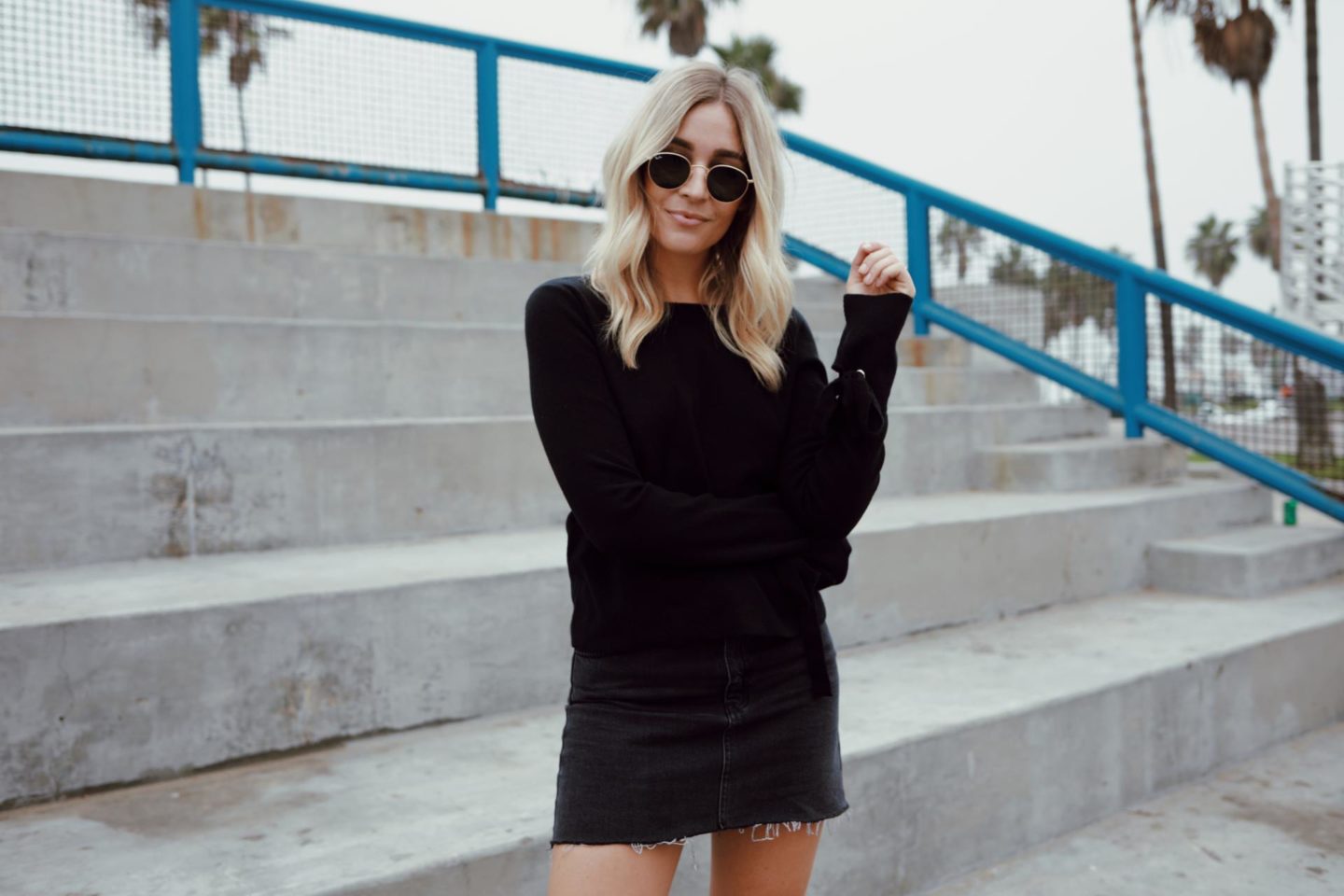 Top, c/o White Crow | Skirt, Subdued | Shoes, c/o Alias Mae