With summer finally here, I've started wearing hats and packing on the SPF even more than usual, only wishing that I had been this devoted to caring for my face years ago.
Back in high school, I truly believed that the less SPF I used, the tanner I would be. * cringe * Now, I kick myself every time I think back to those long beach days where I basically cooked my body in hopes that I'd be a bronzed beach babe, not even realizing all of those "beach babes" I looked to as major "tan goals" probably used self-tanning alternatives.
If you had told me that I'd be worrying about wrinkles in my 20's back when I was a naïve tan-obsessed teen, with no skin worries in the world, I would have thought you were crazy and gone about my normal tanning routine.
But here I am, 26 years old, freaking out every time I see a new wrinkle, desperate for a solution.
And, with the tech world on the rise and the new coined term "tech-neck" surfacing in the beauty world, I'm even MORE obsessive about slowing the aging process.
One of the most frustrating things about caring for your skin is how overwhelming it can be to seek advice at a department store. It feels like they're all trying to sell you on the brand they work for, and it gets downright annoying when you can't get a straight answer. Especially when some of these moisturizers can cost a pretty penny. Because of these factors, after all these years, I truly still haven't found my ride-or-die moisturizer.
With budgets on the brain, but being fully aware of how vital it is to care for my skin, I look to my local drugstores for hidden gems (and less pressure to try brands that cost half of my rent).
Thankfully, Olay truly has figured it out and is here to rescue me and all of you others who are after incredible skincare at an affordable price point.
I trust Olay, (you may have seen this post about their Daily Facials, which I am OBSESSED with) and stand by their products for so many reasons.
Today I'm here to tell you about yet another miracle product from them, that you NEED to incorporate into your daily skincare regimen as soon as you can.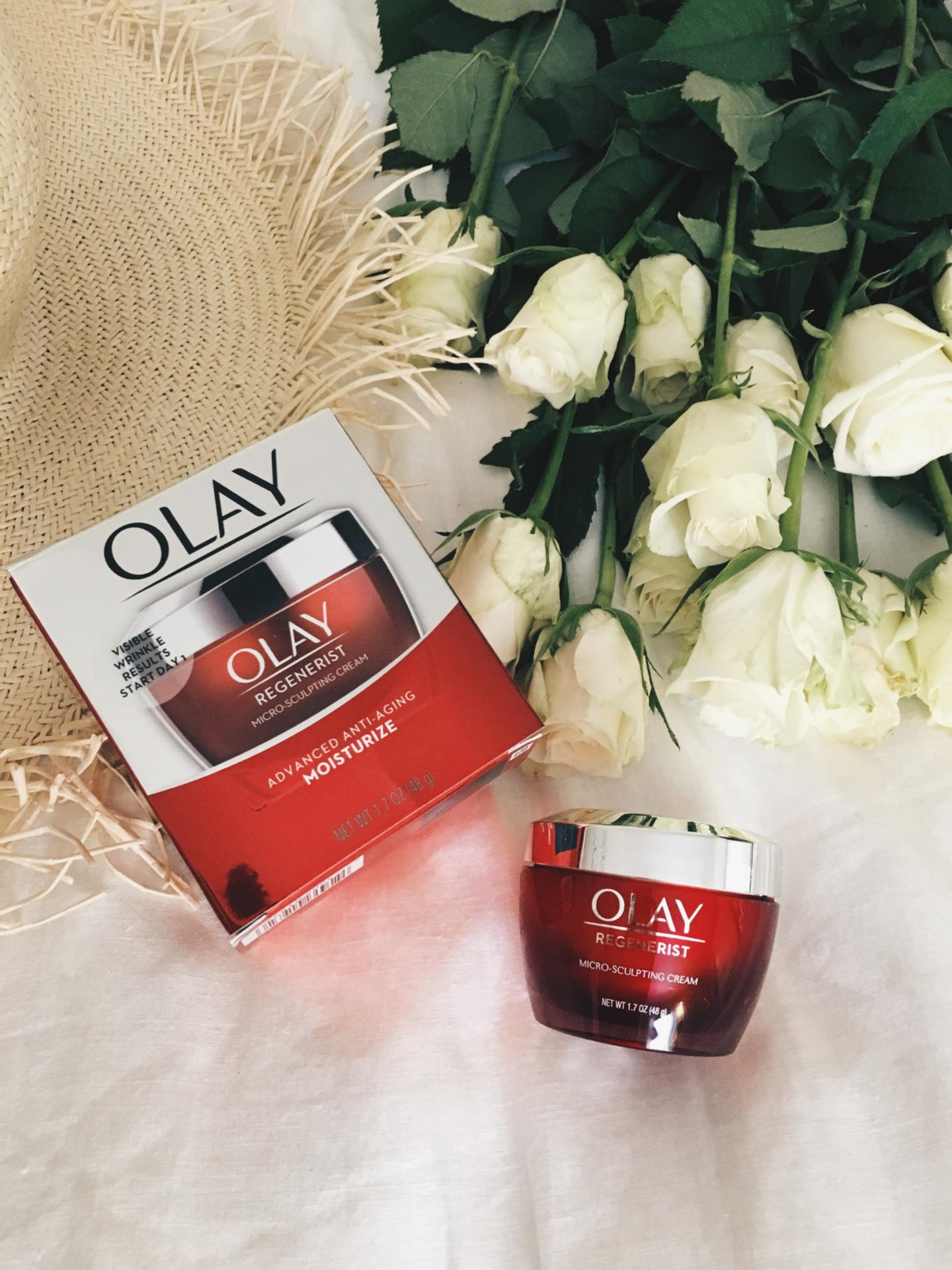 Olay Regenerist Micro-Sculpting Cream is something I've seen in magazines, and looked at while in Target multiple times…but I'm FINALLY giving it a go and I regret every time I ever passed it up.
I've only been using Olay for a short time and already I've seen a significant difference.
I love that I can use this product day AND night (I hate having too many products to keep track of…it makes me lose motivation to keep up with my regimen everyday if it's not quick and easy), and the scent is actually one of the best scents I've ever had in a beauty product. I really hate when I buy a product that doesn't smell good…but this is the most refreshing scent ever.
Olay Regenerist Micro-Sculpting Cream is so moisturizing and hydrating, yet has that incredible lightweight texture that makes your face feel fresh. It's firming and plumping, and starts working immediately. You notice a difference moments after applying the cream, and can actually feel it working throughout the day.
I also love that it doesn't make me oily – no one needs that ever, but especially not in the heat of the summer!
Aside from all of these benefits that I've experienced just by using the product…there's a study to PROVE that Olay upholds its commitment to bring visible anti-aging results to women without premium prices. An independent test by Good Housekeeping Institute showed that Olay Regenerist Micro-Sculpting Cream outperforms 10 top prestige creams, including one with a $440 price tag. *mic drop*
If you're looking for a hydrating moisturizer that will give you results without breaking the bank, run to your nearest drugstore and buy this miracle cream. Did I mention it's only around $26? I promise you that it will be the best beauty decision you ever made, and you can LOL at everyone in the department stores trying to convince you that you need to spend $400 on a face cream.
What's the worst that could happen? That you save money while improving the look of your skin? 😉
This is a sponsored conversation written by me on behalf of Olay. The opinions and text are all mine.