I'm so excited to get the first official "Him" post up on Blonde Collective today! You already saw this stud on last week's post featuring his new Spy Sunglasses, but it's time to start showing you guys some of his outfits because this boy can SHOP. I may have even met someone who actually shops (and owns more pairs of shoes) than I do. I never thought I'd see the day! He's also pretty dang good at date night ideas, so I decided to share with you what my favorites have been so far below.
Something I really value about Brennan is his spontaneity. He is constantly thinking about random, fun things for us to do…and after his experience exploring the city for the last 4 years he has definitely surpassed all expectations of weekly activities. We have our favorite spots, but he takes me to a new place almost every week!
Date night is SO important for couples to work into their busy schedules, which we both have to work at constantly because between our jobs, we have a small window to take advantage of! Though I often wish we had more open schedules, it definitely makes time together that much more special…which is why we like to take advantage of it with fun dates!
Dressing casual has been key with our dates because we've been known to start with an idea of going out for sushi and drinks, that turns into hopping on our bikes and going for appetizers and a movie on 3rd street promenade, and then taking a walk on the beach, which you don't really want to do in heels!
My go-to outfits always include my favorite skinny jeans (I have this pair in black and white, they're under $100 *the white ones on sale right now!* and I stand by the fact that I get the most wear & bang for my buck with these! I'm obsessed!), and a comfortable top that I can wear under a jacket (if we're planning on something nice). This allows me to stay warm in the cool ocean air at night, but if we end up going to a crowded bar or jumping on our bikes, I can easily take off my layers if I get hot!
Brennan is almost always in his favorite pair of 7 For All Mankind jeans, which he recently purchased in a new color (they're the best fit for him…I love them so much!) And some sort of tshirt. He recently got this Chambray that is great for a 3rd layer and goes with almost every outfit.
Comfort is key! I've linked our outfits below…and drumroll please…read on for date ideas!
Santa Monica Date Ideas
Ride Bikes! We love biking all over for drinks, appetizers, dinner, dessert, you name it! Biking around from restaurant to restaurant, then catching a movie on Third Street Promenade is one of our favorite date nights. If you don't have a bike and you live in Santa Monica, rent a Breeze Bike! You can drop them off anywhere and the price is cheap. It's a great way to get around.
Food Truck Tuesday: Fun fact, Brennan & I actually had our first date at the food trucks at the Victorian on Main Street. It's such a fun environment! You have a wide variety of food to choose from, the dreamiest patio (covered in market lighting and massive trees) that usually has live music and the best red wine for a great price. If we don't want to eat at the Victorian, we just walk down to the beach and have a picnic with a view of the Santa Monica Pier in the background. It's one of my favorite things to do with him!
Late Night Happy Hour: We love our local sushi restaurant that has a happy hour starting at 9pm. Brennan works late most nights, so this is the perfect solution to getting the best bang for our buck without compromising the fun factor. A lot of restaurants in our area do late night happy hour so this is one of the easiest dates to work into our busy schedules!
Share your Food!: One night, Brennan and I walked to a little taco restaurant by his house. Side note, I am THE WORST at making decisions (ever, ever, ever…I really need to get better at it); since I couldn't decide which taco I wanted to try (they had like 12 unique combinations on the menu) he ordered one of everything and we split them all! It was such a simple solution, neither of us had to choose, and it truly was one of my favorite nights because we had so much fun trying all of the tacos together and comparing what we thought.
Luxury Movie Night: Other than Food Truck Tuesday, the other date night we do probably every week at least once (sometimes more) is see a movie. I have seen more movies in these last 7 months with Brennan than I have in the last 5 years haha. It's amazing! We are pretty picky though, and we try to only see them at the theaters with recliners and wine! Our favorite thing to do for our movie nights is to sneak in a bottle of wine in one of my water bottles (shh, so bad that I'm admitting this!) get our favorite movie snacks, and get cozy on our massive recliners. It's the only way we can watch a movie now! Luckily, there are a handful of amazing theaters in the Santa Monica area, so finding comfortable seats is rarely an issue!
Work Out Together: This isn't in-line with the outfits from this blog, BUT I just have to say how great it is to workout with your boyfriend. Brennan and I do our own separate workouts in my apartment gym, but he will come and grab me so we can do a joint workout throughout our time down there. It's so great! He pushes me to keep going when I literally cannot do one more rep, and he teaches me things I've never thought of doing before. Afterwards, we go upstairs to make breakfast and have some quiet morning time before we have to be at work and it's the best!
Cook Dinner Together: My apartment has a pool area with a grill and we loveeeee to make dinners down there every week. (My personal favorite so far has been salmon with a balsamic glaze, brussel sprouts, and brown rice. It was divine.) While Brennan is at work, I prep the food, then later he grills it all! We bring down music & wine and have a great time cooking, talking, and going in the jacuzzi right after. It's cheap, not crowded, and healthy! One of my favorites for sure.
Explore your Surroundings: When I first moved to LA, I went to Hollywood one night and had THE WORST time. I hated every place I went, and only met mean, stereotypical LA people. I vowed to never go back, but Brennan has made sure to change my opinion slowly but surely. He has a ton of friends who live in West Hollywood, so we go there almost every other weekend and have a blast with them. We've gone to so many great restaurants, and experienced so many fun bars that I have officially changed my mind!
Go Bowling: Brennan and I have discovered a love for Sunday night bowling at our local bowling alley. It's $3 per game per person, and the shoe rentals are under $5. It's SO much fun to try and beat each other, enjoy yummy appetizers and drinks, and it's a great spot to invite your friends for a group date.
Take a Trip: We've gone on two mini-trips together so far, and they've both been thanks to HotelTonight (and Brennan's spontaneity)! If you don't have the app, GET IT. It allows you to search a hotels remaining rooms for that night or the next night (you can even plan a couple nights ahead of time if you want to) and you usually get a better rate than the hotel normally offers! It takes the stress out of last-minute getaways. Yes to spontaneity!
We need more date ideas! Brennan is always thinking of new things to do, but I'd love to hear your favorite date-night ideas so I can share them with him! Comment, email, or tweet me! xo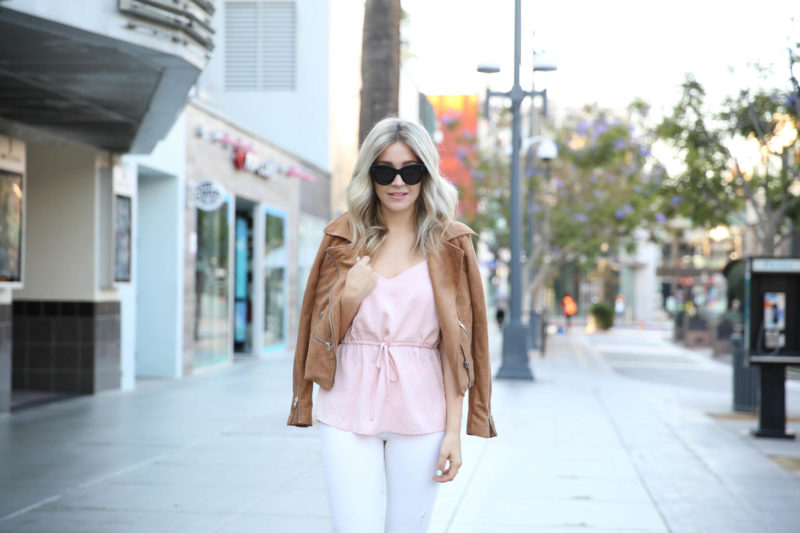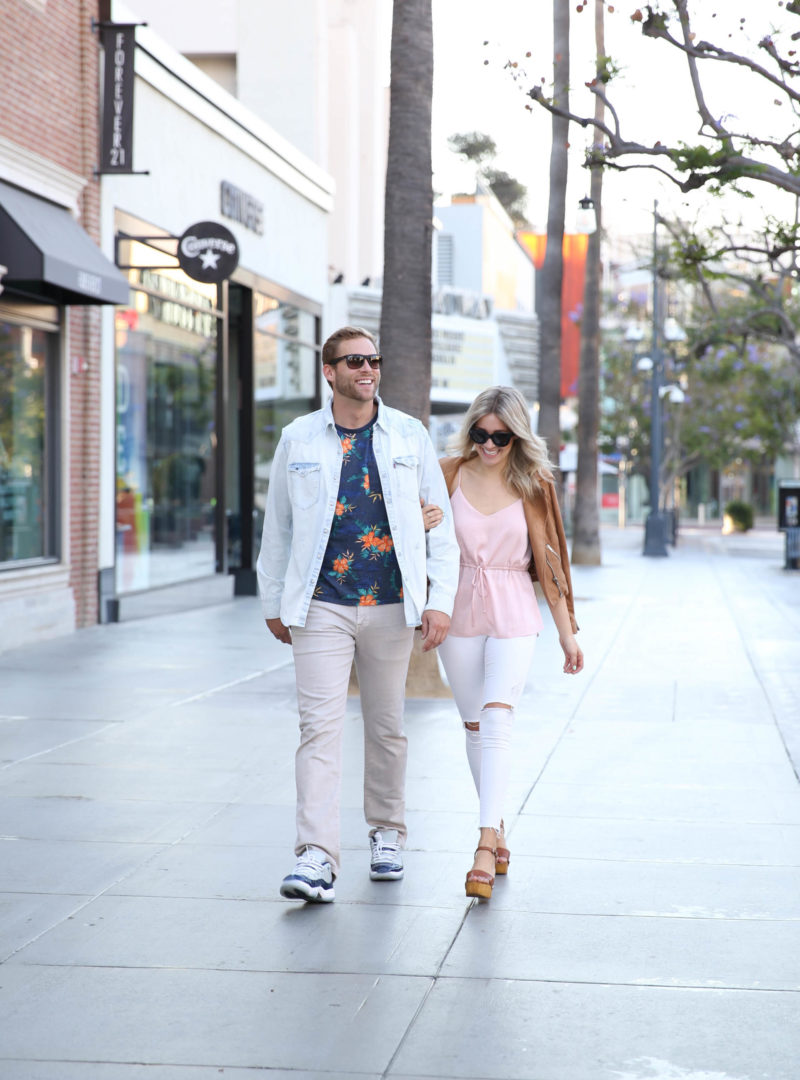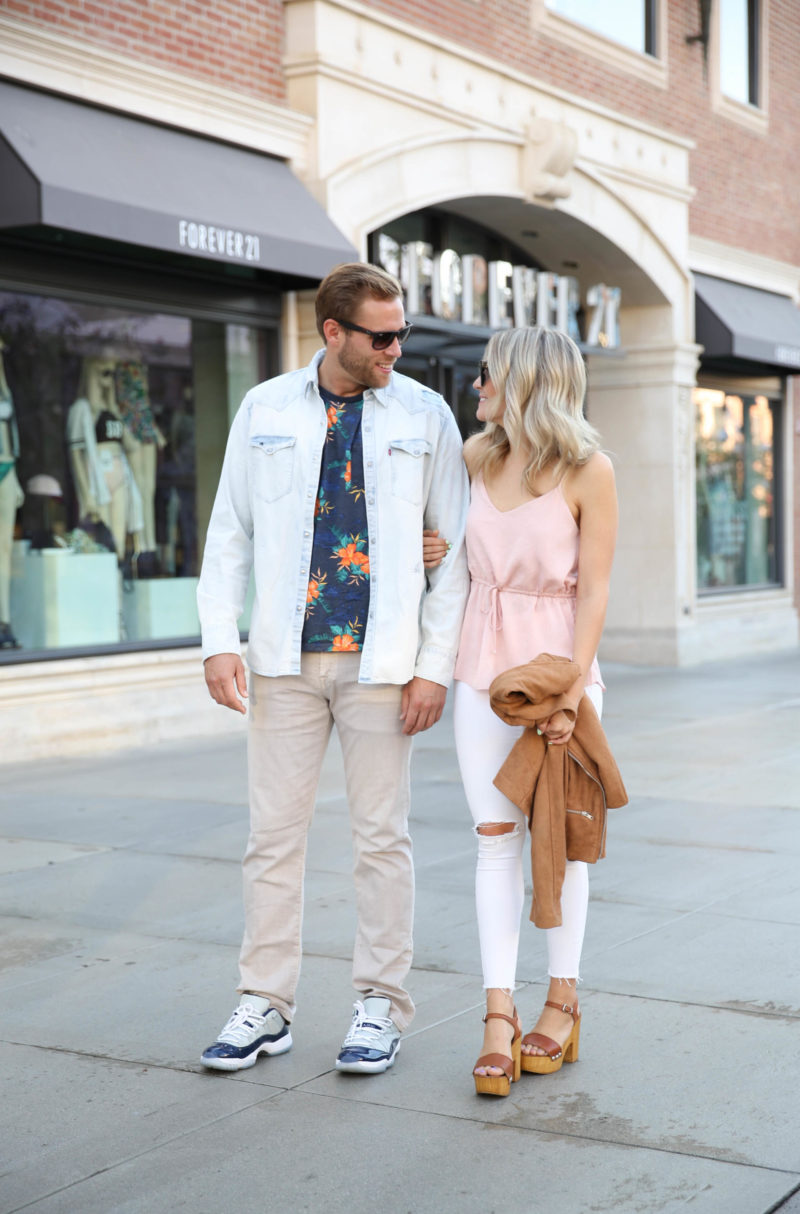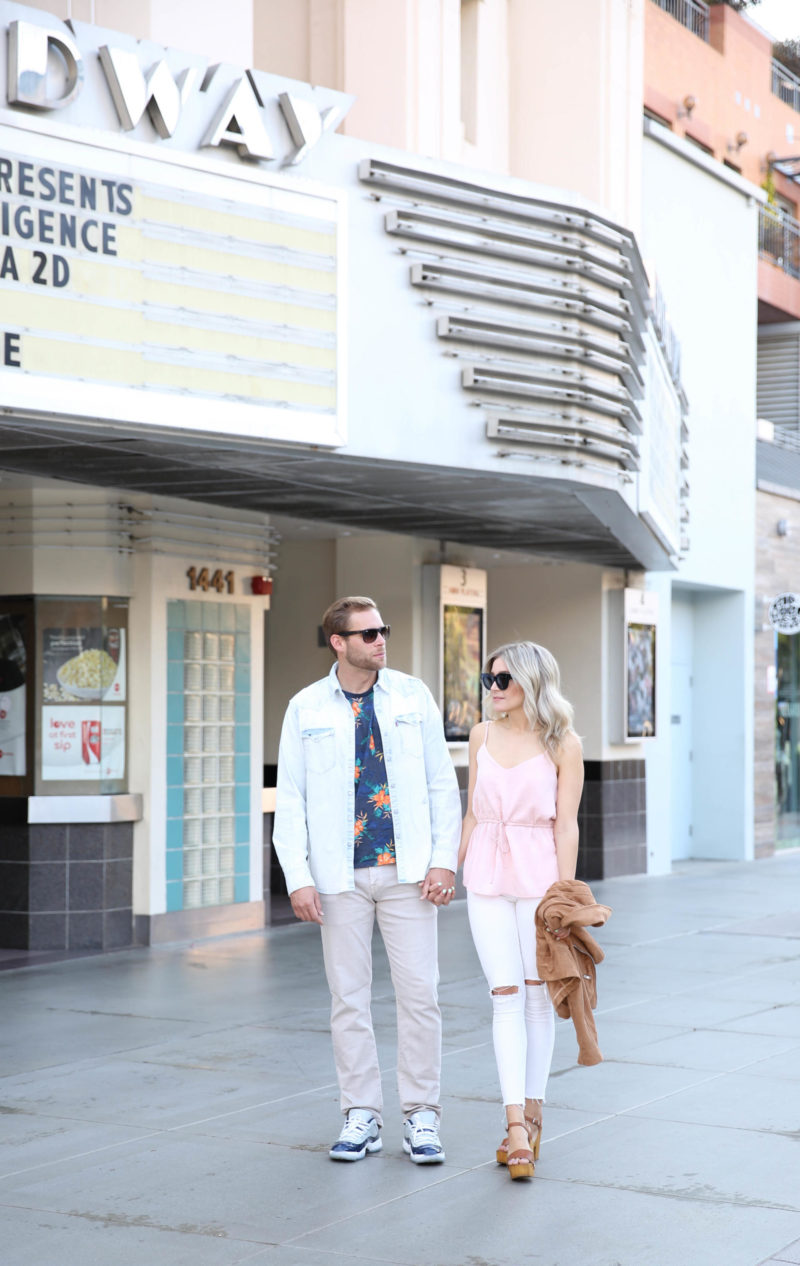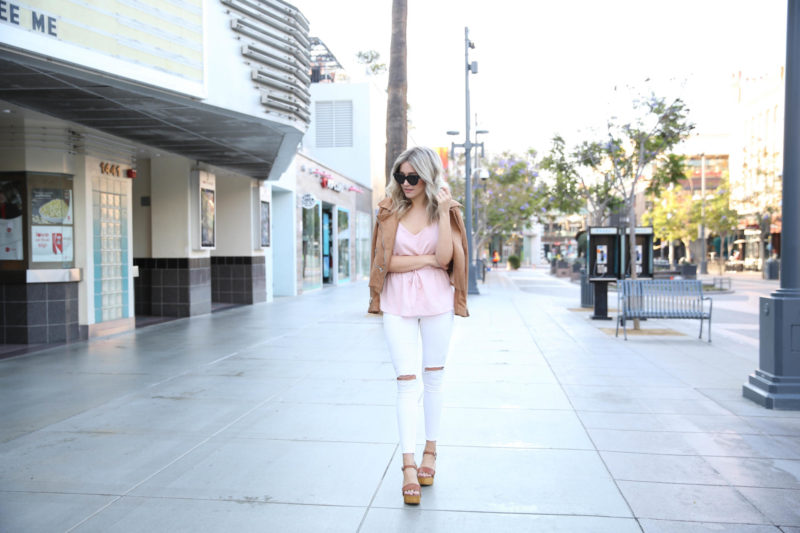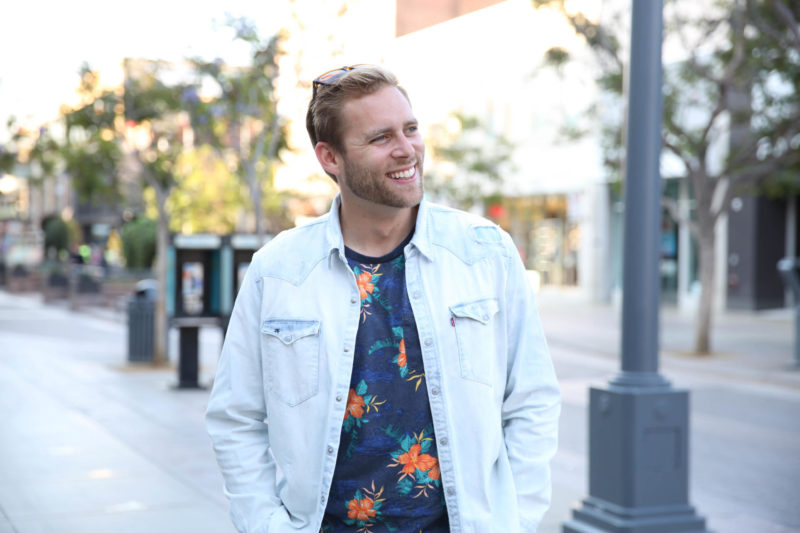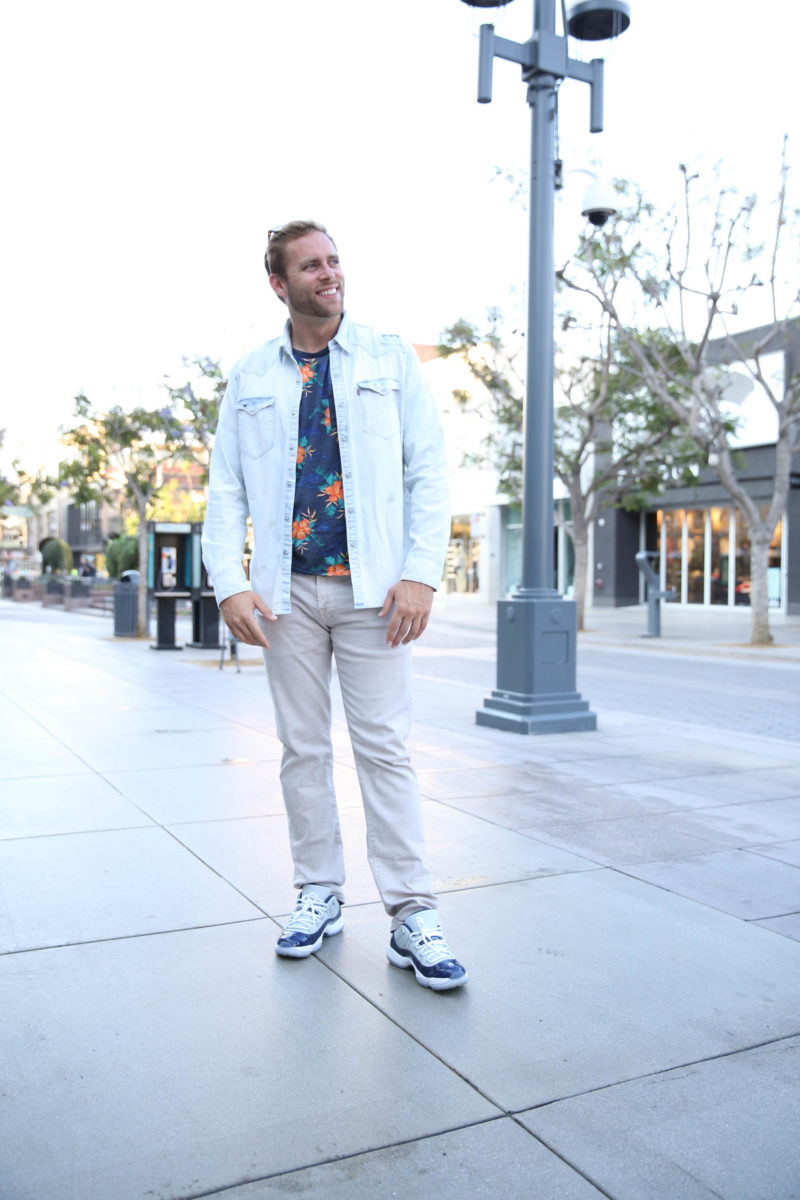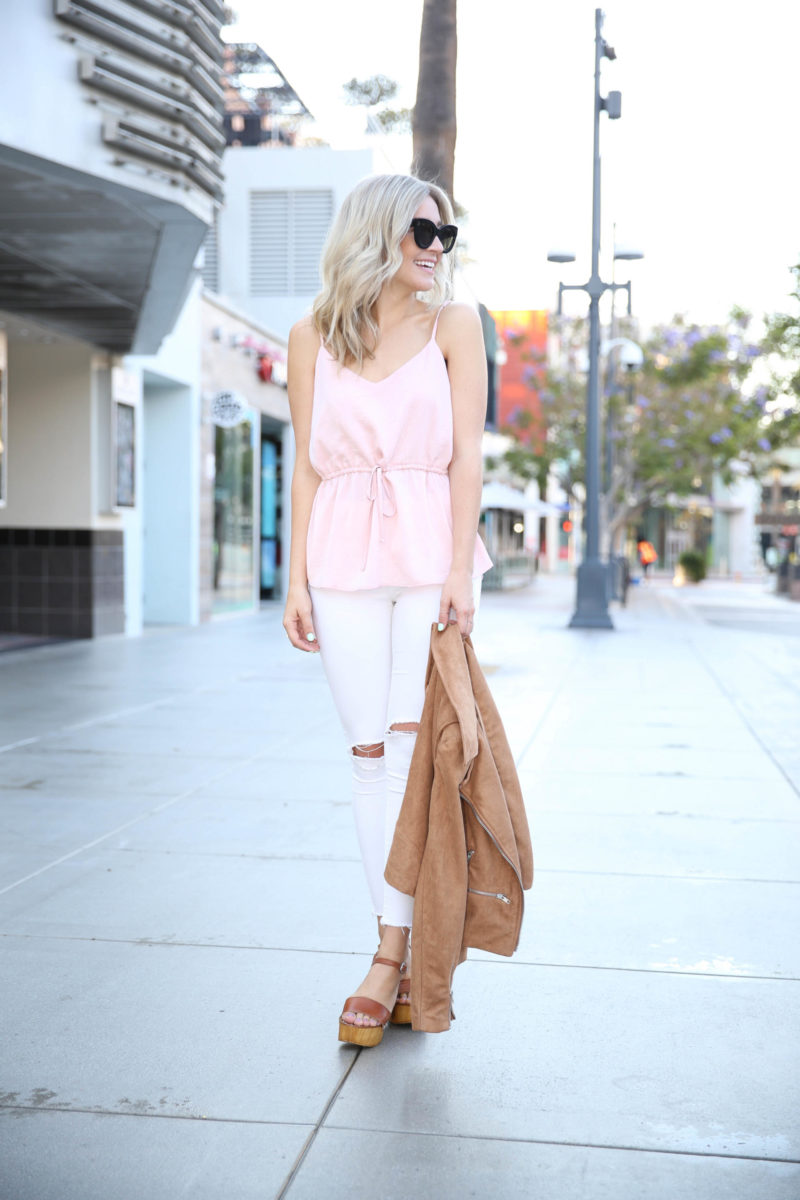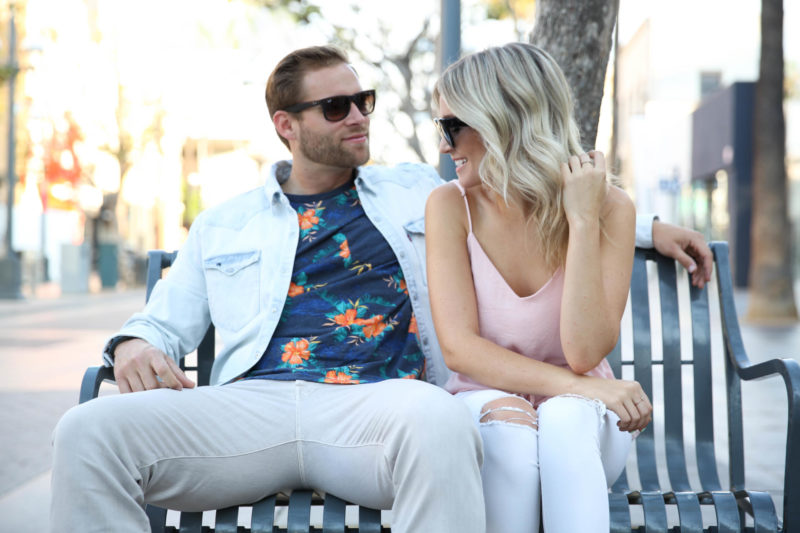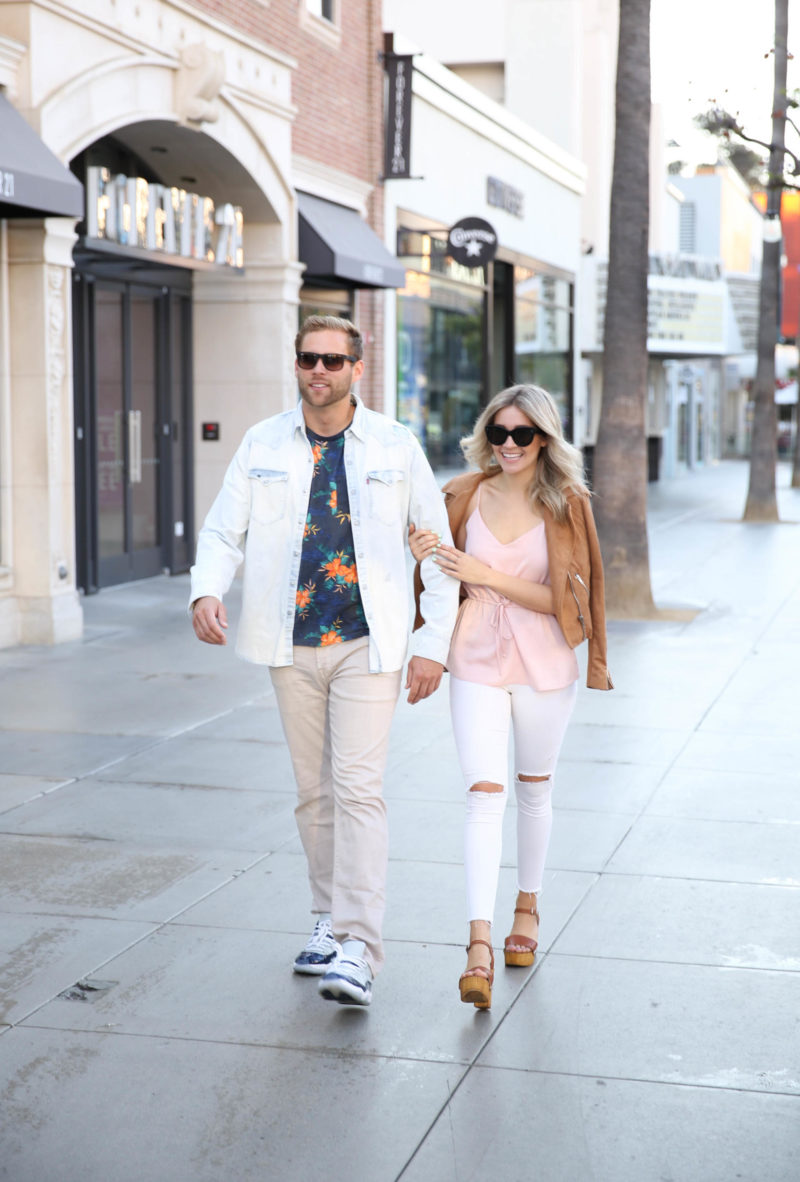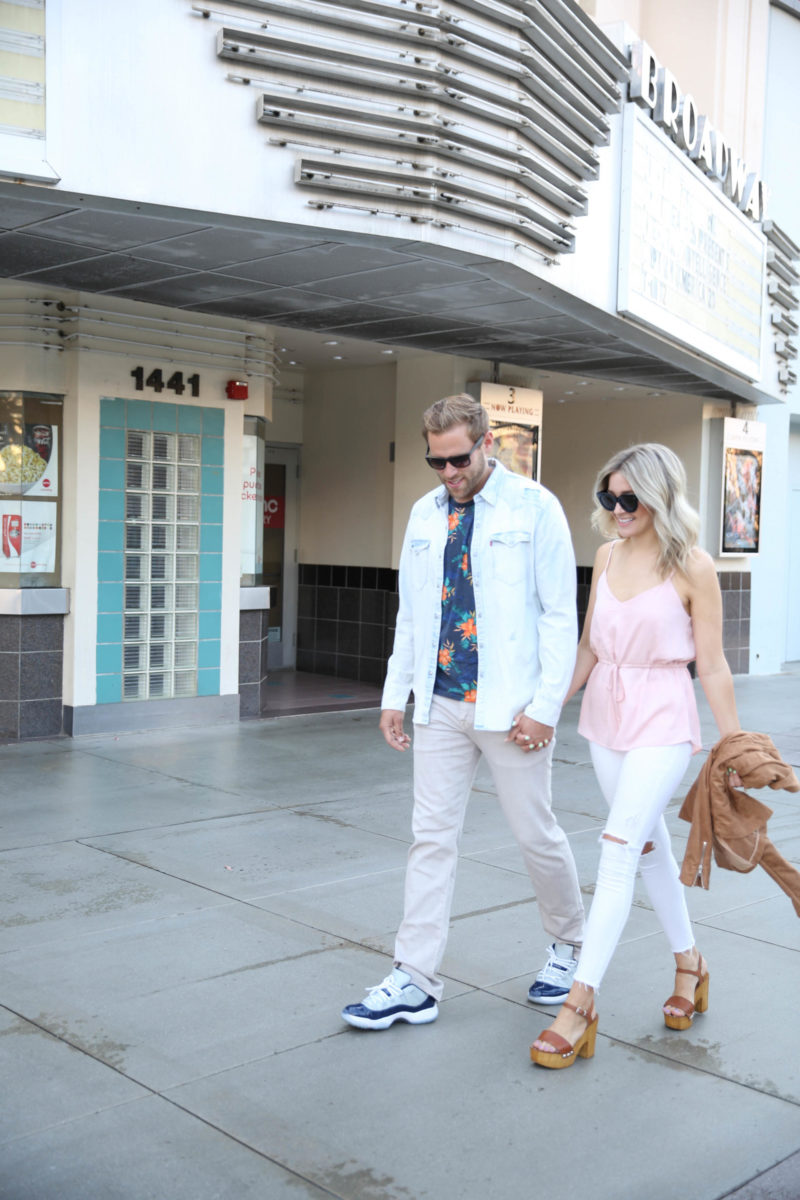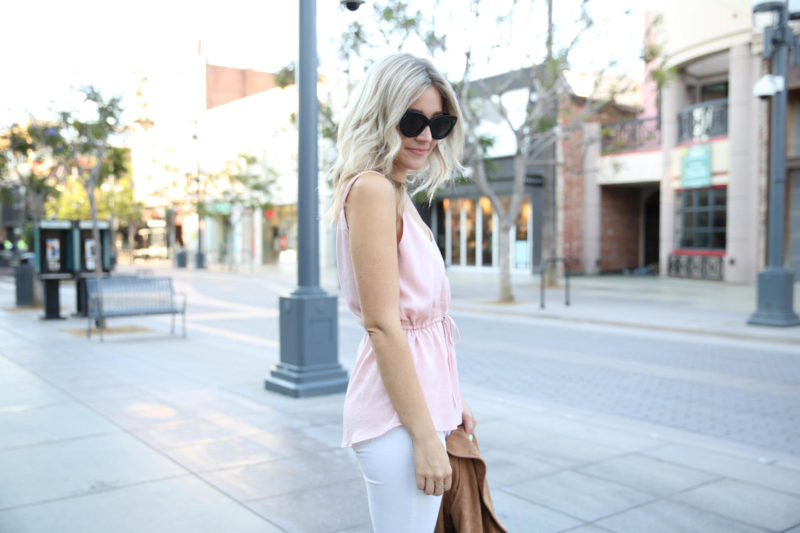 HER: Jacket, c/o Lulu's | Top, c/o HER Boutique | Denim, Topshop | Shoes, Steve Madden | Sunglasses
HIM: Chambray, Urban Outfitters | Printed Tee, H&M | Denim, Seven for all Mankind | Shoes | Sunglasses