You know how when you start a new job, or something in your life shifts a bit, and your entire MINDSET seems to go with it?
For instance, ever since starting my new job it seems like NOTHING in my closet is what I'm looking for every morning. It's awful! I know I have a closet full of wonderful clothes, but nothing is inspiring me lately.
It might be due to the fact that my outfits now have to be bike-friendly, or because I'm surrounded by edgy streetwear all day…but whatever it is, it's seriously effecting my ability to make a decision in the morning.
It's like I need a complete wardrobe reset. I need new inspiration.
For starters, I'm going to purge a TON of it and sell it at The Stylist LA's blogger sample sale like I did last year, so stay tuned for more details on that if you're interested in shopping some of my clothes in person instead of on IG!
Second, I'm going to be more aware of what I'm buying.
What is inspiring me on Pinterest? What items do I already own that might be hidden in drawers? What items should I invest in? etc etc etc you get it.
I'm just going to be more INTENTIONAL with the items I'm adding to my closet!
If you saw my snaps from Friday night then you know I'm dying over everything I got from the Zara sale. UGH I want to wear every single piece everyday! That's how you know you made some good decisions.
My shopping resolution for 2017 is to make every purchase THAT GOOD. Which may mean shopping less, just better.
This amazing VDV The Label gold satin tie-top is a piece that I can 100% stand behind. The silhouette caters to the trendy pieces I'm seeing all over right now, but the high-quality fabric and rich color will stand the test of time.
I'm SO obsessed and can't wait to show you my 2nd look from the new label. If you haven't shopped with VDV before, you neeeeeeeed to spend the next 15-20 min diving into their site. And if you're down south near San Diego, go visit them for loads of insane pieces and endless inspo.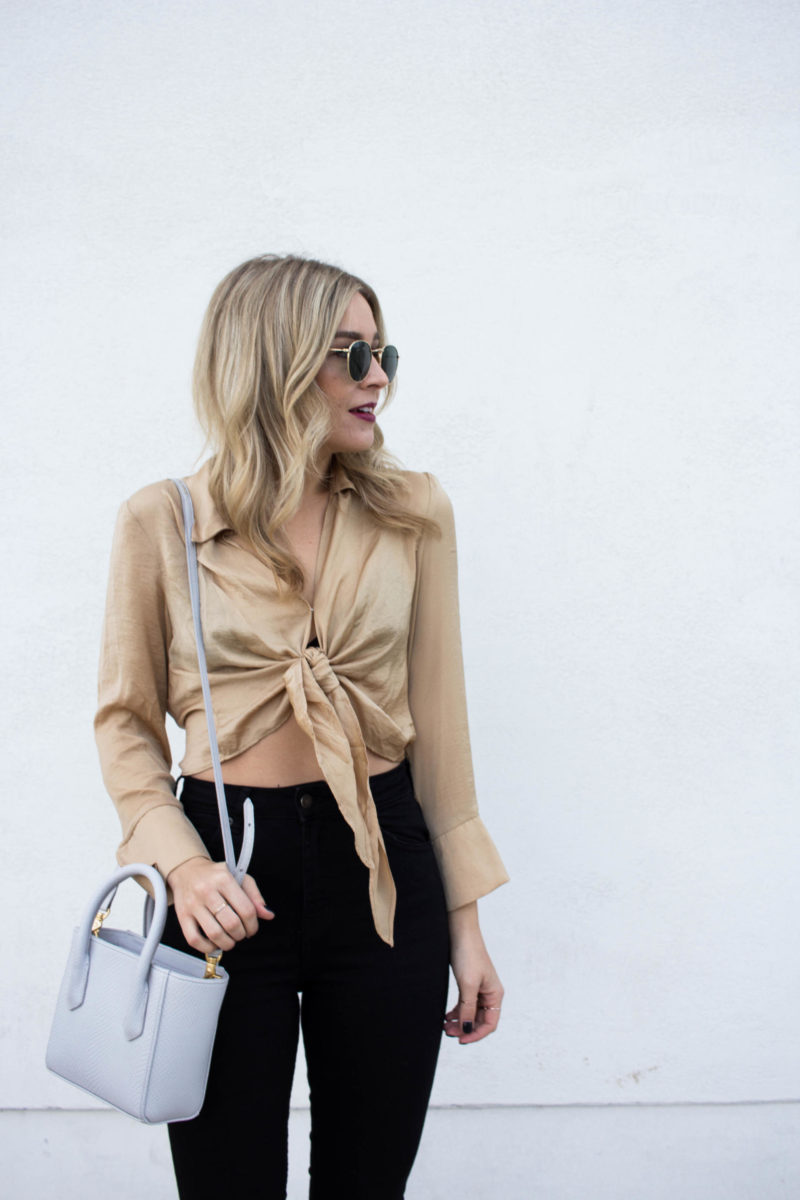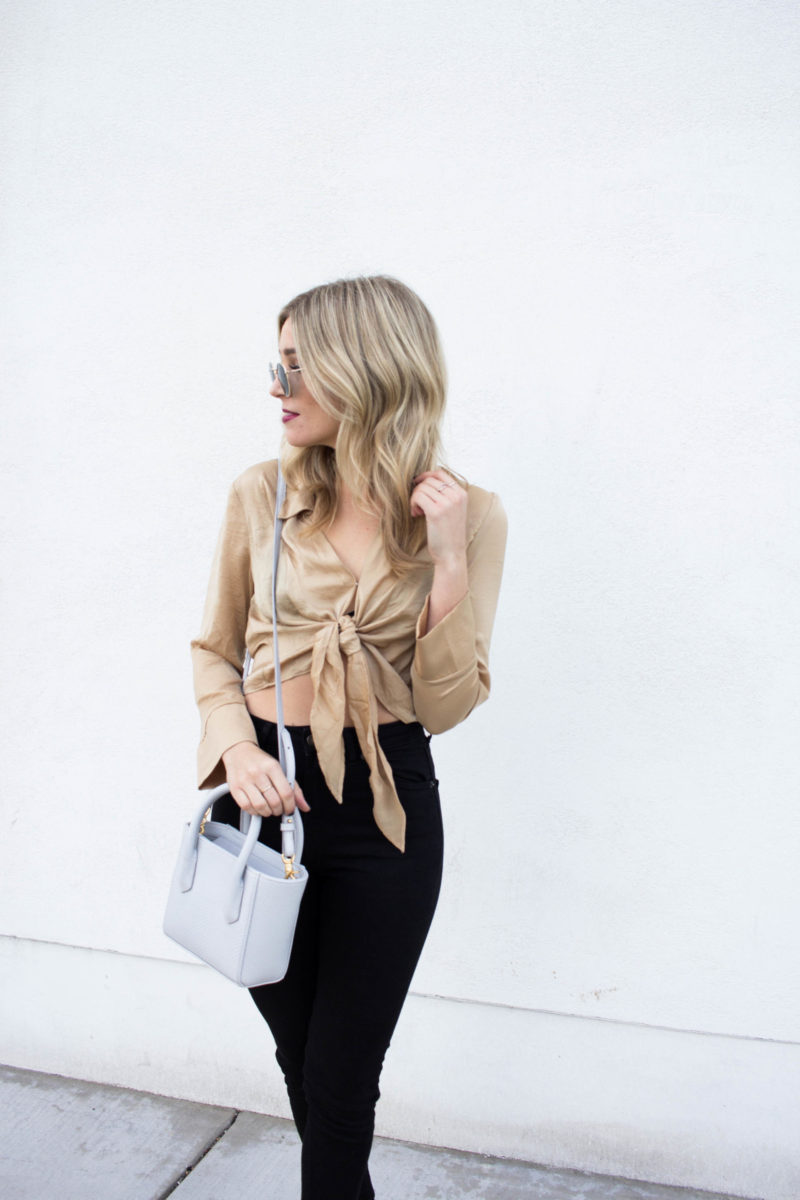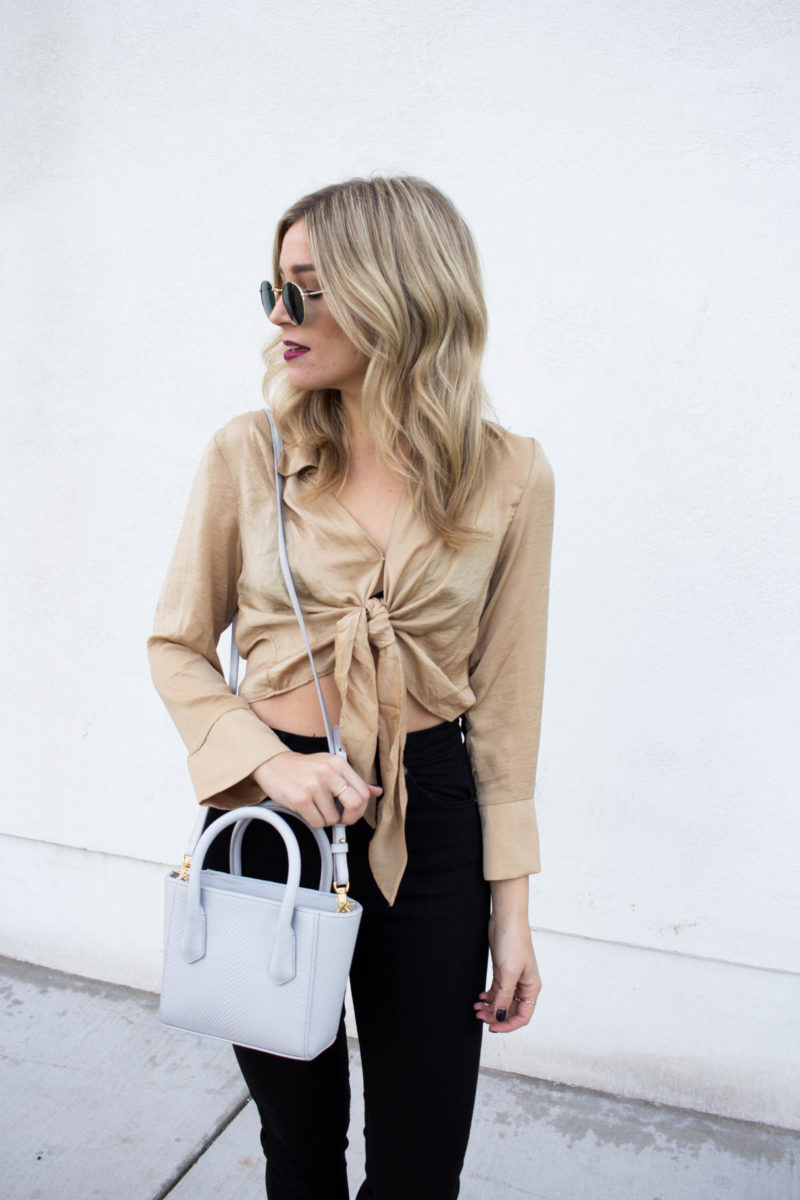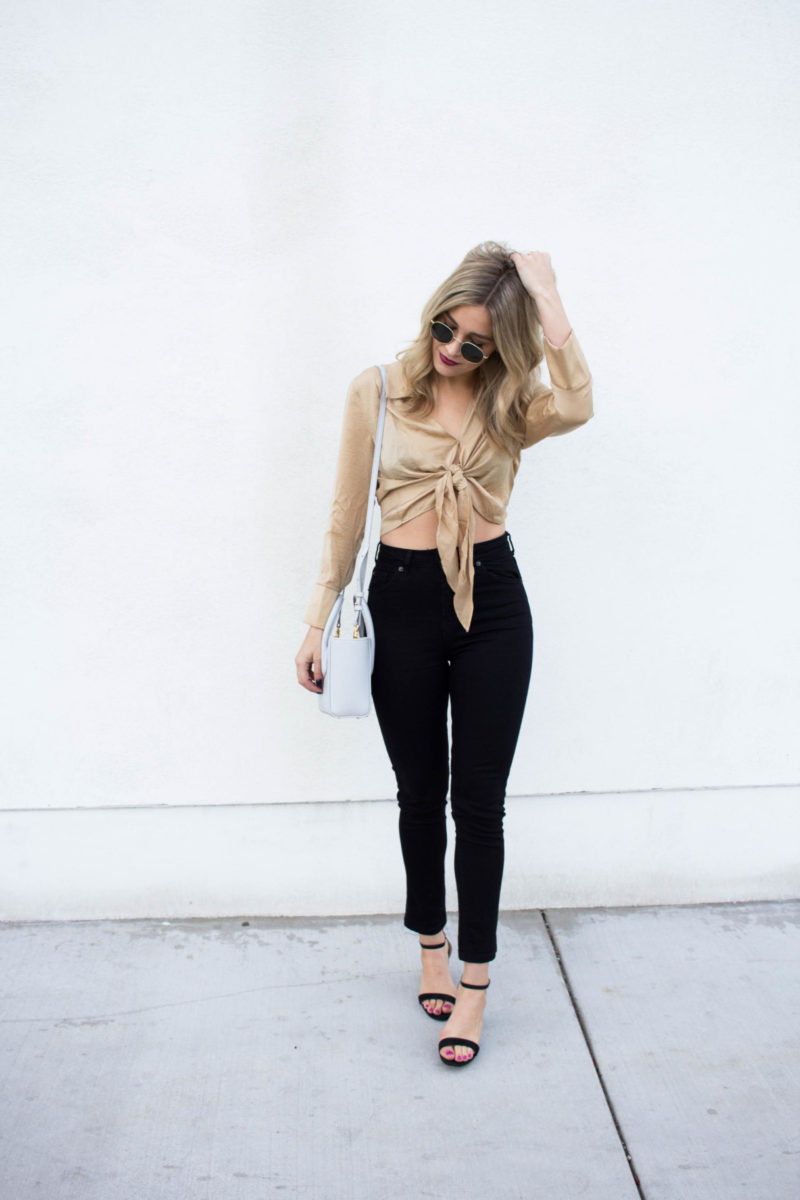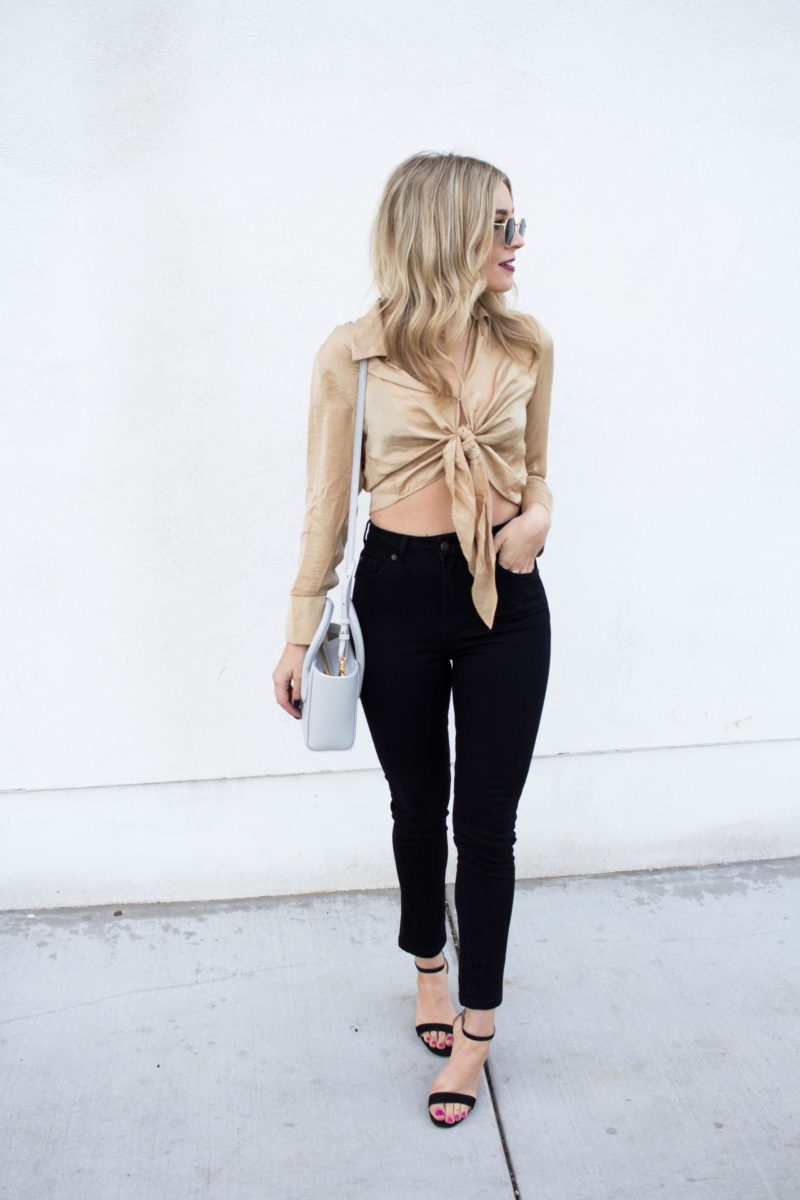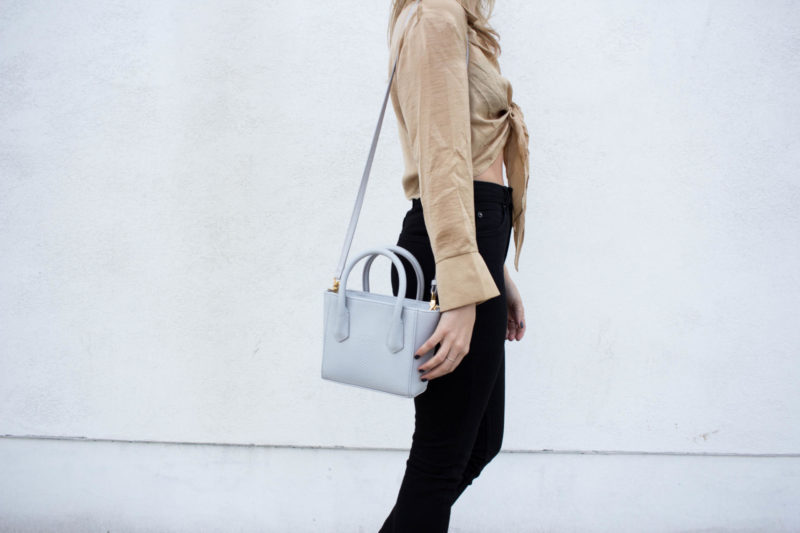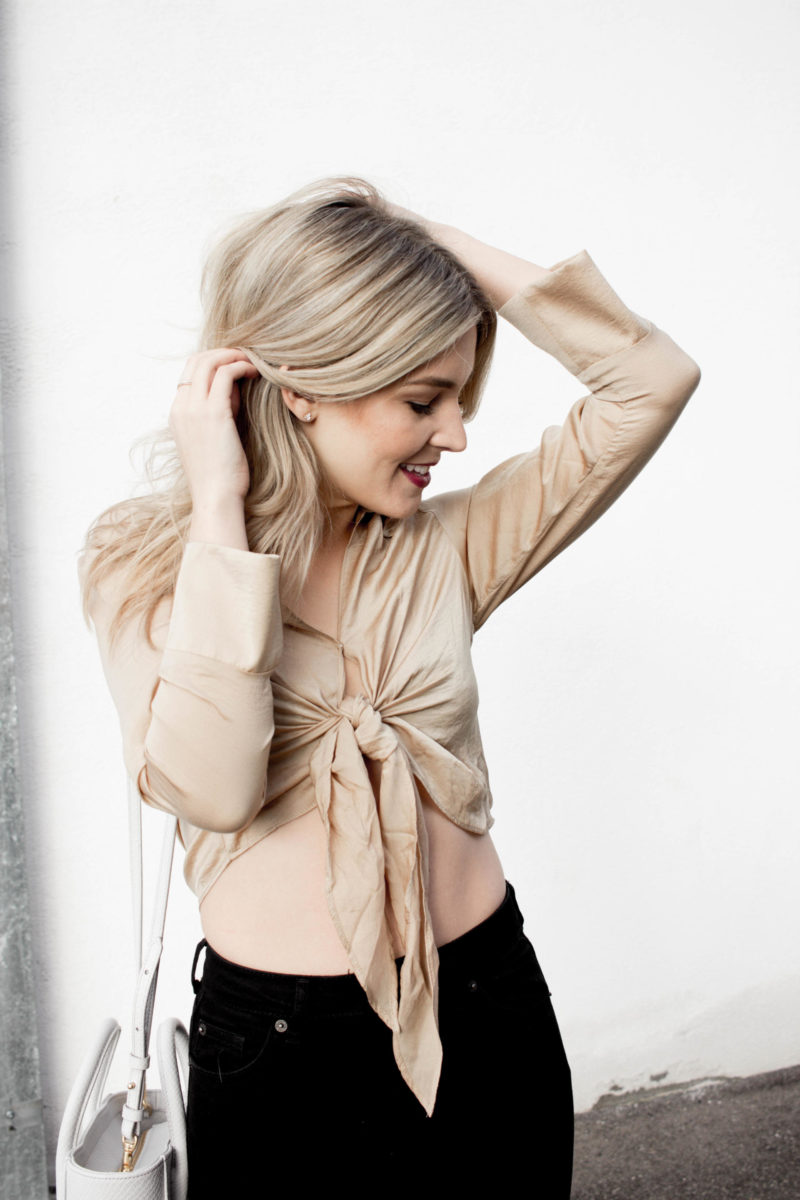 Top, c/o Van de Vort | Pants, c/o Subdued | Shoes, c/o Roberto Durville (ON SALE) | Bag, c/o Dagne Dover | Earrings, c/o Charles & Colvard 
Photography by Steven Albano
AND…
Since we're all here:
I MUST share with you my newest hair tool obsession: My T3 Micro Blow Dryer
The OCD in me is super happy about it matching my favorite straightener, but aside from that, it works SO well! The heat levels are perfect, it's light-weight, and the attachment makes it super easy to style and make sure to keep those annoying fly-aways at bay.
Bye bye frizz. No one likes you.
IF you're in the market for a new hair dryer, you need to check this brand out. They're having a 50% OFF SALE RIGHT NOW that ends at midnight so ACT FAST!!!!!!
Anything white and rose gold is a YES in my book.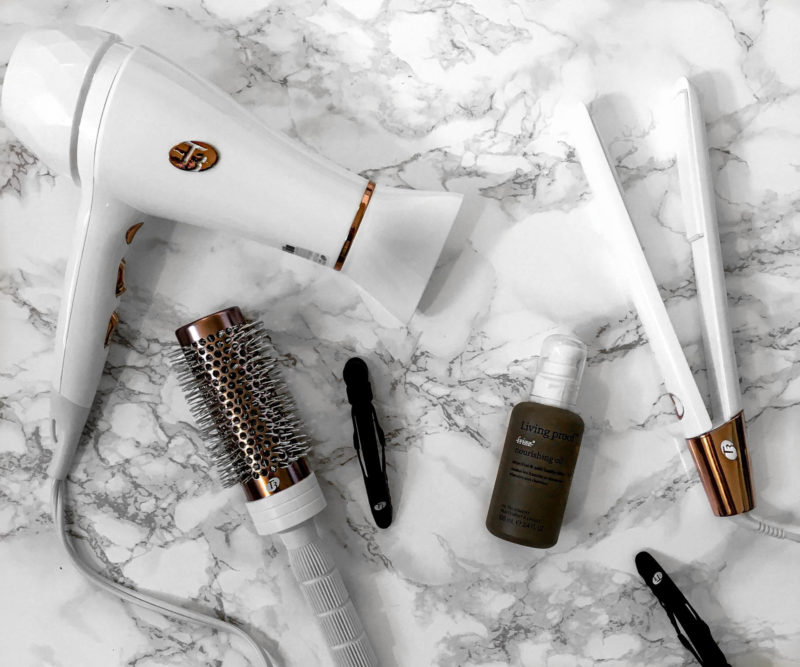 Hair Dryer + Straightener c/o t3 Micro