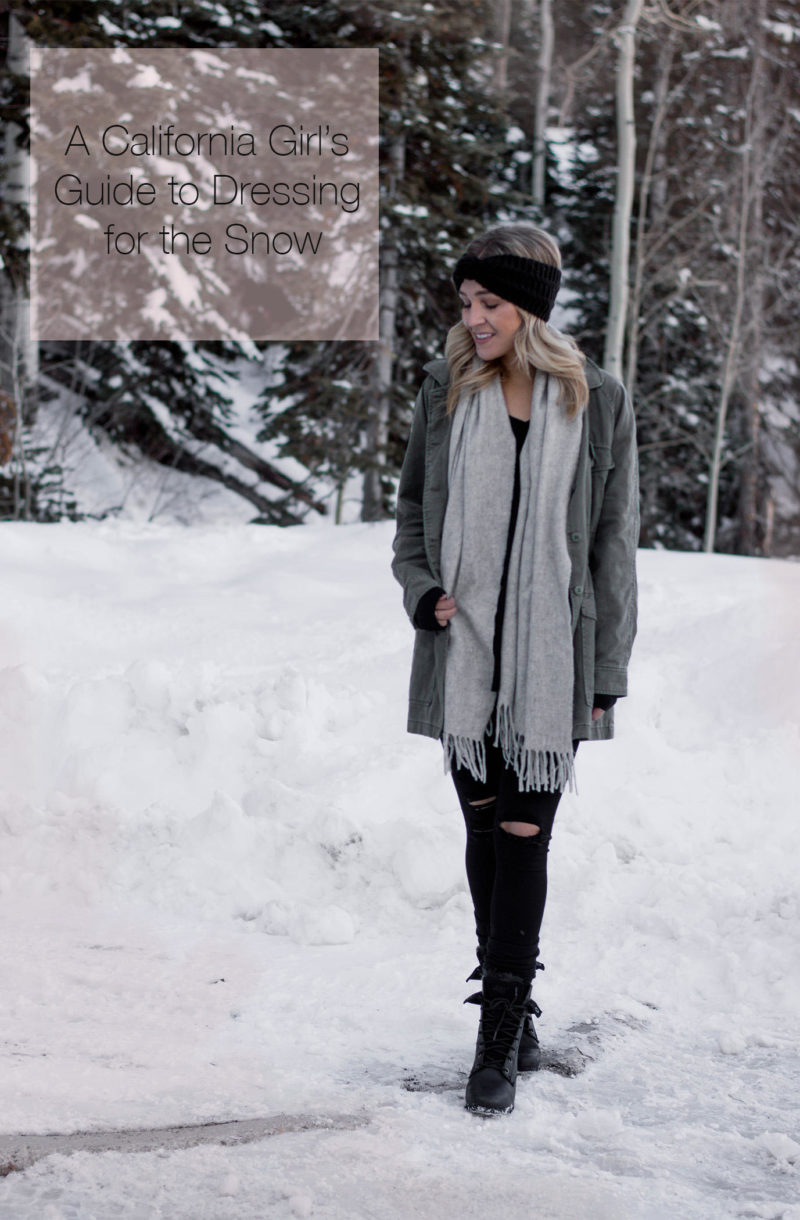 If I learned ANYTHING from the past couple month's (between Chicago, Utah, and Minnesota) it's how to dress for cold weather.
Being a California native, my experience in snow and "cold weather" is nothing compared to those who live outside of this wonderful warm-weather territory.
Whether I go on a seasonal ski trip, or wake up on a "frigid" morning, we're talking MAYBE temps in the 30's; rarely anything below that.
So when Brennan told me that I'd be facing negative degree temps when we made it to Minnesota for Christmas, part of me laughed and the other part of me went into complete panic mode.
I started ordering boots, hats, scarves, long underwear, you name it – I was collecting it. I was also collecting information from anyone who had any experience in this type of cold.
Now, If it's any consolation and you are gearing up to face some cool temps of your own, these efforts helped…but when it comes to THAT kind of cold…there's not much you can do. I'm gonna be real with you.
BUT. Every little bit counts for something.
SO, here are my three most helpful tips that got me through the frigid trips I took this winter!
+ LAYER. Obviously this is such a worn-out tip and that's what everyone's going to tell you…and I hate sounding like a broken record but I have to agree with them. Layers are your BEST FRIEND. My favorite layering item (THANKS to Mary-Katherine from Gold-Hatted Lover for the tip) was this pair of FLEECE LINED LEGGINGS I ordered from Amazon for $10!!!! YUP. Only $10 for that greatness. I even saw a pack of 2 for $10 at my local Walgreens! But of course that was after I ordered them LOL cuz that's how it always goes right? You also NEEEEED to invest in some sort of long-sleeve shirt with thumb holes. They're PERFECT for layering under your tops and keep your hands warm. They also ensure no cold air getting in between your gloves and the top you're wearing

+ Invest in a coat with a HOOD. I mean duh, this should be a no-brainer. But in my shopping prep I found that there are more coats out there without hoods and TRUST ME. You need a hood. Even if it isn't snowing or raining at the time! Every time I would go outside without putting my hood on, thankfully Brennan was there to help me out lololol but it was a HUGE difference when he put my hood up for me! It keeps your ears and neck warm, and make the cold so much more bearable. This one saved my life.
+ Get cute boots that can handle all weather and terrains. I got these Caterpillar boots, these BareTrap boots and these Khombu boots and they all made trekking through the snow sooooo effortless. They provided stability when walking across the frozen ground, warmth, and were waterproof! I felt unstoppable when we would venture out for the day in these boots. It is such a game-changer when you have protected, WARM feet. Trust me. I tested these all out for you guys and I highly recommend. They're also cute, which was one of my biggest concerns for obvious reasons.
+ BONUS TIP: You can dress like you normally do if you stick to LAYERS. This was my biggest question to everyone I talked to. WHAT DO YOU WEAR WHEN YOU GO OUT??!?! And believe it or not, no one lets a little snow change their ensemble plans. So wear that cute top, the cute bomber jacket you just got, or whatever other fabulous item you wear when you go out – you can layer your huge jacket over anything if you get the right one! THIS one saved my life (yes I'm repeating that because it legit SAVED my LIFE) and allowed me to wear whatever I wanted (for the most part) the whole trip. So I highly highly highly recommend!
Below is an outfit I wouldn't suggest wearing in negative degree temps, but, it's cute and this green anorak jacket is on sale…so there you go!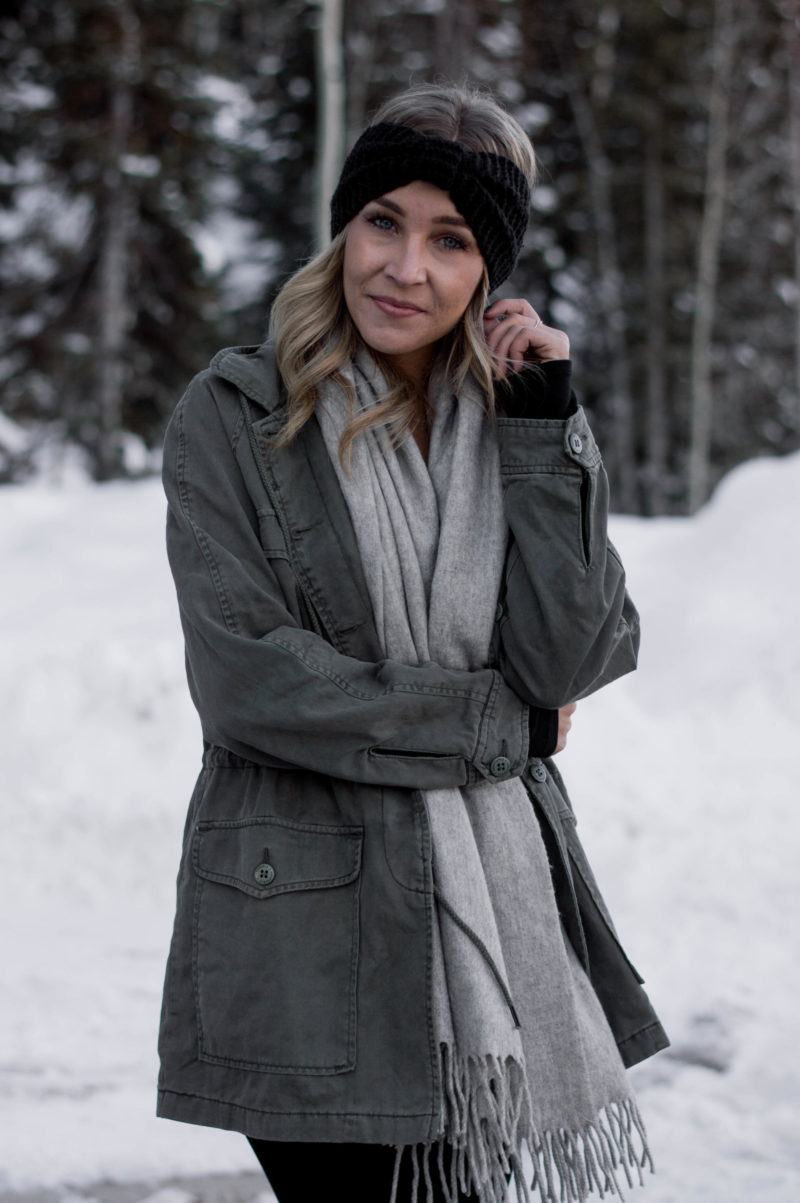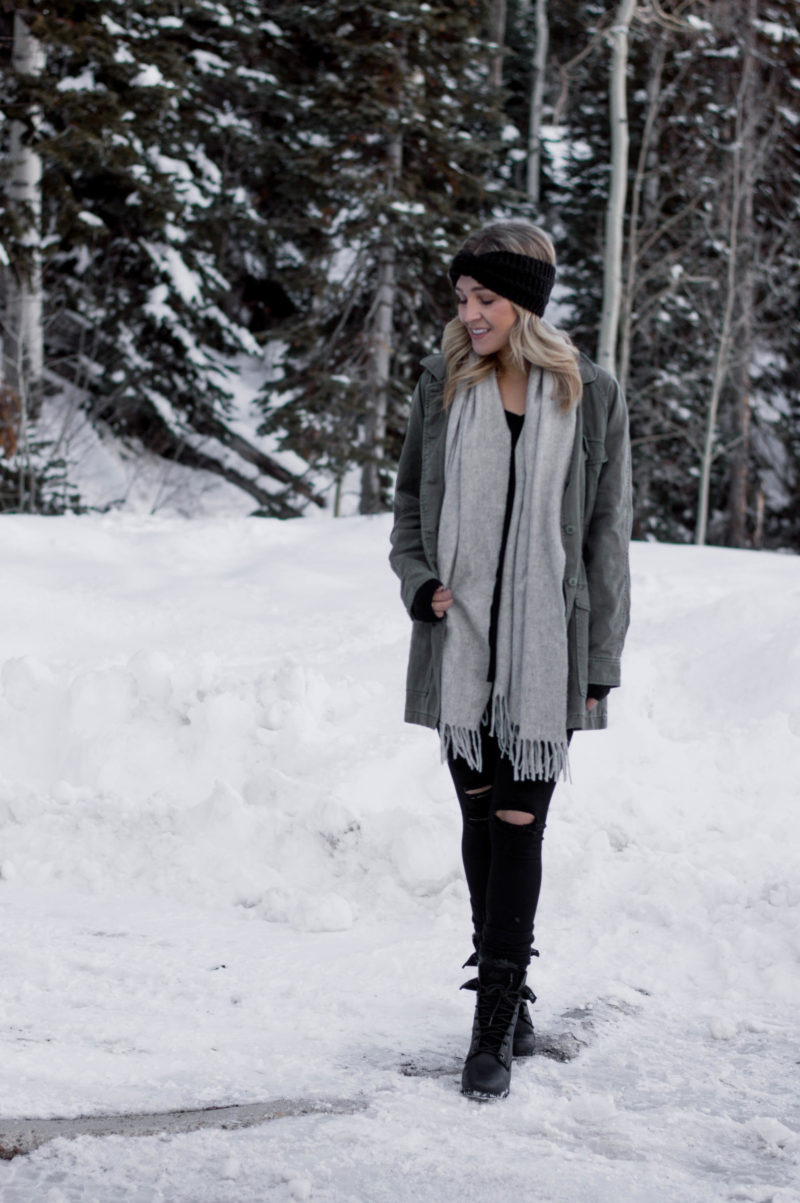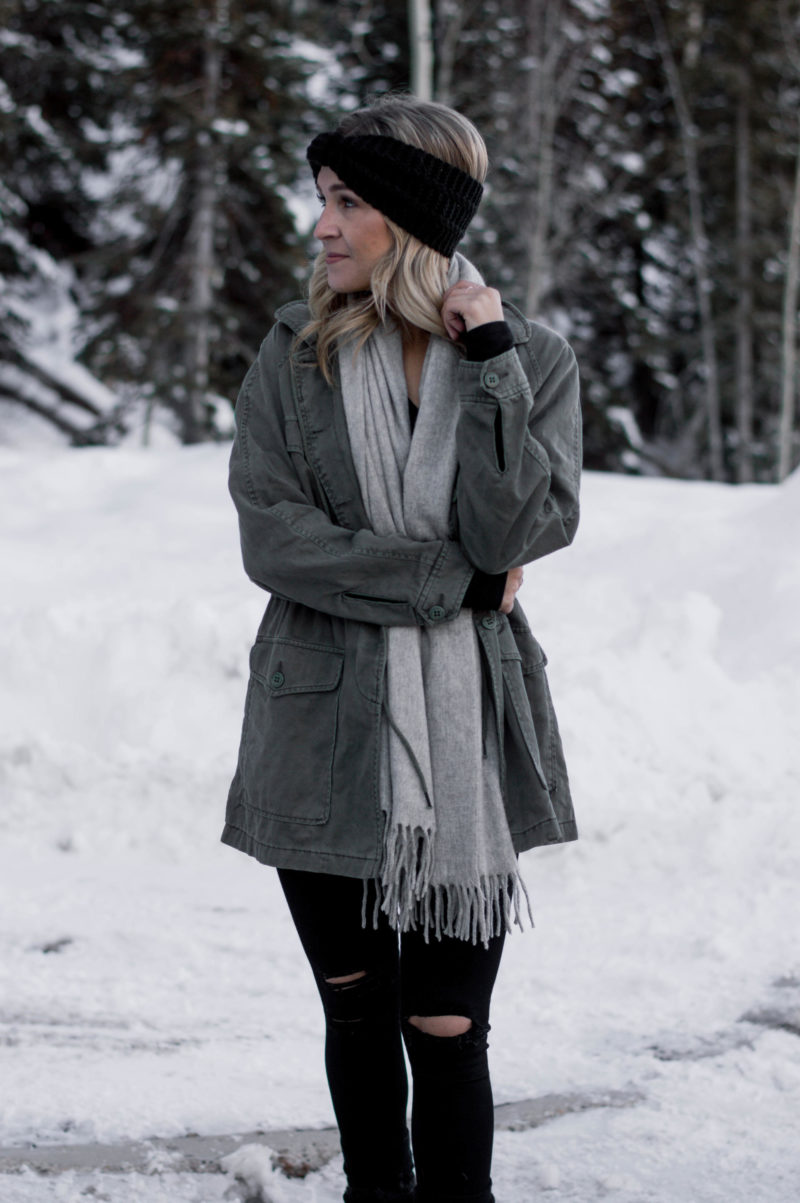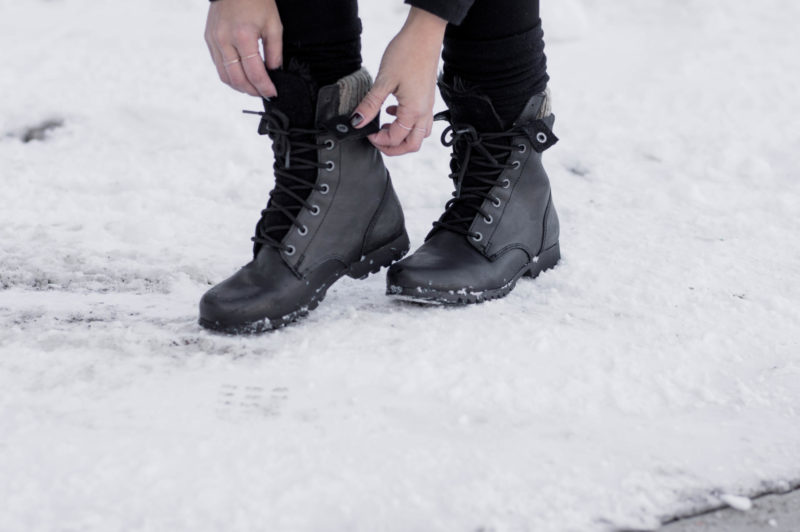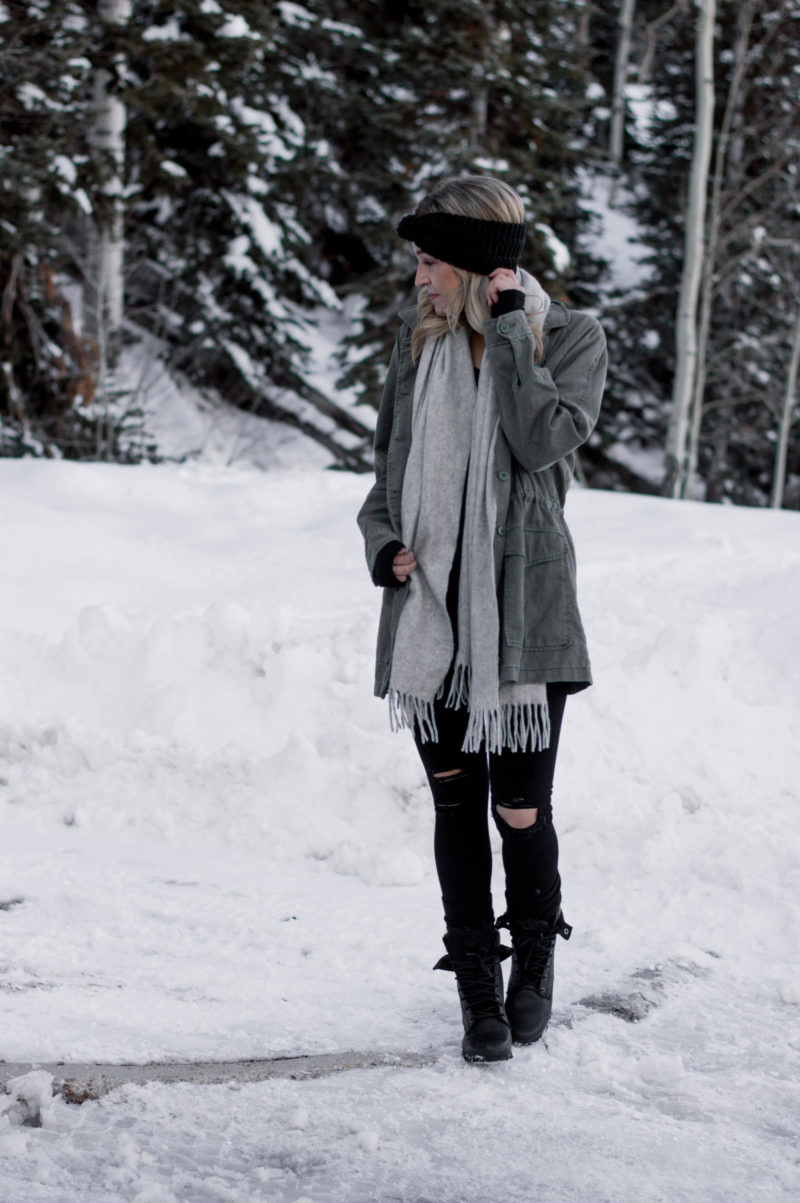 Jacket, c/o Sanctuary | Denim, c/o James Jeans | Boots, c/o Caterpillar | Headband, c/o Headbands of Hope | Cashmere Scarf, c/o MoonCats | Socks, c/o Tavi Noir