Traveling light is not my strong suit.
It never has been, and I really don't aspire to be the one who manages to only pack a carry on for a three week trip, in all honesty.
Who knows how I'll feel when I get dressed for dinner one night? Or what I will REALLY want to wear to the pool? Or what happens if the weather changes and I'm in another state? Too risky to skip out on packing (all) my favorites.
This doesn't only apply to clothing, either.
Traveling is all about being out of your comfort zone, I KNOW…but when it comes to our tried and true beauty supplies, no one wants to take short cuts.
Even down to our hair dryers.
I don't know about you, but for me…a good hair day doesn't come around without some effort involved.
Starting with the perfect drying routine.
When I get to a hotel and see that they either a) only have that minuscule, sorry excuse for a hair dryer, or b) even worse, DON'T HAVE ONE AT ALL….I go into panic mode.
You may not know this because I usually only shoot for the blog with my hair styled, but my locks are naturally wavy on one side, and naturally "idk wtf is going on" on the other side. It makes for a fun bathroom routine for sure 🙄
All that to say, my hair care tools are my holy grail.
When I travel, I constantly find myself sacrificing my hair dryer because I always prefer that one extra pair of shoes instead…and we all love to take a gamble that there will just magically be one sufficient enough to get us through the trip upon arrival.
NOT anymore.
This Panasonic foldable hair dryer is a DREAM for travel.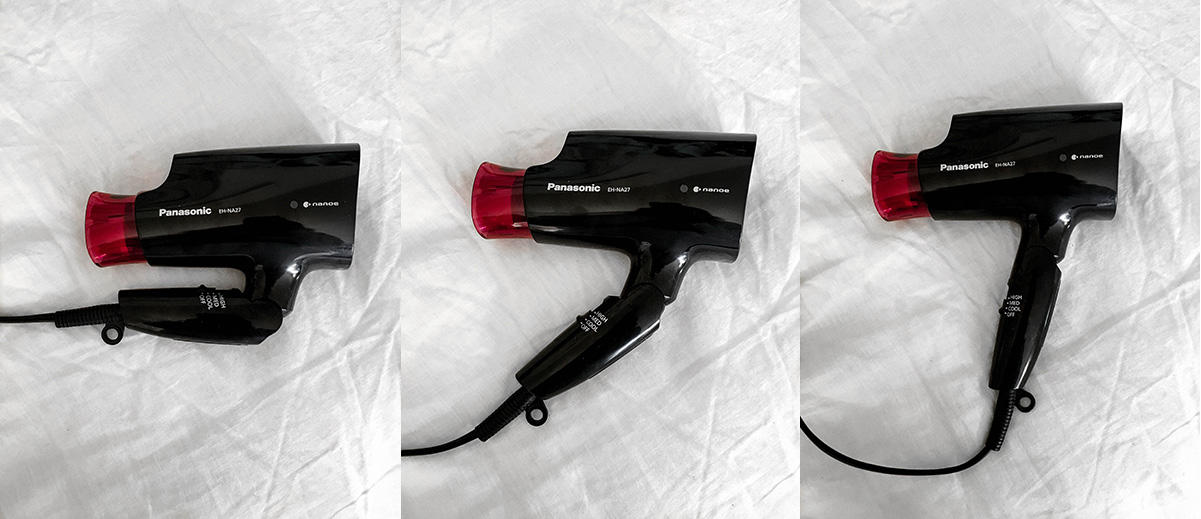 I love how you're not really sacrificing effectiveness OR functionality because the size is moderately the same as your normal hair dryer, and packs just as much punch.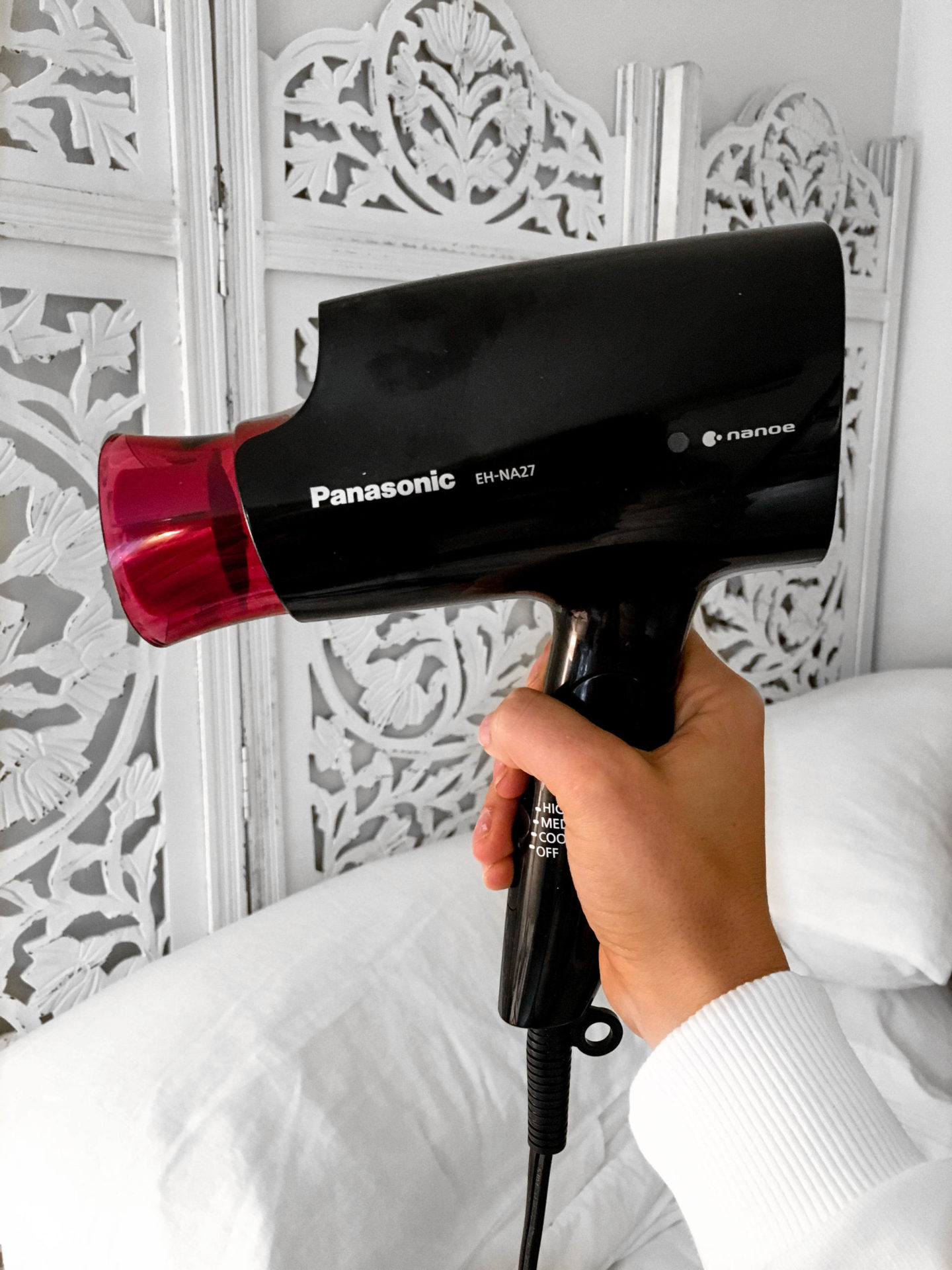 Say goodbye to the feeling that you're drying your hair with a slight offshore breeze…this dryer is the real deal.
Even better, the technology in this thing is different than your normal hair dryer.
"Moisture-rich nanoe holds 1,000x more moisture than regular ions, to dry hair without drying it out. The result? Smoother, softer, shiner hair and reduced damage from brushing."
WHO EVEN KNEW THAT WAS POSSIBLE?!?!?
If you're like me, and making an effort to preserve your hair-health by air-drying is a no-go when you want to look put together, this is a game CHANGER.
Another cool feature Panasonic added to this dryer is the nozzle.
The red nozzle is a unique quick-dry nozzle that provides dual airflow for faster drying (NECESSARY) and the hair dryer itself is 1400 watts with two speeds, three heat settings and Cool Shot.
Not only are you doing your hair and yourself a favor by packing this Nanoe Compact Hair Dryer for your next trip, you can also now officially say goodbye to broken, damaged hair.
It's a win-win.
Nanoe Compact Hair Dryer, c/o Panasonic
This is a sponsored conversation written by me on behalf of Panasonic. The opinions and text are all mine.