I've started to notice just how much weather affects my mood.
I know that I live in one of the warmest cities in the United States, but it's all relative…right?
This past month has been downright FRIGID (pretty sure I've started nearly every blog by referencing the weather in some way…but that just proves my point).
The past two days have finally been warm enough to wear shorts and it's made me overall so much HAPPIER!
I mean, it could be worse, I know this…but because my heater is broken at my house and my apartment is all tile (AKA FREEZING)…I've recently discovered that when I'm cold for a consistent period of time I'm just downright MISERABLE and unmotivated to do anything other than lay in my bed wrapped in a blanket wearing fuzzy socks.
That then spirals to me feeling like I'm a lazy person who is just unmotivated about everything (which is not true) which then leads to momentary depression.
Am I alone in this????
I realize some days I'm SUPER productive and end up detailing my entire car (yesterday) but then other days where I skip my workout, don't eat very healthy, and don't cross anything off my to-do list (the day before) and just end up feeling so blah.
Lately, I've really paid attention to what makes me feel on-track and motivated to push through even my toughest "3 o'clock slumps" and compiled a list of the things I realized really affect my ability to stay motivated everyday:
DON'T SKIP YOUR WORKOUT. It may seem so much better to get that extra hour of sleep, but then you will get out of a habit you're working so hard to implement day after day. Starting your morning off right is the best way to have a good day.
DON'T TURN ON NETFLIX IN THE MORNING. Sure, watching it for a second while you scarf down your breakfast, or while you do your makeup is fine. But DON'T let yourself lay back down in bed when you get home from your workout (guilty). You'll end up skipping everything you planned on doing before work and thinking you'll be fine saving it for afterwards, but we all know how that goes. Why is this important enough to be its own bullet point? Because THIS IS WHAT I DO when I'm FREEZING and can't stand the thought of getting ready for my day.
LISTEN TO A PODCAST WHILE YOU'RE GETTING READY. I live alone so it's nice to feel like people are chatting in my house in the morning, AND I feel like my brain is most receptive of new knowledge before I get to work. I used to listen to these on my morning commute, but now that my commute is less than a mile, I've forced myself to put down the netflix, and replace it with a podcast that will TEACH me something to start my day.
MAKE YOUR COFFEE AT HOME. Sure, it's fun and cute to go grab a latte after you work out, or on your way to work. But I'm reading a book right now (that I intend to do a book review on because it's that good) that has engrained it into my head that THE LATTE FACTOR is a real thing and it's slowly ruining your life in terms of financial success (dramatic, but go with it). When really analyzing myself to figure out WHAT was putting me into my mid-day slumps, I realized that stressing over money was the #1 factor contributing to my bouts of sporadic "depression," panic, and stress. But just think about it…there's nothing more motivating than feeling like you're making efforts toward saving that aren't too difficult to implement…and I can assure you, from one recovering shoppaholic to the next, cutting out that daily latte is actually pretty easy if you put your mind to it! And thinking about all those $5 drinks I'm NOT buying is extremely motivating to keep making my coffee at home. Because there's just something about realizing I'm $5 richer every day, and seeing that money slowly build in a separate "latte" account.
 COLOR COORDINATE YOUR TO-DO LIST. I may have OCD when it comes to office organization and paper products, but it has helped me so much. In the morning when I get to work (and especially when I'm working from home), I write out EVERYTHING I have to do that day. As I complete each task, I highlight it in whatever color I've dubbed my "complete" color. If I don't get it done that day, I highlight it in a separate color to mark it as "incomplete" and then immediately write it in for the next day. This helps me stay on track, and gives you the satisfaction of completing tasks as you go. Sort of like an incentive program 😉
I hope these help! What are your tips for staying motivated throughout the day? Would love to know so I can try them for myself!
And now…onto my most FAVORITE floral matching set of all time *heart eyes emoji*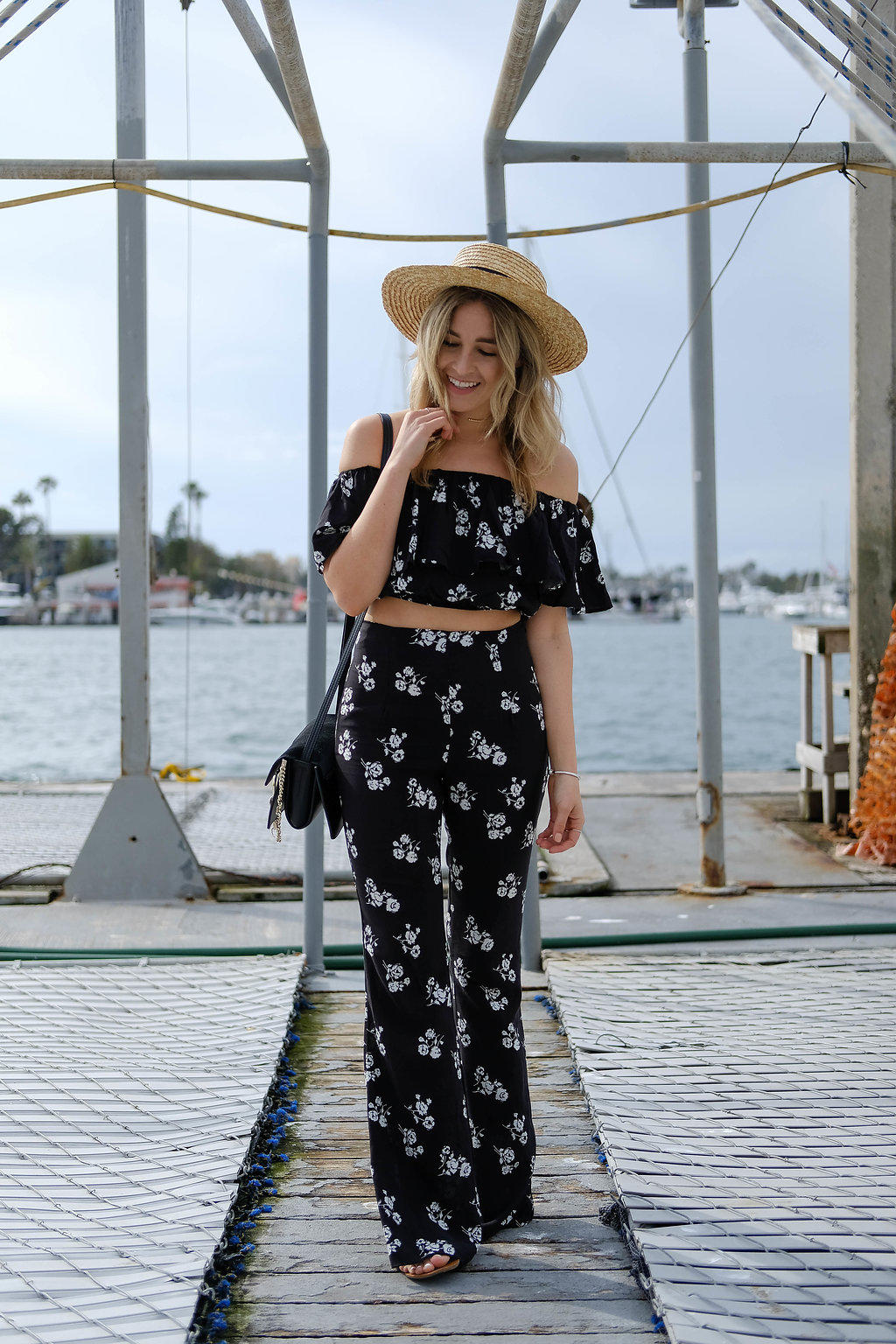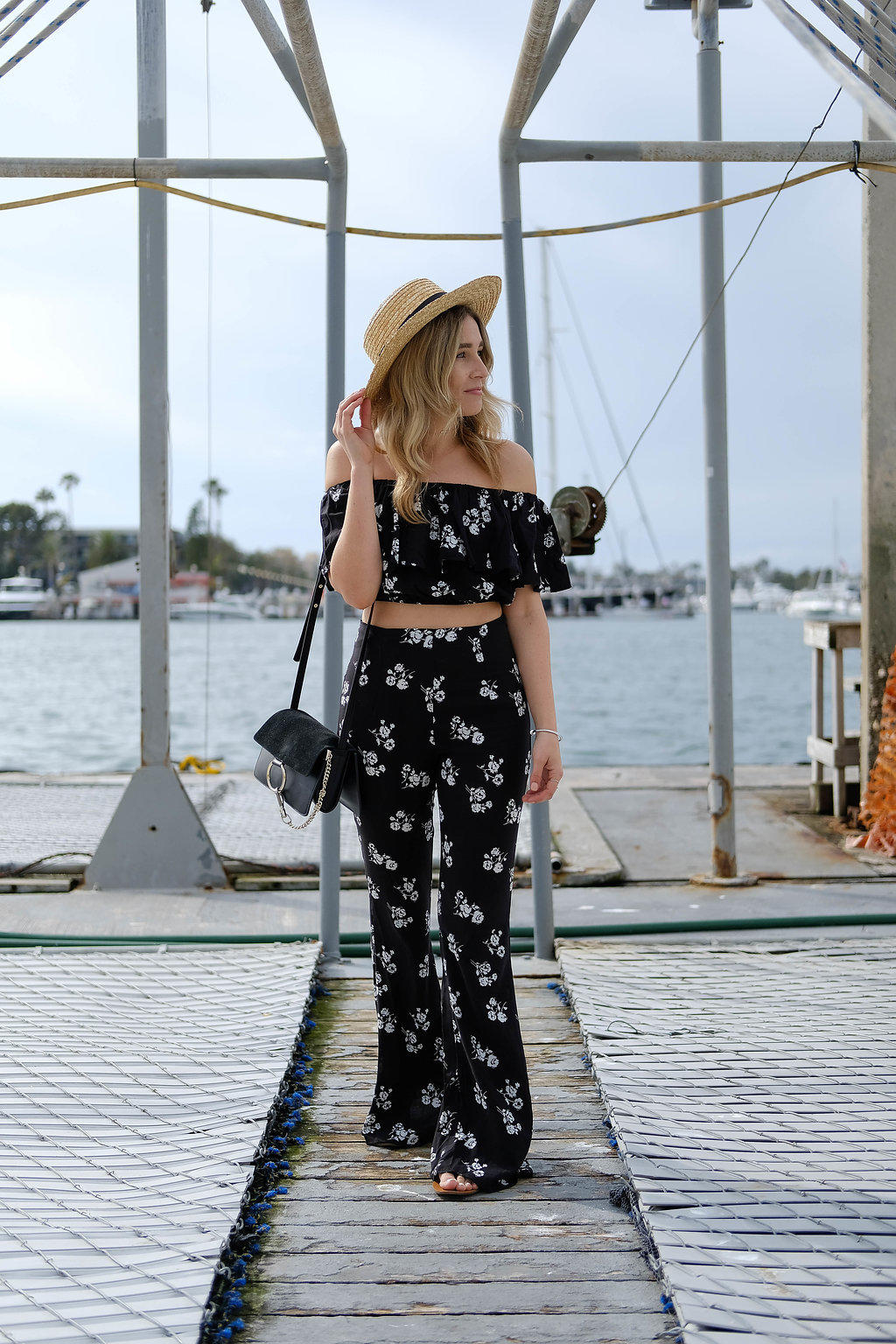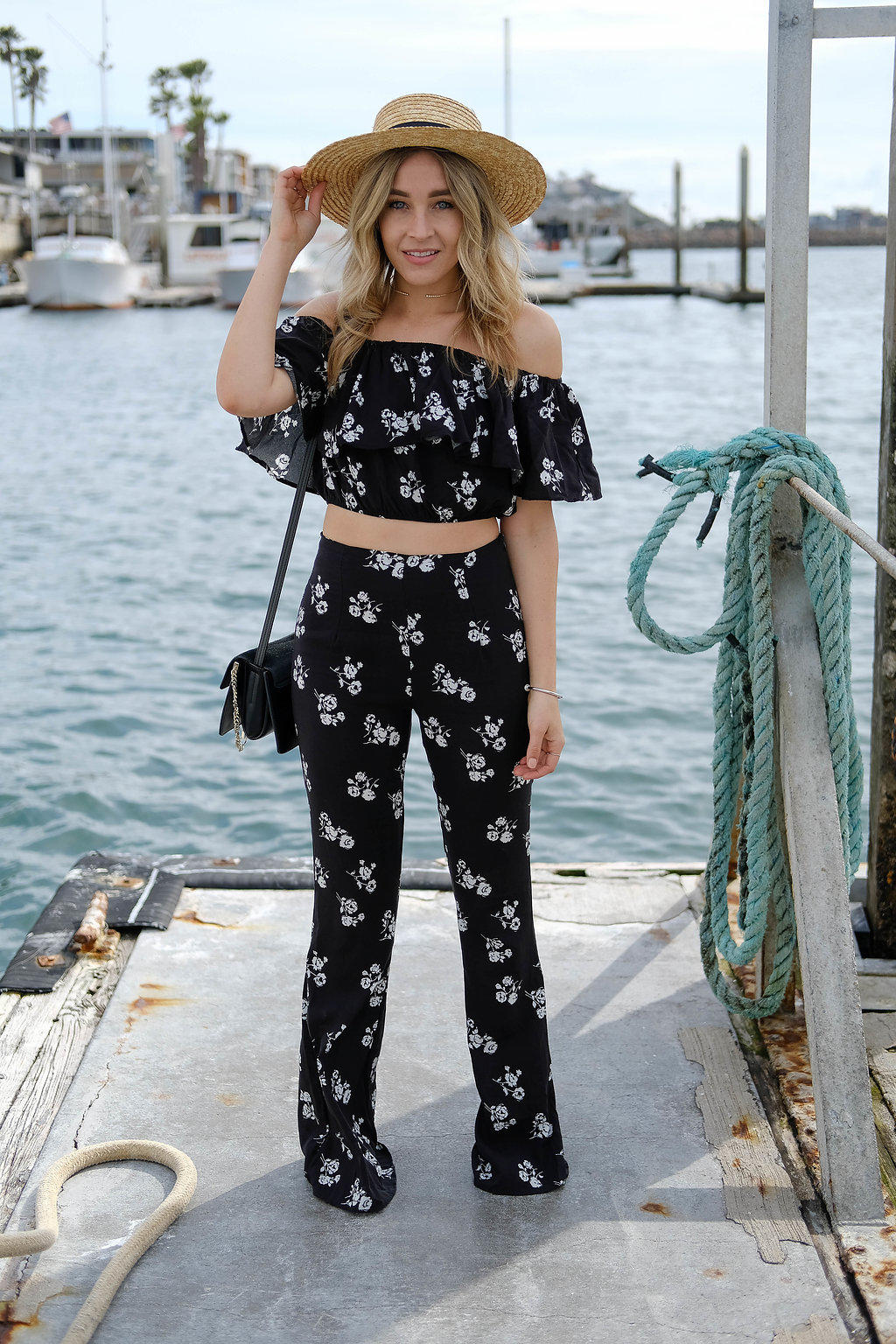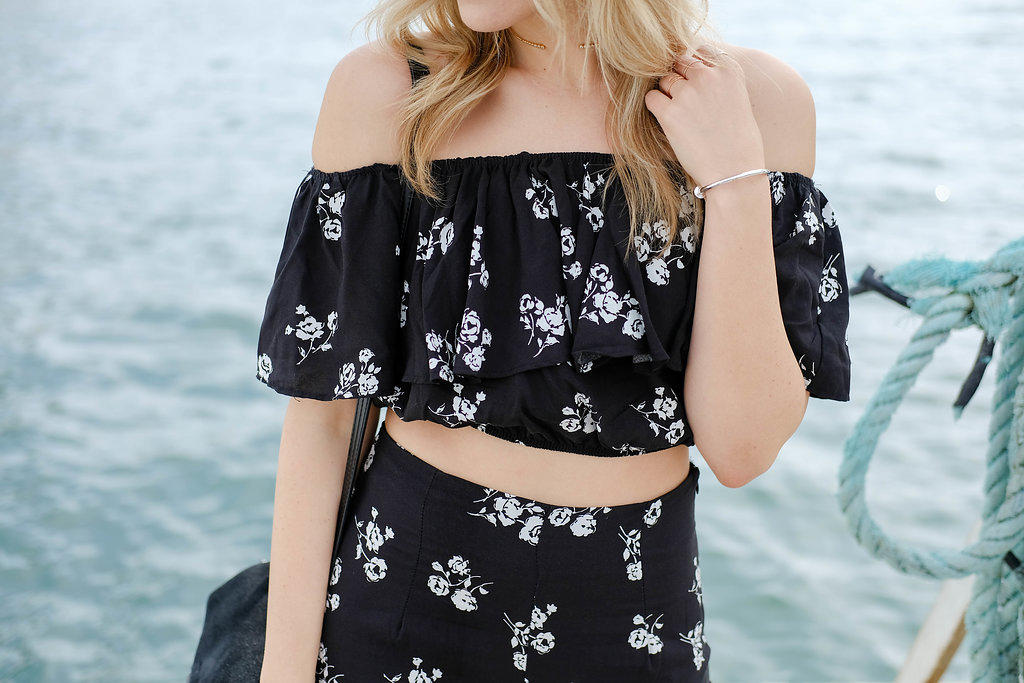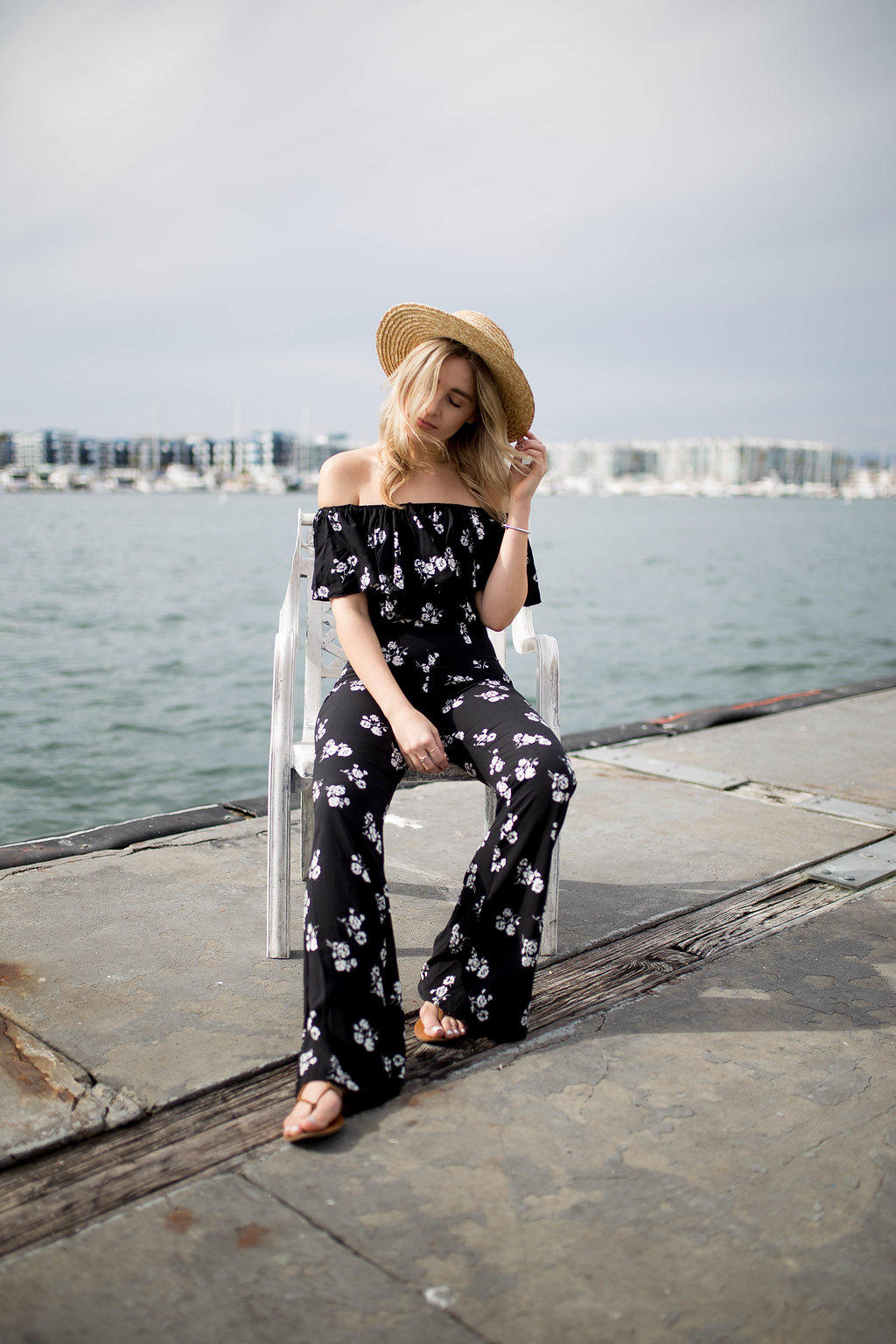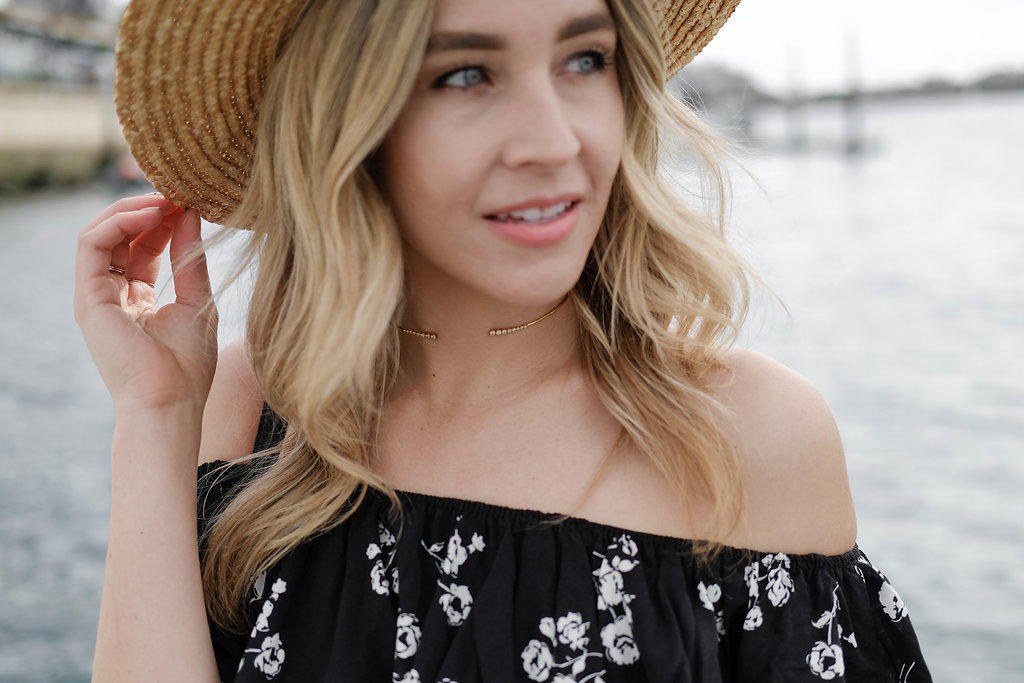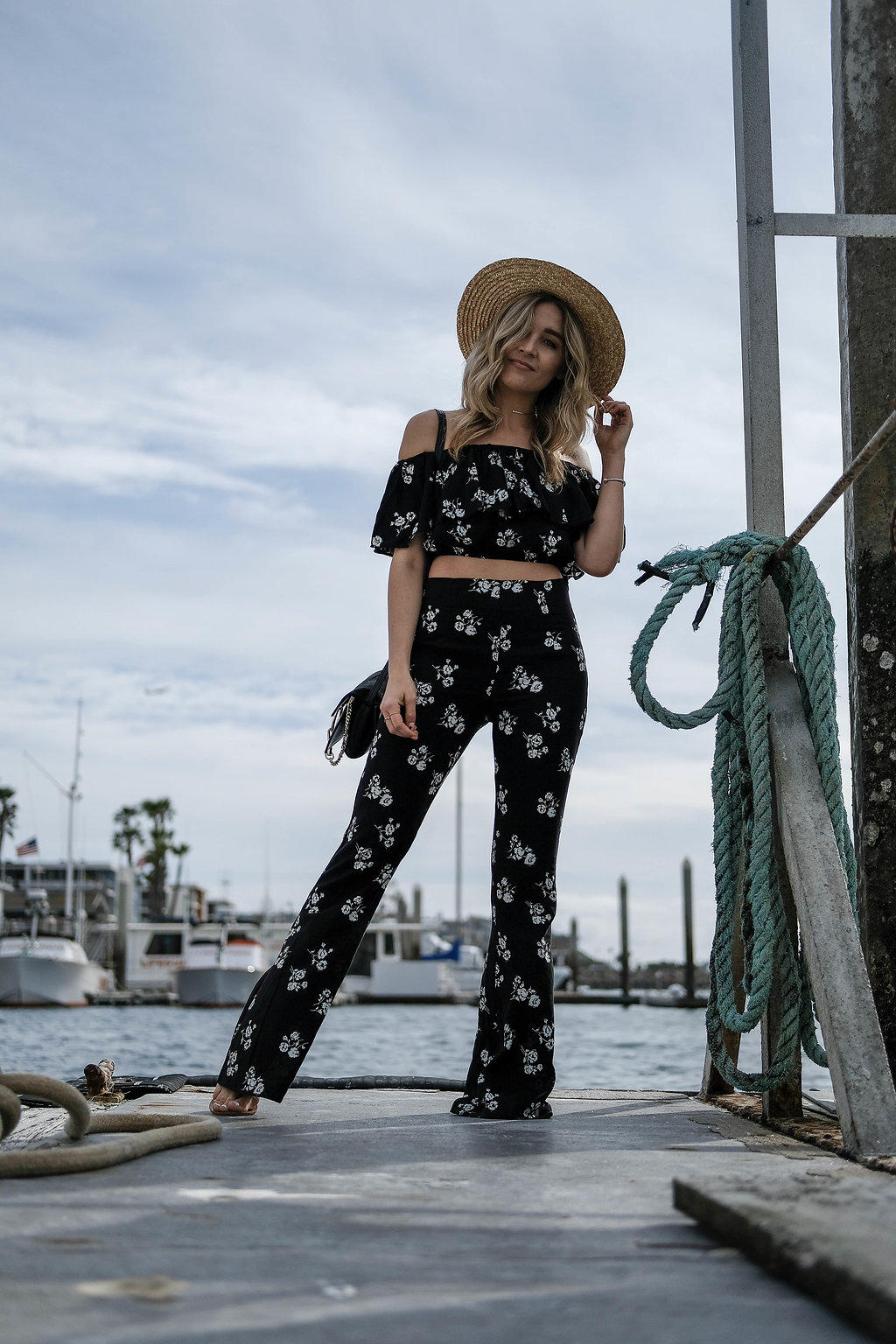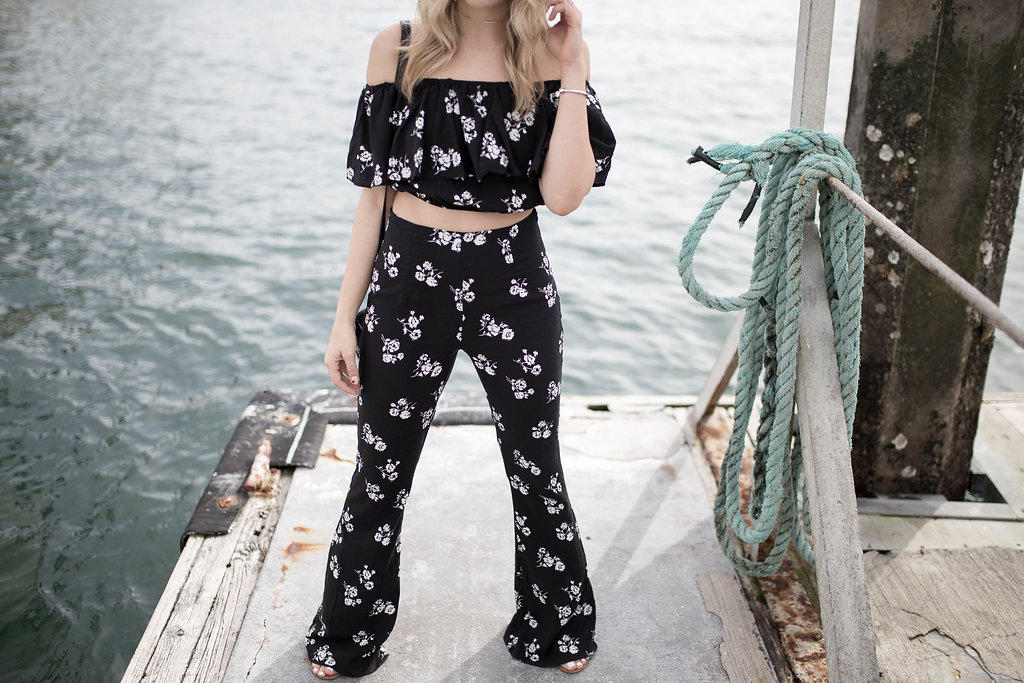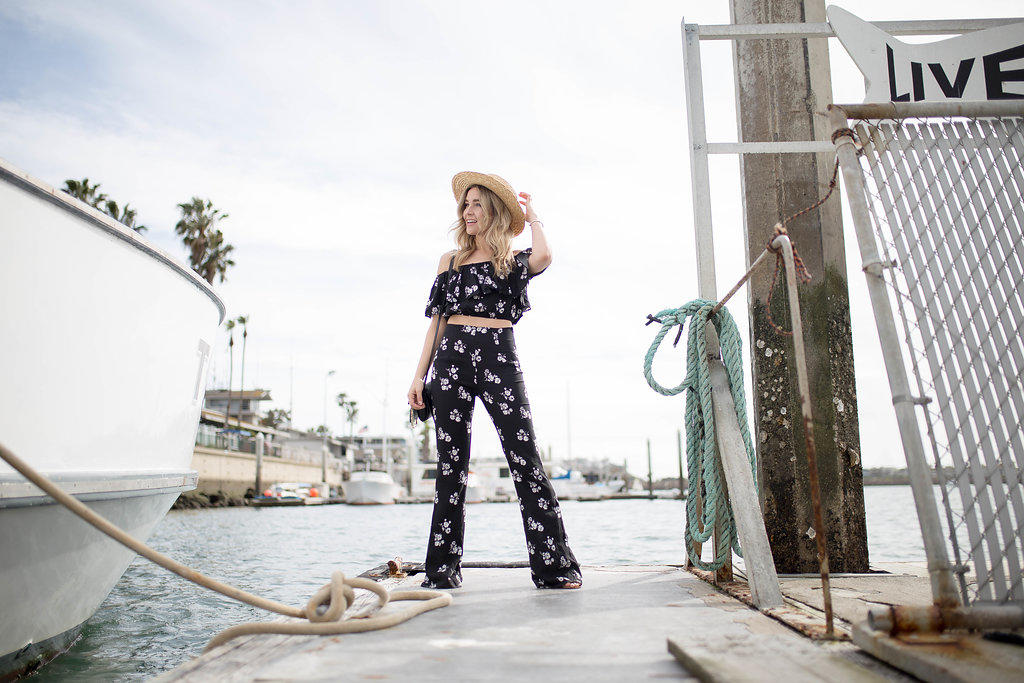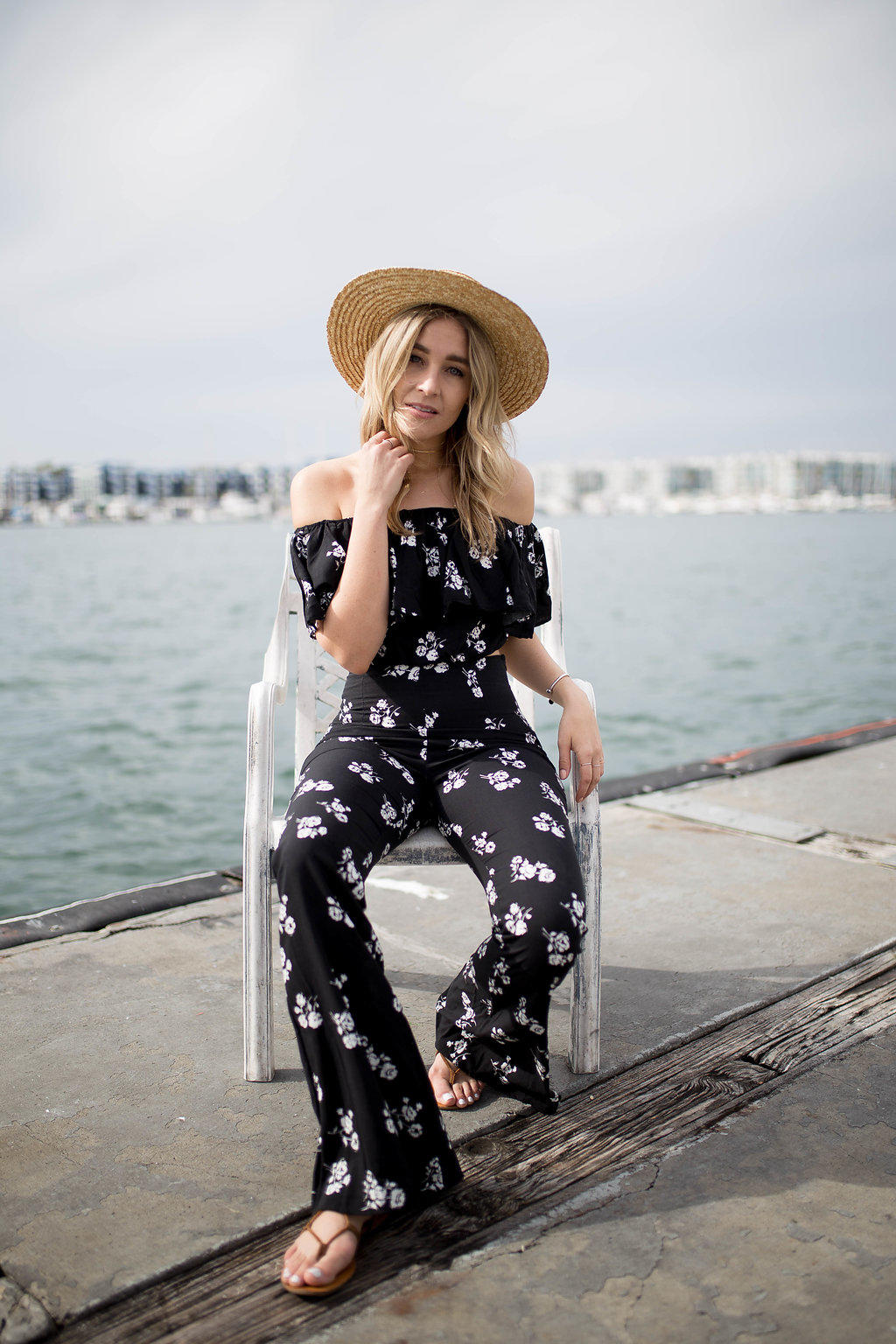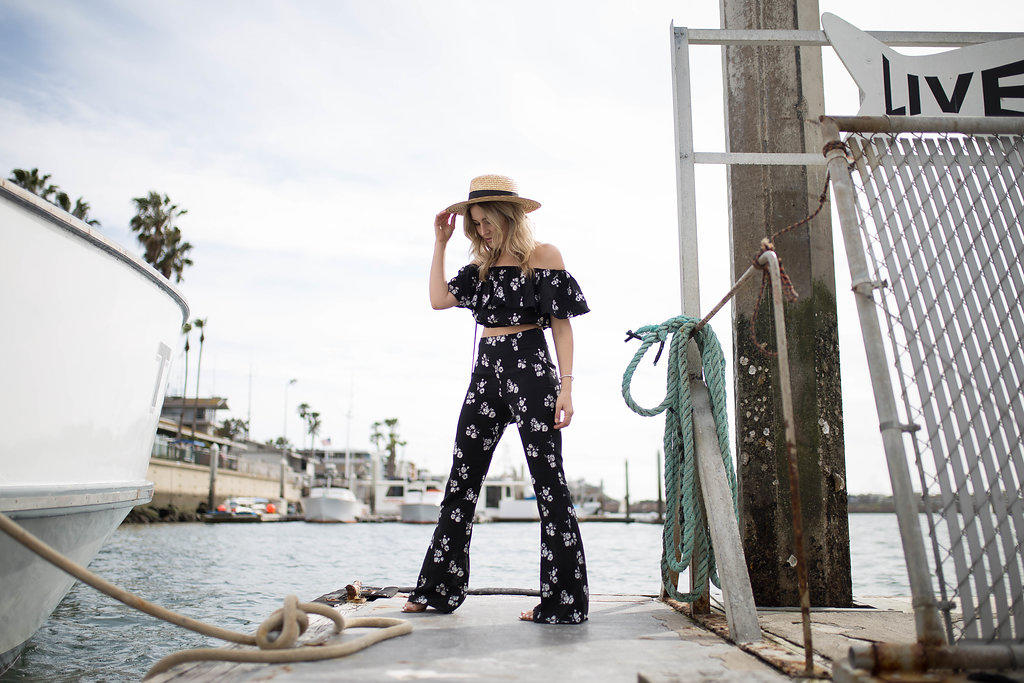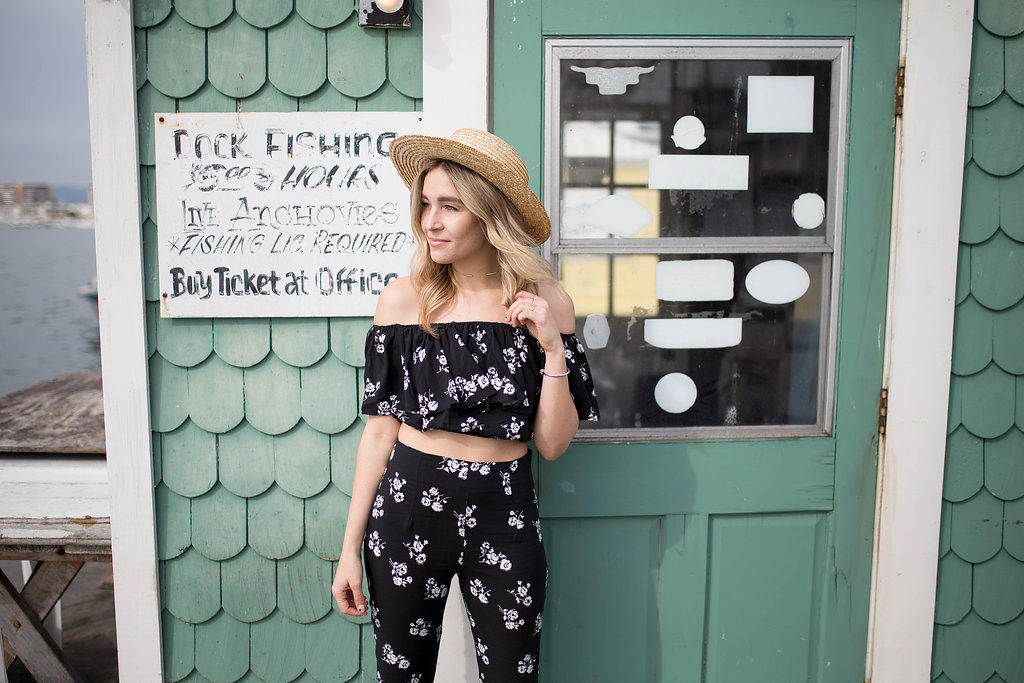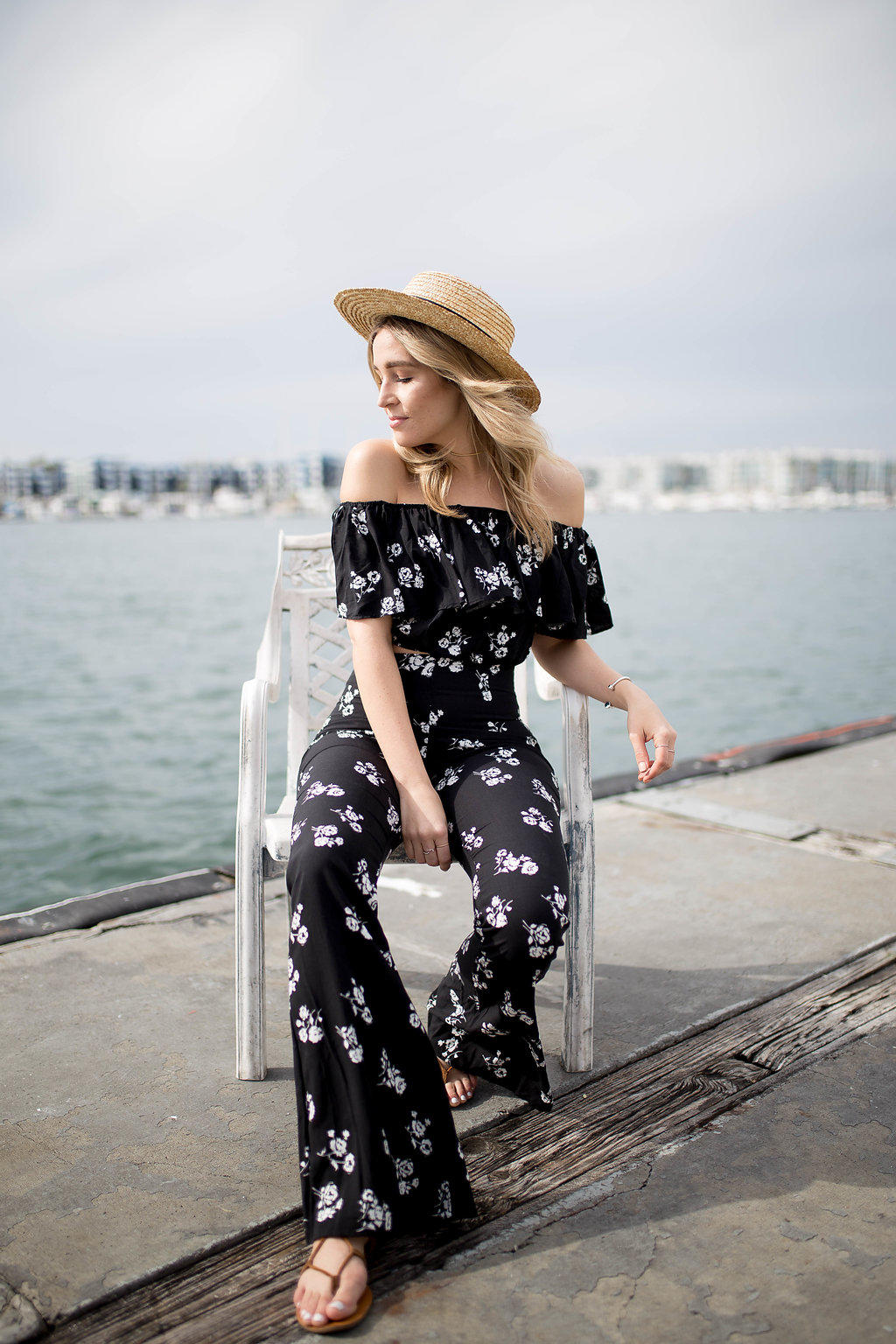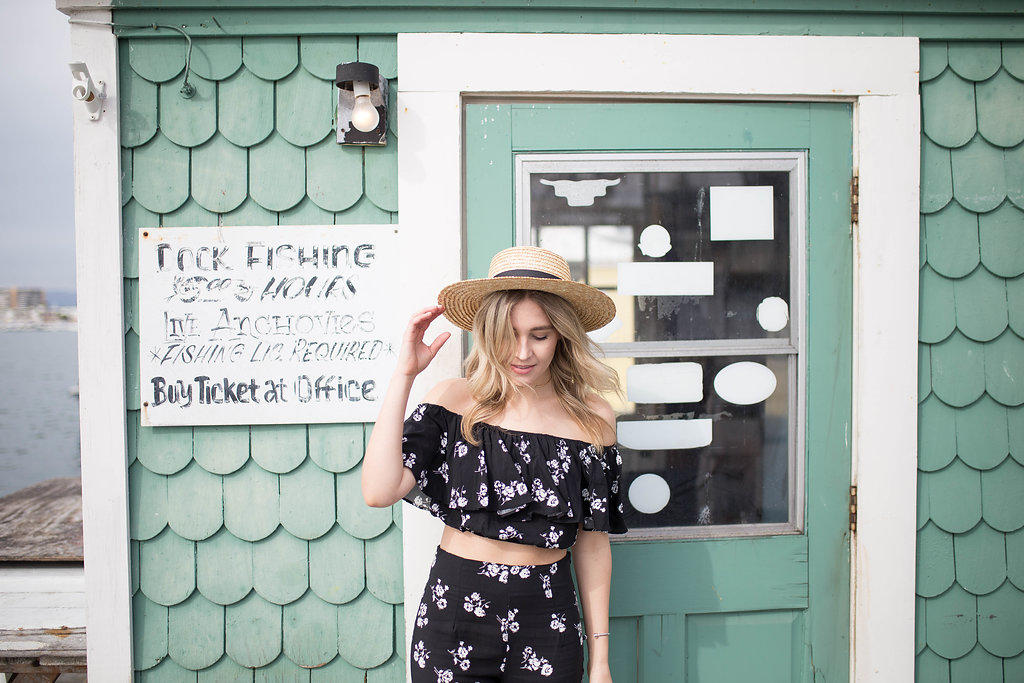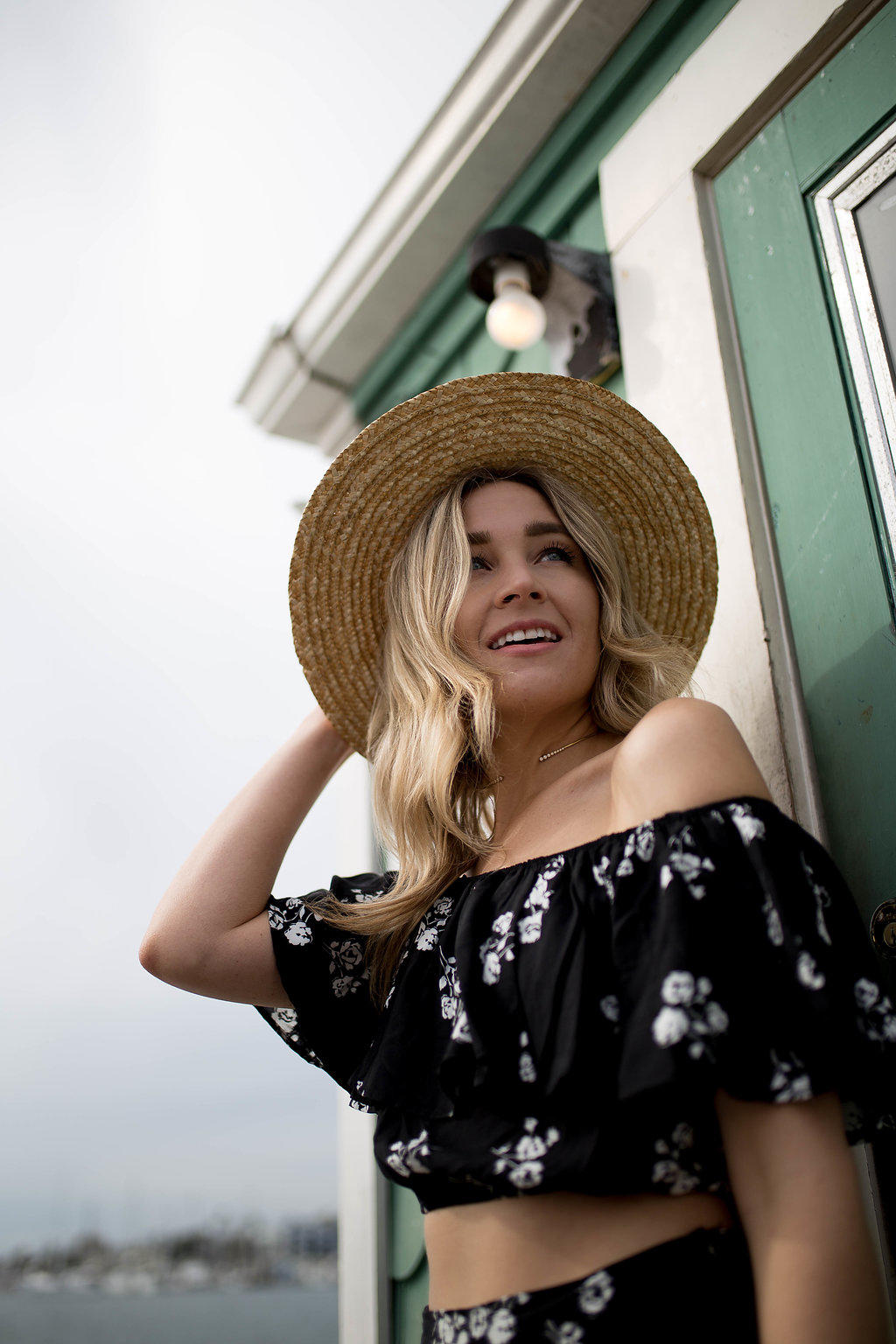 Top, c/o Windsor | Pants, c/o Windsor | Hat, Van de Vort | Jewelry, Motif