Back at it again with my favorite post category: Him + Her! Moment of appreciation for Brennan's willingness to go to photoshoots with me and wear my favorite outfits that he's purchased. *heart eye emojis* for DAYS. Ugh. Swoon.
I have a couple of things I want to talk about in this post, so sit back, relax…and get ready to read.
FIRST of all.
Do you ever go through an intense closet purge that stems from you looking at everything hanging there, saying to yourself "what was I thinking?" I'm going to go out on a limb and guess that 99.99% of us have. Personally, I do that almost monthly (and sell it on @shopblondecollective, for those of you who don't already know). My most recent closet purge wiped out all of my flannels because in my head I was like I hate these colors, I never even wear them! Truth be told, it was in the dead heat of summertime, so OBVIOUSLY I'm going to feel this way toward heavier clothing. Advice: don't throw out clothing for opposite seasons…give them one last chance before you say goodbye!
Even though we're in a heat-wave at the moment, I've been on the hunt for the perfect flannel. I decided to stick with neutral tones (black, olive, grey, navy) because I always fall for the flannels with reds and at the end of the day, red just isn't my color.
You can imagine how HAPPY I was to find this incredible flannel from Maude Boutique. It's honestly my favorite! I put it on the second I received it in the mail. I love that I can wear it with my favorite shorts, but also can't wait to stye it with my black pants when this heat finally subsides.
SECOND. STORY TIME.
So B's birthday is at the beginning of September. I've mentioned in nearly every post with him that he is a sneaker head, so I knew I wanted to get him some special shoes that he wouldn't normally get himself. UNFORTUNATELY THOUGH, I'M DEALING WITH A SHOPAHOLIC YOU GUYS. If he wants a pair of shoes, he doesn't talk about it…he just goes and buys them. It's really tough to get ahead of the game with someone who doesn't even let you know what page he's on until it's too late.
SO. Backstory: I helped style a Red Bull video recently (watch it here) and these shoes Brennan is wearing happened to be near the wardrobe area. I sent him a pic and he joked around saying "take those for me!" So I thought, great…I'll track these down and get them for his birthday. Knowing he wasn't going to buy them himself because they had been sold out for a while already.
Fast forward. I searched HIGH AND LOW, found them on Amazon in his size after literally an hour of deep internet hunting, and once they arrived, hid them under my bed so he wouldn't find them. LITERALLY…his birthday was on a Friday. On the TUESDAY before, we're at his softball game and he opens his trunk…"look at the shoes I bought today"…my heart dropped when he pulled out an Adidas box, and sure enough…he pulls out this similar pair. I had to keep it cool, but I was dying inside.
I had to wait 3 whole days knowing that he was about to open a pair of shoes he basically had already. When we finally got to his birthday morning, I basically prefaced him opening his gift with the typical "you can return it if you don't like it I promise I won't care!!!!", basically panicking and taking all the fun away from it (sorry babe). THANK GOD, he liked them and ended up taking back the other pair. BUT. I told him the new rule was no shopping the week leading up to your birthday. -_-
Third thing.
I'm borderline obsessed with these Olive Pants Brennan picked out. He found them on the sale rack at Oakley on Third Street Promenade and whenever he wears them I just can't handle it. Paired with this new long sleeve shirt he got from Privilege Clothing (which is so soft and actually decently thick) it's the perfect Fall outfit (he usually wears the pants with a white/cream tee from Urban…so he's excited to have some other options now!)
& finally
I don't normally take photos of me with my phone, but when you have a new case that can charge at any Starbucks location, ya gotta do it.
If you're interested, check out this phone case (and portable box charger) that I just got! It's so convenient for travel, and the charging box itself lasts so long.
Latitude (phone case) | Prelude (charging box)
I'm pretty sure that covers everything! If you made it this far, thanks for reading 😉 Also, I hope you enjoy Him + Her as much as I do.
DON'T FORGET if you have any questions, email me or submit questions to my "Ask.fm" profile! Linked above under the Contact tab 🙂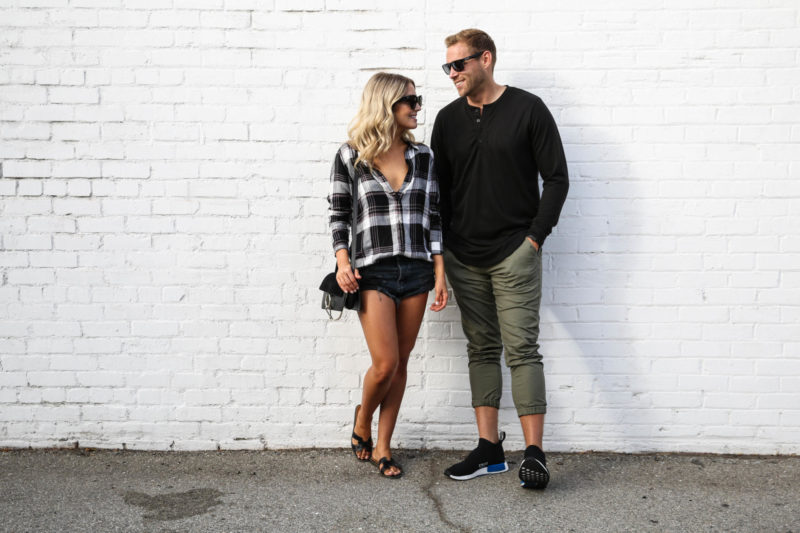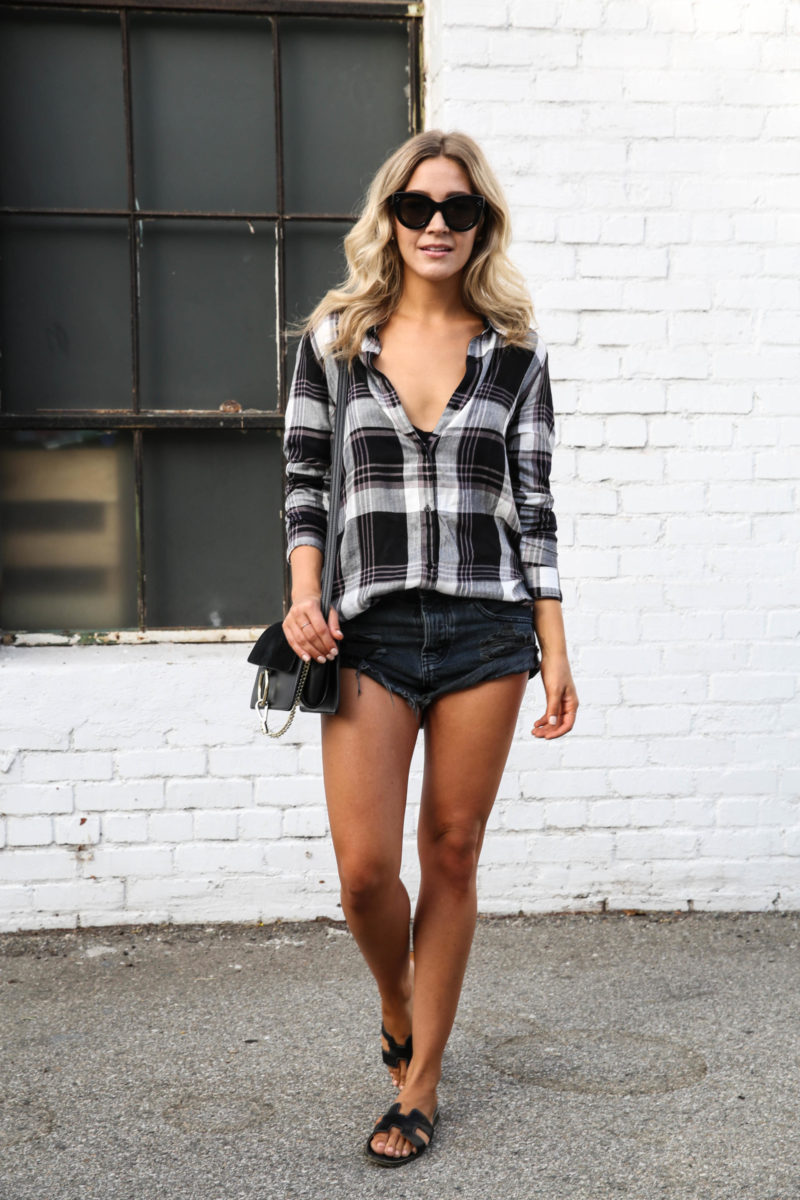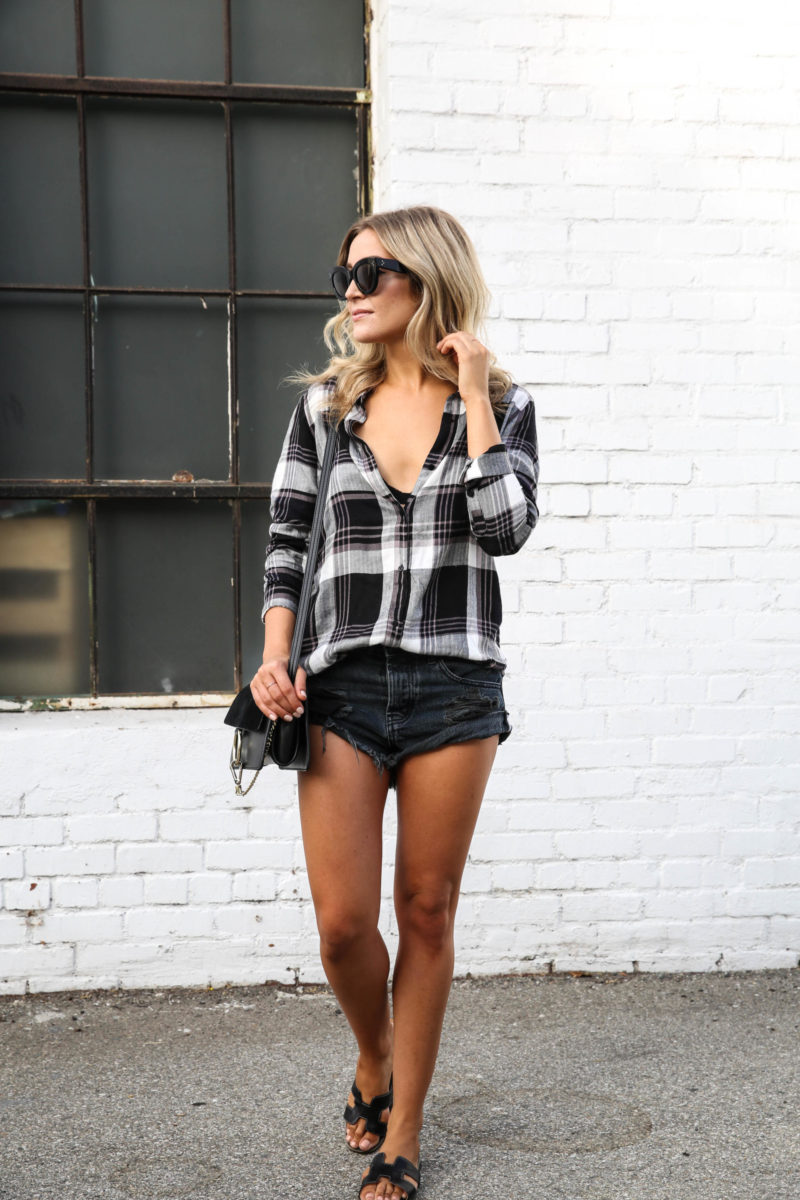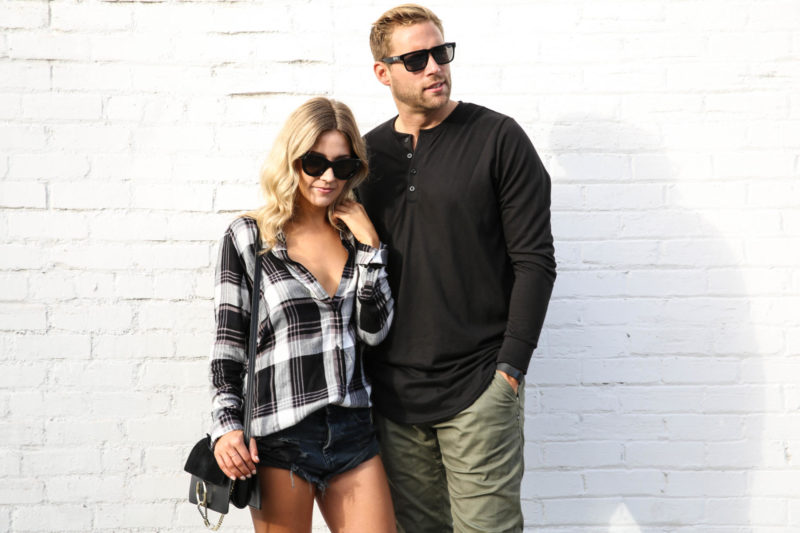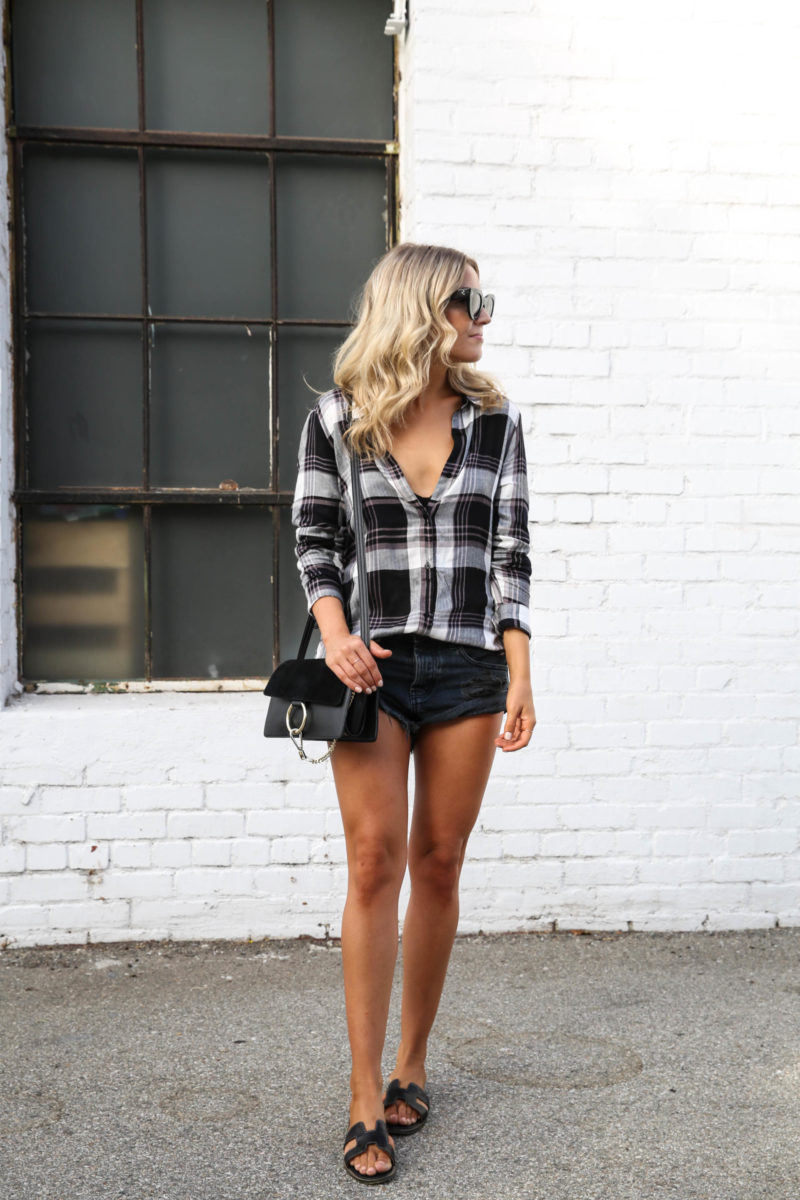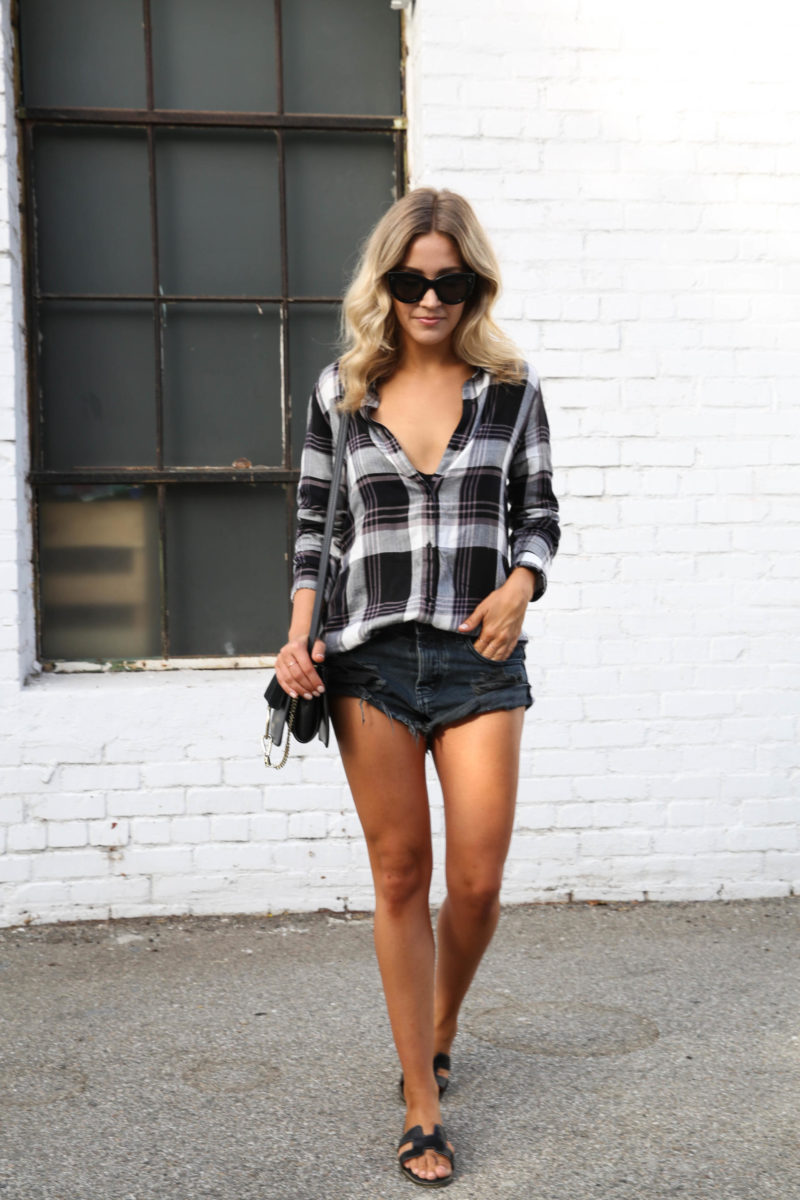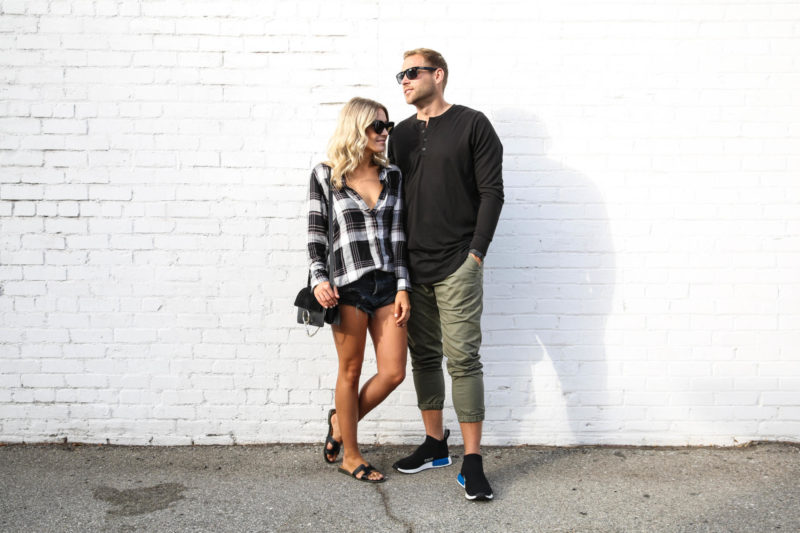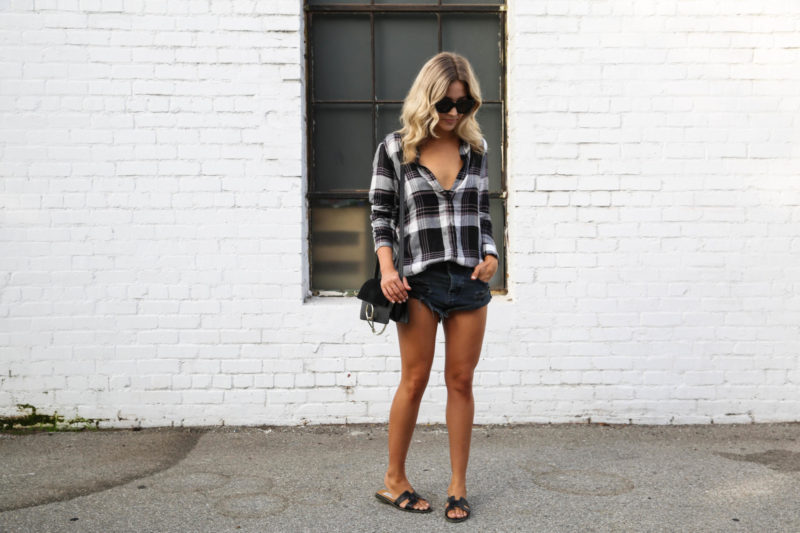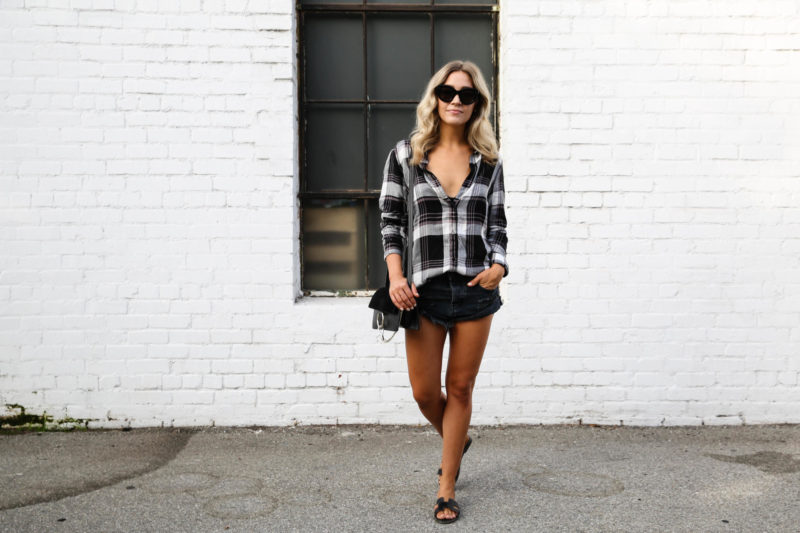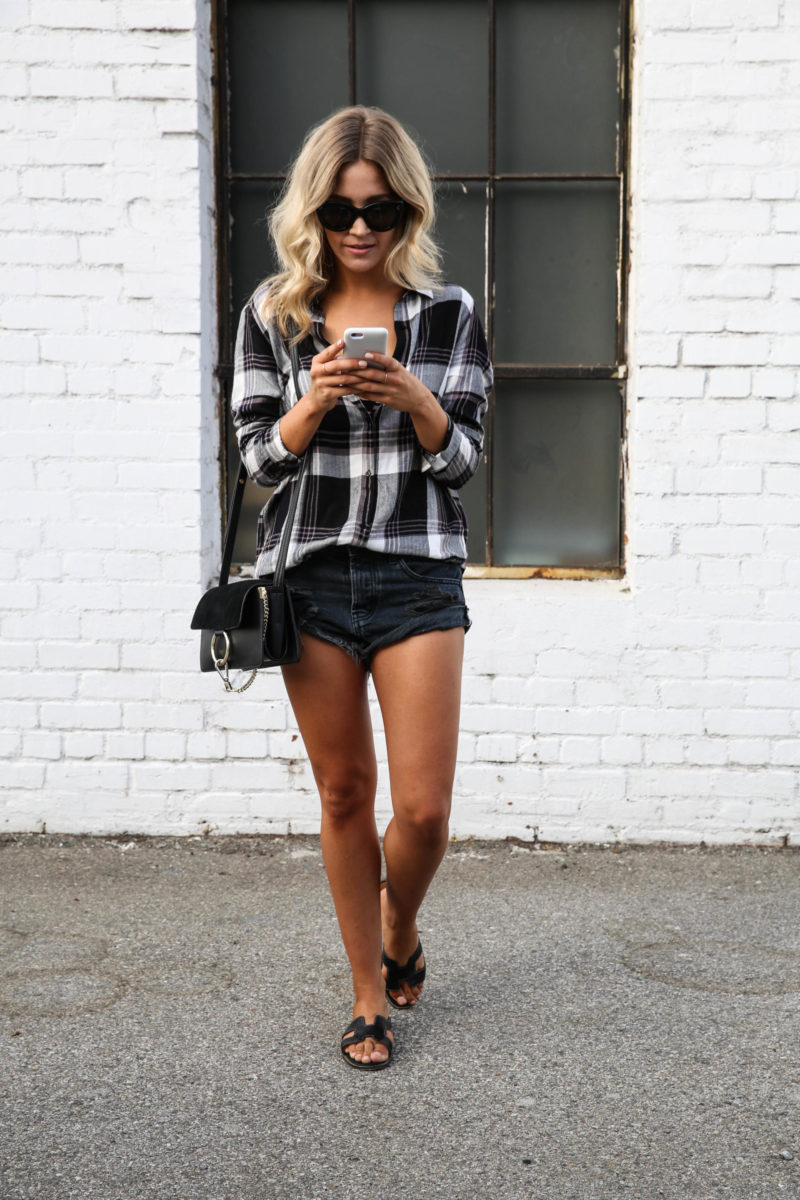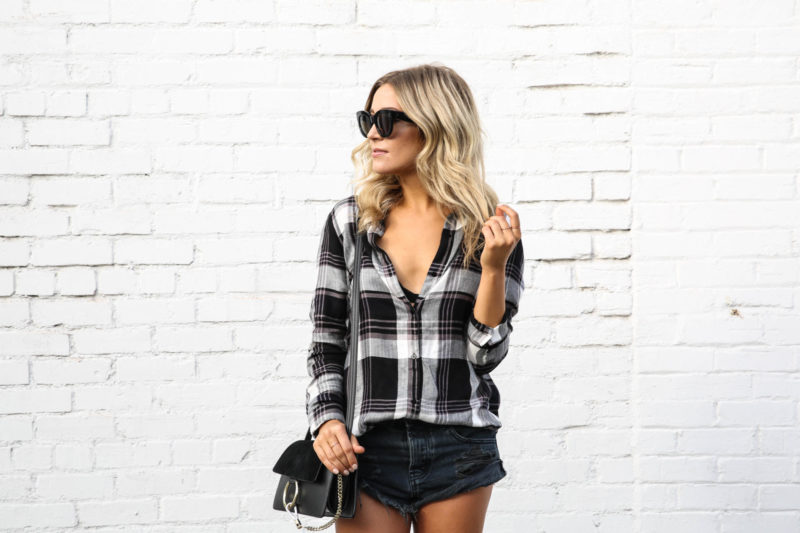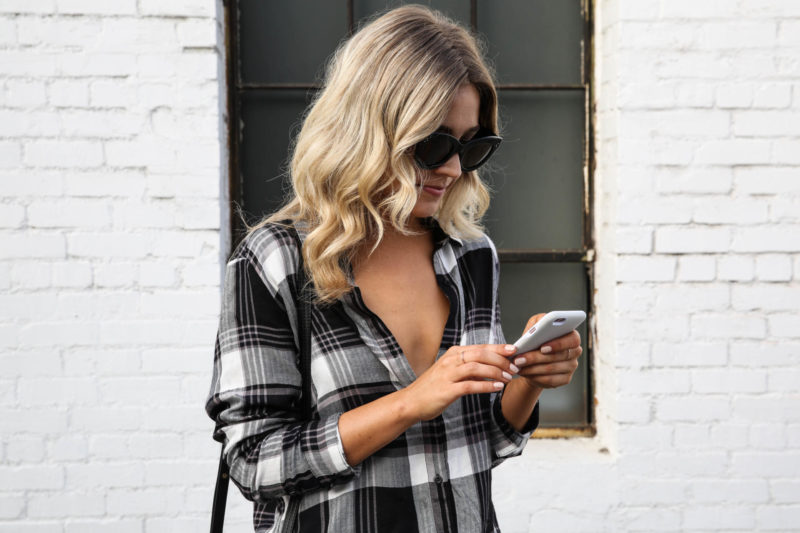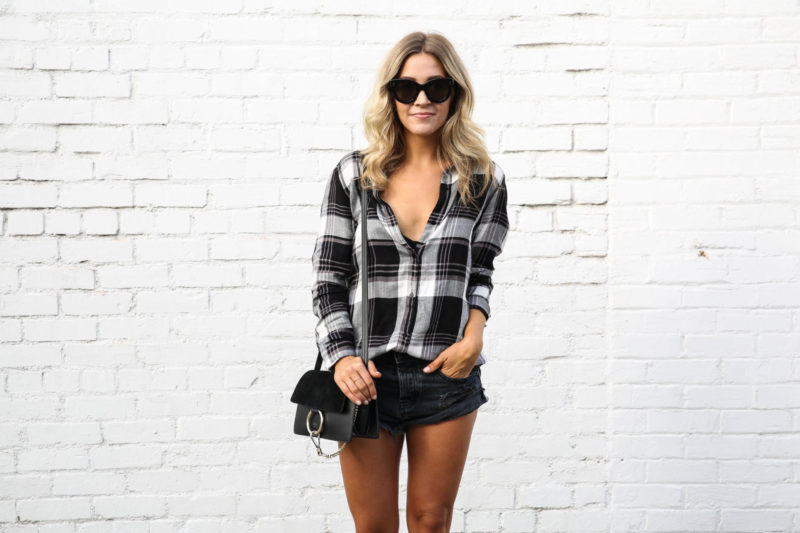 HER: Top, c/o Maude Boutique | Shorts, Revolve | Shoes, c/o Jessica Buurman | Bag, c/o Anna Xi | Sunglasses, Amazon
HIM: Top, c/o Privilege | Joggers, Oakley | Shoes, Adidas NMD City Sock | Sunglasses, c/o SPY 
Photography by Leon Nyarecha