I've been promising and talking (mostly to myself) about getting a blog post up that goes into detail about ALLLL of my skin & makeup must-haves for literally like 6 months now. I know that this blog isn't a beauty destination, but believe it or not…I try out new beauty products on the reg. You should see my desk in my room, it's literally FULLLLL of beauty products ranging from makeup, skin care, to hair care.
Real talk: I got lighting for Christmas and a brand new lens all with the intention of filming legit tutorials (unlike the silly ones I've put up in the past from my old Macbook LOL sorry for those) but, it's time to call myself out on my ish and just say that I've been dropping the blogging ball game lately a lot, and for that I apologize!
If you come to Blonde Collective and have been severely disappointed with my lack of posts lately, please please PLEASE know that I literally think about this blog every single day non-stop and am well aware that I need to get back on my game! I think I subconsciously took a mental health break with the start of 2016 and instead of diving into it and putting all of my free-time into where I see this blog going, my mind and my body kind of forced me to just take a quick break.
I've tried to keep up with insta and have been creating original content exclusively for the gram, so there are a lot of cute outfits that you'll only see there (cough cough make sure you're following @ashbegash) but I have done a lot of self-reflecting and praying and thinking and I DO PROMISE to kick myself back into gear with this thing, because at the end of the day, nothing makes me happier than seeing this blog continue to grow.
ALL OF THE HEART TO HEART THOUGHTS ARE NOW OUT IN THE OPEN AND WE CAN CONTINUE WITH TODAY'S BLOG POST 🙂
SO. here they are folks. the beauty products that I covet and love and cherish and talk about to anyone who will listen. And you better believe since I shot these, I have a whole new blog post just waiting to be written because Lord knows I already have so many MORE products I want to show you. Oyyy.
DRUMROLL PLEASE:
FACE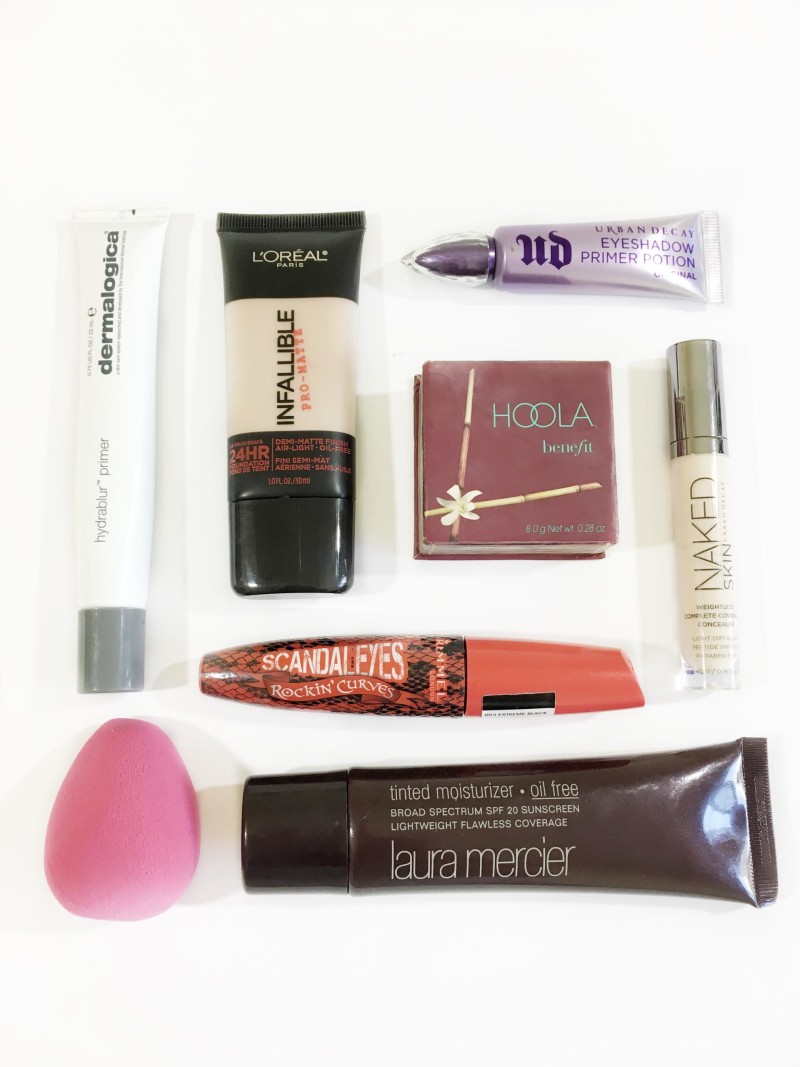 Okay sooo you're looking at some new things I've added to my daily face routine (Laura Mercier Tinted Moisturizer, Dermalogica Hydrablur Primer *only face primer I will ever use from here on out…this stuff is legit*, Naked Skin Concealer) and I am finally obsessed with all of them equally.
L'Oreal's Infallible Pro-Matte foundation has become my all-time favorite, and I literally cannot do my eye makeup with out my Urban Decay Eyeshadow Primer.
The Laura Mercier tinted moisturizer (OIL FREE) is so ideal for a day where I don't want to wear too much makeup but still feel like I did something. I also know this will be my go-to all summer long for weekends and beach days.
If you have specific questions about my daily routine, Tweet me, Snapchat me, or email me. This pic is pretty self explanatory in terms of what I'm loving right now, but if you are curious about anything else, I'd love to hear from you!
SKINCARE & HAIRCARE
Whether we like to admit it or not, wrinkles set in earlier than anticipated. I feel like my laugh lines have become more prominent (especially when my skin is dry) so these Stem Cellular Instant Eye Lift Algae Masks from Juice Beauty are little mini lifesavers. I love using these when I'm doing a calm night in, or for a morning under eye wake up call.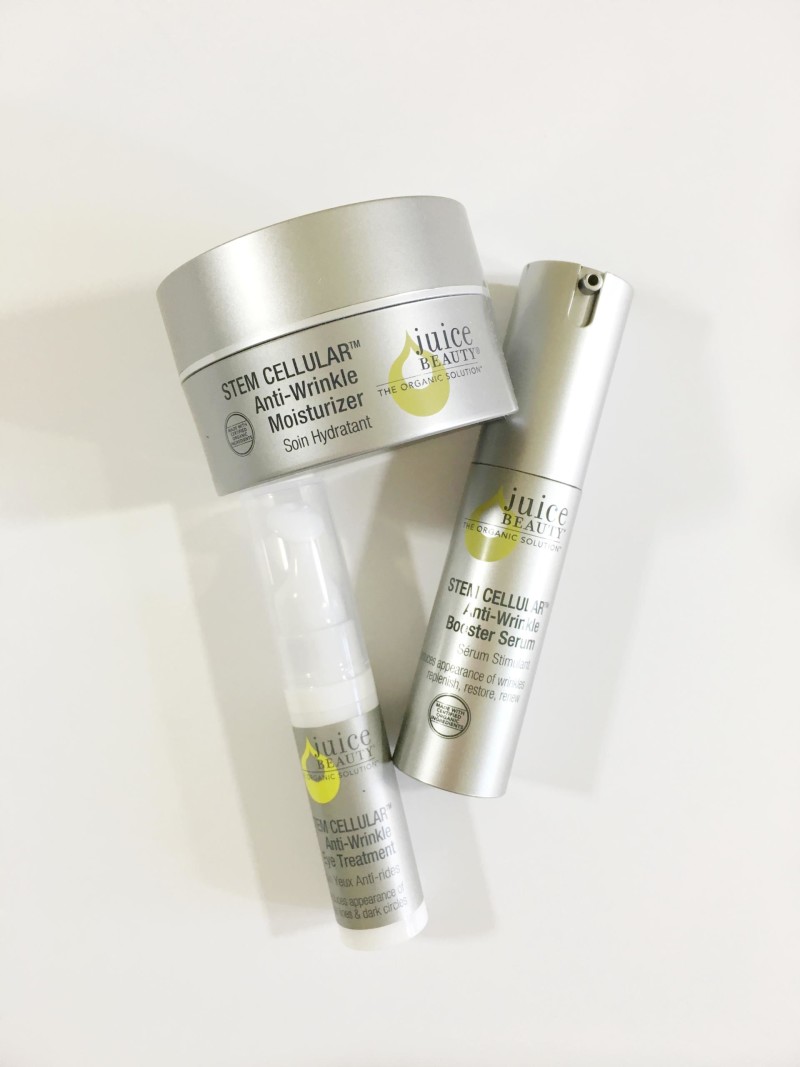 On the topic of Juice Beauty (which just so happens to be Gwyneth Paltrow's brain child), this Stem Cellular Anti-Wrinkle Collection has been wonderful. There are a number of products to choose from, but these three have been easy to integrate into my morning and nightly routines. It's nice too because they have not made me oily/greasy at all, which happens with a lot of moisturizers I try!
Stem Cellular Anti-Wrinkle Moisturizer
Stem Cellular Anti-Wrinkle Booster Serum
Stem Cellular Anti-Wrinkle Eye Treatment
(If you buy one thing, make the Eye treatment! It's amazing and has the best (easiest to use) applicator!)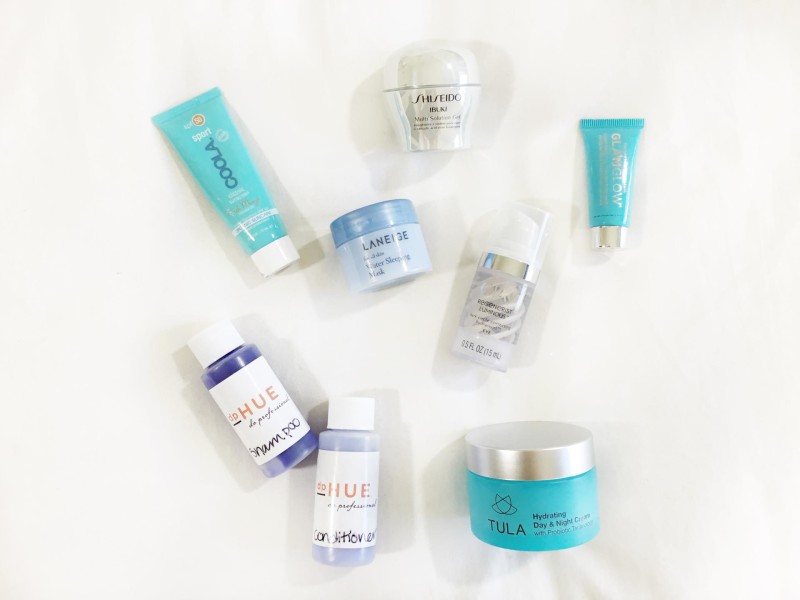 Miscellaneous items I sampled / obsessed over the last 6 months
dpHUE purple shampoo: this shampoo/conditioner duo NEVER made my hair feel heavy or oily after I washed it out (ahem…the one I am currently using does this and I feel like I can never wash it out, soooo I'm missing my dpHUE right about now). Also, smells divine.
TULA PROBIOTIC HYDRATING DAY & NIGHT CREAM IS A GAME-FRICKEN-CHANGER YOU GUYS. I have NEVER IN 25 YEARS found a moisturizer that I stand by more than this one. Literally, I don't know WHAT I'm going to do when I run out. lololol jk I'll just have to buy more, that was dramatic. BUT IT'S SERIOUSLY THE BOMB.COM. Don't keep looking if you have been looking for moisturizer. This bad boy is the perfect formulation for night time AND day time before makeup application. I can't stress to you enough how much you need this in your life now. I've also been using their Purifying Face Cleanser with my Clarisonic (with these Acne brush heads) and it's perfection; their Exfoliating Treatment mask is also great because you simply use it for 5 minutes and wash it off and it never gets hard so you don't have to feel like a crazy person when you talk or laugh or breathe with the mask on!
COOLA makes the coolest products…sorry for the corny line, but it's so true. My favorite is their BB Cream Sunscreen because it's so many products packed into one and absolutely perfect for beach days and vacation. This Fresh Mango SPF 50 is also really awesome; never leaves your face feeling oily, it's organic, it doubles as a moisturizer, and isn't too fragrant so you don't feel like your eyes are burning out of your head if you apply it too close. Winning, as per usual Coola.
GLAMGLOW Thirstymud Hydrating Treatment Masque – such a good masque to use if your skin is feeling in need of a serious moisture revamp.
Sheisido Ibuki Multi Solution Gel – this stuff helps with roughness and attacks your visible pores (which I have SO MANY OF), and it has salicylic acid which we all know is an acne game changer. Put this on day or night and watch it do wonders for your skin *heart eye emoji*
Olay Regenerist Luminous Dark Circle Correcting Hydraswirl Eye cream – WOW okay that's a mouthful. But it's also the easiest thing to work into your morning and night time skin regimen. I put it on before my makeup every morning, and it's slowly but surely helping with the fine lines I have near my eyes.
Laneige Water Sleeping Mask – uhhh anything you can do while you're sleeping that helps you is pretty much a game changer in my book. Put this on when you lay down at night, and simply wake up feeling refreshed. It's a no-brainer, and helps with hydrating your face during the most important hours of your day – your resting hours!
LIPS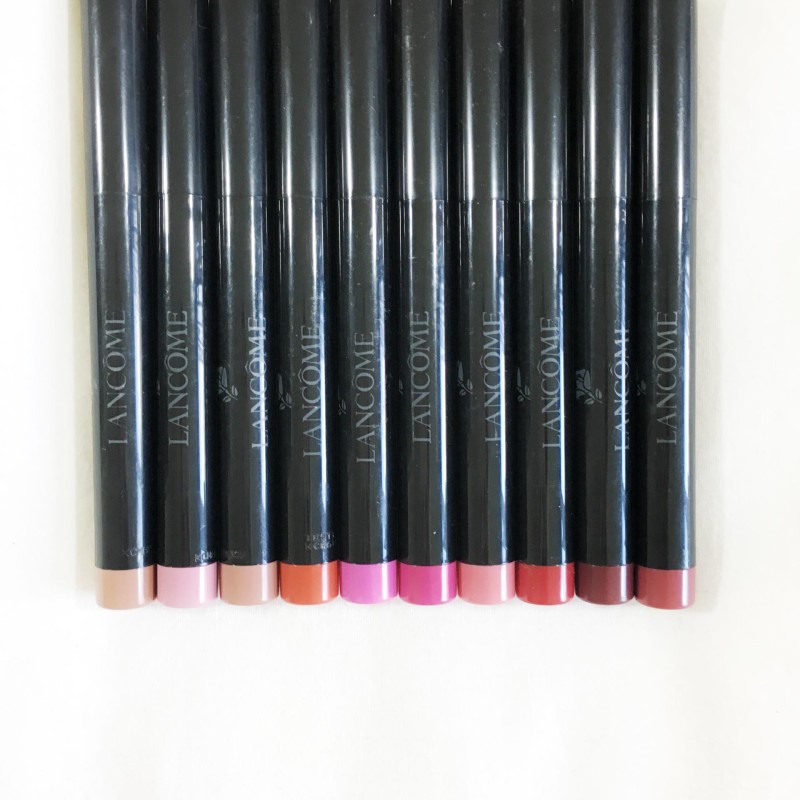 If your lips are as sensitive as mine, and trust me….they're ridiculously sensitive…then these Lancome Lip Crayons are going to be the answer to your prayers! They're matte, BUT they are SO SILKY on your lips!!!! I don't know howwww Lancome did it, but they did. And they did it well.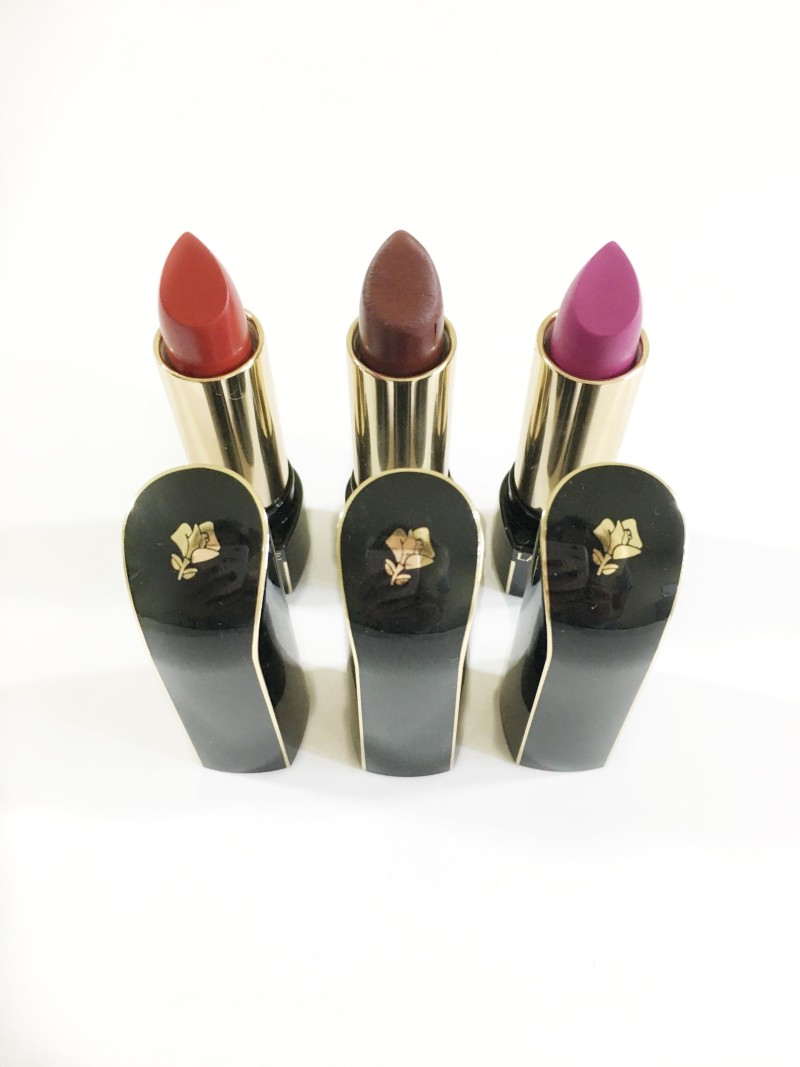 These Lancome lipsticks are also matte, but they are a little bit more saturated on the lips for longer wear. Easy to apply, and they're also not super drying. If you're looking for a new lipstick brand to try, I def recommend these!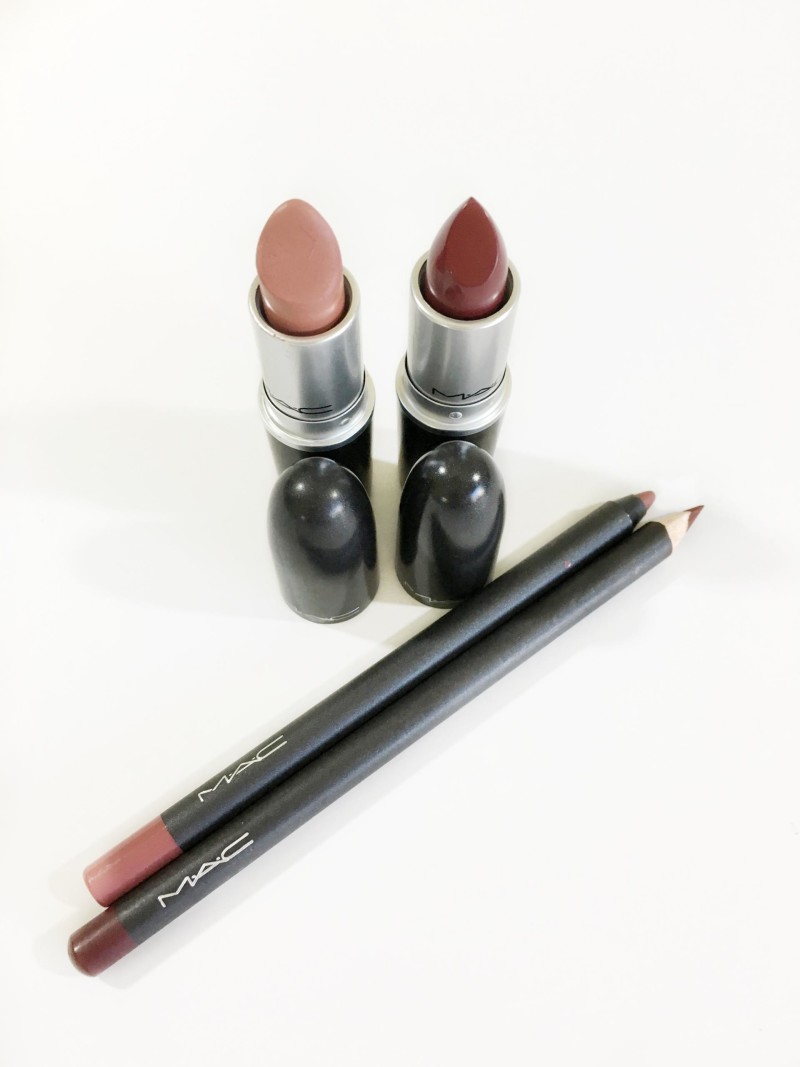 These are my HOLY GRAILS of lipsticks. Even though they dry the ish out of my lips, Mac is my go-to whenever I want a new lipstick color. Out of the 25 other colors I have on display in my room, these ones are ALWAYS  in my purse. I wear Velvet Teddy almost every single day, and when I'm feeling sassy (mostly in the winter months) I put Diva on. Their lip liners make for dynamic duos, but I use the nude liner to make Velvet Teddy a more mauve color. So, that one is not really necessary if you just want plain nude, BUT you sort-of, kind-of need the burgundy liner. Unless you're amazing at applying dark lipstick….then ignore me and carry on.
Dark: 'Burgundy' Liner + Diva
Nude: 'In Control' + Velvet Teddy
PALETTES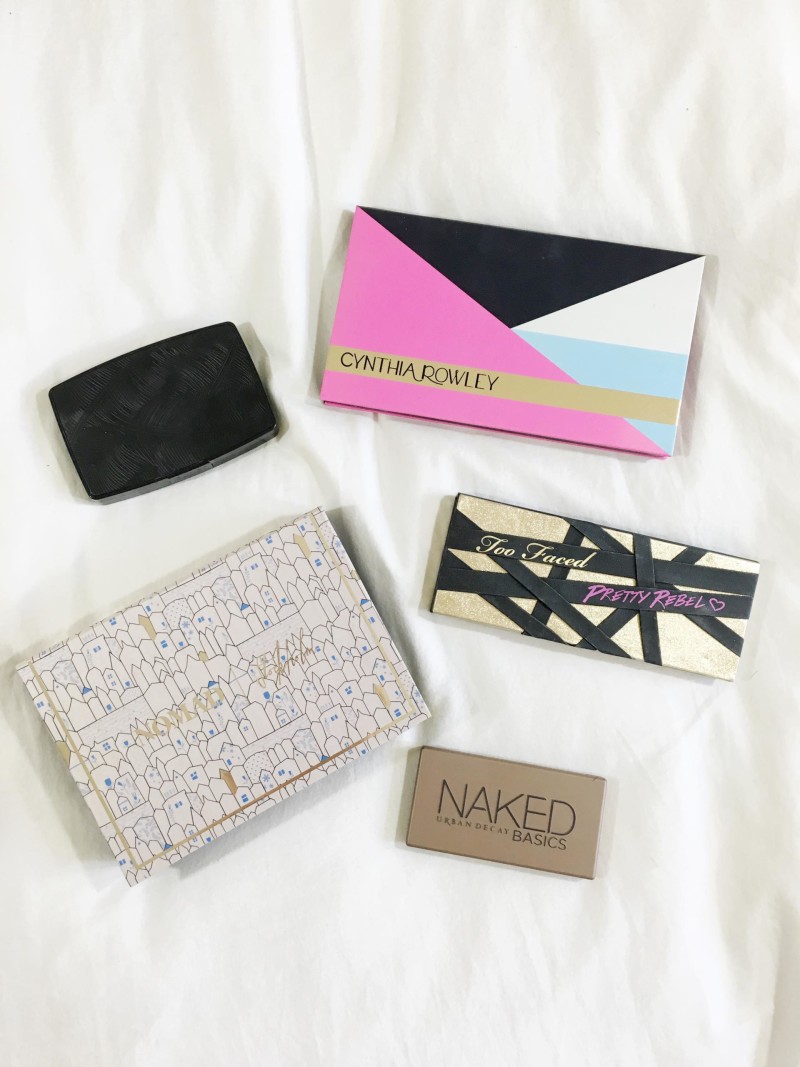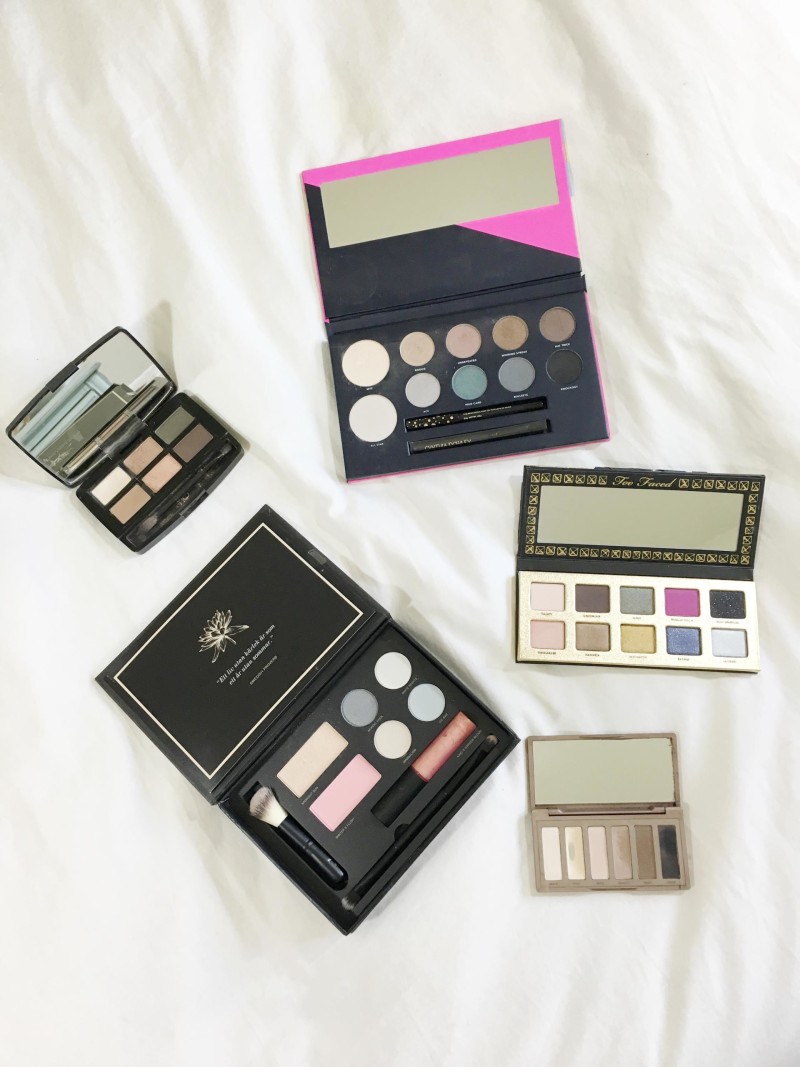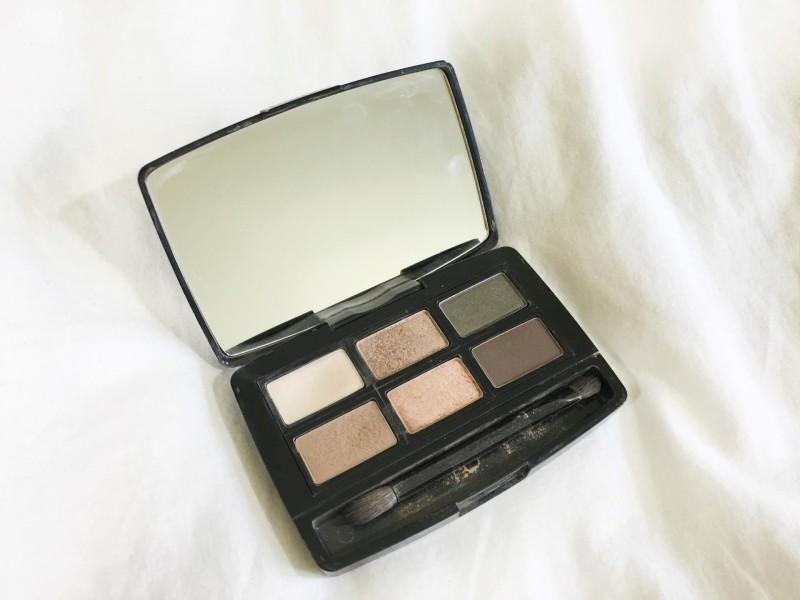 This little Lancome palette is no longer online, but it is a great palette for shimmery neutrals. Other are linked here that you can browse through for similar options!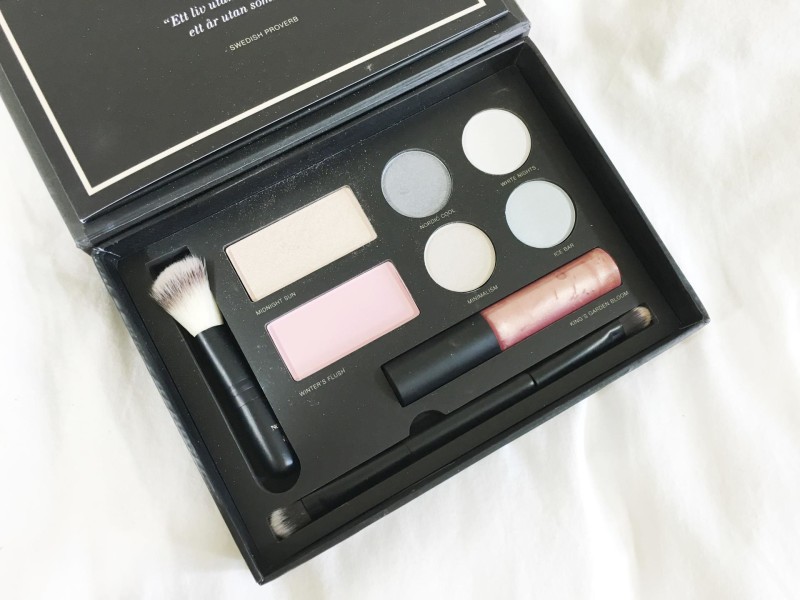 Nomad Cosmetics x Stockholm Palette
My favorite thing about this palette is the highlighter; everything about the colors in this palette are cool and light. A fun palette to work in when you just want to switch it up from your norm. They have 3 other palettes based off of other cities and the inspiration they pull from each are really special. Check them out here.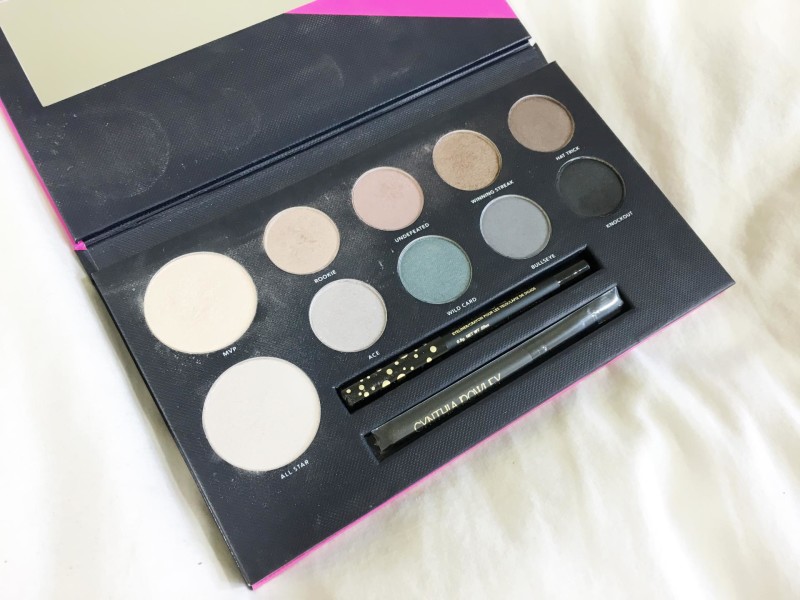 Cynthia Rowley Beauty Game Face Eyeshadow Palette
Exclusive to Birchbox, purchase here! All of the colors are pretty shimmery and sheer. The highlighters are very pretty, and the nudes are great for a casual beachy look!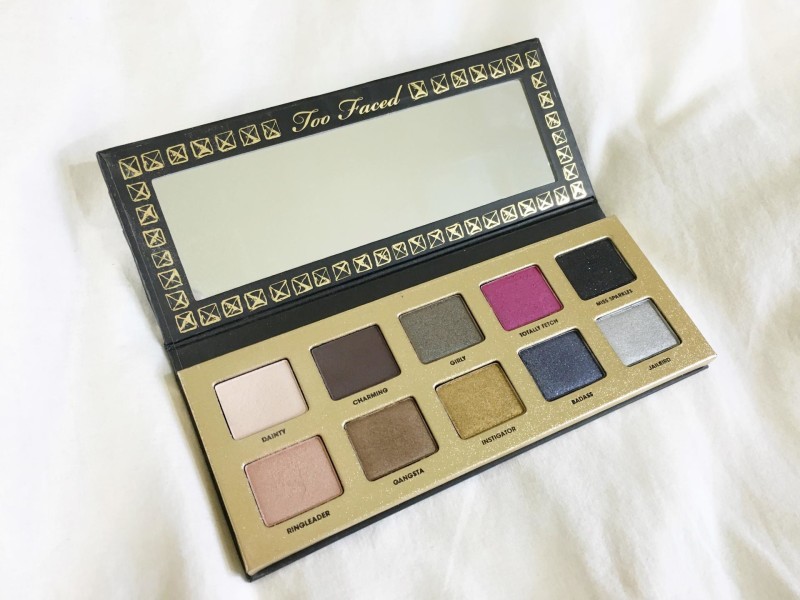 Too Faced Pretty Rebel Eyeshadow Palette
I save this one for special occasions (i.e. the 80s dance you may have seen on snapchat that I attended with my boyfriend the other weekend LOL) but it does have some pretty special colors. The sparkly black would be SO FUN to do an intense smokey eye with, and the gold is magical.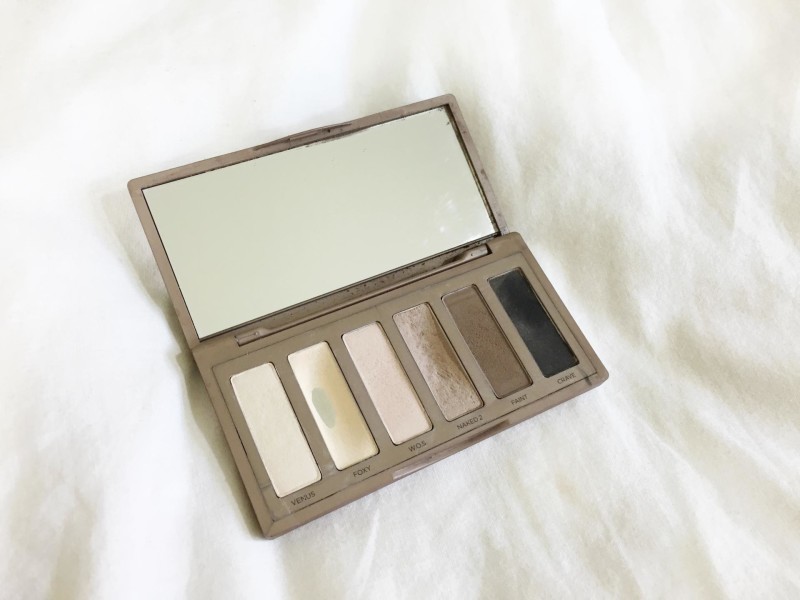 Urban Decay Cosmetics Naked Basics
This is my everyday go-to palette. I wear Foxy + Naked 2 every single day! In fact…Foxy is now completely empty (that's how long ago I planned to do this post…whoops!)
That's it for now! Email me or comment below what you would like to see more of (i..e. a simple tutorial going more in depth about my beauty regimens, hair products / styles, my everyday makeup…etc!)