Happy Friday you guys! I am practically jumping out of my skin today…not because I'm on my second coffee of the day…but because I MOVE TOMORROW! I literally cannot WAIT to start this new journey, but I am also so sad thinking about leaving my first LA apartment behind. This post was originally going to be about this white lace romper, but I feel way more inspired to write about my last couple of years and where I'm headed next. So, if you're looking for outfits, just skip my LA adventure story below, and head to the links!
---
For those of you who don't know me as well as those of you who have been following along from the beginning, here's a quick recap of my last 5 years!
I started my blog in my Junior year of college down in San Diego. I was studying Fashion Merchandising at Point Loma Nazarene University, and thought that my future was there in San Diego for multiple reasons. At the time (and I'm pretty sure San Diego is still this way…) there weren't a ton of Fashion Industry careers available in SD, at least not many entry level positions. This was before I realized how much I loved social media, and blogging for that matter…so I really had no idea how I was going to pursue my dreams, and feel passionate everyday with what I was doing for work. I've always been extremely motivated when it comes to working (I've had a job since I was 15), so not loving my job really wasn't an option.
This was essentially how the blog was born! Originally named Polka Dots & Sailor Stripes (#flashbackfriday), I started it on a whim without even really having a game plan at all. I just knew I liked Pinterest, clothes, and other blogs…so why not have my own?
The next two years were FILLED with learning, trials & lots and lots of errors. When graduation finally rolled around, I still didn't know what I was going to do career-wise, but still held onto blogging as a creative outlet. After quitting my job at Nordstrom for a more consistent 8-5 job in the medical industry (LOL yeah, that happened for a second!) I was literally miserable…living in a part of San Diego that was way too far from the beach, sitting in traffic to a job that didn't fulfill me, and being far enough away from my family that I didn't see them very often, it all just started to pile up…and it got too heavy.
It wasn't until I visited my best friend in NYC for a week that I realized I was selling myself short. Why did I live in SD if I didn't feel fulfilled every single day? The obvious answer at the time was my relationship and the incredible support system that I had acquired while living down there (seriously, everyone down there that I know & love are amazing and I credit them all to where I'm at today for many reasons) but plain and simple…it just wasn't enough. It wasn't right. And I knew it. It finally hit me, and it hit me hard.
When I got back from my NYC trip, I approached my roommate and told her that I knew San Diego wasn't where I was supposed to be anymore. That there was somewhere else, somewhere that I knew I could feel fulfilled everyday and KNOW that I was doing exactly what I was put on this earth to do. It was at that moment that we agreed to move to LA together (this roommate is the one you've seen on instagram and snapchat…we've gone to school together since junior high and she was my photographer up until last month when she moved).
When the time finally came, we quit our jobs…packed up our La Mesa apartment…left our initials under the sink in sharpie…I shed some tears, and the adventure began. That was in June of 2014, and we didn't get to move into our place until February 2015 due to finding jobs and such, and that's when all the change/fun started.
There were SO many ups and downs; I went through a breakup after 4 years with my college boyfriend, and had to deal with the losses of many friends and people that turned into family because of it. It wasn't EASY to move to LA. There were tears, there were questions, there was confusion, there was a low supply of cash (it's so expensive to live here!), but at the end of the day…I've never made a better decision in my 25 years of life.
Since moving, I've been to New York more times than I can count, sometimes for less than 24 hours just for a meeting or two. I've flown to San Francisco for a couple of hours just to show a clothing line to a major online retailer. I've spent time in Chicago. I've been invited to events that make me feel like I am maybe kinda sorta a tiny someone in this giant city (kinda…sorta). I get to call what I do every day work…but really I'm literally doing my passion every.single.day. I get to work in a city Monday to Friday, and retreat to my happy place at the beach every night and every weekend. I get to be surrounded by the most incredible, creative, inspiring individuals I've ever met. My WORST day in LA, is better than my best day in San Diego. Because I am doing what I love, in a city I am in love with.
It's here that I realized what I wanted for my life. Where I finally figured out exactly where I wanted to go with my career. Where I planted my roots and figured it all out on my own (with my friends & family by my side…of course). Where I met a group of people that are the best friends I could ever imagine having. Where I met a guy who showed me that there are guys who hit everything on your list of "dream guy" traits. Where I get to see my family whenever I want. Day by day, it got easier and LA started to feel like home.
About a month ago my roommate told me that she was pursuing a career in Washington DC, and naturally, she landed the job. Flooded with emotions I started to FREAK OUT. Like really, I called my mom in tears/couldn't actually talk to her because I was semi-hysterical kind of freak out. Not only was I losing my best friend to the East Coast, the girl who's been connected to my hip since I was 12, the girl I've literally gone through everything with, from junior high awkwardness, to high school heartache, to college, to study abroad, to post-grad life…but I was also presented with the dilemma of finding a place to move into that I could afford on my own. I knew I didn't want a roommate, so I had my work cut out for me…but low & behold THAT NIGHT, it was like God himself placed the Craigslist ad right in front of my face. Not entirely sure how I was going to make it work, within 2 days I had viewed, applied, and gotten the studio. It's crazy how when something is right, nothing can stop it from happening.
Tomorrow, a my next chapter will begin. I will be in a new part of the Westside, in the cutest tiniest studio, with a view of the ocean, all on my own. I will learn more, struggle more, explore more, and live more.
Why am I randomly telling you my life story? I literally have NO idea you guys. I promise this post was supposed to be about this white lace romper…so, forgive me if that's what you were hoping for. But for whatever reason, when I opened this blog to start writing, my story just started flowing. I guess I just want all of you to know that if you're not happy with where your life is…or something just doesn't feel right, listen to your gut. It usually knows better than you do. God has a plan, and if you just have faith and dedication…your hard work will get you to where you need to be. If this blog post touches at least one person, then I am satisfied.
---
I want you all to know that I LOVE hearing from you. Seriously. Random Comments. Questions about relationships. Questions about living in LA. Questions about ANYTHING. Give me your best shot. I don't get too personal on here very often, but I think that it's time we dive a little deeper. Because how cool is it that we can all connect from thousands of miles away? We're so lucky. So, if we haven't met yet…email me! I love to talk 🙂
And now….the romper!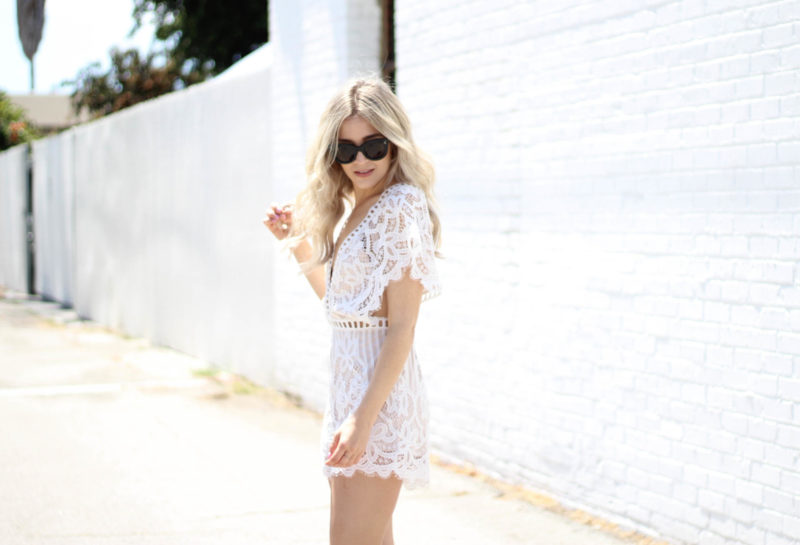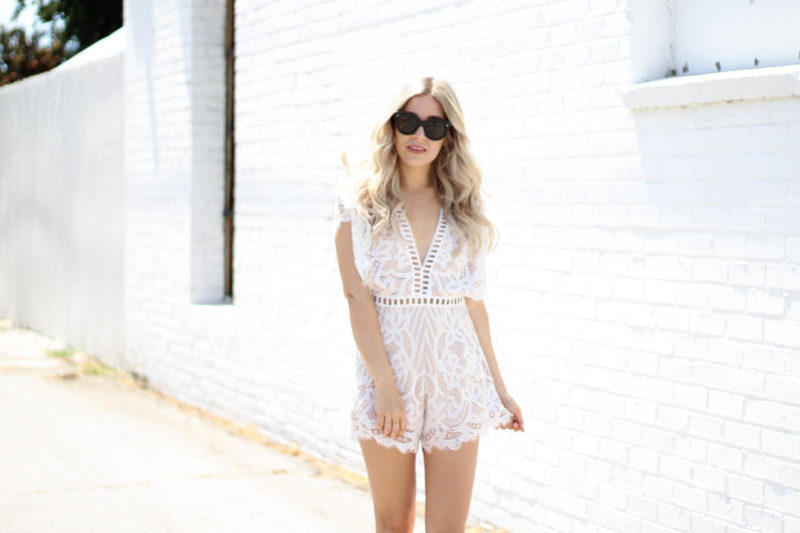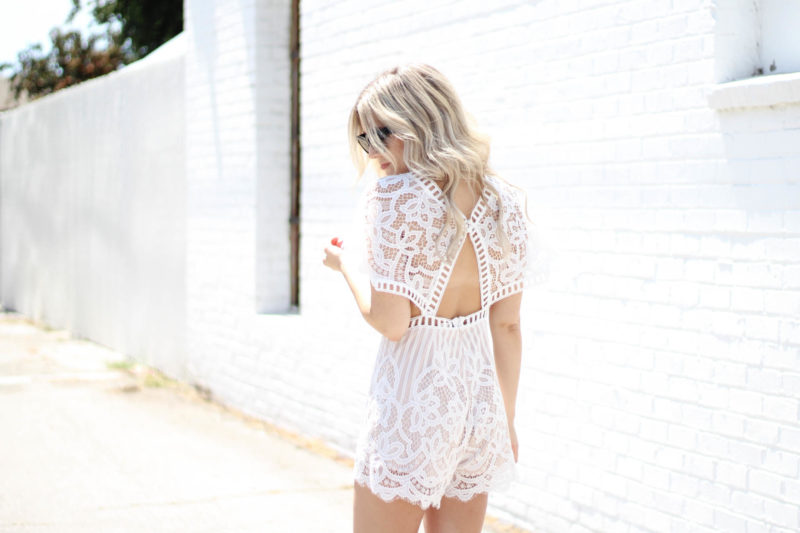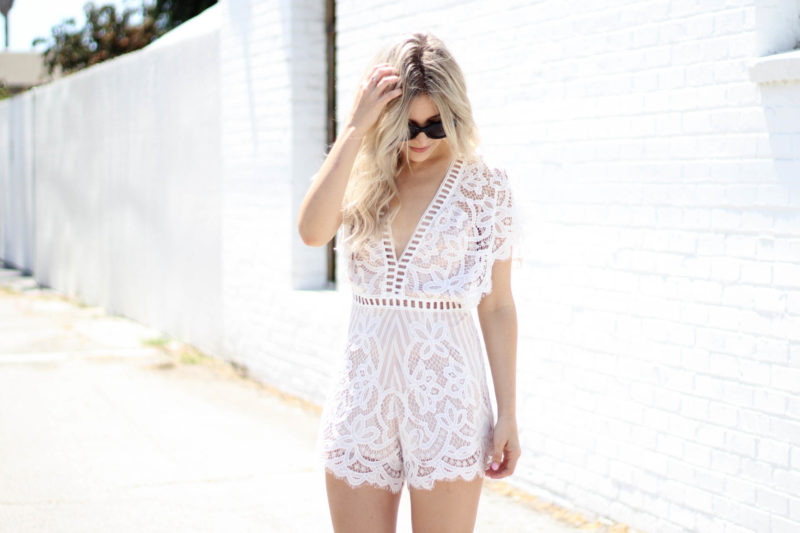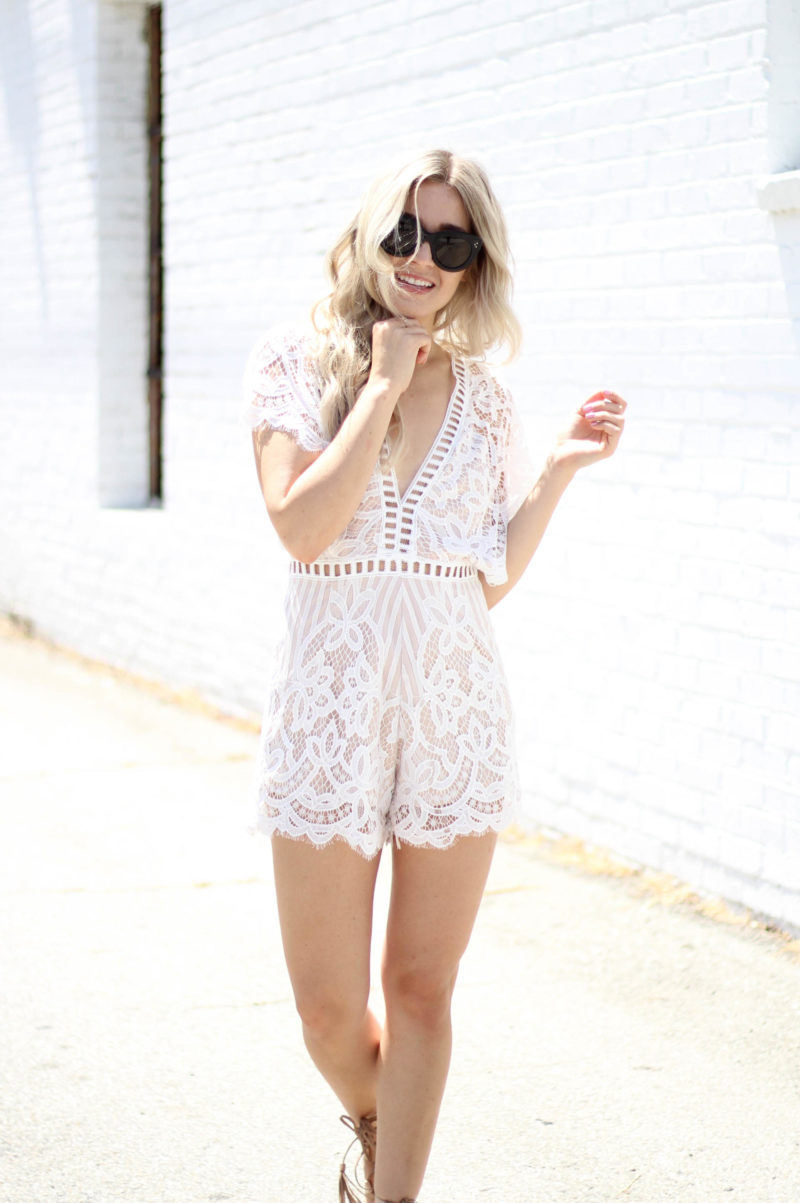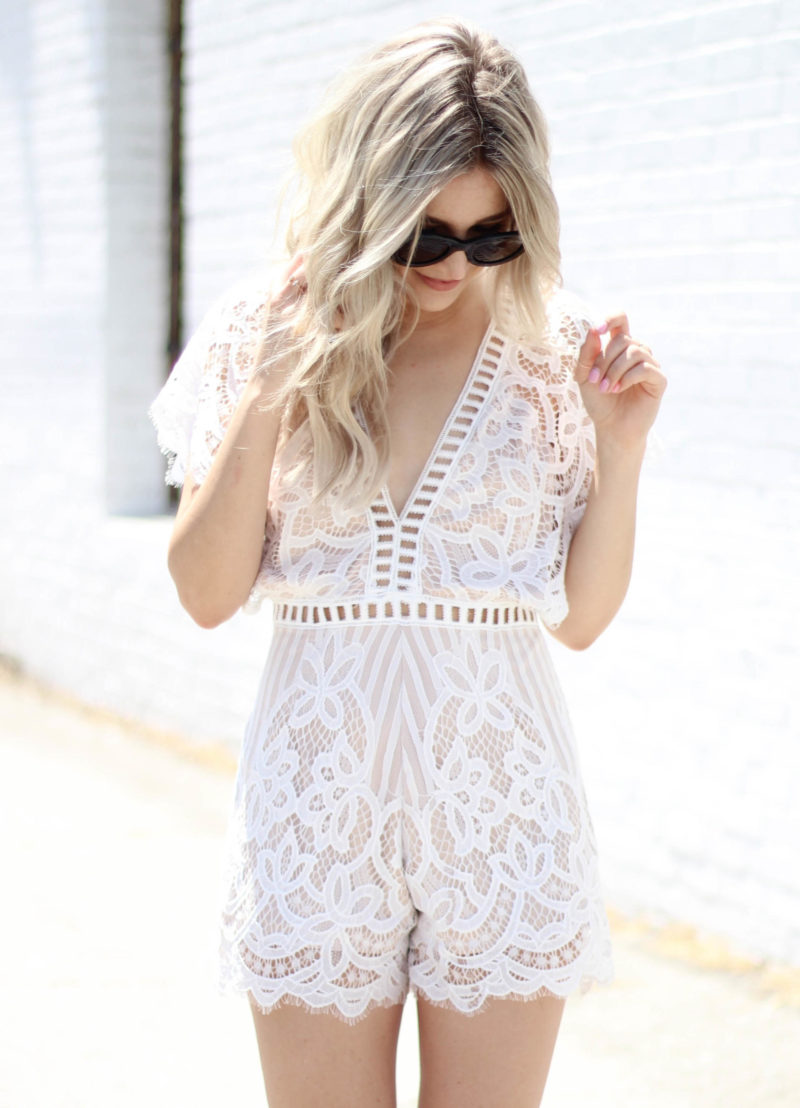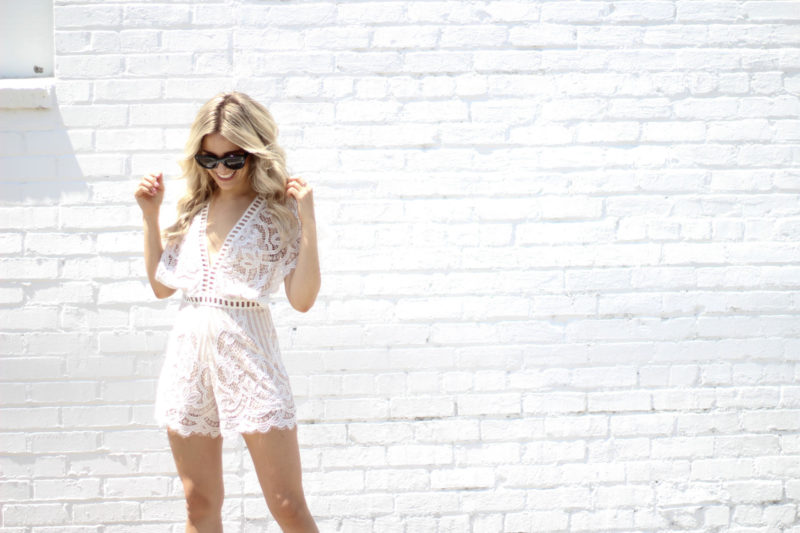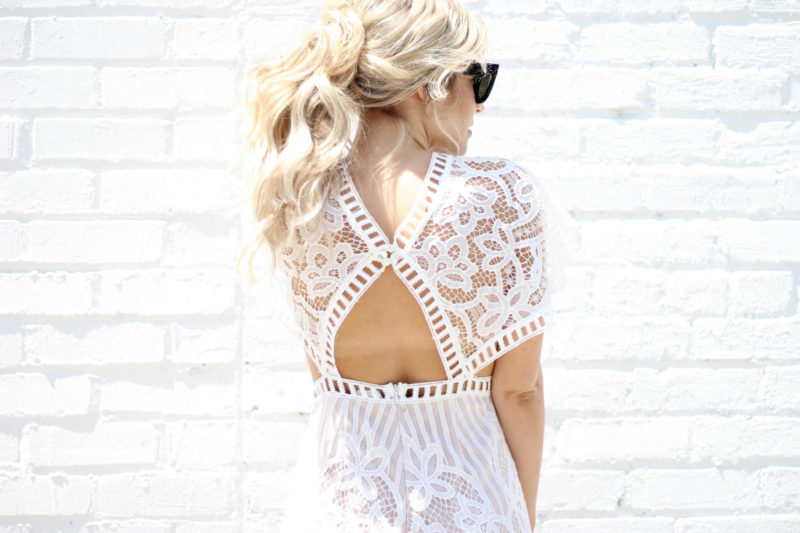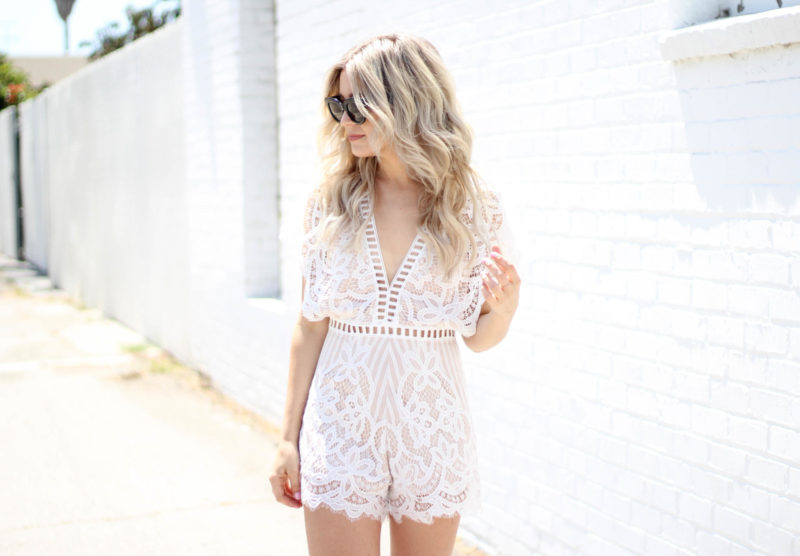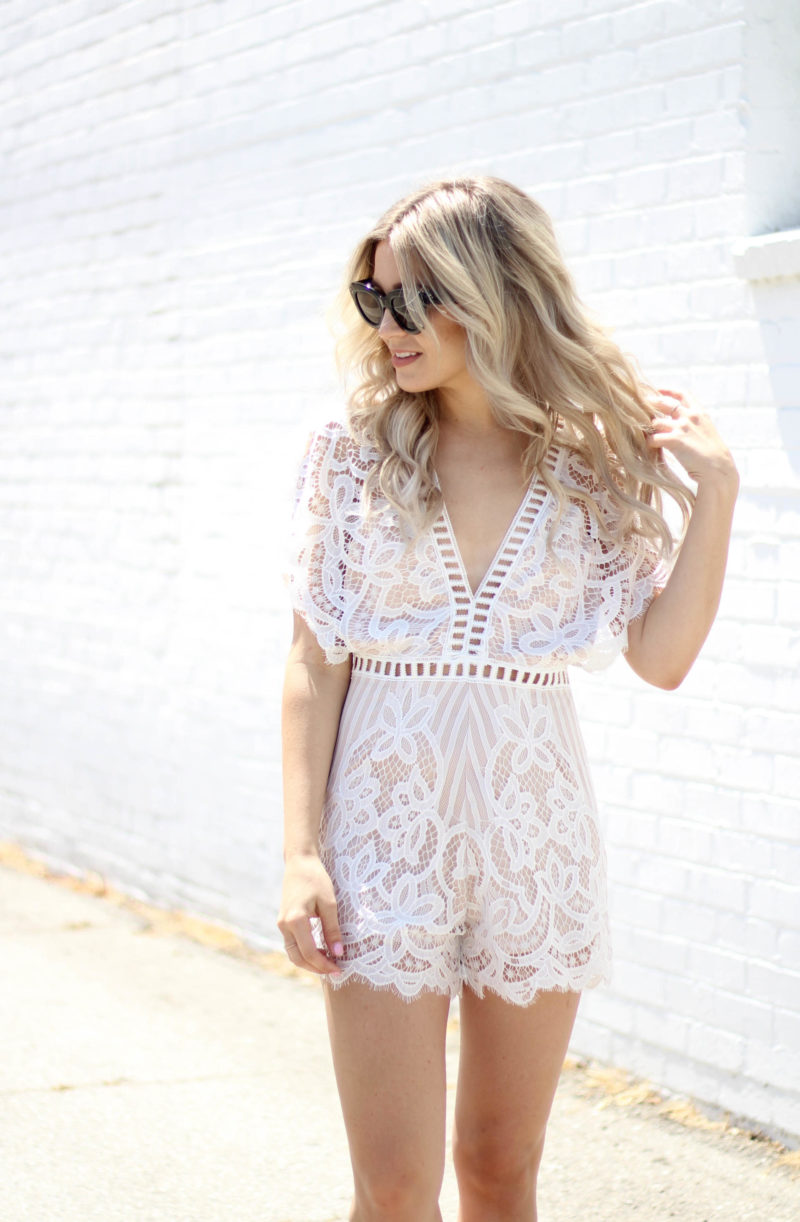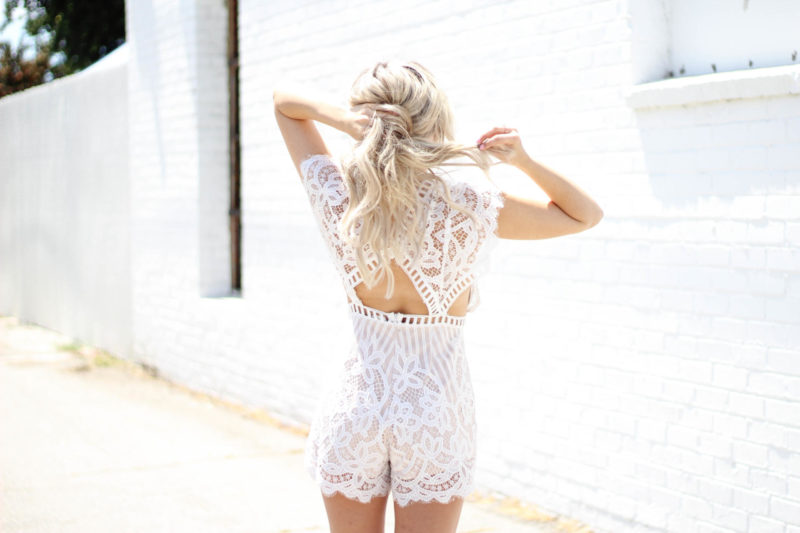 Romper, c/o L'Atiste | Sunglasses, Celine | Hair Extensions, c/o LUXY Hair (use code ASHBEGASH for $5 off your purchase!)

Photography by Allyson Clark