With my 5 year blogging anniversary right around the corner, it seems very fitting to blog about why I started my blog in the first place!
Though it was one of those (semi) on-a-whim decisions, it ended up being a decision that would change my life for the better.
I got into blogging for a number of reasons.
First of all, my biggest career dream was to work for a major fashion magazine. Namely Elle Magazine because I have collected them since I found vintage copies in a flea market in Paris, but Vogue would have also been an "I can die happy now" job to land out of college (or any time, really). I've always kept a journal (I've literally documented my entire life since the start of high school…not sure if that will come back to bite me in the butt or if I'll be thankful for it) and writing has always been a way for me to let everything out. I have always been better with my words on paper or in text, as opposed to face-to-face, and I never found myself holding back what I was truly thinking when I let my fingers do the talking (also, something that could potentially bite me).
Second – I went to school down in San Diego where I knew a job in fashion would be a diamond in the rough – one that wouldn't necessarily present itself, and I'd for sure need connections to hear about. Or I'd be settling for a yoga-type fashion job – which was not something I even paid a passing glance to back then.  At the time, "social media" was definitely not a career, let alone a buzz word. Instagram was just on the rise, and was actually something I thought was super weird – "why would I want to talk to people I don't know on IG, and why would they even care about what I'm posting?" – a direct quote from myself to my brother, who used to frequent the popular page when that was a thing. Boy have things changed.
Third. Fashion was, and still is, something that gives me a natural high. When I was sad, happy, bored, had any type of event coming up, or back to school shopping, or basically ANY THING I COULD THINK OF, I used to beg my mom to take me to Nordstrom so we could shop the New Arrivals. (Not like she needed an excuse – she's the reason I even have a shopping addiction and I've been her go-to shopping partner since the moment I was cleared from the hospital to be out in public places as an infant). I thrived off of the outfits that made me nervous to walk through the quad in the morning before school, and putting together things people would "never think of" was the equivalent to getting honor roll in my book. It was in my bones. Clothes, as silly as this paragraph may sound when I read it back, are my biggest passion.
Combine a college Senior who wasn't sure what her post-grad job was going to look like, who missed MySpace simply because she had free reign with coding and website design, that had a knack for correcting essays and writing her thoughts down – and there you have it. A fashion blog was born.
The best part about my blog is that I am able to bring you guys the looks I am sporting day to day that are on-trend for every season, for LESS than what half the girls sporting designer diggs are paying.
Though I have added some designer goods into the mix, I still to-this-day am the bargain hunter who prides herself in finding anything and everything at some sort of discount.
I'm not above designer dupes (Gucci is my only exception), I frequent the clearance aisles of every store because "you never know," and am not above buying damaged goods if I know I can spruce it up for a discounted price (just did this with bar stools!).
This blog is a testament to what makes me who I am: a bright-eyed, positive go-getter with ever-changing style, on a mission for a discount, a great photo-op, and probably an iced coffee.
My name is Ashley, and if you're new to this 5 year journey with no end in sight, welcome, I look forward to getting to know you 🙂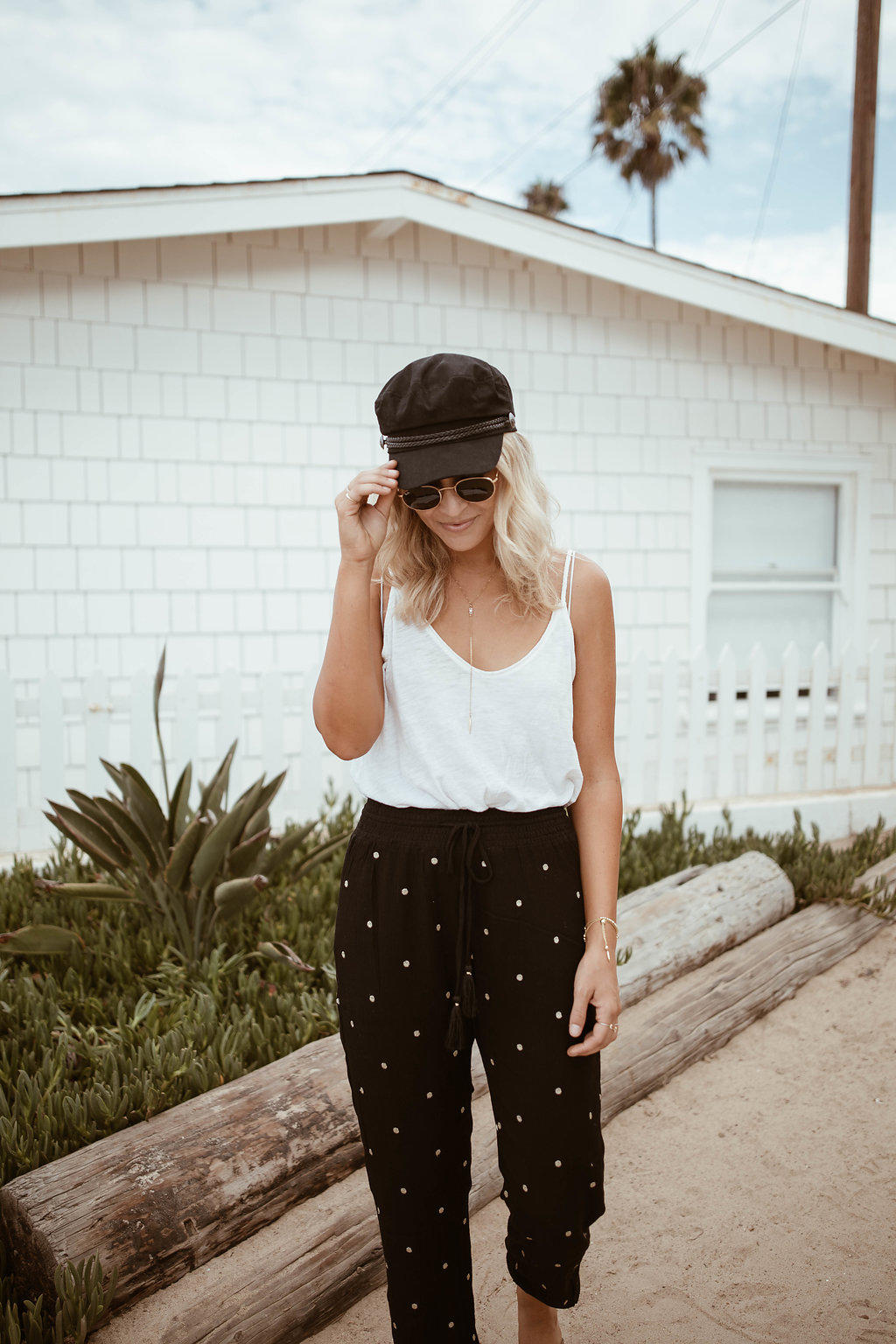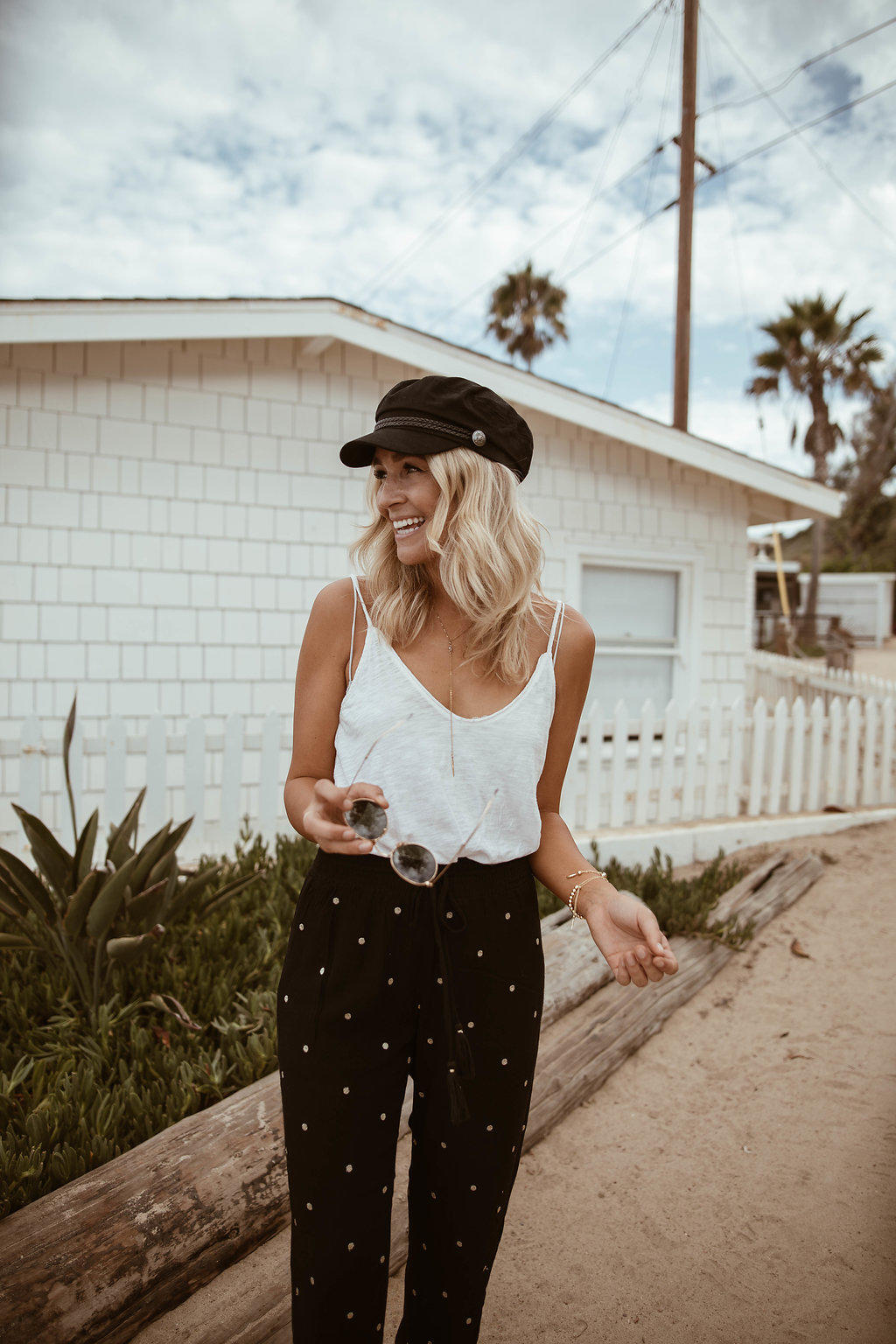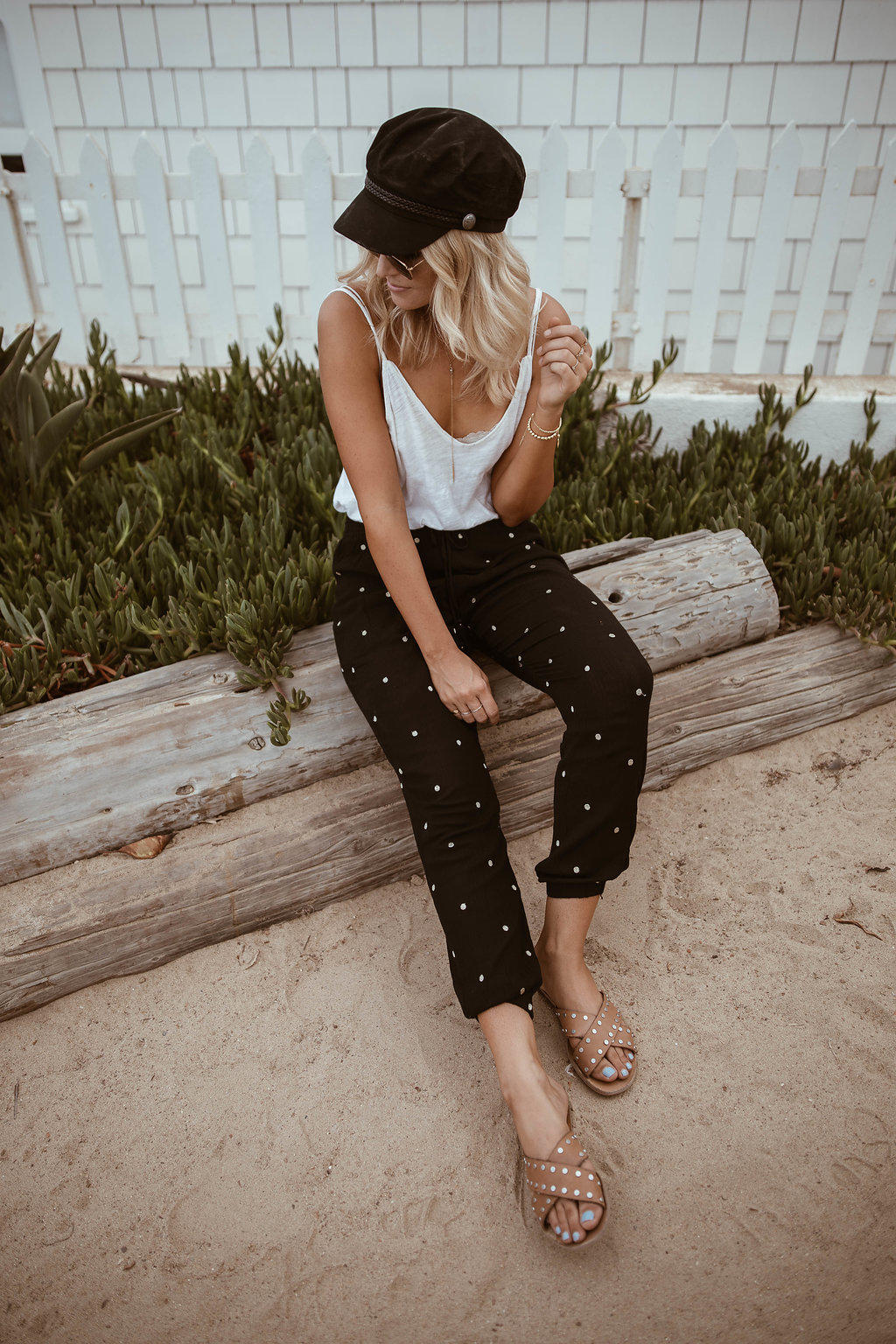 Sailor Hat, H&M | Sandals, c/o Tilly's | Pants, c/o Lulu's | Top, c/o K Sera Boutique | Sunglasses, c/o Tilly's
Photography by Clinetography