This post is for my blondes out there who are a) sick of the brassiness in their hair after a couple of weeks of washing/in between hair appointments, b) are not a fan of purple shampoo, and c) are looking for a simple solution that won't break the bank. I am SO excited to talk a little bit about Dessange Paris Brass Color Correcting Creme. You can obviously listen to me talk about it below in the quick little recap video, but if you don't feel like watching that, then read on!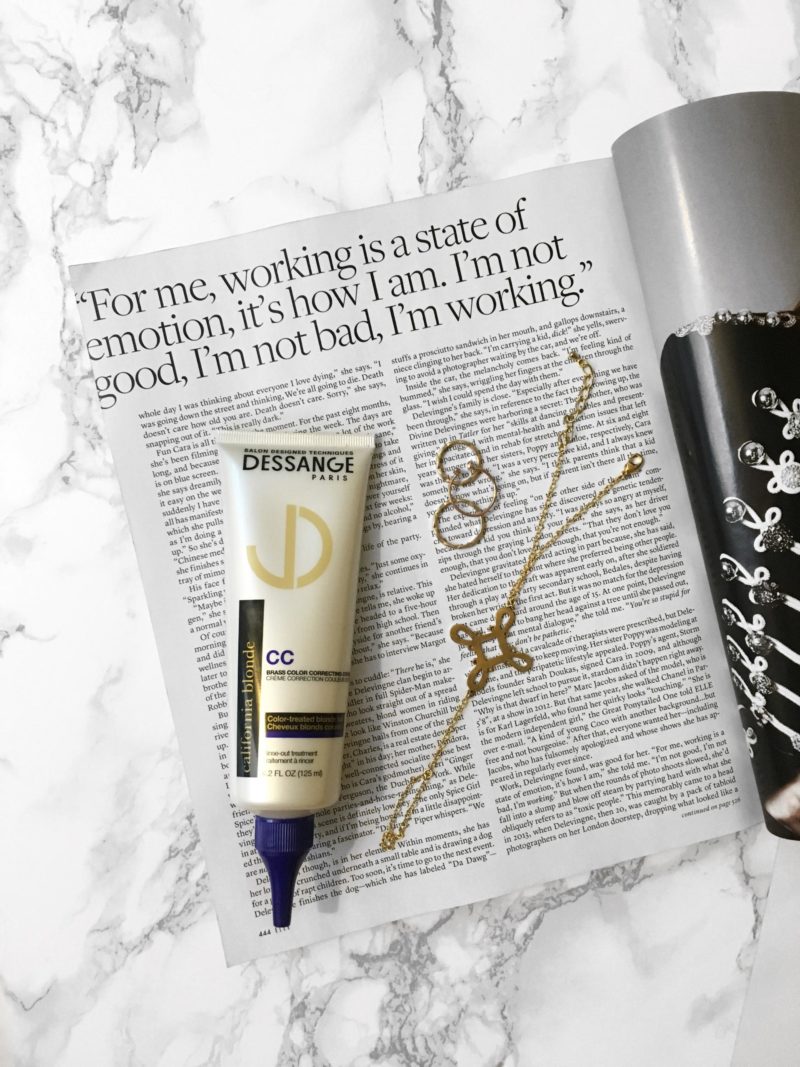 I honestly hate purple shampoo – at least the ones I've tried – I feel like no matter what I do, I can never get the product fully out of my hair so I walk around feeling like I have dirty, greasy hair…and just have to wash it all over again. I also don't feel like my hair is getting truly moisturized when I use it either. So overall, it's been a lose-lose for me!
The beauty of Dessange Paris Brass Color Correcting Creme (that's a mouthful) is that you can quickly treat your hair in the shower once a week and be done with it – you just shampoo/condition your hair, then run a small amount (depending on hair thickness) from the roots to the ends of your hair. (I like to shave my legs during this time so I don't feel like I'm just waiting around, makes the time go way faster!) Once you rinse it out, boom you're done for a week!
It's just as pigmented as purple shampoo (with dark shades of blue and purple to bring out that icy look we all pay so many $$ for yearly) so it'll be a huge contributor of maintaining that fresh-out-of-the-salon blonde! This is SO valuable to me because I like to go 4-5 months in between hair appointments, so to make sure my hair is looking just as bright and blonde as when I got it done, I need something targeted specifically to maintaining the ash blonde for as long as possible.
The best part? It's $11.99 from Target. Finally, a salon quality product, for the price we all love 😉