You obviously already know that I am a fan of white whenever, where-ever, for whatever (except if you're attending a wedding & you're NOT the bride…never okay). Any other time, my philosophy is: go for it. This white maxi dress pushes the limits when it comes to that theory in terms of Fall attire, but you better believe that won't stop me from wearing it during our lingering hot days in October. Which leads me to the point of this post – Him & Her: Fall in California.
Fall in California means heat until at least October (but really November, and sometimes December). Which means while our out-of-state friends are all posting photos of their hot Starbucks cups with a scenic backdrop filled with orange and red leaves, we're over here like give me an Iced Latte, some sunscreen and a hair tie because it's hot. 
That makes dressing appropriately a little difficult – because what's appropriate? Burgundy summer dresses? Fall colored shorts? Open-toed booties? It gets complicated.
You're probably thinking a white maxi dress is a very unconventional Fall dress selection, but when paired with a black hat, black sandals, and a brown Fall bag…there's not too much to argue with anymore! (Speaking of, hello new Henri Bendel *heart eye emoji* you are giving me all the #fallvibes)
The best part of this dress is the daringly low back. It breaks up the solid color and adds an entirely sexy twist to the initial impression you get when you look at the front of the dress.
Can we also take a second to acknowledge these perfect Hermes dupes? I'm obsessed!
FOR HIM: Brennan is in a monochromatic (swoon) outfit with a pop of olive green to add some of his own #fallvibes into the mix. My favorite part of this outfit is he literally put it together completely on his own (I was only there for moral support at Zara during the purchase of the jacket) and it is probably in my top 3 favorite looks for him.
I LOVE the long shirt trend for guys – I think it's so trendy and adds something interesting to guys' normal go-to pieces. And you don't need to be 6'4″ to rock this look, either! A ton of the guys at my church are obsessed with this look, and many of them are much shorter than that (it's okay that I say that because I know 0 of them read my blog LOL).
I'm also obsessed with these Adidas he recently got in the mail (I think I've mentioned that he has more shoes than I do). The neutral suede and pop of color make them so versatile for each season!
So when it comes to dressing for Fall in California – KEEP IT SIMPLE. Sure, Fall means layers for a lot of people in other states, but for us layers can simply mean adding a hat, thin scarf, or bandana. Switching up the colors of your accessories are also an easy way to incorporate Fall into your wardrobe. Bring in neutrals like olive, burgundy, and navy blue. Black can obviously heat you up a little too much sometimes, so keep the black pieces small (hats, shoes, sunglasses, purses) and keep your core outfit pieces thin, light in color, and simple. If you're really craving Fall, paint your nails a darker color or darken your hair a bit! I don't personally go darker hair wise ever (unless I'm 5 months deep in between appointments) but I always find when my nails are burgundy, black, dark purple or grey I feel way more festive.
So that's that! If you're NOT in California, I probably lost you already since this post is virtually irrelevant to your life. But if you kept reading until this point, APPRECIATE YOUR SEASONS. You're lucky 😉
PS did you guys see that I added a "ASK ME" tab under the Contact menu button?!?! You can now ask me ANYTHING YOU WANT at ANYTIME, or you can simply suggest something – whether it be new blog features, things you wish were different…whatever it is, I want to know! So go ask!! 🙂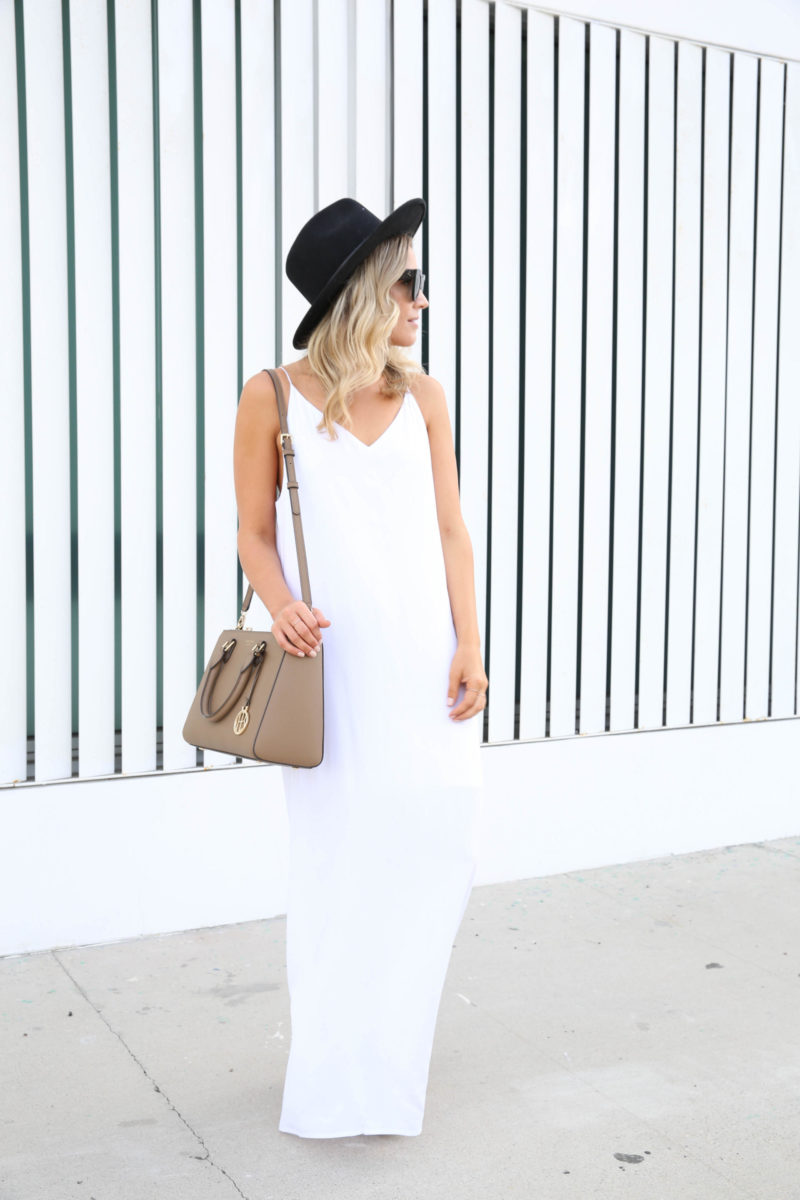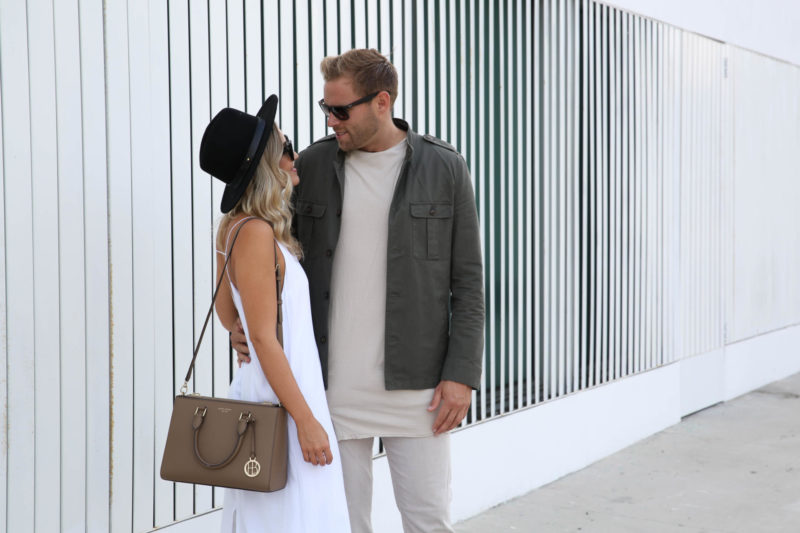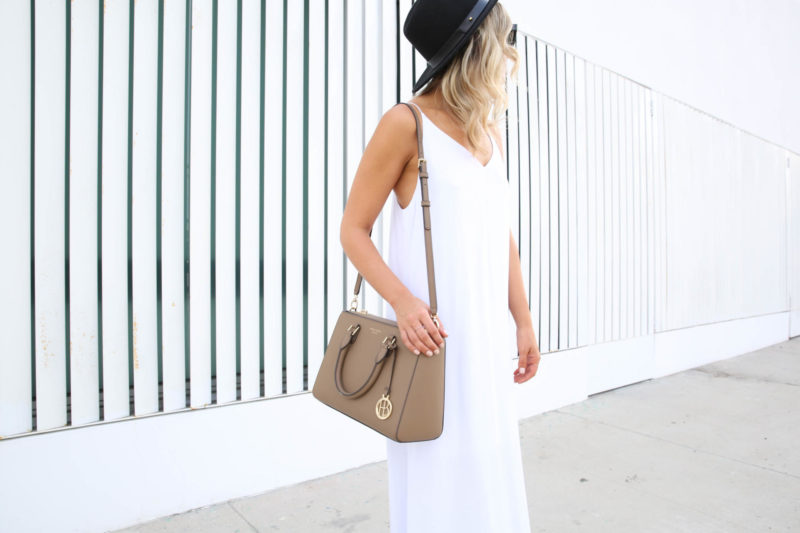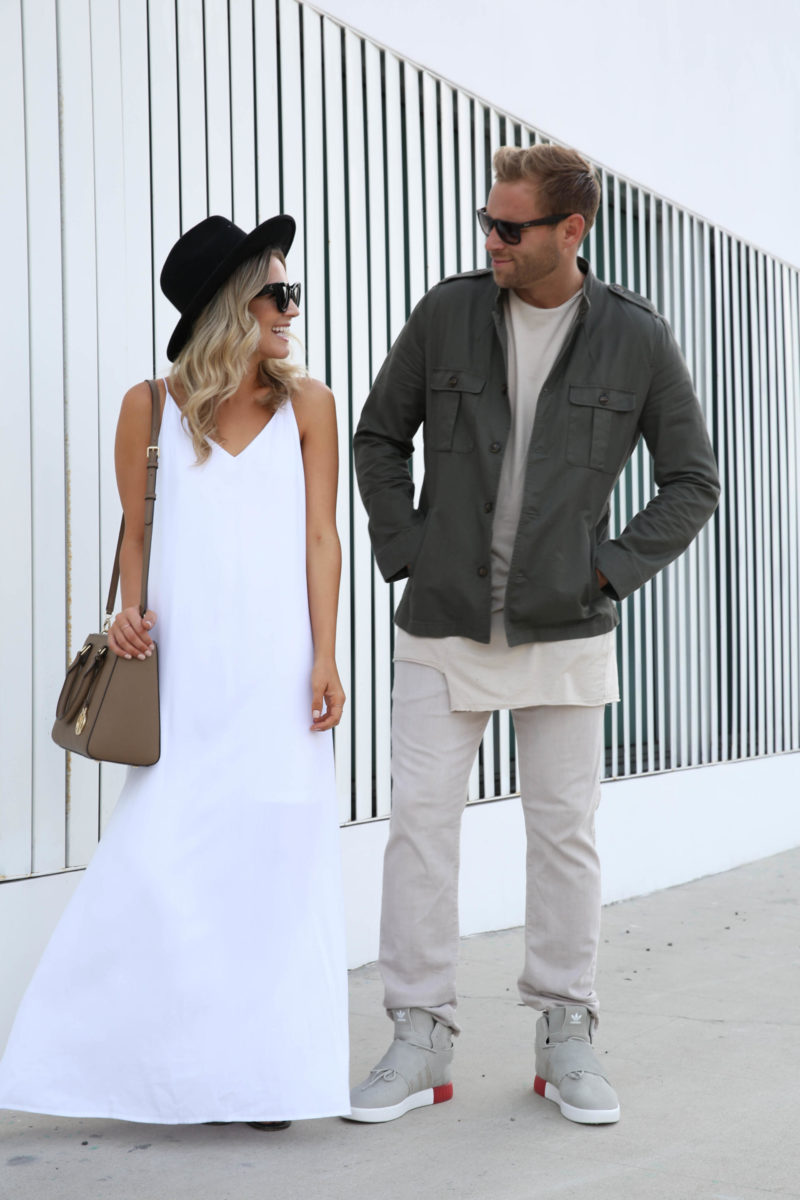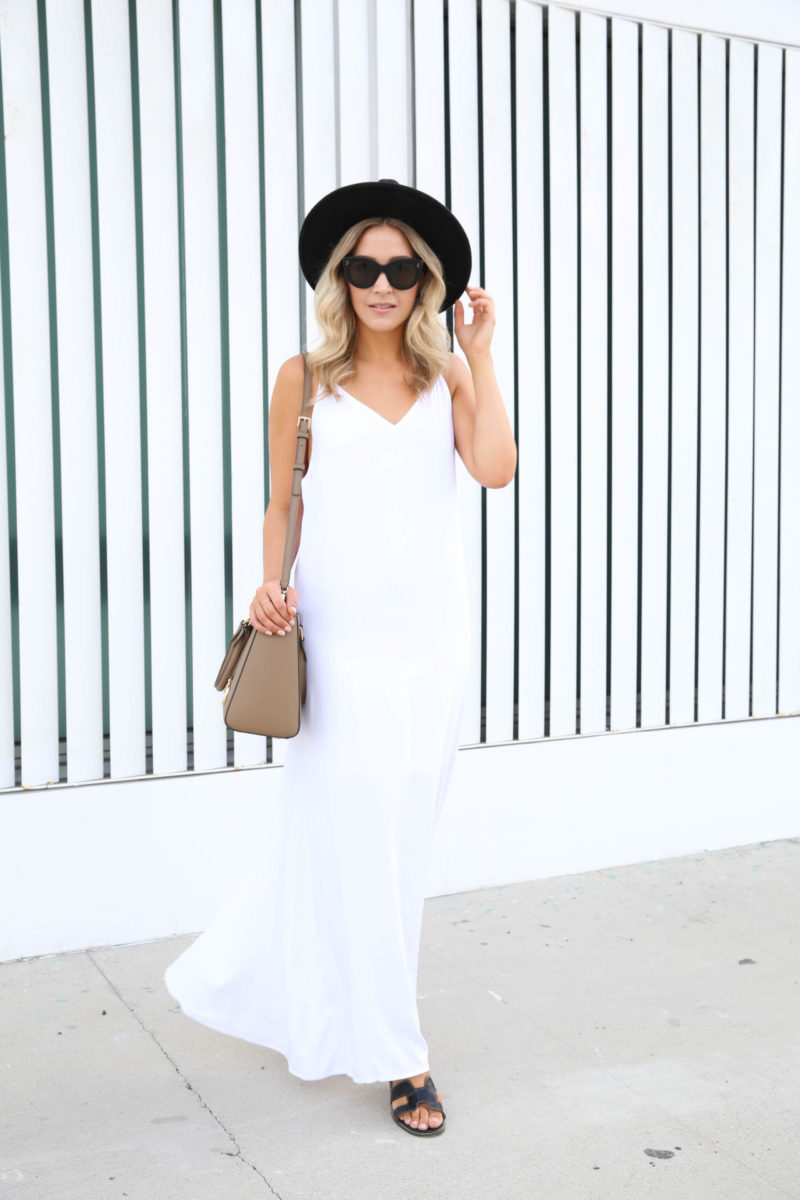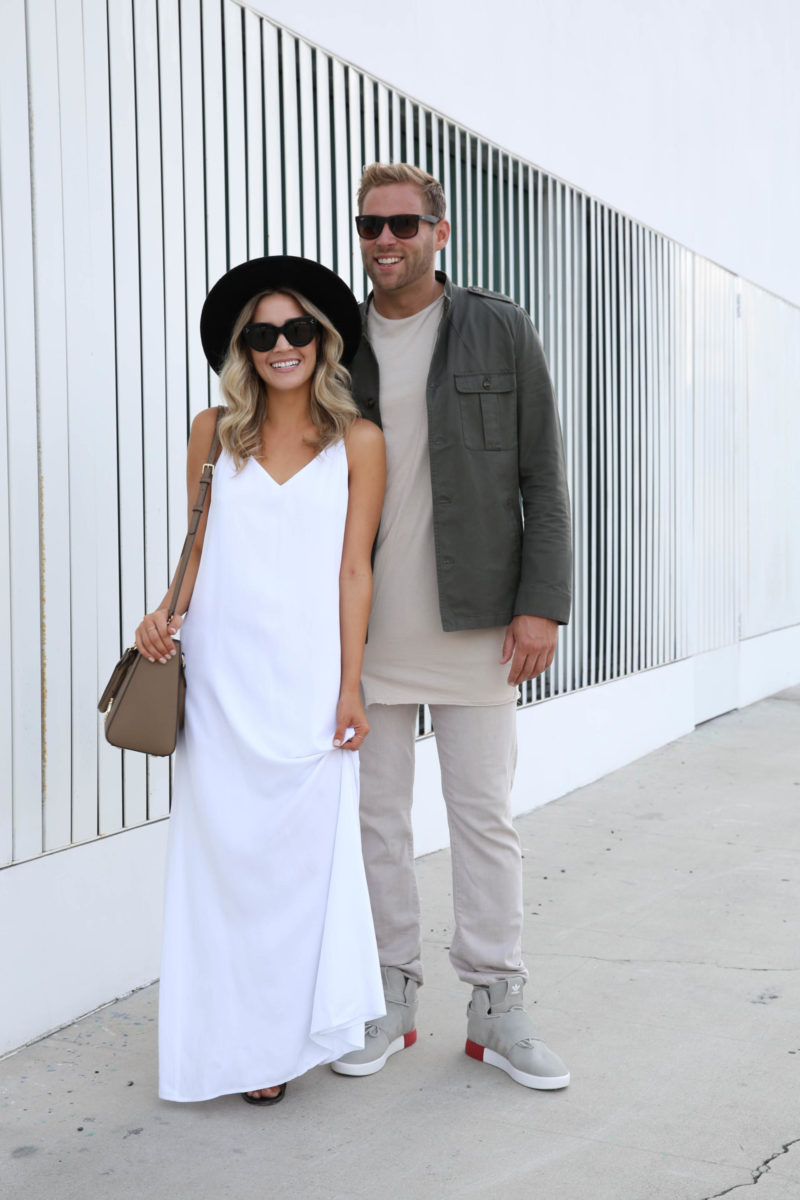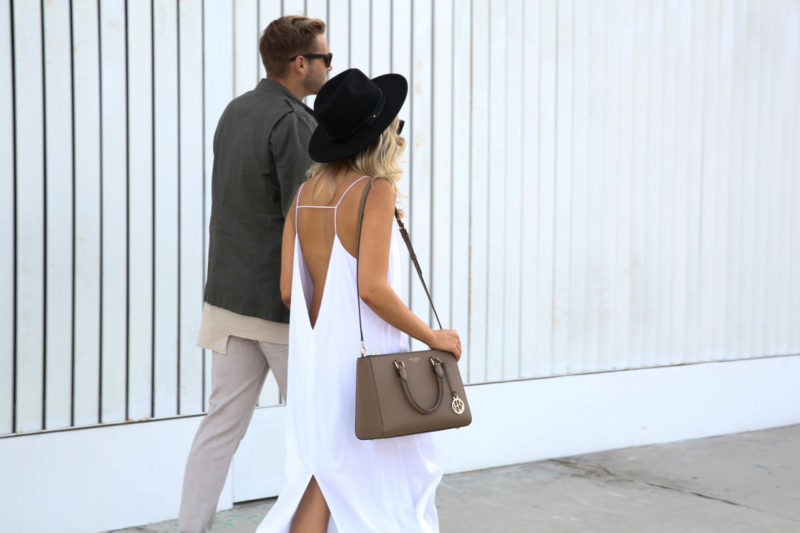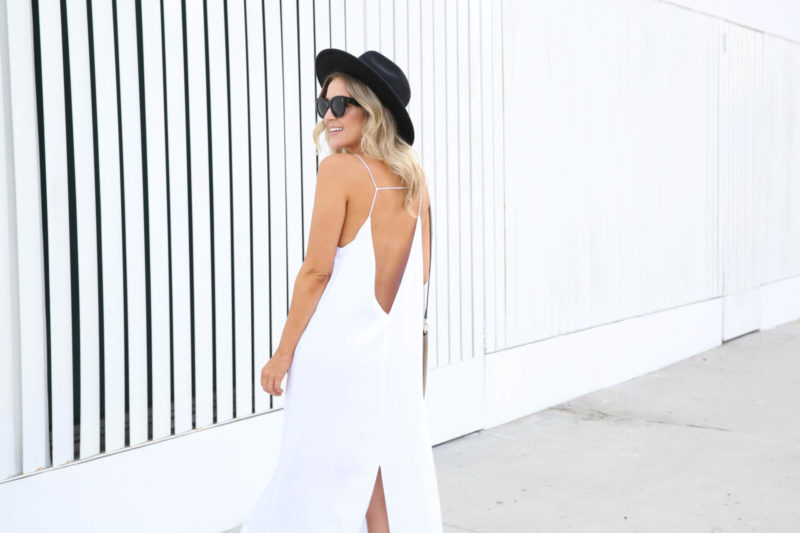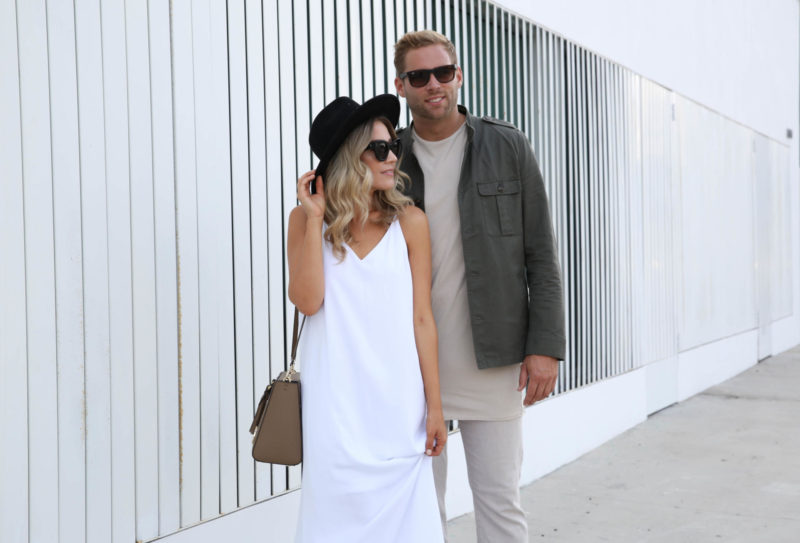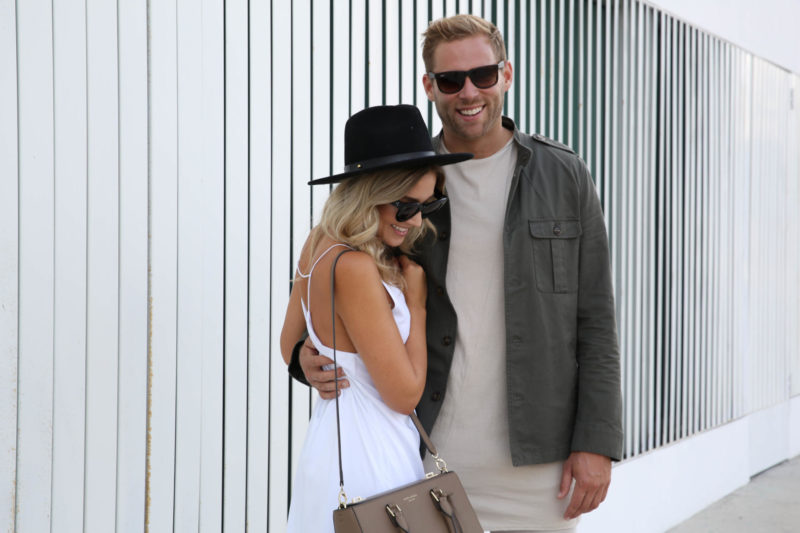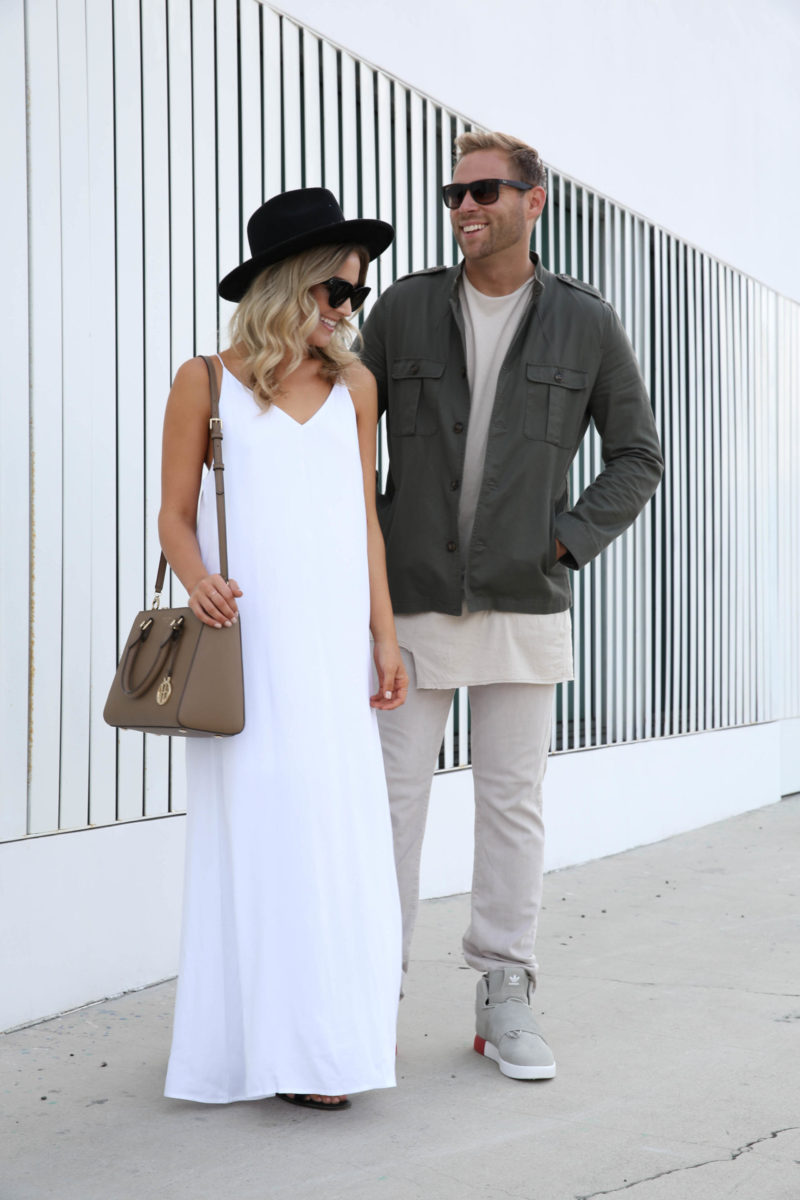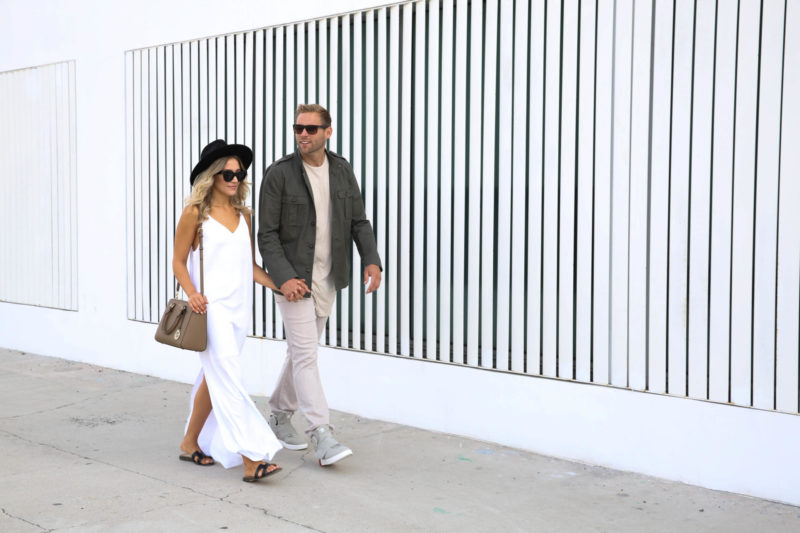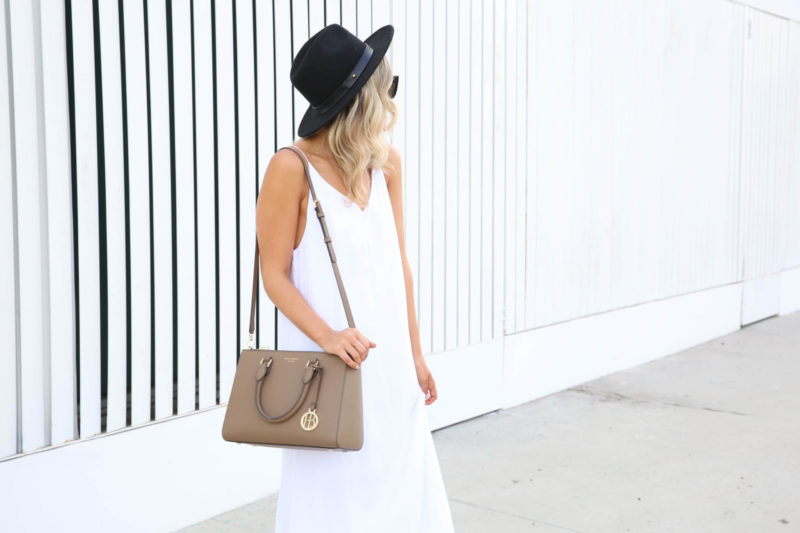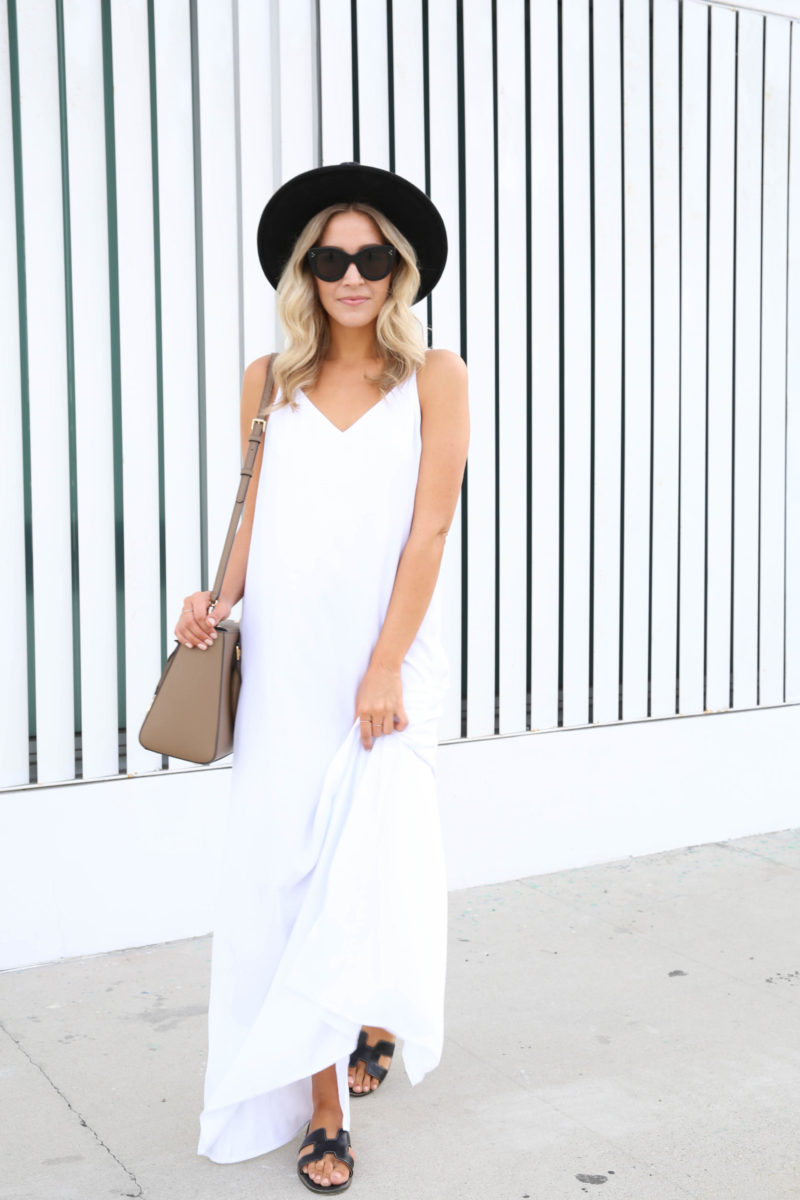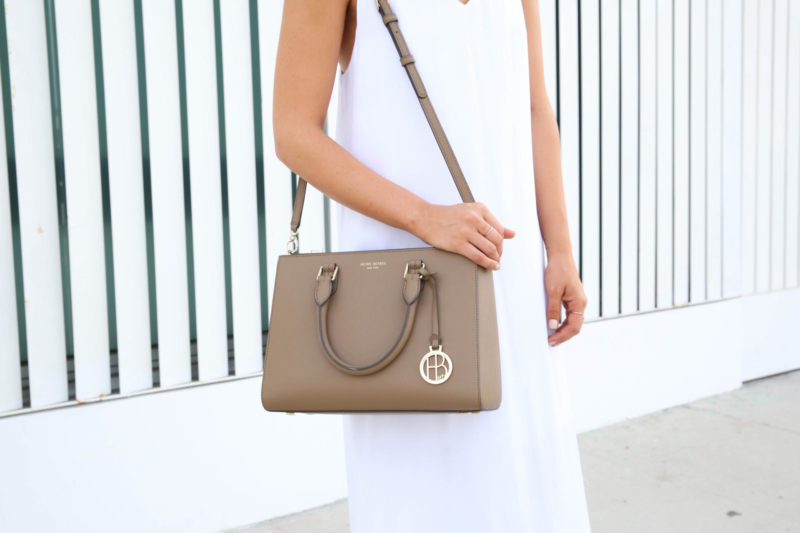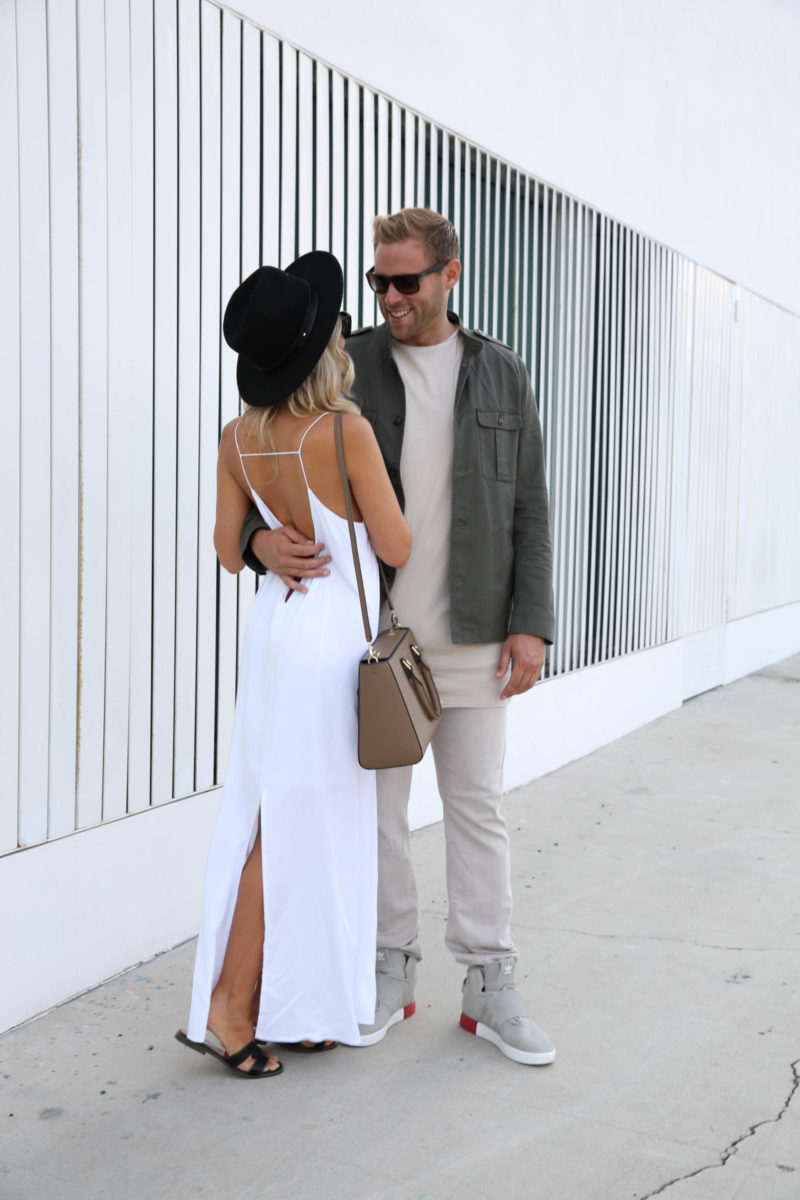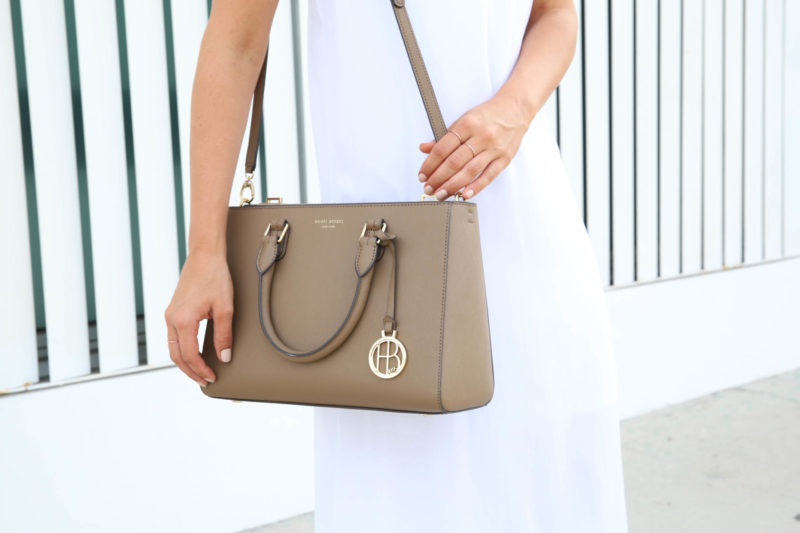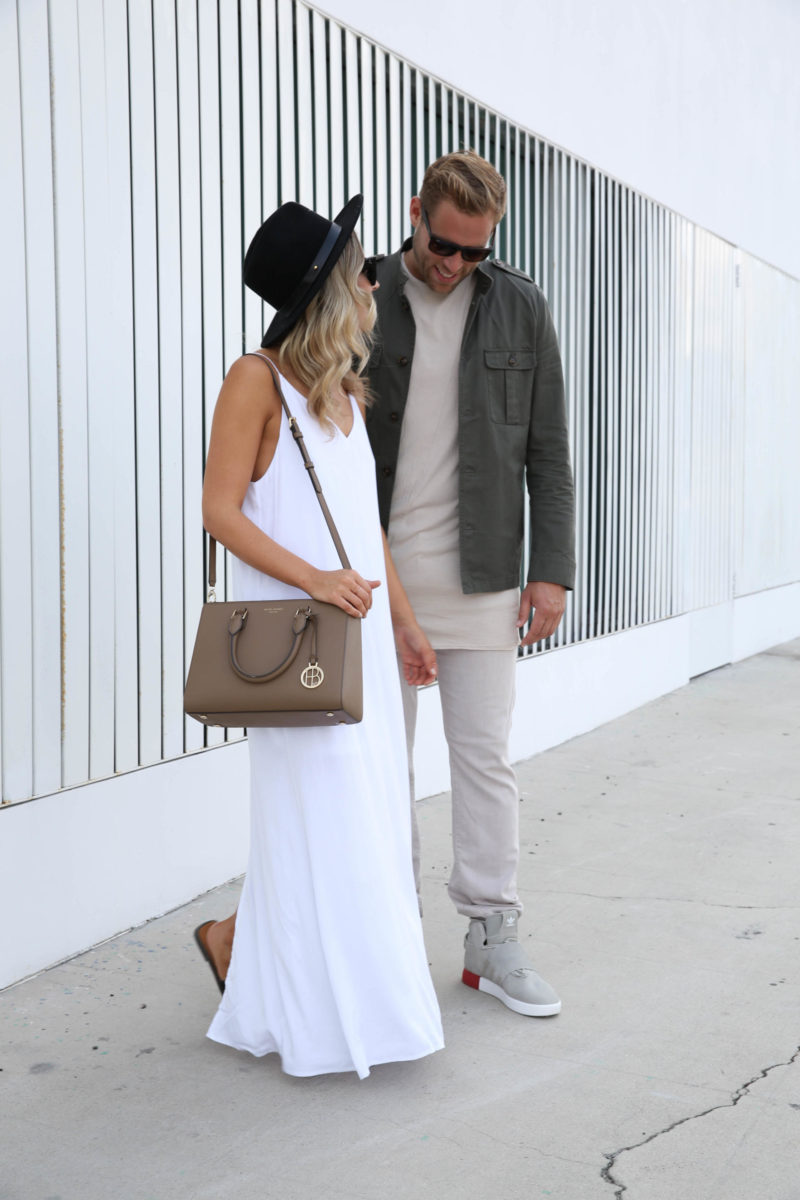 HER: Dress, c/o Privilege | Hat, c/o Styled by Noir | Shoes, c/o Jessica Buurman | Bag, c/o Henri Bendel | Sunglasses, Celine | Rose Gold Rings, c/o Gorjana

HIM: Top, Nordstrom | Jacket, Zara | Jeans, Seven For All Mankind | Sunglasses, Ray-Ban | Shoes, Adidas

Photography by Leon Nyarecha