I don't talk about my blog very often when I'm in social settings, but when it comes up (usually by a friend who mentions it on my behalf *emoji eye-roll/bashful face*) I really do love to talk and connect with people who genuinely are curious about the blogging industry.
It seems like everyone's first question is "how did you even get started?" After almost 4 years of trial and error, I feel like I have gotten a really deep understanding of the best starting practices that I wish I knew when I started (hindsight is 20/20).
Sure, I have a LONG way to go and am still learning every single day…but I do know enough now to tell you the 5 things I wish I did when I first started. SO, that being said, below are my top 5 uncommon tips for new bloggers!
Spend a lot of time on your BLOG NAME.

When I first started my blog, I was Kate Spade OBSESSED. Everything in my house and my closet had to have some sort of bold color or pattern to it. When I decided to start my blog, the name "Polka Dots & Sailor Stripes" sort of popped into my head one night when I couldn't sleep and I was like that's it, it's perfect, that's what it's going to be! and the next day I purchased the URL. At the time, sure…it worked. But fast forward 2 years when I moved to LA and I was like give me all the black, white, grey, and nude. Trying to be this Polka Dotted girl with hot pink lipstick while wearing all black didn't really work anymore. So my followers were kind of like…umm, where are all the midi skirts and bow heels? What are these Adidas and ripped jeans??? Goodbye likes & (some) followers! It was time for me to go back to the drawing board to rebrand. Rebranding isn't ideal in most situations, but it was necessary for me to 1) continue on the path I was on and 2) to actually be happy with the brand I was working to build. Now I have a blog name that I am truly proud of. It's representative of who I am, but also ambiguous enough to take in any way that I want in the future. When thinking of a name, consider the following:

Does this name TRULY represent who you ARE? Or is it just a phase you're going through? If it is a phase, do you care that it may not align with your next phase if you keep your blog going long-term?
Did you think of this name because it sounds like another successful blog name? Are you sort of spring-boarding off of their success to hopefully gain the same traction to your website overnight? Cupcakes & Cashmere and Sequins & Stripes were basically the only blogs I had heard of at the time I started my own blog, so it was engrained into my head that I needed to pick two things I love, tie them together with an ampersand and call it a day. At the end of the day, mirroring someone else's strategy ended up hurting me instead of helping me.
Is the length reasonable? Sure, Polka Dots & Sailor Stripes sounded cute, but it was WAY TOO DAMN LONG. If it's a long URL, you're going to get sick of writing it out for people and saying it out loud. I've even had Polka Dots & Sailor Stripes written out on a name-tag before and I was like ummm do I have to wear that???? Think of your blog name as your new personal name. People are going to refer to you as that, so choose wisely.
Do you want your handles to all be cohesive? I started my instagram back when my brother told me it was the next best thing. I thought it was ridiculous at the time (LOL), and just shortened my first screen name (LOLOL) to come up with @ashbegash. This name stemmed from a childhood nickname, and now I find myself introducing myself as that at professional networking events so people can place my face to the name…which again, NOT IDEAL. Polka Dots & Sailor Stripes was way too long to be an IG handle, and Blonde Collective is taken. So now here I am as @ashbegash (IG), @ashbeegash (snapchat…sidenote, WHO ARE YOU OTHER ASHBEGASH??!??!?!?), @ashley_guyatt (Twitter), and blondecollective.com. Sounds like an online identity crisis to me. I do honestly believe that it hurts my growth rate because people don't know what the hell to type in when they're searching for me…so I want to stress again…CHOOSE WISELY.

Shoot your outfits in bulk

When I first started out, my best friend was shooting my outfits in between classes on my iPhone. Then, I would choose, edit, and upload those photos IN CLASS, ON MY IPHONE, and submit a blog post. I can't imagine doing that now! I found that I was running a race against myself that I was clearly losing. It's so hard to keep a blog up in "real time" and not feel stressed the F out, ESPECIALLY if it's your SIDE HUSTLE and not your full-time gig. Now, I shoot 4-6 outfits at a time (more if my photographer can handle me for longer). That way I can plan the outfits out before I shoot, I can come up with a schedule, and get a clear idea of what's really to come the next 1-2 weeks. Do I still get behind? Well yeah, that's life. BUT, I have a folder that has at least 5-6 outfits to blog about at all times. Just make sure you stay ahead of the seasons and don't blog too many of your overflow outfits when they are no longer relevant to your followers. To increase your affiliate sales, you need to be ahead so people come to you for shopping suggestions.

Identify your niche, and stick with it

I always went the "blogger on a budget" route because that was my real life. I didn't have an excess amount of money to spend on clothing, so Forever 21, H&M, and Nordstrom (because I worked there and got a discount at the time) were my go-to retailers every time I shopped, so that's all I blogged about. My followers started to come to me because they KNEW they could afford what I was wearing. They knew the oversized Celine bag was actually a knock-off for $50, the Valentino flats were from a really great website in China, and the Prada sunglasses were actually $10 from Amazon. When I started wearing real name brands people had a hard time believing they were even real! When I started making more money, I started to shy away from the budget niche because I wanted the nice labels, but the fact of the matter was my readers, the people who got me to where I am today, wanted to find out how to recreate the expensive outfits for a fraction of the cost. Can I have nice things? Yeah sure…do I need to blog about them? Only if it's balanced with the affordable items my followers can also purchase, and I still give designer dupe options. It is what it is, and it works. Find something that works for you, and your followers will grow to trust in what you're publishing and seek out constant advice/style inspiration because they can count on you.

Network on EVERY level 

I let my shyness get the best of me (and still do to this day) and really didn't tell anyone about my blog for nearly a year. It's so hard to talk about things that leave you feeling vulnerable, but it actually pays off if you just DO it. It wasn't until I started sharing photos on Instagram and Facebook that I started to actually see my numbers grow. Once I started talking about it, I started connecting with more people and partnering with more bloggers and before I knew it, I had a group of girls I genuinely felt connected to and shared a friendship with just because I started networking on social media. There's so much power, and so much ACCESSIBILITY with the internet, that you have no roadblock but yourself when it comes to marketing and advertising.

HASHTAG, HASHTAG, HASHTAG

I don't care WHAT you or anyone else says, hashtags work. I don't care how annoying they are, I don't care how ugly they may be…I.Don't.Care. You know why? Because when you have some girl liking your picture from Russia at 2 am while you're sleeping, you can't sit there and tell me hashtags are dumb. They do so much of the work for you, and make your content so much more widespread! Organic growth is ONLY POSSIBLE with hashtags and tagging fashion accounts. Trust me.
There are ways around hash-tagging so that they're not as distracting and annoying. So again, NO EXCUSES. HASHTAG, HASHTAG, #HASHTAG.

TIP: Always hashtag underneath your caption in the first comment. I've started formatting this comment in a way to make sure it appears like this "[…]" instead of waiting for the hashtags to be covered by other comments like I used to (ughhh, hindsight), *see below* and I've included my favorite fashion hashtags for you to start implementing!
–
–
–
–
–
#streetstyleluxe #fblogger #fashionista  #trendhunter #stylehunter #lotd #thatsdarling #chic #wiwt #ootd #fashionblogger #stylish #lookbook #streetstyle #blog #blogger #style #styleblog #look #instagood #fashion #personalstyle #whatiwore #instablog #trendy #instafashion #outfitoftheday #lookdodia #igdaily
That's 29 total – the limit is 30. I give myself one free '#' to use in the caption for partnership disclosures, liketoknow.it hashtags, or key hashtags I want my followers to see and click on. Other very effective ones that I've used for various reasons are below!
#LTKunder 25 #LTKunder50 #LTKunder100 #blonde #instablonde #picoftheday #photooftheday #igers #follow #like #love #like4like #instadaily #whatimwearing #whatiwore #metoday #fromwhereistand #beauty #makeup
SO THERE IT IS!
These are the top 5 uncommon tips for new bloggers that I WISH were engrained into my head from day 1. They may be common knowledge to those of you who are already doing this blogging thing, but sometimes I bring these things up and people think they're groundbreaking. So if you're one of those people, I want to help you get jump started! Literally anyone can start a blog about anything, so if you have a desire to try it for yourself, then go for it! If you're still unsure of some things (like what platform to use, or how much money to invest at first), feel free to email me. If you'd rather see an entire post on these topics, please let me know and I'll start blogging about my tips regularly every week! I have a passion for social media and I could talk about it for hours. So don't be shy like I was/still am 😉
If you're looking for something on another level, consider purchasing a ticket to the International Style Institute this October. It's an intensive 3 day conference where they go into everything you could possibly need to know about starting a blog and creating compelling content. IT IS ON THE PRICIER SIDE, so don't be surprised when you check it out. But SIDENOTE, it is a tax write-off if it's a class for your business (consider it a business expense) so if this is a career you truly want to invest in…it'll be worth it in the long run!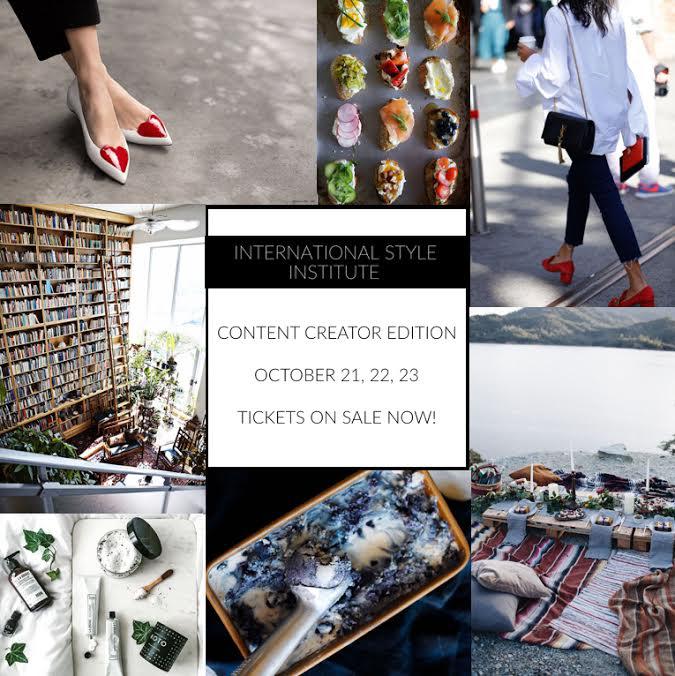 HAPPY MONDAY EVERYONE. If you follow me on Insta then you know the struggle that is my life this morning in rainy, HOT NYC. But all is good, I like my outfit today and I got to facetime my cute boyfriend in the cab before work which is a rarity when you're in different time zones. SO BRING ON THIS WEEK!