Story time. When I was living in San Diego the year after I graduated college, I had two roomies that I loved oh so much (I still live with Allyson in LA, but Krista moved to Texas to pursue her career dreams and has been crushing it ever since, just fyi). Krista always had perfect hair with perfect extensions that she knew how to put on in 2 seconds flat. I always wanted extensions, so I would ask her question after question from care & keeping to which ones to buy to how to do the perfect pony tail with them in. (this was also before I discovered Amber Fillerup and all of her extension wisdom and perfection…after that happened it was game over). I will always remember Krista showing me that she used Mane 'n Tail shampoo for her hair and her extensions when they needed to be washed, and I honestly thought it was solely horse shampoo for the LONGEST time! (this wasn't far off because she grew up with horses, so I just thought it was her secret weapon).
Long story short, I've finally gotten the chance to try a bunch of products from Mane 'n Tail and I AM SO CRAZY FOR WAITING THIS LONG TO JOIN THE MOVEMENT!!!!!
---

"These micro-enriched protein formulas help to prevent hair breakage and repair split ends, achieving the goal of longer, stronger, fuller hair."

---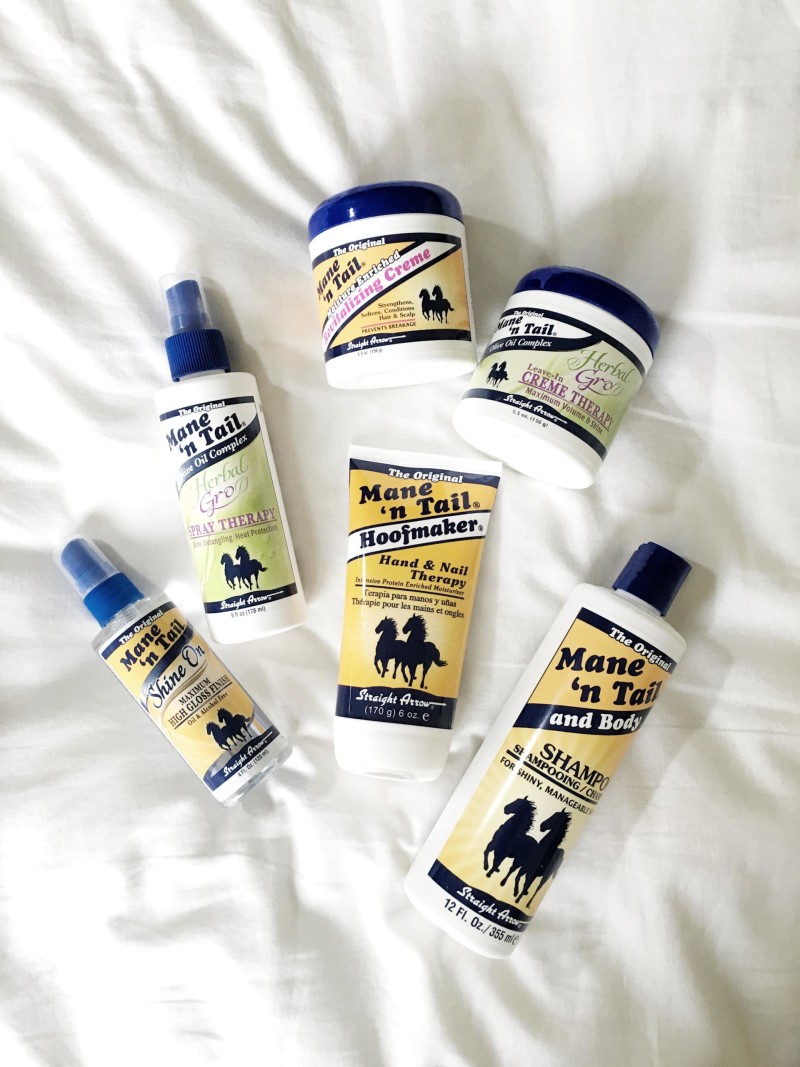 What started out for horses has since grown into a widely known line for *humans* who want incredible results that don't break the bank (aka all of us)
Original Mane 'n Tail Shampoo – Not much to say other than this stuff is amaze. It lathers so nicely (which can be so annoying with shampoo…I hate having to get more if I feel like I can't get the shampoo evenly dispersed throughout my hair!) This stuff is the bees knees.
Shine On – THIS STUFF >>>>> It's amazing you guys. Two – three pumps MAX, but it really does leave your hair shiny and fabulous (also, don't do it on a slippery surface…I learned that the hard way).
Herbal Gro Spray Therapy – I loveeeee this stuff! It brings me back to the days when I used to insist that my parents spray my hair with detangler so I could brush it, otherwise I would throw a fit! (#brat…I don't even have a sensitive head). It doubles as heat protection as well, soooo basically I need all of the spray therapy I can get.
Herbal Gro Creme Therapy – This product "helps to prevent breakage, split ends, frizz and dryness for smoother, softer shinier, more manageable hair," but BEWARE…a little bit goes a long way…trust me.
Revitalizing Creme – I've never really had an issue with my scalp being dry until recently (still no idea why -_-), and this product is perfect for this issue! It restores your hair's natural elasticity and strength and targets the scalp leaving it nourished and refreshed!
Hoofmaker Hand & Nail Therapy – This stuff is AMAZING for spring; it's so hard when the seasons start to change, it seems like your skin goes through a period of time when it's figuring itself out and readjusting to new temps. For me, the transition from Fall to Winter is brutal, and from Winter to Spring it's a battle to keep my body moisturized enough. I've been using this and love the way it leaves my hands feeling! And I always welcome a little nail therapy because I cannot get mine to grow for anything!
Products c/o Mane 'n Tail