It seems this week that inspiration has struck late at night. Or…maybe it's the fact that Brennan went to Vegas to spend his dad's birthday with him so I've been left with lots of quality time for me, myself, and my Classpass membership.
Either way, it's given me some great opportunities to tell you guys about some new things (did you read all about my new night time routine?).
Tonight's blog is all about how I was served freshly cooked meals by a Michelin Star Chef for 3 meals a day over a two week duration.
That's right. Another must-have subscription service. But I promise you guys, I don't love how everything's turning into a subscription service all of a sudden, I actually kind of get annoyed whenever I see new ones pop up…which is why I'm SO selective on the ones I actually tell you about (i.e those incredible smoothies…the amazing personalized vitamins…you get it).
THIS one, is surely on that list.
If you're intrigued and want to know how you, too, can experience this 5-star menu on your door step every morning when you wake up, AND receive a discount for your first order…read on.
If not, then do me a favor and please tell me what content you'd rather see!!!!!! Because LET'S CONTINUE TO BE REAL…I'm not here to write to no one. Or write stuff you hate. If you want something else from me, TELL ME. 🙂
Please and thanks in advance.
MOVING ON.
The best part about this service is it's waiting for you the moment you wake up. Or get back from a workout if you're a super early riser. Win-win either way. It kind of made me feel like a legit princess. Or like maybe an A-list actress. I'm sure the princess has the option to actually get the meals delivered to her in bed.
Anyways. IT'S BRILLIANT.
This perfectly sealed (it's like actually sealed with a zip-tie to ensure there's been no foul-play, which I appreciate), cooler is just waiting for you, like your morning coffee. But better because you don't have to do a THING other than open it.
I also loved that it came with a full menu so that I could save the ones that were my favorite to re-create later on.
They also provide instructions regarding what is supposed to be heated, and for how long. Obviously.
One of my favorite parts about their breakfast boxes was when they provided a tiny little fresh juice. They were never marked so you never knew what you were really going to drink, but it was always SO refreshing.
On the topic of mystery juice….Have allergies? Vegetarian? Picky eater?
Have no fears. They give you MENU OPTIONS. Who doesn't love options?
See what I mean by checking out their menus and how you can customize them to fit your needs.
I don't have any food allergies or restrictions, and I totally value what it means to be a Vegetarian but…In N Out…and Chick Fil A…Gyu Kaku…I mean…I just can't do it right now. That being said, I tried the Chef menu. If I tried it again, I may go for the Fit menu because there were definitely some mornings when I knew I was indulging more than I usually do for breakfast. Or even Paleo because it intrigues me but honestly I'm too lazy at the moment to really dive into making that my lifestyle right now.<<< (JUST ACCIDENTALLY PROVING HOW GENIUS THIS IS BECAUSE IT TAKES NO EFFORT FROM YOU)
My favorite breakfast was when they sent me mini waffles. They were to-DIE. (That was my indulging breakfast morning).
ALL IN ALL. I rate this service a 5 out of 5. Totally worth the money, and if you think about it, to make the incredible menu items that they send you and considering the time, gas money, and effort you're saving by skipping out on the grocery store (not to mention those "unnecessary items" we all grab when we're shopping on an empty stomach) it somewhat comes out to the same price-tag that you may be spending on your own home-cooked meals. Just sayin'!
And FINALLY, if you're interested in trying this out for yourself, use promo code BLONDE for 10% off your order!!
For anyone on-the-go, it's really a no brainer. Even if you just need a week to skip the grocery store (the week before a big trip or move perhaps?) and want to eat healthy with absolutely zero effort on your end. Trust Crateful….they DEFINITELY know what they're doing.
Also RIP to my amazing 2 weeks full of 5-star meals. You'll be missed.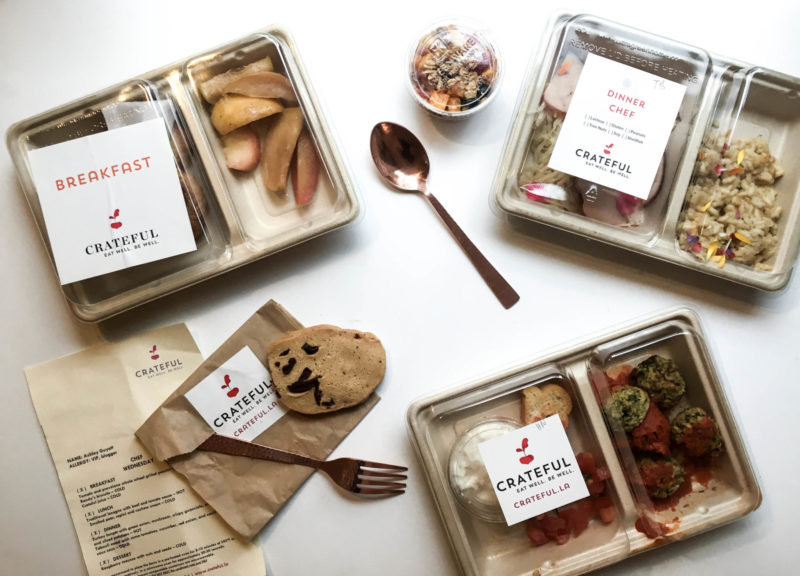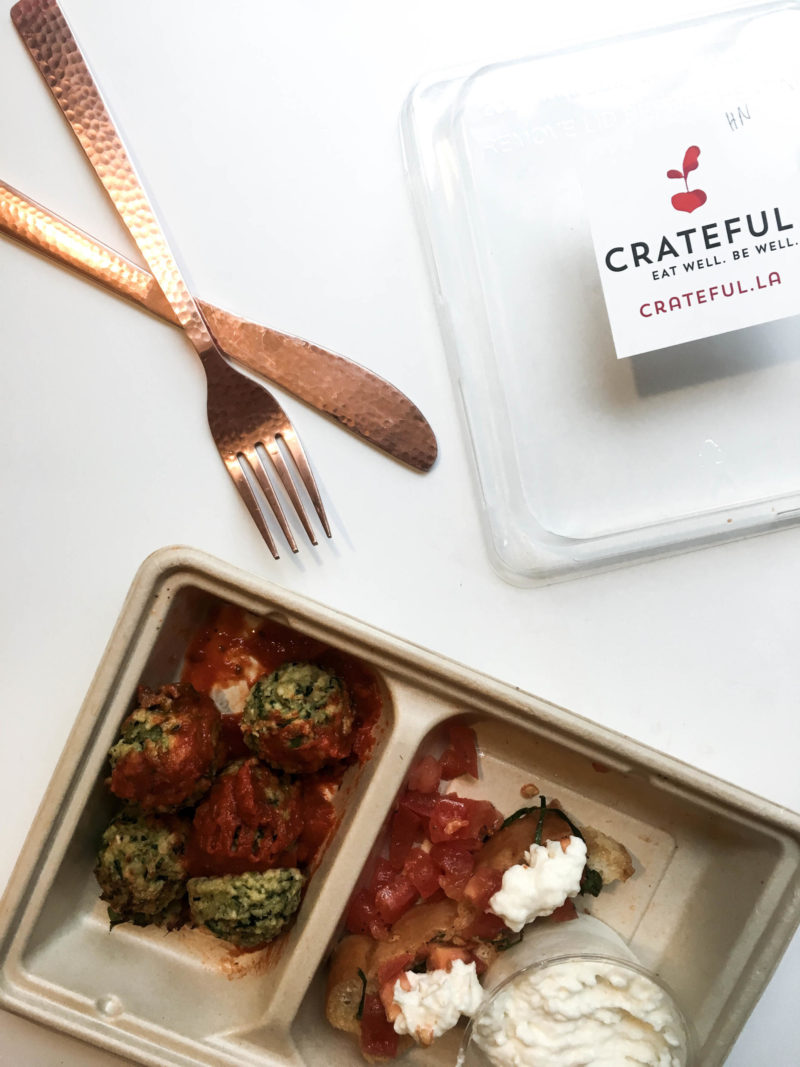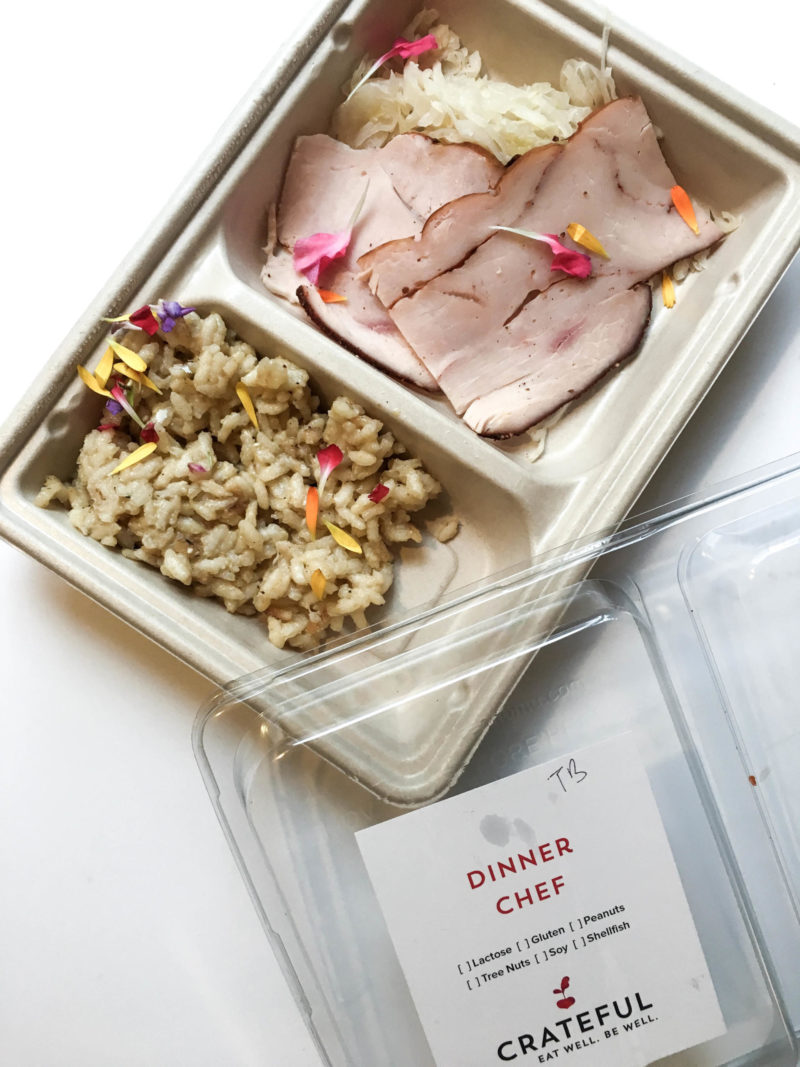 Meal Subscription c/o Crateful