Lately I've been skin OBSESSSSED.
It started with binge-buying products on Amazon that I'd been dying to try: gold under eye masks, a jade roller, an ice roller, collagen neck masks, face razors…you know…normal things.
I think it's also safe to say that I'm just SICK of hating on my skin.
I wish they taught that puberty was an everlasting thing. Because in high school I had flawless skin…it wasn't until college that it started to spiral out of CONTROL.
And now, at 25…I'm STILL trying to figure out why I wake up with a new pimple nearly everyday.
Can't a girl catch a break???!!!?!?
It's safe to say that though my skin has a LONG way to go…I am seeing noticeable results after about a month of giving my skin more attention than usual.
It definitely helps that Dermalogica literally just rocked my skincare world.
Now…disclaimer, this stuff is pricey and I'm not saying that you should go out and buy it all. I'm just telling you what I'm trying out and SO EXCITED to share with you the description.
I have an army of skin care soldiers and I am SO ready to see them work some wonders!
Another disclaimer, I just started this regimen, but I've been using Dermalogica since I could remember so I stand behind their products regardless of the duration. I also thing their spas give the best facials on the planet.
MOVING ON.
Let's get acquainted with my updated nightly skincare routine, shall we?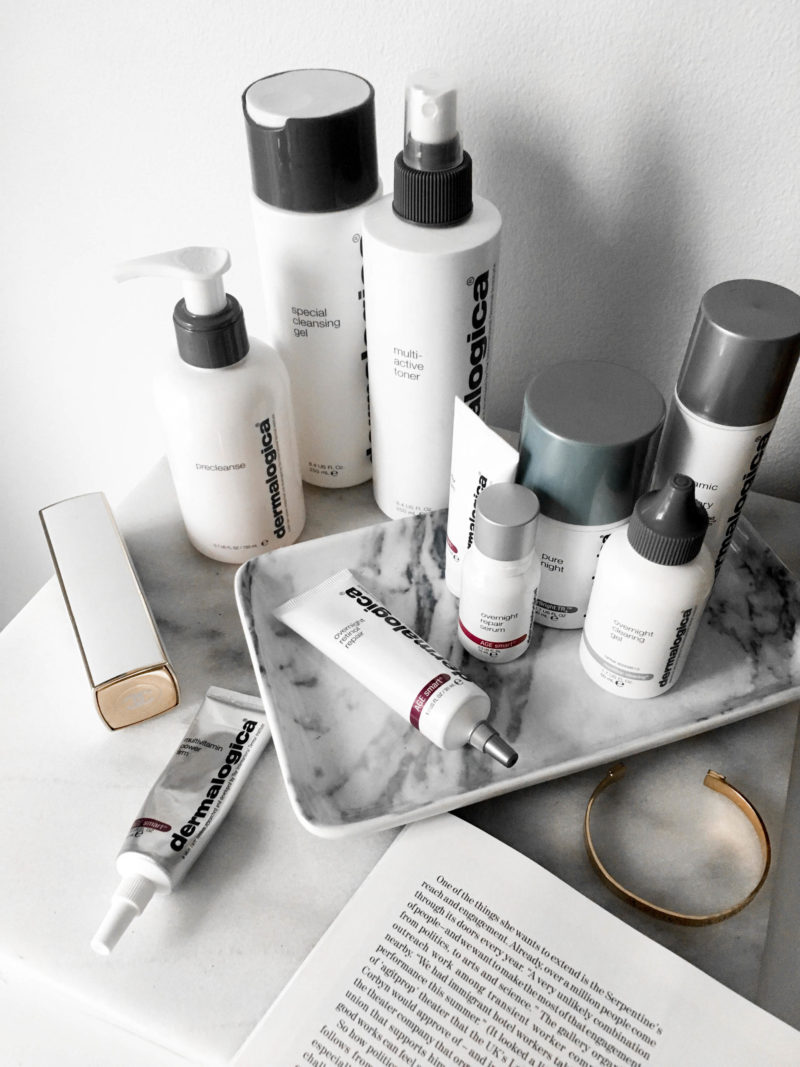 PRECLEANSE // Just as the product name suggests, I use this before I cleanse my face! Precleanse melts away layers of excess oil, sunscreen, makeup, pollutants and products that build up on skin, allowing your cleanser to actually do what it's supposed to do! DEEP CLEAN! This product is a really cool addition to any skincare regimen because we don't actually think about the buildup on our faces after an entire day. Kinda gross tbh
CLEANSING GEL // Perfect to use with a Clarisonic, or all on its own! It's soap-free, foaming cleaners that doesn't disrupt your skin's natural moisture balance.
MULTI-ACTIVE TONER // Honestly I think my favorite thing about this toner is that all you have to do is spray it all over your face. Bye-bye cotton balls! I think that one extra step of getting the cotton ball is enough to make my lazy self not use a toner every night, so this product is a saving grace! It helps condition the skin and prepare it for proper moisture absorption.
MULTIVITAMIN POWER FIRM // When I got my facial done with Dermalogica last year around this time, my esthetician told me that I would really benefit from this product for around my eyes to combat any forming lines. I obviously don't remember why exactly she recommended it at the time, but online it claims to "help accelerate skin's natural repair process with Vitamin A (Retinol) as antioxidant vitamins C and E improve elasticity while scavenging free radicals." What I can attest to is it is the thickest, yet lightweight product I've ever worn, and it makes the skin around my eyes feel like brand new skin. So far it's incredible!
OVERNIGHT CLEARING GEL // This product might as well be called #TBT, because this little gem was my GO-TO in ALL pimple crises throughout high school. I would literally sneak into my moms bathroom cabinet to steal some of it because I knew how much she cherished it (even though she offered it to me whenever I needed it…maybe I just wanted to feel like a rebel) but it was a LIFESAVER time and time again. It's one of those spot-treatment miracles that somehow transforms your face while you sleep.
PURE NIGHT // I've been on the hunt for a new night time moisturizer but really had no idea what I was looking for. I read this description and decided that this was worth a try: "Restore skin luminosity and maximize PowerBright TRx™ results with this rich, nighttime moisturizer. It 
helps reduce the appearance of brown spots and uneven skin tone while you sleep with an active blend of skin-brightening agents." That was enough for me! So far, so good.
These next two products may be one in the same, but I was intrigued by both…so you can decide which description best suits your skin needs:
OVERNIGHT RETINOL REPAIR // "Powerful treatment cream accelerates skin renewal and reduces the appearance of skin aging overnight. Active microencapsulated pure Retinol helps increase collagen production and cell turnover. Powerful peptides and antioxidant Vitamin C help fight signs of aging including uneven skin tone and discoloration."
OVERNIGHT REPAIR SERUM // "Powerful peptide serum with Argan and Rose oils helps stimulate cellular repair overnight. Help stimulate collagen production to help firm and renew resilience while potent Argan and Rose oils revitalize lackluster skin and smooth away fine lines."
You literally can't go wrong with either.
and FINALLY for daytime use:
DYNAMIC SKIN RECOVER SPF50 // SPF is a VITAL part of skincare, and I really loved the idea of a product that was protecting my skin WHILE it was treating it: "Patented Oleosome encapsulation technology boosts sunscreen effectiveness for critical protection against UV rays, while a unique polypeptide helps encourage collagen-producing activities."
If you want to know more about a specific product, follow the link and click "learn more" on Dermalogica's webiste. There's even videos that go more in depth to help you fully understand what a product is and how to actually use it.
OR you can email me.
If you're a visual learner, here is everything I wrote about above!

All products, c/o Dermalogica