I've always said that I'm a morning AND a night person. But of course for different reasons.
I love the evenings because you can either spend it alone decompressing from your long day at work with a movie, candles, a face mask, and a bubble bath…OR you can go to happy hour with friends, see a new movie, try a new restaurant, enjoy some incredible wine…you get the picture.
Mornings, on the other hand, are 100% me-time. I start them off with a barre, pilates, or spin class…followed by my 5 morning must-haves below. And they're all exactly what I need to start off on the right foot everyday. (In fact, if I don't follow the routine below…I'm in a funk all day).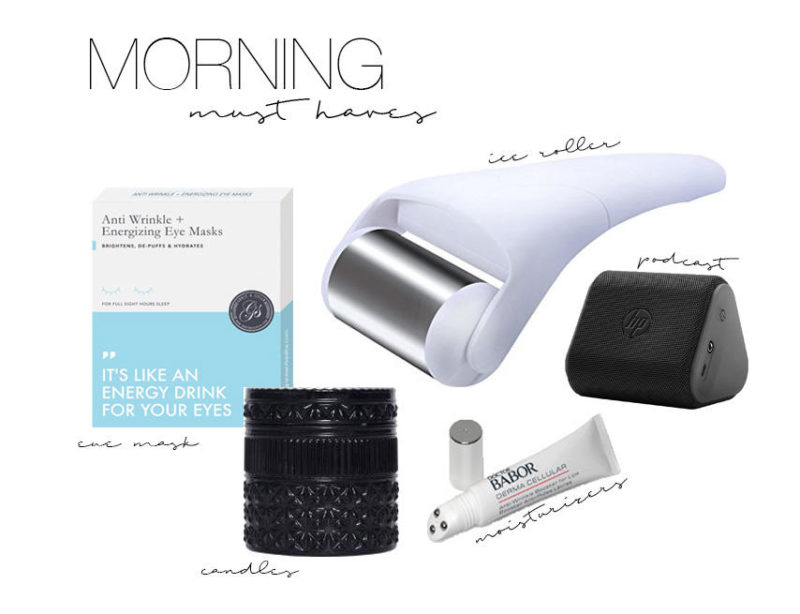 ---
ICE ROLLING
---
If you still haven't tried this, you NEED to do yourself a favor and buy an ice roller off of Amazon ASAP.
I am addicted to my ice roller (also my jade roller…but that's a whole separate post).
Do you ever wake up PUFFY, or with a headache? Suffering from a sunburn, or maybe your acne is painful?
Well…this little miracle is here to change your life.
I do so many things in the morning (mostly because I like to wake up and do a workout class at 6 am but don't have work until 10…so that's 3 solid hours of morning productivity) but some of those chunks of times are spent doing something mindless.
Specifically, if I want to take a nice 30 min to eat my breakfast and binge on Netflix for a sec.
Ice rolling during this time is amazing!
My eyes are ALWAYS sooooo puffy when I wake up, like to the point sometimes that I look like avatar.
Rolling this over my eyelids is a saving grace.
It also helps with headaches (ahem after a night out or one too many glasses of wine at dinner). Not sure why, but rolling a frozen piece of metal all over your face and forehead just really solves the problem.
Not to mention ice rolling "improves circulation to restore radiance, diminishes pores and breakouts, softens skin, and improves skin firmness."
Other misc. facts:
It lifts your face and improves dry skin
Reduces dark circles around the eyes
Prevent's crow's feet and wrinkle formation
Helps release tension, fatigue, sore muscles, bruises and minor injuries
You can use it anywhere on your body!
Do you WAX, get dermabrasion, microdermabrasion, chemical peels, or do laser procedures?? WELL…Ice rolling combines the natural healing powers of massage and cold therapy to reduce inflammation, swelling, and irritation that may develop following any of these beauty treatments!
AKA THIS IS SOMETHING YOU NEED TO INCORPORATE INTO YOUR DAILY ROUTINE!
---
EYE MASKS
---
These golden gems have quickly become my favorite.
To be honest I like to use them while I'm ice rolling if I'm not too concerned about rolling over my eyelids to fight puffiness. I feel like I'm truly giving myself a spa treatment every morning, and it really kick starts my day just as much as my cup of iced-coffee does.
There are SO many eye masks out there, but I have recently been trying out any with collagen in them.
Why? Well, collagen is something we all need to make sure we're getting AS MUCH AS POSSIBLE of.
Collagen helps reduce wrinkles and fine lines, improves the overall health and firmness of your skin, will target any bags and puffiness of the eyes, and also treats dark circles!
There are SO many ways to incorporate collagen into your day (you can get collagen powder for your coffee/smoothies, you can take collagen pills, and you can even use lotions with collagen in them), so you can take your pick!
So far, collagen eye masks are among my favorite. These cucumber eye masks are currently my go-t0, and I put them in the fridge for that extra cooling effect. It's AMAZING in the morning. Especially if you have puffy under eyes like I do.
Read THIS POST to find out the benefits of full-blown collagen face masks. 
---
MOISTURIZERS
---
I'm still learning the best way to moisturize my skin everyday, BUT I've quickly learned that having a strong lip moisturizer is just as important as moisturizing your face!
I've been LOVING this Derma Cellular Anti-Wrinkle Booster from BABOR because it has metal balls at the tip of the applicator that are like a mini massage for my lips.
They're said to improve the plumpness of your lips, giving them natural looking enhancement.
It doesn't have a scent or color, so it's commitment free.
I like to apply it when I'm done with my make-up routine so I can re-moisturize my lips after they've gotten my face product all over them.
It is the best pre-lip color treatment, and absorbs fully in a matter of minutes. Leaving your lips soft, silky, and hydrated.
---
CANDLES
---
These are the FIRST on my list when I wake up.
I light all the candles in my house to create a comfortable ambiance that makes me feel motivated to keep myself moving in the morning.
I've yet to invest in an essential oils diffuser (if you have recs please send em my way, I'm in the market!) so candles are a must-have for me.
I can't even remember a time when I didn't have at least 3-4 candles in my apartment.
I'm obsessed.
---
PODCASTS
---
You guys may remember my blog post where I listed all of my favorite Podcasts.
Well, those are still all on my list, but it really just comes down to The Skinny Confidential Him & Her Podcast every Tuesday, and EO Fire with John Lee Dumas everyday because that guy literally posts a new podcast every.single.day.
It's so motivational to listen to podcasts in the morning instead of simply listening to music because I feel like I'm in the company of extremely inspiring and driven individuals that set me on the right track to tackle my day.
Having a bluetooth speaker is also key. It heightens the experience to "detach" from listening to it from my phone speakers or through headphones. But that's just my theory 😉